Let's embark on a delightful journey to Don Don Donki's latest addition at Paya Lebar Quarters in Singapore. This Paya Lebar Quarters branch, a clone of the well-tested Donki concept, opened its doors on 7 Jun 2023, marking the 17th outlet in the local franchise.
The blue penguin has since undergone a massive and aggressive expansion in Singapore. Notably, since we checked out their last 16th store at Jewel Changi, they had planted their stores in almost every corner of the country.
Don Don Donki 16th Singapore store
Moreover, the story of Don Don Donki traces back to Japan in 1989, where the first Don Quijote store (where it is called in Japan) opened its doors. Since then, Don pen, the blue penguin-themed stores have been making their way to sunny Singapore since 2017. Also, unlike some other Donki branches, this particular one boasts a unique transport theme.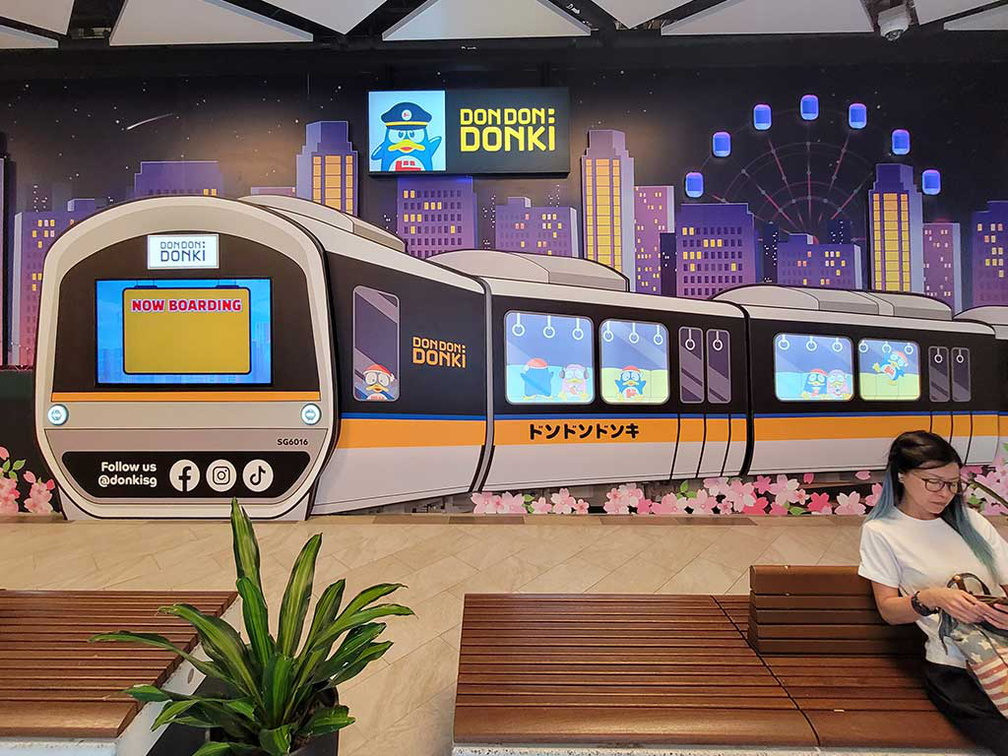 Additionally, this Don Don Donki, in particular, is themed around train transport. There is an MRT train mural located outside the store, with large murals of the adorable blue penguin mascot don-pen riding a train through the Singapore skyline.
Furthermore, the store is tucked in the top floor of Paya lebar quarters mall, sitting beside their staple food court beside the supermarket too. Moreover, as you enter the store, you're greeted by the supermarket section. It occupies the central area and featuring a non-linear layout. The selection covers all the typical Donki offerings. This ranges from dried foods and snacks to drinks, supermarket staples, and fresh bento meal sets.
A familiar supermarket layout
Moving on, the store maintains a familiar layout, with the supermarket section branching off into various side sections for dried foods, snacks, and condiments. While the supermarket section remains consistent across all Donki stores, each new branch opening in Singapore is celebrated with much fanfare.
Moreover, Donkis in Singapore are more of a household brand than one of novelty now, with so many branches all over Singapore now. Working on a tried and tested selection, this branch is mainly focused on food and snack items, with a less emphasis of non-food offerings.
Also, the liquor section is relatively small, yet it stocks a variety of beers and Japanese whisky, albeit missing some vintage Suntory found in their flagship store. However, there are still favorite selections here. This includes Suntory highball canned and bottled drinks, along with the quirky Suntory whisky available in large plastic bottles.
Ready to eat meals
Furthermore, Donki's success in Singapore can be attributed to the strong demand for Japanese produce and ready-to-eat food products. Also, among the top sellers are ready-to-eat meals like karaage rice, gyudon, and sushi, along with a dessert section offering Taiyaki and mochi.
Wrapping up, towards the end of the supermarket section, you'll find hot counters offering hot bento meals and cold fresh sushi. However, these instant meals tend to run out quickly by the end of the day.
While the Singaporean stores focus primarily on groceries and food, it's interesting to note that the original Don Quijote stores in Japan are known for their hyper mart offerings. There, they sell everything from apparel and books to electronics and even air-conditioners, with some even having Ferris wheels.
In conclusion, Don Don Donki's expansion in Singapore has catered effectively to the local market's demand for Japanese products and ready-to-eat meals. Despite the distinct theme and layout of each new branch, the tried and tested model ensures a consistent shopping experience for all visitors. The presence of Donki in Singapore has come a long way since its inception in 2017, and it continues to captivate customers with its unique offerings and innovative themes.
Other Donki branches we explored
Paya Lebar Quarters