In our quest to explore the various Don Don Donki stores scattered across Singapore, we recently found ourselves at the Don Don Donki Jurong Point, the 15th branch of this popular Japanese retail chain. Located in the western part of Singapore, specifically in the basement floor of Jurong Point mall, this store offers a unique shopping experience that combines Japanese culture with a touch of arcade nostalgia.
The 15th Don Don Donki
Opening its doors in November 2022, Don Don Donki Jurong Point is strategically positioned near the Japanese food street and &Joy Japanese eateries, creating a synergy of Japanese culinary delights. Also, as you approach the store, you're greeted by the familiar yellow arches that signify Don Don Donki. To the left, there's a compact Japanese food court, offering a curated selection of Japanese cuisine, including ramen, bento boxes, and even sake.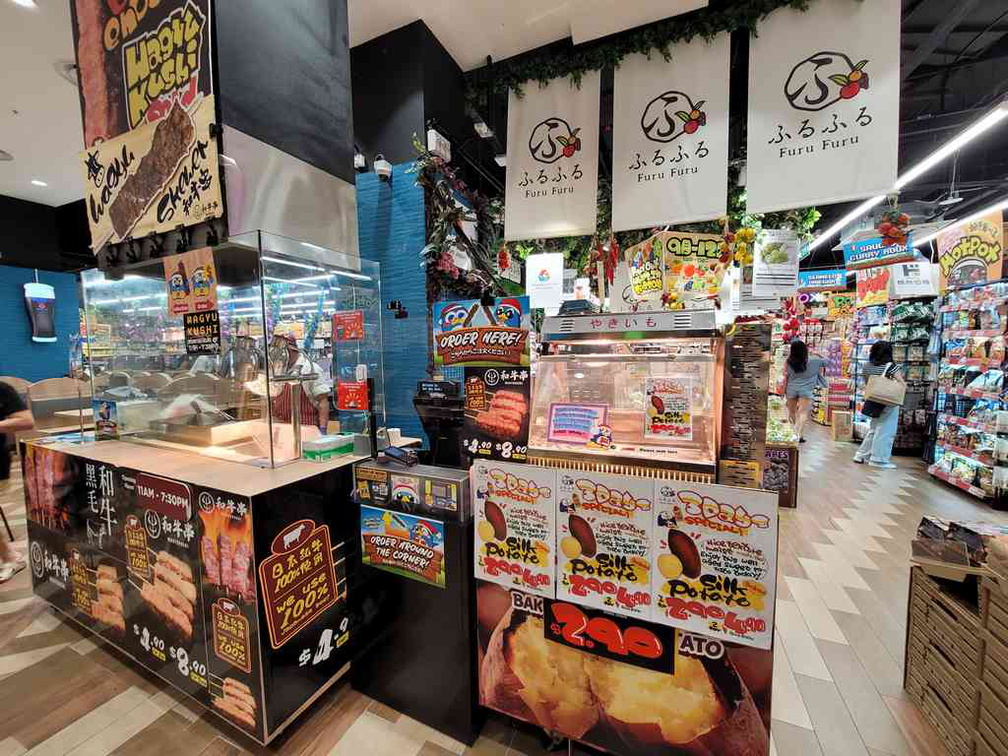 Furthermore, one interesting feature is the sweet potato kiosk at the entrance of the supermarket section. Also, this kiosk sells ready-to-eat sweet potato delicacies at specific times of the day. You can also purchase Don Don Donki sweet potatoes to prepare at home.
An arcade themed Donki
Moreover, each Don Don Donki store in Singapore is uniquely themed after a notable local icon or landmark. For instance, the North Point Mall branch boasts a safari theme, the Punggol Waterway Mall Donki has an amusement park theme, and PLQ follows a transport theme.
Additionally, the Jurong Point store, on the other hand, adopts an arcade theme, evident in the numerous murals depicting scenes from popular arcade pop culture throughout the store. Also, the supermarket section features LED neon signs with Pac-Man references and pixelated character art reminiscent of 8-bit retro gaming from the 1980s.
A familiar Japanese supermarket
Upon entering the store, you'll find a wide storefront leading into the dry goods section, along with a gacha section and dry goods. Also, the supermarket follows a linear layout. It guides shoppers through various sections, including fresh and frozen foods, hot bento meals. The supermarket eventually end by lead you back out to the entrance and food court exit.
Impressive is the availability of ready-to-eat meals and even Alaskan crab legs topped with roe, priced at a reasonable $6.90 per serving. Their bento sets range from the $8 to $15 range for premium options, which is near restaurant prices.
One noteworthy aspect of the Jurong Point branch is its sizeable toy section compared to other Don Don Donki stores. However, it's essential to mention that the toy selection here is limited, consisting of a single row of toys and travel goods, as well as a small gacha capsule corner. Also, unlike some other branches, you won't find cosplay costumes or clothing in this section.
Also, it is worth nothing that Don Don Donki made its debut in Singapore in 2017, opening its first branch in Orchard Central basement, offering a wide range of essentials, food, and non-food products under one roof. However, unlike the model of its Japanese stores, this branch does not operates 24 hours a day.
However, there are notable differences between the Singaporean and Japanese stores. While Don Quijote stores in Japan offer items like televisions, air conditioners, and car parts, these are absent in the Singaporean branches. Also, stores here focuses more on supermarket offerings to compete with Japanese supermarkets like Meidi-Ya Japanese supermarkets.
Also, the store also dedicates a section to sake, with an open and less concealed alcohol section featuring long shelves of highball, sake, and whisky. Some premium bottles are even locked behind glass cabinets and can reach prices as high as $2888 per bottle.
Continuing our journey through the store, the mid-section houses supermarket items. Moreover, this leads into a section that offers fresh sushi and bento sets. Among the notable items in this section are the ready-to-eat snow crab legs topped with prawn roe, a mouthwatering treat for seafood lovers.
One intriguing aspect of Don Don Donki Jurong Point is its location within a mall that also houses a FairPrice supermarket. Also, this proximity might explain why the supermarket section within Don Don Donki is comparatively smaller, as it needs to compete with a well-established grocery store.
Wrapping up
To add a final touch to the arcade theme, the checkout counters at Don Don Donki Jurong Point are designed to resemble retro pixelated 8-bit arcade graphics. It is reminiscent of the check-in booths you might find in classic arcades.
In conclusion, our visit to Don Don Donki Jurong Point revealed a unique shopping experience that seamlessly blends Japanese culture with arcade nostalgia. This 15th branch, with its arcade-themed décor, offers a diverse selection of Japanese and international products. It's fascinating to see how the Don Don Donki brand has expanded in Singapore, with its 16th outlet already open, continuing its invasion across the island. Whether you're looking for Japanese delicacies, quirky toys, or a touch of arcade nostalgia, this Don Don Donki branch in Jurong Point has something to offer.