Suomenlinna island is an 18th-century sea fortification fortress island and public open space located at Helskini, Finland. Suomenlinna is also a unique European monument of military history, and is on the UNESCO World Heritage List for military history. Lets do a day trip visits and check out the various museums, fortresses and green spaces.
Getting there includes a short 15 minute ferry ride from the Helsinki south harbor market square. It is a short 10 minute walk away from the iconic Helsinki cathedral square. A daily departure return ferry ticket by operator HSL costs €30.
Tickets can be self-purchased from automated ticketing machines at the pier. The HSL ferry departs at a frequency of 2-3 departures per hour from 6am to 11pm, with hourly departures up to 2am, so no worries on missing the last ferry.
Moreover, the park is free to enter. Also, Suomenlinna fortress island comprises of 6 islands, though only 3 of the largest islands are publicly accessible. Also today, the Island is actively used by the military as a barracks and training grounds. This section of the island is out of bounds to the public.
A fortress island
Furthermore, the visitor center building by the ferry pier is your first countered service center with a café and exhibition spaces. Also, public toilets and guest services are found here. There is also an event space which is used to hold ad-hoc exhibitions. Interestingly, there are accommodations and even a hostel on the island.
Moving south bound along a cobble and road path brings you to the Suomenlinna Church. Opened for short periods of the day from 12pm – 4pm, it is a white modern church. Also, interestingly, the outer fence of the church is made using from cast iron cannons and chains.
This main island is also home to various small cafes you can chill out and is also home to most of the island's museum spots on the eastern side of the first island. Let's check them out.
Suomenlinna museums
Moreover, there are 6 recommended museums to visit on the island, including a toy and even a even World war 2 Submarine to visit. Also, these museums are mostly small and independently-run and funded by donations and entrance fees. The main museum being the Suomenlinna museum.
The two storey museum exhibits Suomenlinna fortress 18th-century life, covering the history and way of life of the island. It starts off from the ground floor going up to the second before ending at the building's gift shop which also serves as the island visitor center. A tour typically takes about 30mins.
Also, it could take up to under an hour if you were to check out all the exhibits and audio-visual items. Entry costs €7 per adult and closes at 6pm.
Military and Toy museum
Additionally, the Military museum is a curation of Military equipment in a barn like shed. Don't let the exterior fool you. The interior is well laid-out with a central space showcasing large guns and vehicles.
Moreover, showcased along the walls are display cases of weapons, uniforms and medals. It is a must-visit for military history buffs. Also, entry to the Military Museum is an affordable €5 and opens till 6pm daily. Also, the military museum contains a number of really nice old world war military hardware relics and uniforms on display. It is a pretty nice curation for the price and alot more than I expected.
The toy museum is a cosy little museum tucked in a garden area of the island. It spans two floors with all the exhibits situated on the ground floor.
Also, the museum resides inside a house with a surrounding garden to boot. Inside, you navigate through, in a linear fashion rows of cabinets of toys comprising of mostly doll houses and accessories. Most of the toys are antiques such as tin-metal cars and ride karts. Entry is Toy Museum (€6) (5pm)
Visit a Submarine (Vesikko)
Furthermore, the Submarine Vesikko (entry €5) is a small, short but rather insightful attraction exploration-museum to visit. It was a restored Finish CV-707 submarine built in 1933, converted into a museum since 1973. Also, the submarine is a small walk-through attraction which you can literally walk through in 5 minutes, considering it's a rather small vessel.
However, if you are into details, you can dive into the details or the Sub interior in its rawest form. You can relive how it is to be under the depths in these cramped submarines built for the World War.
Explore the crew sleeping quarters by the Torpedo room to the dials in the diesel engine room towards the rear of the submarine.
Wrapping up, other notable museums of mention be the Customs Museum (Free to enter), and the commander's Ehrensvärd Museum (home) (entry at €3), do note that Ehrensvärd is open largely only in the summer months and closes 4pm.
Suomenlinna maritime fortresses
Continuing on, crossing over a bridge from the landing island brings you into a fortified barracks like area with several stone tunnels for you to explore. Here, you can navigate through the fortification corridors and tunnels. Interestingly, dining parties and events are also held in these caverns.
Notably, Finland war history is one largely one brought upon by the Swedish. This is considering that Finland was actually was a neutral state for the most part of their history and the Swedish conquered them to fend them against the Russian. Moreover, the southern island bastion area are where you can find these defensive cannons and fortifications.
Additionally, the fortification is also where you can have a peek behind tow double doors, the Viaporin Telakka Ry dry dock. The island is also a spot for ship repairs. Moreover, a clearing courtyard out here is the location of Augustin Ehrensvärd's Grave (Augustin Ehrensvärdin hauta).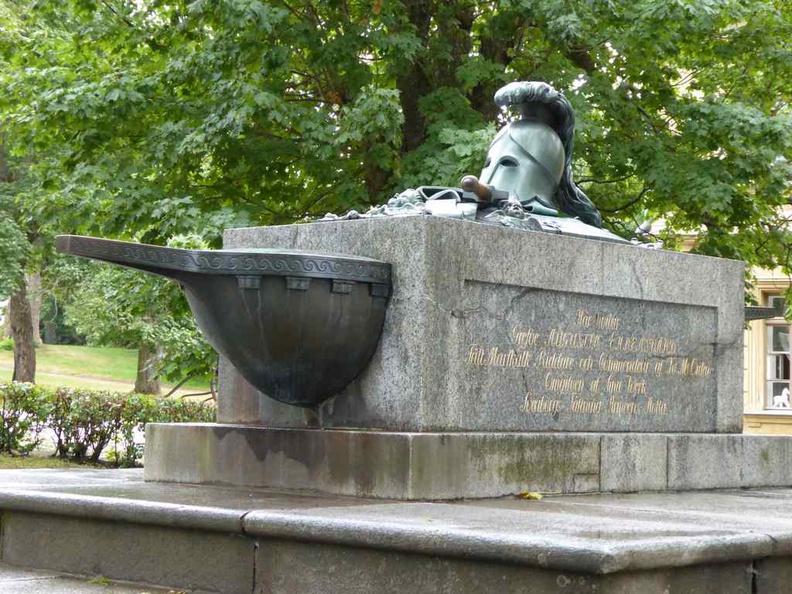 Augustin Ehrensvärd was a Swedish military officer, military architect and artist who lived from September 1710 to October 1772. Most notable, he is the founder of the Suomenlinna (Sveaborg) fortress and the Swedish archipelago fleet.
Gyllenborg Bastions and kings gate
Furthermore, if outdoor trails are your fancy, the southern Gyllenborg Bastion is something you might fancy. From here, moving on from the ferry terminal east island, these southern island are the less populated areas and is home to fortifications and bastions ruins. Also, you can start to find a hint of occasional fort and random cannon along your route in this fortification area.
Moreover, a highlight here would be the Royal "Kings" Gate. Also, the gate is called the Kuninkaanportti. It is a 1700s gate at Suomenlinna fortress featuring a concave facade & wide stairs to the water. It offers some great photo opportunities.
Canons and more cannons!
Additionally, this open bastion area is largely open and unsheltered from the elements. There is a mix of stone forts you can check out with real canons littered around this open coastline area.
The cannons are presumably used to defend the fort from naval invaders. The open fields at the center of the courtyards are home to much larger caliber cannons, which dots the otherwise undulating coastal landscape. Also, notably, the spot is quite a good trail running spot too popular with locals.
Additionally, Suomenlinna is a popular summer recreational spot and is home to several boat marines too. It is to uncommon to see many private boats berthed off short. Also, the Sveaborgs badstrand is a summer spot popular with beach goers and one of the few sheltered spots suitable for swimming.
All in all, you are good for an entire day out here on Helsinki Suomenlinna island, and you can more or less explore the entire island with a ferry back to Helsinki in time for dinner. Definitely a must-see on your trip to Helsinki.