Helsinki is the capital and most populous region in Finland. It is a seaside city, situated by the Batic Sea with seaside views of the Gulf of Finland. For my trip in Helsinki Finland, we shall visit ancient Cathedrals, island fortresses, check out tranquil parks, buzzing market and world-class museums while busking in the summer sunshine. Let's check it out today.
Getting to the Helsinki city center
Getting to Helsinki's city center from Helsinki airport is simple and affordable. I would recommend the Finair Airport Bus 615 (620 Night). A comfortable one-way 40min ride journey costs €5 and the bus departs from all major Airport terminals (T1, platform 2 and T2, platform 21) before headed to the city Kamppi/Central station where the airport bus terminates.
Also, affordable accommodation is not difficult to find in the city too, especially hostels. You can pay using the Helsinki Regional Transport (HSL) contactless transport card or with conveniently with Visa paywave.
Helsinki's city center is an excellent transport hub. It's location near the city center links not only buses, but train stations and ferries. It's excellent location near the city center and train station with many shopping and food choices in the neighborhood. There are plenty of restaurant and fast food options and cafes around the area in the city center where the main bus and train central station reside too. Also, if dining in if too pricey, there are several supermarkets across the street if need be.
Moreover, Finland is the 2nd safest place in the world, and the people there are really friendly. On accommodations, if you do not mind hostels where rooms are not made daily (but "Self-help" spare sheets are available in doing up the room yourself). You can easily snag a place for under 50 Euros a night. These hostels are also highly automated and uses self-check in (typically from 3pm). If you need to stow you luggage and do some sightseeing before check-in, I recommend using the lockers at the Helsinki central train station, they cost 1-2 Euros per use, so you won't be grounded waiting to check-in and do some sightseeing in the meantime.
The Helsinki city hall is located not too far off from this city center. It is a large imposing building you will come across on your way to the Helsinki National museum of Finland.
Helsinki Cathedral
Much of Helsinki's main spots are located near the Helsinki Cathedral square. The Cathedral with it's green dome surrounded by four smaller domes is a building landmark in neoclassical style, and is a instantly recognizable as a Helsinki icon. It was built in 1852 and is dedicated to St Nicholas.
It is open daily and fee to enter for all. The interior of the cathedral is clean and decked in white. The grand organ sits centered at the top of the entrance, with rows of wooden seats running the Church's entire length.
Moreover, the cathedral sits in front of a massive square (Senate Square) with a statue of Alexander II (1894) standing in the middle. It is a location for performances, fairs and is a short 15 min walk from the city center and Helsinki train station.
Helsinki Change of guards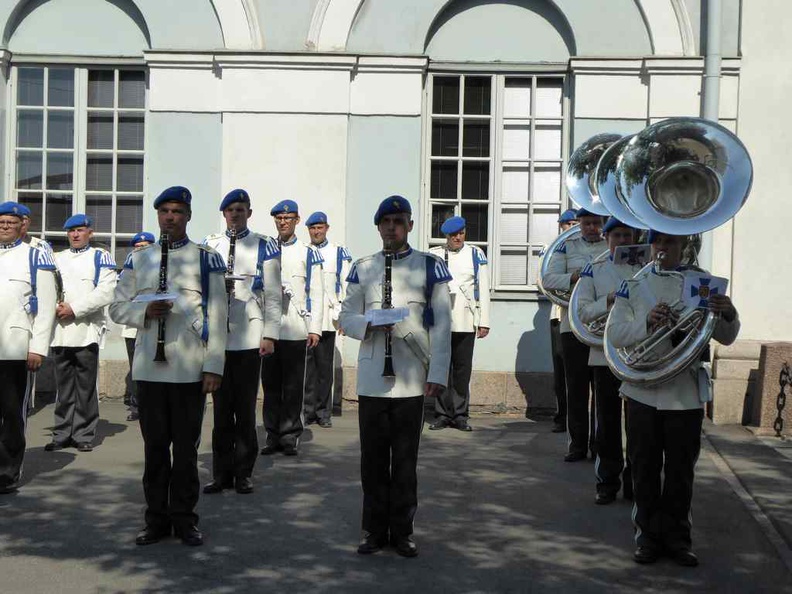 Also, the Helsinki Senate Square is tucked in the corner, everyday in the summer months. A change of guard parade is conducted here from 12:20pm. It features a marching band entertainment music, pattern marches and drill commands. The contingent will march from the Senate past the market place so you won't miss them.
Furthermore, another point of interest here is the Uspenski Cathedral. It is an eastern orthodox cathedral right here in Helsinki Finland and is free to visit. The design, clad in red bricks does bare a resembles the orthodox Churches in Moscow, Russia.
It has an iconic dome and interior ceiling paintings typical of orthodox designs. Also, do check opening times before visiting as it tend to close early (3pm on weekends).
Helsinki South Harbour and Market Square
The south market square (opens daily) is a great place to grab lunch at one of the many pop up stores and souvenirs at a bargain. Also, beside the market is an esplanade park with some cafes and green spaces.
Moreover, the market is a great place to find bargain souvenirs and one of the more affordable places in the city to grab a quick meal. There are sheltered seating offered by each make shift tent store lined along the entire square.
Also, the park leads up to the main shopping district and central train station. Do note the markets closes by about 5pm daily so do check it out during mid-day where you have the most options available.
Moreover, the south market square is the spot where you can buy ferry tickets to visit the Suomenlinna fortress island, which I shall cover in a separate post. There are daily departures and you can purchase tickets using their contactless travel card. In a nutshell, there are a couple of historical forts and museums on the island, such as a Toy, Submarine and Military museum. The island is also home to a number of really nice old world war military hardware relics and uniforms on display. It is worthy of a day trip.
Helsinki Museums (Arts and History)
If you have a full day to spare in Helsinki, the city has a number of traditional and modern art museums to check out, as well as a National museums. Their National and Art museums in the city immerses you in the rich Finish culture and history. It is interesting to learn too especially as Finland were once ruled by Swedish.
First off is the Ateneum (€19 per entry), a Museum of classical and modern art, just off the city center. Also, if contemporary Art is your fancy, the Museum of contemporary Art– Kiasma (€10) is one to spend an afternoon in. It is situated not too far off too and is open 10am- 8:30 pm.
Lastly, the National Museum Finland (€8, closed Mondays) 11am- 6:00 pm is good for about a 3 hour visit. It is located about 15 minutes walk from the city center, just off the Parliament House building
City Monuments and notable mentions
Moreover, Helsinki is well-connected via public a public transport network of buses and trams from the city center. It allows you to visit several points of interest on the city. You can chill at the seaside parks, or roam in one of their many garden green spaces. If you have a half day to spare you can catch up on such sights Sibelius Monument.
It is funny metal sculpture monument made by Eila Hiltunen in 1960s with 600+ steel pipes forming a wave-like shape representing music. It is located in a park 2km north of the city and is walkable.
Additionally, the Round church (Temppeliaukio church) is one to visit for its architecture wonder. Completed in 1969, it was excavated directly into solid rock with a large cavernous pillar-free interior. Notably, it is also a popular concert location for its acoustics.
Wrapping up, Helsinki Finland hosted the 1952 Olympic Games. You can visit the Olympic stadium and sports grounds which still stands today. Also on the outskirts of town is Linnanmaki Theme park. It is a chill family-friendly amusement park with a 65 year-old classic wooden Roller Coaster train ride with its own brake-man on board!
All in all, Helsinki Finland is a city offering with a good mix of museums, history, culture and green spaces. It is also one of the friendliest and safest cities of Scandinavia, well connected geographically by air, land and sea. Definitely a European city worthy of a visit.