Imperial War Museum (IWS) in London is a war museum home to military equipment and exhibitions covering the World Wars. It is a great learning museum suitable for all ages, and great for visitors to learn of military wars, tactics and equipment. Let's pay IWS London a day visit.
Moreover, notably, Imperial War Museum London is one of the two IWS museums in United Kingdom. The other being IWS Duxford in Cambridge, UK. Entry is free with donations appreciated. Moreover, IWS London here is a curation with their IWS Duxford branch (the "warehouse"). Display items of interest generally include higher-value items showcased here at the London museum.
Still, do pay a visit the Duxford branch a visit as it is home to several larger exhibits which can't be displayed here. For example, Duxford is home to a full Concorde test jet or a SR-71 blackbird spy jet for instance you can't find here.
Battleship cannons ahoy
Located inconspicuously in a London neighbourhood, the entrance of the museum leads you into a small manicured garden. Also, sitting center place here in the garden is a large calibre naval gun turret. It sits squarely on the front lawn of the museum. These 15-inch Mk 1 Naval guns were used operationally from 1915 and the First World War.
Moreover, placed behind the huge cannon are two equally huge dummy 15-inch rounds, providing a size comparison perspective. Notably, these huge naval guns were fitted to 22 ships of the British Royal Navy. This included 11 battleships, 5 battlecruisers, 6 monitors (including battleship HMS "Queen Elizabeth" at Gallipoli) and has an effective range of 25km. Also, these large naval guns were part of the arms race then, but not relevant today in the age of guided missiles.
Military equipment on display
Furthermore, you enter the museum into a vast open 2 floored lobby atrium. Here, you can find several ground war vehicles as well as planes suspended from the ceiling. Also, if you are sharp, you can spot a Spitfire, super marine and P51-D Mustang under the skylights.
Additionally, the museum galleries are laid out cleanly across multiple floors which follows through in a logical manner. The galleries are family and children friendly. It offers a mix of static exhibits, with art and informatics style galleries on the upper floors.
Moreover, the museum lobby lower floors are home to a number of notable historical equipment. Also, this comprises of mostly of military hardware exhibits. Notable finds include a classic "tank" the original tank, or armoured vehicle used in the first world war, as well as a Sherman tank in the second world war.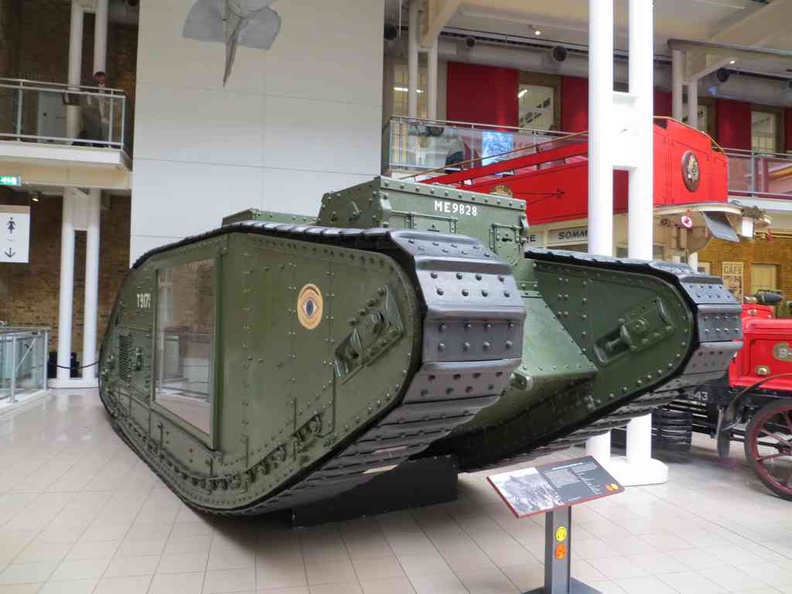 It paints the level of military evolution and innovation to the equipment today. Also, there is also a Centurion tank and a classic double decker bus similar to the ones we saw at the London Transport Museum.
Additionally, here, you can find a mezzanine on the 2nd floor houses a selection of static mobile artillery and air defense pieces. These upper floor can be reach via stairs in this lobby or via elevators. You can get pretty nice vantage views of the interior atrium here.
Upper floor exhibitions
Furthermore, the upper galleries follow through to the upper floors comprise of static exhibitions. Galleries includes one covering the World Wars in the World War galleries, one on the Cold war and the Space race, and one to the Holocaust.
Also, other interesting displays includes areas of military communications and cryptography. Here, you can find the World War 2 German Enigma machines and the British "codebreaker" efforts to crack the ciphers. The London Science Museum other museum here in London showcasing British code-breaking, besides the iconic Bletchley Park.
Also, here, you can find a scale model of the Auschwitz concentration camp, where with "work comes freedom". In addition, the World War section houses a collection of equipment, era-weapons, uniform and memorabilia such as medals.
Moreover, the history and story of the world wars are depicted through various mediums. This includes photographs, interviews from veterans and a curation of art (and oil) paintings depicting times over the war. Also, these are laid out in easy to follow galleries you can explore at your own time.
All in all, you are good for the IWS London museum from about 3 hours to about half a day. The offerings of mix of static, interior art and exhibit galleries be sure to provide quite a nice educational visit to suitable for both young and old.