People in Singapore adore the Japanese culture, with the influx of Tokyu hands, Uniqlo, Daiso and Mini-so, the Japanese retail invasion doesn't look like it is set to stop. Starting this month, Singapore welcomed their newest 24-hour Japanese retail store right in the heart of the Orchard road shopping district. Come Don Don Donki!
Don Don Donki, also known as Don Quijote (or just Donki) in Japan, is a popular Japanese discount chain known for its affordable and extensive array of designed or "made in Japan" products all under-one-roof. Also, almost like a mini Walmart hypermart, they sell almost anything you can think of- from household items, electrical and lifestyle appliances, toys, footwear, clothing, accessories, cosmetics, to even food including perishable gourmet food items.
Lets take a look exploring at their newest outlet right here in Orchard Central past midnight.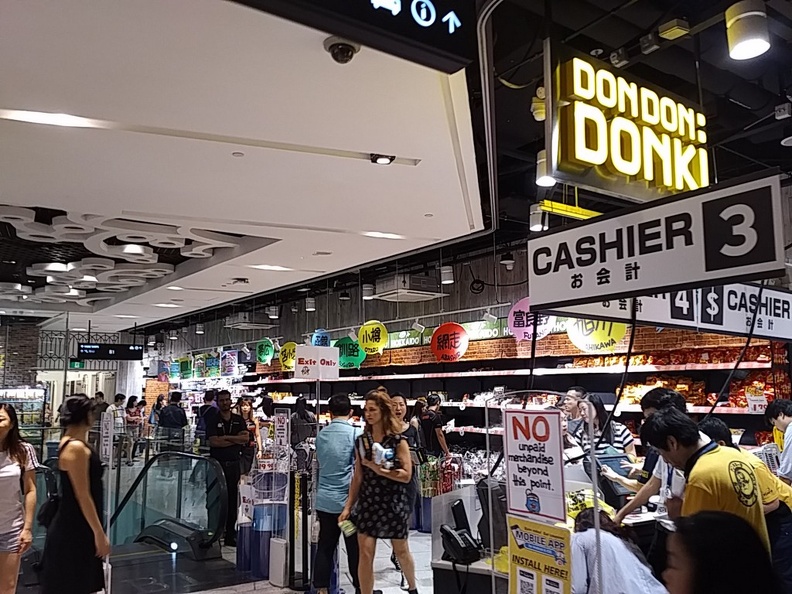 Getting to Donki
Don Don Donki first branch in Singapore is also their first Southeast Asian flagship store. It is located in the basement of Orchard Central with the nearest MRT station being Somerset. Notably, Orchard Central mall is not necessarily known for their friendly mall layout. You can navigate your way to Donki from the ground floor atrium of the connecting Somerset 313 (24 hour walkway linking Somerset and Orchard road) and Orchard Gateway, and heading down by a central escalator.
You will pass by a Tokyo Hands store before navigating your way through a series of right turns guided by Don Don Donki penguin mascot wall art. Moreover, if you are driving, you can get free parking along Exter road past 10pm. Otherwise parking at Orchard Central costs $4.50 per entry and $1.50 every 30 minutes thereafter.
Furthermore, you can take an elevator which operates throughout the day (and night), bringing you directly right in front of the stall front at B1 or the supermarket in B2. Donki itself is spread across two basement (B1 and B2) floors, spanning a total floor area of 1,400 square meters.
Don Don Donki store brands itself as a one-stop budget retail outlet selling items from almost every major departmental store and household category 24 hours a day.
Donki is a uniquely Singapore name
Greeting you right at the front of the stall is Mmmm well, just the store itself- no fancy signboards, just a lit neon text overhead saying "Don Don Donki". For Singapore, the store was renamed to Don Don Donki from the original name Don Quijote, as the latter had already been registered by a Japanese restaurant at Dempsey Road.
Upper floor- Dry foods and Lifestyle goods
You enter the store straight into a cosmetics and beauty section, followed by a Japanese dried foods and tidbits sector. Here, you can find a variety of cookies, biscuits on top of the Japanese Hokkaido snack-fare.
The outlet is arranged in a circular layout with wall-lined shelves and some open areas. From here, you can effectively do a loop around the entire upper B1 part passing by all the sections in here.
Noticeably on weekends, the stall is packed even in the wee hours past 2-3 am. Past the front entrance of the store brings you to the household products section. The goods selection is not extensive, but you get a choice of the essentials, such as kitchen utensils, appliances and even pet food and accessories. Also, with their December launch, the store also is decked with festive decorations. This includes a section for Christmas costumes, decorations and fixtures.
Also, like land-scarce Singapore housing, most of the items lining the store shelves makes use of as much vertical space as possible. Notably, goods can be seen packed even up to the ceiling in some areas.
Additionally, Donki's 68 year old founder and chairman, Takao Yasuda, shared on the challenges to find a retail space in Singapore large enough to accommodate Donki's diverse product range. Also, he stated they were able to squeeze in as much merchandise similar to their stores in Tokyo with a similar product line-up here despite the small store floor area.
Fashion, on a shoe-string budget
Moving on, the far end of the store is devoted to fashion and lifestyle clothing accessories. Here, you can find a full selection of clothing for both guys and girls, including jackets, street wear, hats, belts and wallets, as well as under garments/underwear.
Items are well priced; a decent quality wallet will set you back under $20 and are close or even cheaper than Uniqlo clothing prices. There are a selection of handbags for ladies too, going under a generic "Python" brand.
Adding to the Japanese touch, Donki is possibly one of the few places in Singapore where you can buy a Kimono dress off-the-shelf-too too. Right on our own sunny shores.
Got electronics?
Adjacent to the fashion section is the electronics section. Here, you can find an assortment of branded (e.g. Audio Technica) and several unbranded electronics comprising of consumer audio equipment. This includes headphones, Bluetooth speakers, power banks and phone accessories. Also, there is even a small section dedicated to kitchen appliances and even professional cameras.
In addition, items sold here are "as it is" and lacking depth variety. Judging by the lack of people here, electronics is definitely not a place first thing in mind you will visit Donki for.
Value for (quite some) money
A more accurate description of Donki will be value for money rather than "Budget", where you get more for your dollar in quality. The same can be said for the watch time pieces on sale.
Possibly the single most expensive item you can find in Donki will be Grand Seiko timepieces going in the excess of $7990. You can also get retro classic Casio digital watches here for $20.
However, in the benefit of the doubt, such expensive items are a rarity in-store. In all, things sold here are actually very priced lower than your usual run of the mill shop or boutique in the upmarket Orchard area.
Quirky toys
A central area of the store is devoted to Toys, stationery and Hilarious cosplay costumes. Notably, there are a couple of Gashapon machines situated at the toy section too.
Humorously, you also get some costumes on sale here which are usually found on the upper levels of a typical Akihabara costume stall. Unique items here will include an extensive assortment of ready-to-wear costumes for both sexes and all ages. Also, there is even a selection of provocative costumes including a French maid and a guy in a questionable geese suit.
Laughably, there had been news of even sex toys going on sale here in the Health goods section but had long since been removed due to undesired publicity.
Moreover, the office stationary and toy section sits inconspicuously beside the cosplay section. This offers a range of Japanese Toys from the Takara and Tomy brand, as well as a large selection of Japanese themed animal plush toys and key-chains. With exception of Petrol station convenience kiosks, Donki is possibility the only place in Singapore where you can purchase a full range of Tomica Toy cars 24/7 now.
Additionally, besides your usual fanfare of Japanese branded pens, the stationary sector is also where you can find a variety of quirky Japanese inventions. Examples include pen scissors to quirky staple-less staple punchers.
Meet Donpen and Donko!
Incidentally, if you had been around Tokyo Japan, you may have chanced upon the Don Quijote store logo on signboards with the stylized Japanese "ド" text read out as "Don". Here, the store also has an instantly recognizable blue and pink penguin mascot named Donpen and Donko respectively.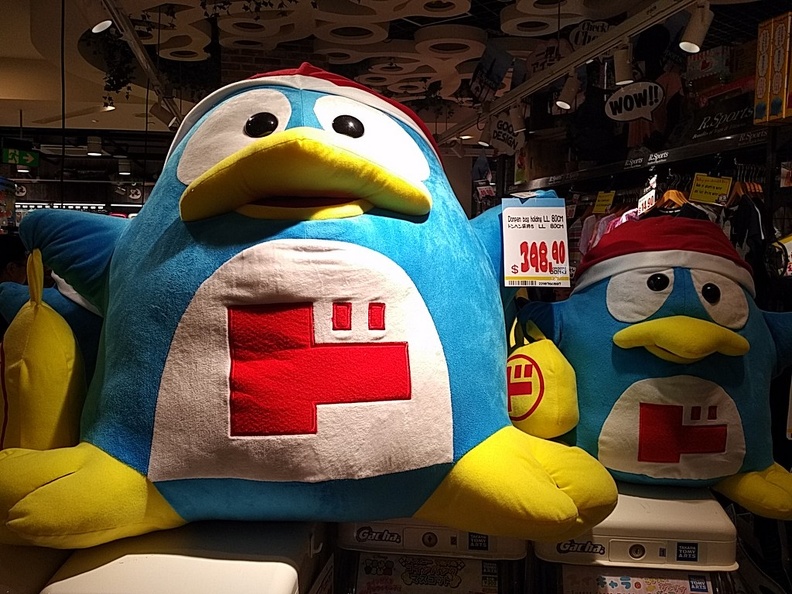 Throughout the store, you chance upon this mascot- the adorable rounded penguin can be seen perched on the various aisles and shelves in the Singapore store. Interestingly, Donpen is available for sale too in two sizes. Also, the small sub-50cm one goes for under $60 while, while the larger meter-wide one retails at about just under $400.
Sports and Travel Section
Additionally, last of the sections up here on Basement 1 includes a sport and fitness sector. Here, you find a selection of home gym fitness and exercise equipment as well as travel accessories, comprising of bags (of various form factors and sizes) and full-sized Luggage.
Unsurprisingly, most of the items here are house-branded. Several items here spot generic names you probably had never heard of. Additionally, the price range of the made-in-Japan bags here cater to a wide price segment. This ranges from very affordable ($20) to even up to $99 per bag. Travel roller luggage can cost from $160 to $499 each. It is not exactly what you can call "affordably cheap".
Furthermore, the footwear section features an extensive range of injection molded crocs-like footwear and slippers, as well as shoes. Eventually, the store pathway loop leads you back to the front store entrance where 2 of the 4 checkout counters on this floor reside.
As both basement 1 and basement 2 halves of the store are not interlinked, you will have to check-out on either floor before proceeding to the next. You can't bring unpaid merchandise to either floor for a seamless shopping experience.
Don Donki Basement 2 supermarket
The other half of Donki awesomeness will be the food and fresh produce section grommet section. The supermarket takes up almost the entire basement 2 of the building. Also, this sector is part of the underpass link-way across Orchard road connecting Orchard Central to Centerpoint shopping center. Moreover, the supermarket itself is split between two sections. Here, a main sector houses fresh, ready to eat and perishable produce, while the other smaller half is home to drinks, alcohol and ice-cream.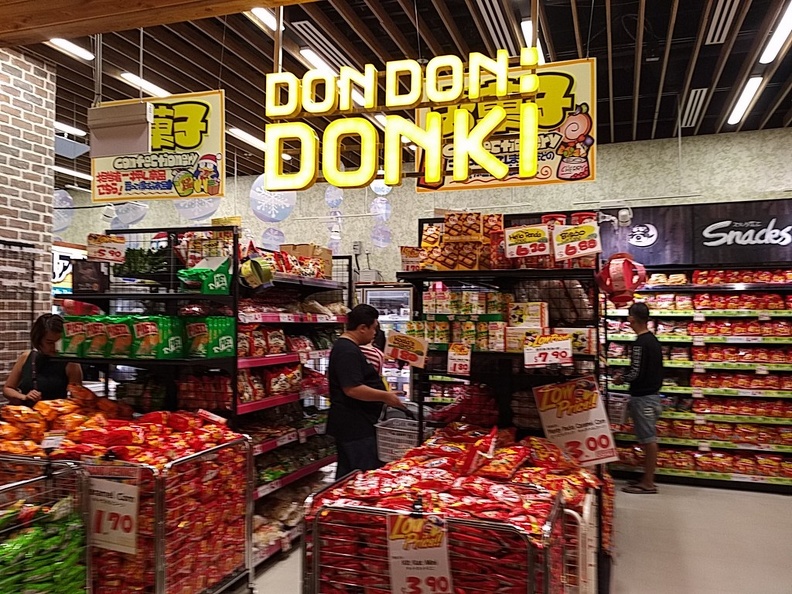 Commendably, it is surprising that Donki as a cut-price chain retailer is ambitious to operate a full grocery store selling fresh produce, meats and even alcohol. This, and all while operating 24/7, catering for a niche and going in the likes of some 24 hour NTUC and Giant supermarket outlets.
Moreover, it is worth noting that the store operates with a reduced capacity past midnight with fewer staff. Hence, half of the checkout counters and the supermarket meat and deli counters will be closed from 10pm during the wee hours of the night till the next day.
Japanese food paradise
Tucked behind the supermarket walls are selections of Japanese delicacies and you can never find in your local NTUC or Sheng Shong. The entrance of the supermarket is home to a number of quick sale counters selling Sushi and ready to eat Tonkatsu and chicken wings.
Furthermore, the drinks sector houses a selection of Japanese drinks including boss coffee, Sake and Japanese milk or orange sorbet ice cream. Past 10.30pm, the alcohol and liquor section will be closed and condoned off with barriers.
Also, layout-wise, Donki supermarket is compact with tight aisles. Even the store shopping trolleys are micro-sized, which you can release for use with a dollar coin. Comparatively, the cost of fresh fruits from Japan are reasonably priced. For instance, a Fuji apple goes for $2.90, while a pack of Strawberries goes for $14/pack.
Unique Japan imports
Also, you can definitely find a number of imported Japanese products here that will compete with Japanese supermarkets in Liang Court (Meidi-Ya) at a similar price point. Moreover, you can find a selection of Japan-unique imported items not commonly found right here in Singapore. The selection includes Japanese Pickled ginger, Dark sauces and Soya bean products.
Additionally, for snacks, Donki also stocks the increasingly popular Green tea flavored Kit-kat to the Wasabi-flavored Kit-kat. However, I was not able to find the rarer Sake-flavored ones though. I guess that will probably be still a Japan rarity.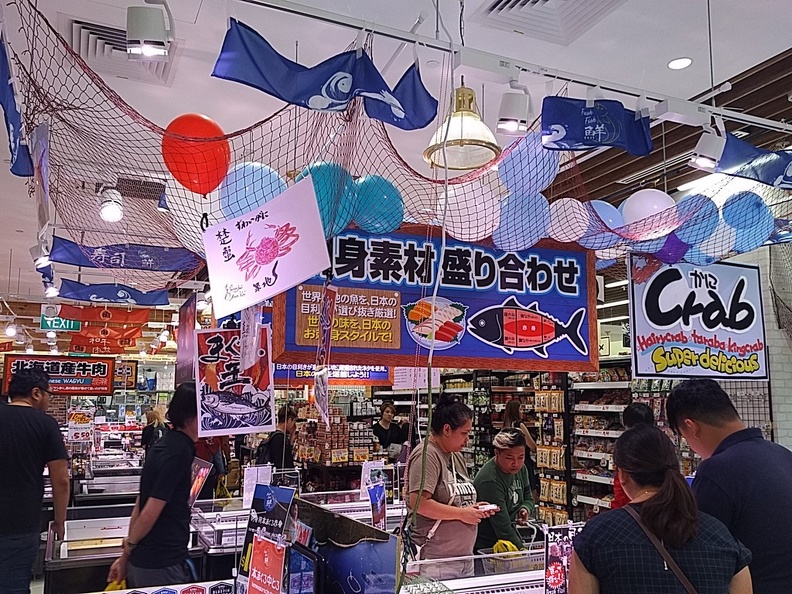 Japanese love their seafood and Donki will ensure you never miss that with their extensive range of Hokkaido seafood to offer. Moreover, an area also worth checking out will be the extensive range of Sashimi, Tuna and Fish rolls sitting behind open chillers. Be sure to grab them before they sell out by the evening!
Wagyu beef on sale
Moreover, do check out the Wagyu beef section too, where you can get up and close with the marbled beef. Waygu goes at about $40 to $60 per chilled pack. Evidently, this price is on average about half the price you typically pay for in a Japanese dine-in by preparing it yourself, less the glitzy restaurant.
Noticeably, as the store never closes, there is never a moment where the store could reorganize. Also, commendably, you can tell staff members are quick to respond to ever changing customer traffic and needs. Moreover, the staff here are empowered to run the operations from situations on the ground. For instance, scrawled all over the store are several hand-written useful signboards and directional signs aiding customers in their shopping.
Additionally, you have a choice of regular checkouts as well as self-checkout counters in the supermarket. Also, the store accepts the entire selection of payment methods including NETs, and Visa Paywave.
The Donki expansion effect
Furthermore, I find the concept of a 24/7 retail outlet very refreshing and essential in revitalizing the Orchard road area. Don Don Donki's entry into the local market with its 24-hour Orchard Central store is an astonishing success to date. The place was also still packed at time past midnight. It is a hit with shoppers looking to spend the wee mornings doing 24 hour shopping.
Commendably, shortly following this store launch, Donki already has plans to open a second Donki at the 100 AM mall at Tras street (Tanjong Pagar) in June 2018. Moreover, further plans includes expansion into Thailand by November 2018 as part of an aggressive South East Asia expansion strategy.
In the highly competitive Japanese-style retail scene, Donki is priced to enter a market on the budget-premium segment. This is somewhat tad synonymous to airlines offering premium economy flight seats- budget but still feel-good.
The Donki Competition?
Moreover, on lifestyle products, I could see that Donki niche will compete along the line of Miniso product range and price point. Isetan and Meidi-Ya supermarkets could also be hit the hardest by Donki entry into the Japanese grocery market. However, I won't see Donki being in direct competition with Muji (difference price point) or Daiso, the $2 store who had been in Singapore since 2002, given a different mass-budget target market.
If a 10pm closing time for most shops along Orchard road doesn't cut it out for you, head down to Somerset here to one of the most late-night buzzing spots in town. Undoubtedly, you could be overwhelmed by the scale of the store visiting Donki for the first time. There is a lot cramped into this tiny outlet. With a Japanese-style Mustafa Centre retail experience. A visit on both floors will take about two hours tops.
In conclusion, Donki is definitely an experience to enjoy. Check it out within our Sunny shores when you are in the Orchard neighborhood, anytime of the day.