Today let's take an in-depth look at the Samsung A54 phone with a review. The phone is a premium mid-tier phone which offers good performance of the price, holding itself well a competitive phone segment. In this review, let's delve into its exterior impressions, benchmark performance, heat management, battery life, and camera capabilities.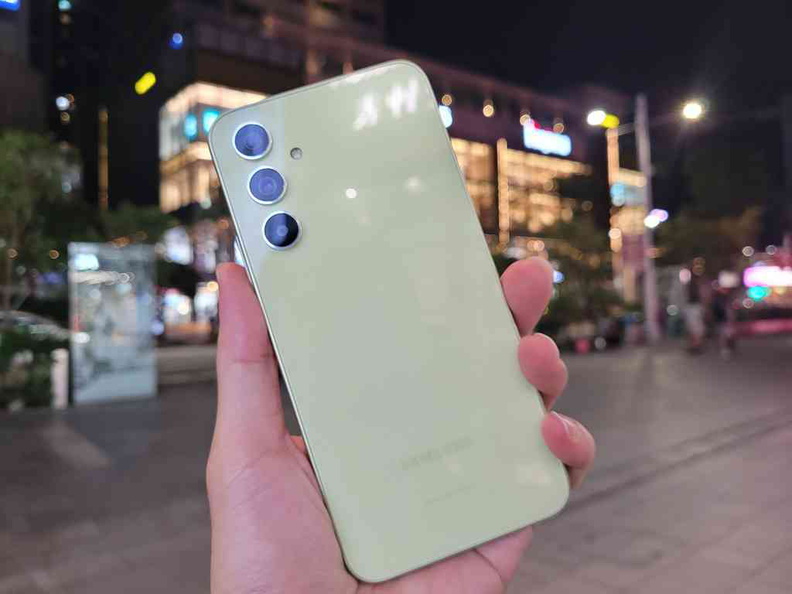 The Samsung A54 phone belongs to Samsung's A-series line-up, which sits below Samsung's mainstream flagship series and targeted on a more affordable yet high-spec performing segment usually dominated by affordable Chinese Smartphones in the likes of Vivo and Xiaomi. Also, the A54 is specifically targeted towards the mid-range market segment, meeting the needs of consumers who desire a capable smartphone without the expensive price tag.
Quick lowdown- Samsung A54
Premium build despite mid-tier specs.
Great 120Hz screen and battery life.
Capable f/1.8 50MP main camera.
Expandable storage via MicroSD.
Mediocre CPU performance.
Exterior Impressions
The Samsung A54 showcases a sleek and well-planned exterior design, adhering to what already works and not fixing what isn't broken. Its buttons and ports are strategically positioned for convenient use, while the choice of high-quality materials and an IP67 rating adding to its premium appeal.
Out of the box, you get the phone with a rather compact box with a sim eject pin, a USB-C 2.0 cable and a set of warranty information. The colour of the phone on the box matches the phone's exterior colour, available in Awesome violet, graphite or white. There is no charger included in the box.
An impressive 120hz screen
The front of the phone sits a 6.4-inch screen with an impressive 82.9% screen-to-body ratio. Also, the A54 holds it's 1080×2340 HD+ screen resolution well in the world of 2k and even if 4K mobile devices screens today. Text appears crispy in screen for the size and it goes to say you do not actually need higher resolution for this screen size and form factor. Also driving less pixels with a smaller screen also helps with lower power consumption. It provides for a slightly longer battery life. More on that later in our battery tests.
Despite being a mid-tier phone, Samsung A54 does have similar design as on Samsung flagships. The Super AMOLED, 120Hz screen sits behind a Gorilla Glass 5 Glass front, and a glass back (also Gorilla Glass 5), clad in a plastic frame surrounds. The phone sits with a footprint of 158.2 x 76.7 x 8.2 mm.
Also, it's plastic body makes it a lightweight at 202 grams. It does feel light in hand, though its does have quite a tad bulky in-hand with its thickness. I think the phone could be offered without a glass back to keep it simple and more durable. Also, the A54 does bear some resemblance to the current more premium Galaxy S23 range. Samsung has did a commendable effort to uplift the look and appearance of the mid-tier phones without feeling cheap or plasticity like Chinese phones in this segment.
A familiar layout
The button layout is typical for Samsung phones, with volume rocket and power button located on the right side of the phone. It is a familiar layout. The power button, conveniently positioned lower within thumb's reach, allows for one-handed activation. However, personally, I often find myself relying more on double taps or the on-screen fingerprint reader for unlocking the phone rather than using the power button.
In contrast, the bottom of the device appears more crowded compared to the other side. It accommodates a USB2.0 USB-C port, seemingly a cost-cutting measure considering flagship models like the S23 Ultra already offer USB3 ports with transfer speeds of up to 10Mbps. Nonetheless, the presence of the port as the main charging and data transfer option is a welcomed feature. USB-C has become a standard across various devices, supporting functions such as Samsung DEX and On-The-Go (OTG). This allows the use of third-party peripherals like wired hubs, storage drives, keyboards, and microphones.
Moreover, the device's bottom houses one of the two speakers, with the second speaker located behind the earpiece. Surprisingly, these small speakers deliver a decent audio range, though noticeable less beeper audio bass offered in the Samsung S23 range.
One noticeable omission is still the absence of a 3.5mm headphone jack, an increasingly common yet frustrating trend in flagship smartphones. It forces consumers to limit to wireless headphones or the use of a USB-C adapter to connect wired audio devices. It is puzzling given, headphone jacks tend to be the mainstay in more budget mid-range phones given the target market. Still, third party Bluetooth headphones are also more affordable these days, with some even going in the $20 range, making the jump to wireless less painful on the wallet.
A MicroSD slot, an interesting inclusion
The phone also spots a single SIM (Nano-SIM, eSIM) or Hybrid Dual SIM (Nano-SIM, dual stand-by). Additionally, the Nano-SIM tray supports dual stand-by, a feature typically found in mid-range phones. However, it would be even better if the Dual SIM tray could accommodate MicroSD card slots. The SIM options include Nano-SIM or eSIMs. Despite this port, the phone boasts an IP67 dust/water resistance rating, ensuring its durability in depths of up to 1.5 meters for 30 minutes.
You would know I am one against the removal of expandable storage such as the lack of microSD card slot and headphone jack. This is given it being a more consumer-unfriendly move than an engineering one.
Interestingly, the Samsung A54 stands out as one of the few phones that still support external MicroSD storage. This feature is a welcomed addition, allowing users to expand their phone's local storage without resorting to external USB flash drives or costly monthly cloud storage subscriptions, which Samsung and Apple tend to push consumers towards.
Premium mid-tier phone
Specification wise the A54 does well in what you expect in the performance department. The heart of the A54 is Samsung's own Exynos 1380 processor. It spots an Octa-core comprising of 4×2.4 GHz Cortex-A78 & 4×2.0 GHz Cortex-A55 as well as a Mali-G68 MP5 mobile GPU paired with either 6GB or 8GB of shared system RAM.
Notably, 6GB of RAM is near flagship specs for 2017 and 2018. It is nice seeing this in mid-range phones now. It is plenty for phones in this price segment, not to mention excellent for multi-tasking.
Also, the CPU built on the modern 5-nanometer process does shine when it comes to efficiency. The phone hardly gets too hot to the touch in my stress and gaming tests. It is also pleasing to know that Samsung has bumped up the lowest their internal flash storage to 128GB (104GB usable), with an option up to 256GB with the upper spec-ed A54. The option to expand with slower microSDXC via the shared SIM slot is a welcome bonus too. And I am glad Samsung added the MicroSD slot absent even on their S23 flagships.
Moreover, storage test of peak write speeds of 493MB/s and read at 531MB/s. This speeds are comparable to SATA3.0 speeds on modern PCs, but inferior to PCI-e and even UFS4.0 speeds we see on Samsung's S23 Ultra flagship.
Also, connectivity-wise the Samsung A54 spots the usual bells and whistles of Wi-Fi 802.11 a/b/g/n/ac/6, though omitted is the newest 6e variant of Wi-fi 6. Dual-band with Bluetooth 5.3, A2DP, LE. Positioning GPS, GLONASS, BDS, GALILEO.
CPU benchmarks and heat
Performance of the A54 is a mixed bag. The phone scored a 3D mark score of 811 and a respectable 2673 in the Geekbench 6 multi-core score. This is despite a diminutive 980 in the single core score.
This Geekbench score puts the mid-tier A54 in the likes of past high-end flagships Huawei P40 Pro, the OnePlus 7T Pro 5G equipped with a Snapdragon 855+ and even Samsung own Note 2 phablet in the sub 2700 score range. Notably, this score is about half of flagship CPUs we see today on the Snapdragon 8 Gen 2 we previously saw in our Samsung S23 Ultra review.
Antutu benchmarks shows minimal throttling when the phone is loaded, often hovering around the rated 2.0 to 2.4Ghz clock speed without having to down-clock itself (thermal throttle) resulting in a drop in performance. This shows that the phone has good thermal profile and does not suffer from overheating issues.
GPU and 3D performance is one of the A54 weaker points. Similarly, putting the phone through the paces on 3D mark, the 811 score is a pretty low score in the likes of current top end Snapdragon 8 Gen-2 processors managing sub-3500 scores, like on the Galaxy S23 series. The gap in performance for similar generation phones is appalling.
Also, during my test, the phone does manages it's heat and CPU very well, seldom throttling and peaks at a temperate of 44.6°C and never gets too hot to the touch. Benchmark numbers aside, the Samsung A54 does not feel slow in everyday day-to-day use.
On regular use, I did not experienced any noticeable slowdown and lost of framerates when playing intensive 3D games. This is brought to you via a nicely integrated One UI 5.1 running on top of latest Android 13 which we see on all modern Samsung phones these days.
Sub $500 pricing is value for money
The Samsung A54 is priced at a recommended retail price of $648 from Samsung's website, though I am able to find offers form third party sellers (e.g. Shoppe and Lazada) offering the base-spec phone new from S$441 for the base 128GB versions and $469 for the 256GB version. This is not a bad price going into the Samsung ecosystem known for their quality and well-built devices. Something which Chinese phones have always suffered in the quality department.
Also, at this sub-S$500 price market, Samsung knows that you probably won't spend additional money on cloud storage. Hence, you get a storage card slot, though a headphone jack will be welcome too. Still, half a thousand dollars is not a small sum for a mid-tier phone. This was price bracket where flagships are typically priced back easily 10 years ago and things had gotten more expensive. Now flagships can easily command prices up to $2000 a phone, like the $1500 price tag of the flagship phones like the Galaxy S23 Ultra, it does make this phone priced relatively cheaper in comparison for what you get.
Beefy 2-day Battery Life
Battery life is one of the strengths of the A54. The A54 with its large non-removable 5000 mah Li-Po battery scores well in the battery department. On Geekbench slow drain tests, the battery drop of about 23% for every 3 hours. This translates to about 12-14 hours of screen-on time at the standard screen refresh rate. This performance is on-par with Samsung past year Galaxy S22 Ultra flagships at the same refresh rate.
The battery temperature plateaus at 40°C on Antutu higher battery drains test, pushing the battery for a 15% drop every 45 minutes. Your mileage may vary. Also, on regular use, you can expect to squeeze about 120 hours of standby time from the 5000 mAh Battery capacity. Also with that, you expect less features as opposed to their more pricey siblings. Wireless charging is also absent in the A54. Though the phone does support 25W of wired "fast" charging via the USB Type-C 2.0 port. Still, this slower charging is good for prolonging battery life.
The bare essential cameras
In the world of 4 to even 5 camera setups today. It is no surprising the A54 spots a 3-lens shooter at the rear. However, the cameras are both it's strengths and also the least favourite aspects of the phone. The back shots a 3-camera lenses shooter comprising of a main 50 MP, f/1.8, (wide), 1/1.56″ with optical image stabilisation, a second 12 MP, f/2.2 ultrawide camera with a 123 degree field-of-view.
A54 sample photos at different zoom levels
However, in place of a more versatile telephoto lens, the 3rd lens is swapped out for a lower-end 5 Megapixels, f/2.4 Macro camera lens which I find is less of a feature but ore of a cost cutting measure due to telephoto lenses being more optically expensive.
This trend of Macro lenses is also evident is low to mid their phones we see in BBK line up in Vivo Y33, and in the likes of Realme and Xiaomi with their Note 10 too. It is not exclusive to Samsung's middle-tier phones.
Essentially Two-Camera Performance
The main camera is a very versatile one and does a good job in capturing images in both day and night. Night pictures are good with the sensor and Samgung's algorithm bringing out details even in dark shots without appearing too dark or grainy (from high ISOs).
Also, the phone has a LED flash good for subjects up to 2 meters and no further in dark spots. The phone supports 4K video recording at 30fps. 60fps is offered only in 1080p mode, with 30fps being the default. You get high speed 480fps video only in 720p mode.
The main camera was able to capture good portrait shots with a depth-of-field effect (or bokeh). It does bring a feature often achieved on higher-end cameras into a phone, adding that professional-looking blur to the background, and making your subject stands out prominently.
A good night time shooter
Furthermore, on top of the large f/1.8 main 50MP lens, Samsung equipped the A54 with advanced software algorithms to optimize the camera performance. These algorithms enhance the image quality by reducing noise, adjusting exposure, and improving color accuracy.

Additionally, the phone's camera app offers various shooting modes. This includes Panorama, HDR, night mode, panorama, and pro mode, providing you the creative flexibility and versatility in your photography. You can also leave it on Auto-mode and the phone can figure out what is best.
I would advise using the main camera for all your photography needs. Accompanying the primary camera, Samsung has included a secondary camera that is often an ultra-wide-angle lens. This camera offers a wider field of view. Also, I found the ultra wide lens useful when framing up architectural shots, landscapes or group photos to capture all your subjects in tight spaces. It enables you to fit more into the frame without having to step back or compromise on the composition.
Gimicky Macro lens
Back on the Macro lens, I hardly saw myself ever using this 3rd lens. Realistically, for photography versatility, I would see myself needing and using a telephony lens more than a macro lens. Frankly speaking, the main cameras on most smart phones can do macro just well, without having the need get dangerously close to your photographed subject.
Wrapping up the camera, the 32 MP, f/2.2 front selfie camera takes decent quality shots, and AI enhanced by Samsung's "beautification algos" 26mm (wide). It shoots 4K video at 30fps and 1080p either 30 or 60fps.
The A54 rear 3-camera setup delivers rather impressive results for the price, but it be better if it were for the inclusion of a 3x telephoto lens. If photography is your thing, I recommend putting your money on the Samsung's FE series we first saw with the S20 series. These "lower-tier" flagship series offers a mid-range pricing with flagship specs with few compromises. The Galaxy S22 FE is one to consider if you desire more photography versatility, especially with a proper telephoto lens.
Who is the A54 for?
Samsung positions the A54 as a versatile device suitable for everyday use, appealing to a wide range of users. Its target audience includes individuals who prioritize photography, social media engagement, web browsing, and light multimedia consumption. With its mid-range pricing, it attracts budget-conscious consumers who refuse to compromise on crucial features and functionality.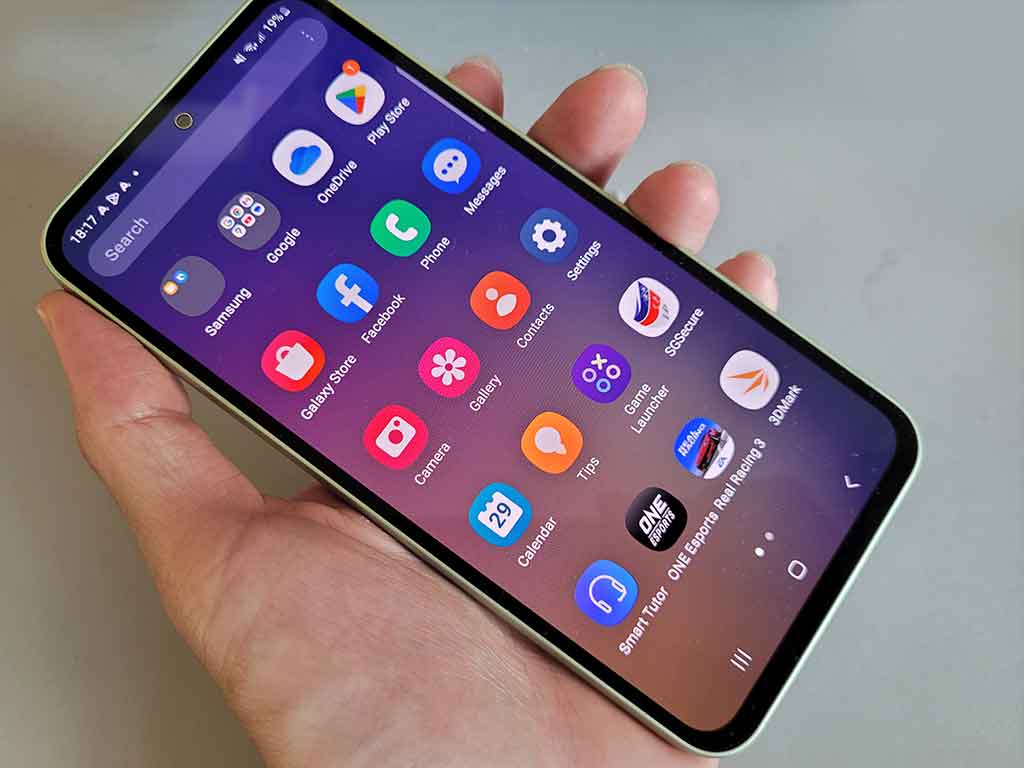 However, I won't recommend the A54 if you play alot of games, as the CPU is the phone's achilles heel. Still, the phone is more than powerful enough for day to day messaging, web surfing and playing HD videos on the HD screen.
Moreover, the Samsung A54 phone is designed to resonate with the younger demographic, offering a trendy and dependable smartphone that complements their lifestyle. It encompasses a stylish design, reliable performance, and an excellent camera system for capturing and sharing moments on social media platforms.
Samsung A54 phone review in conclusion
Wrapping up the Samsung A54 phone review. It sits in a market segment delivering premium specifications while still maintaining cost-effectiveness. They often combine attractive aesthetics, satisfactory performance, and essential features taken from higher-end models. The A54 phone stands out with its competitive camera system, decent processing power, generous storage capacity, and long-lasting battery life.
All in all, the Samsung A54 phone is an affordable value-for-money mid-range option that focuses on delivering essential features, appealing design, and impressive camera capabilities. It caters to users who desire a versatile device without stretching their budget, making it a compelling choice in the competitive mid-range smartphone market. While the camera performance may not match up to flagship devices, the A54 does delivers on performance and affordability, making it a solid option for those looking to upgrade without breaking the bank.
Recommended- Samsung A54 (2023)
Pros
Great 120hz main screen and premium finish
Capable main 50MP camera
Excellent battery life
Value for money
Cons
No telephoto lens
No wireless charging
Mediocre CPU performance
Many thanks to Samsung for the opportunity to review the Samsung A54. As with all my reviews, manufacturers have neither editorial inputs to reviews, nor seen this review before it is released to you, my readers. Thanks for reading!