Tien kee is a small zhi char store serving home style comfort food in a hawker center. The store is tucked in a rustic HDB estate and hawker center located on the outskirts of Toh Payoh central in the Kim Keat Palm Market and Food Centre. You can find Tien kee Zi char with a well-weathered yellow signboard front fronting the store front. Let's take a dine-in.
The hawker store is nestled within the charming Kim Keat Palm Market and Food Centre in Toa Payoh, within a rustic HDB estate on the outskirts of Toa Payoh central. Tien Kee Zi Char stands as a testament to home-style comfort food. This unassuming eatery, adorned with a weathered yellow store front signboard. It tad captures the essence of Singapore's heartland hawker culinary diversity.
The hawker center exudes a dreamy ambiance. Also, the surrounding small two-storey shophouses contribute to its quaint charm. On mid-day, here you can find residents and hawker patrons leisurely engage in chess games while sipping coffee. Amidst this tranquil setting, Tien Kee Zi Char beckons with its home-styled cooked food menu to top it up.
The menu at Tien Kee is thoughtfully curated, with a focus on zhi char staples that have become synonymous with Singaporean hawker cuisine. The menu selections here is a curated of Singapore zhi-char favourites. It is tad like a mini zhi char menu offering. From claypot wonders to noodle delights, the menu features a medley of options that capture the essence of traditional flavours.
Home cooked flair
A noteworthy suggestion is to embrace the communal dining experience by indulging in a variety of dishes to share. This approach, particularly suitable for groups, ensures a heart-warming and satisfying meal. Beside vegetable staples and chop suey ($6), among the culinary highlights are the Beef Earthen Pot ($6) and Chicken with Mushroom ($6), both are served in bubbling hotpots.
Also, I find the beef earthern pot quite the dish to go for. It can be had as a dish to share or for one paired with a bowl of rice. The beef slices are really tender, well marinated, soaked in a rich dark oyster-based sauce which is both sweet without being too oily and bubbling hot within the pot. It strikes a balance between sweetness and richness.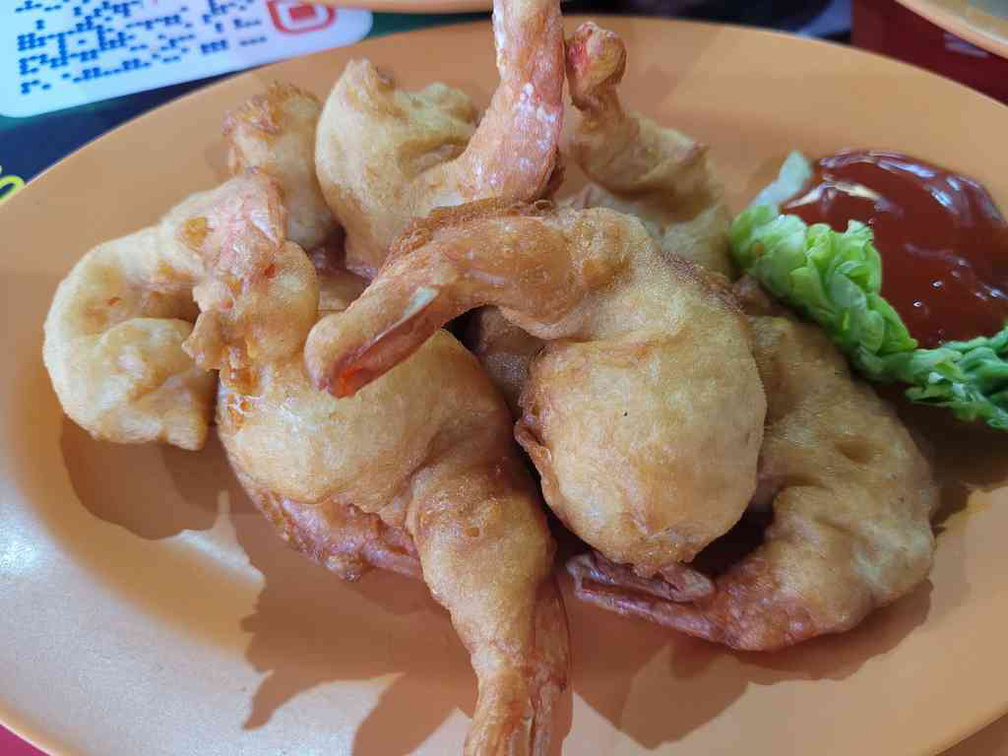 Also, their recommended sides include their Sweet and sour fish ($6) and prawn fritters. The deep-fried prawns are crunchy without being overly oily. You can also eat the shells too which adds a crunch.
Homely local favourites
Additionally, for those inclined towards noodle and rice-based fares, Tien Kee has a variety of options to satiate your cravings. This includes their Fried tow hoo with gravy (S$5), Fried hor fun, Ee-mee, bee hoon all priced at a very wallet-friendly $3.50, these are typical zi-char noodle staples. Also, their noodle dishes are nothing to scream home about, but are still comfort food served well paired to go complementary with their better-tasting main dishes.
Still, also, you can't go wrong with their basic Fried rice, offered at an amazing price of $3.50.  A basic Fried Rice dish like that is a great way to gauge how good a chef is. And I am glad that the great dish is a testament to Tien Kee cooks skilled preparation that underlies every dish served for impromptu my dinner visit.
Wrapping up are soupy options like Hokkien Mee Soup, Bee hoon Soup for an affordable per bowl $3.50. These can be had as a meal itself. Wrapping up the classic zi char offerings are Hokkien Mee and Mui fun, both priced at $3.50.
Additionally, their Mui fun in particular is doused in thick starchy gravy with generous sized peeled prawns. It is quite impossible to find zhi-char priced under $4 today in this economy. Also, their Ee mian (Ee-noodles) dish is one to try. Their dishes portion even rival those offered in zhi char stores and coffeeshops offering similar food choices at a much more expensive price.
Budget friendly
Moreover, what sets Tien Kee apart is its affordability without compromising on quality. The prices are refreshingly reasonable, catering to both budget-conscious diners and those seeking a hearty meal without breaking the bank. Also, a combination of six dishes, designed to serve 3-4 people, sets you back a mere S$36. So that works out under $10 per head for a restaurant-style Chinese dinner, a rarity in a landscape where prices often skew higher.
However, be prepared for a bit of patience when dining at Tien Kee. The establishment opens around 5 pm and closes by 10 pm, catering primarily to the dinner crowd. Also, orders start coming in at 5 pm, even though the eatery officially opens at 6 pm. This pre-emptive start doesn't eliminate the wait time, as the food preparation process can be somewhat time-consuming.
During the peak dinner hour around 6 pm, anticipate a waiting period of at least 20-30 minutes for your meal to arrive. Additionally, be aware that Tien Kee might be closed during mornings and afternoons, so it's wise to plan your visit accordingly.
Wrapping up
All in all, Tien kee zhi char at Kim Keat Palm Market and Food Centre is a small gem of a small family run eatery in the rustic Toh Payoh neighbourhood. It offers a delightful culinary adventure within the rustic landscape of Toa Payoh. An establishment that promises a satisfying spread of delectable dishes, with a reasonable spread, good tasting food and a good budget price to boot.
The combination of flavours, the warm ambience, and the budget-friendly prices makes Tien Kee one to check out when you are in the neighbourhood. This family-run eatery encapsulates the essence of authentic zhi char in Singapore, providing a taste of comfort and tradition with every dish served.
---
This review is not sponsored by the establishment nor did they provide any editorial input or reimbursements into the content and outcome of this review. All meals were paid for in full out of my own pocket as a regular anonymous patron.
Verdict:
Must Go! | Actually pretty Good | Worth Trying | Shortlist Optionally | Should Avoid
Tien kee zi char Locality Map
Kim Keat Palm Market & Food Centre,
Blk 22B Lorong 7 Toa Payoh
Unit #01-19,
Singapore 310022,
Open daily 5pm to 9pm