Let's take a visit and walkthrough of Don Don Donki Jewel Changi in Singapore, their 16th branch of the Don Don Donki chain in Singapore located at the basement floor of the iconic Changi Jewel airport mall.
An airport themed donki
Furthermore, this Donki branched opened not too long ago on December 2022 at the 16th store in Singapore. Like other Don Don Donki stores in Singapore, this branch follows a theme based on the location it is situated in. In this case, being in an airport, the store has an air travel vibe and theme.
This theme is evident from the moment you enter the store. You are greeted with murals of the store mascot, Don Pen, dressed as a pilot and traveling on a plane. Even the pillars in the store are adorned with pictures of Don Pen in airplane windows. Also, its location in the east makes Jewel the most eastern Donki store in Singapore, rivaling the Donki Tampines one and Donki downtown east store opened sometime back.
Here, the store's layout is well-organized, with a wide storefront leading into the dry goods section, including a gacha corner. As you move further in, the layout becomes more linear. It guides you through different sections of the supermarket. Examples includes fresh and frozen foods area and a section offering hot bento meals.
Not much non-food items
However, visitors may find the toy section to be somewhat disappointing. It only consists of a small single row of toys and travel goods, with no other offerings like cosplay costumes or clothing.
There is also quite a large beauty and cosmetic section here, one of the largest you can find in a Donki branch here too.
Moreover, one of the highlights of Don Don Donki Jewel Changi is the large Japanese-themed food court, which is home to Sen Sen sushi and bento counter. This curated food court offers a wide range of Japanese cuisine, from ramen to ready-made bentos sets, and even sake. The food court's size is impressive, rivaling their branch at Clark Quay central, making it a great dining option for visitors.
Donki had came a long way
Furthermore, Don Don Donki first arrived in Singapore in 2017 with their first branch in Orchard Central basement. Back then, staying true to their Japanese roots, the store maintains its 24-hour operation and offers a variety of essentials, food, and non-food products, all under one roof.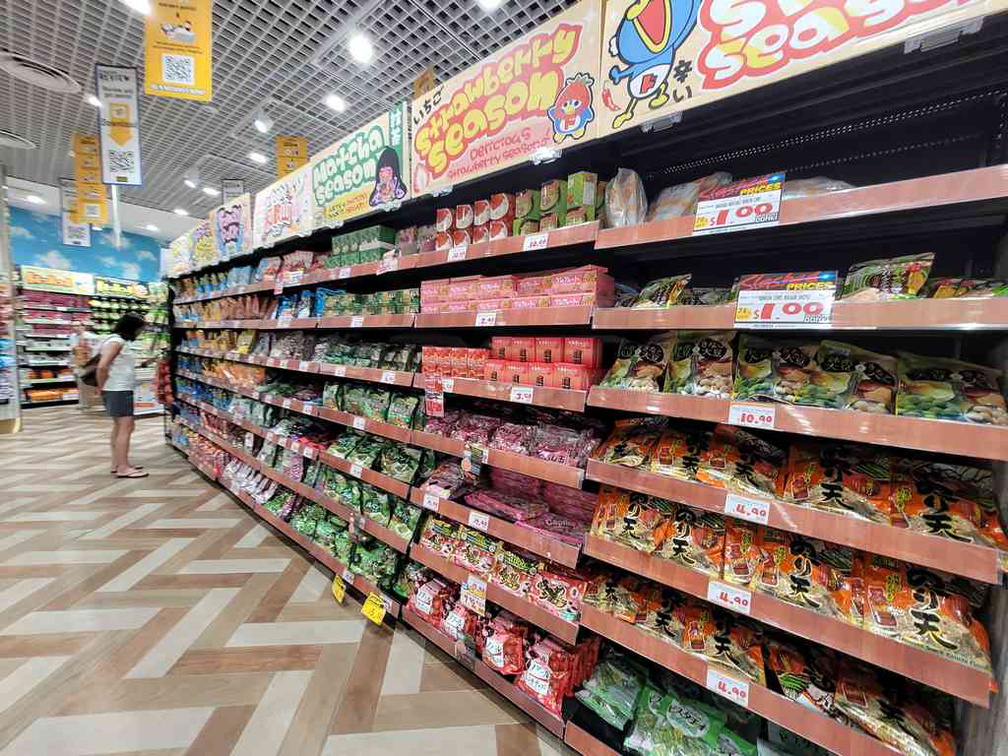 However, the offerings in Singapore differ slightly from those in Japan, catering more to the local tastes. Also, this Jewel branch is not opened 24hours, and  operates only from 10am to 11pm daily.
Also, while you won't find items like televisions, air-conditioners, or car parts here. Still, the store does offer a supermarket curation similar to other Japanese supermarkets in Singapore, such as Meidi-Ya Supermarket.
Additionally, one of the store's unique features is its collection of interesting Japanese products that were previously rare or exotic in Singapore. This includes various snacks and Kit Kat flavors that are not commonly found in local supermarkets, such as Melon and Otona Dark Chocolate. It makes for a haven for those seeking a taste of Japan's unique treats, or simply somewhere to get exotic Japanese snacks if you forgot to buy them on your trip.
Moreover, the supermarket section in Don Don Donki Jewel Changi is smaller than expected. This is considering it competes with the nearby FairPrice Finest supermarket in the same building. This may be due to the store's focus on other products and the curated Japanese food court, which attracts many customers.
Airport-like checkout counters
As you approach the checkout counters, you will notice another nod to the airport theme. The counters are modelled after the check-in booths found in airport departure areas, adding a touch of fun and novelty to the shopping experience.
All in all, that wraps up our exploration of Don Don Donki Jewel Changi at Changi Jewel mall. It is an exciting destination for both locals and tourists. Also, with its airport-themed decor and unique offerings, it stands out among other supermarkets and retail outlets in the area.
While it may not have the same extensive range of products as its Japanese counterparts, it compensates with a carefully curated selection of Japanese goods and a delightful Japanese food court. So, if you're looking to explore Japanese culture and cuisine without leaving Singapore, this Don Don Donki branch in the east is one to visit.
Other Donki branches we explored
Jewel Changi