Let's take a quick explore of Don Don Donki Punggol Waterway point mall. It is one of the recent newest store additions opening on January this year.
In addition, this 12th Donki branch is tucked on the first basement of Punggol Waterway point mall in Punggol central. Notably, the Donki here used to reside where the Toys For Us store is, with the toy store now relocated to the second floor of the mall. Also, on opening day, the store was greeted with much fanfare with strangely, long queues snaking outside on opening day.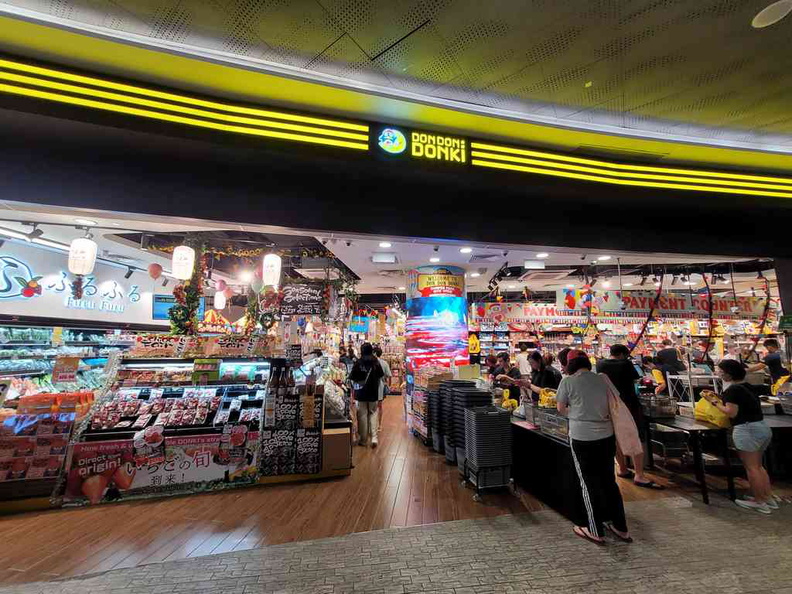 Notably, we had previously covered several other Don Don Donki branches in Singapore. This includes their flagship store in Osaka with a ferries wheel you can ride. This new branch in the northeast is the latest foray of the Japanese quick and fast retail franchise into the eastern Singapore. This was since they opened up similar stores in the neighbourhood, such as the one at Downtown east and Tampines One, with to much Singapore Fanfare.
A supermarket at heart
Increasing over the years, we start to see Don Donkis in Singapore moving away from non-food items into mostly Japanese supermarket offerings. This is presumably in answer to the market demand. This is contrary to the extensive "hyper-mart" style curation of clothing, toys and travel accessories we saw on their Singapore opening day at Orchard Central when they first opened back in 2017.
Hence, notably absent is the presence of non-food items. It is probably an answer to the market demands of the Donki Singapore market. This is contrary to the Donkis we see in Japan which typically comprises of a hyper-mart style store with half of the store being non-food items.
Still, in typical Donki style, the store has a trademarked style of cramped walkways packed to the brim with produce. The supermarket section has a curation of staple favourites, such as fresh fruits, with some imported direct from Japan. There is also a cooked food bar, as well as a an extensive shabu shabu chiller selling value for money premium Japanese meat slices.
Also topping up the usual are condiments, snacks and the Liquor section which is opened to 10.30pm daily. Interestingly, there a small cabinet hawking premium liquor products under glass too.
A funfair theming
Furthermore, though nothing much to scream about, notably each Donki takes on a unique theme for the region, we had seen Jungle theme variants at their JEM branch and a Mountain theme at Downtown east. The Donki here is themed to a funfair setting. This is complete with a small quirky roller coaster train which circles at the top of the store, complete with a Don Pen riding in it.
A thing I do not like about this branch and most of the newer outlets is the tight one-way exit. It is tad a linear route out of the outlet exit through a tight winding queue and checkout counter.
All in all, as always, there is no stopping the invasion of Don pen. Do we really need a 12th Don Don Donki outlet here in Singapore? As many as there may seem to be in Singapore, the market does not think so. For what we know who knows where the next store be popping out in Singapore. Embracing the cute invasion of the blue penguin come to love since hitting our shores back in 2017.