I particularly love exploring old rustic shopping malls. They often turn out interesting rare finds. Excelsior Shopping Centre is one such old mall in the heart of the Singapore City Hall district. It is home to a collection of independent mon and pop camera, sports and music shops. The mall occupies part of the compound which is occupied by its sister hotel building. Both buildings sit beside the Funan mall and the peninsular plaza (little Myanmar) mall. It is also a stone throw from the Stamp museum at Coleman Street. Let's take an exploration of Excelsior Shopping Centre.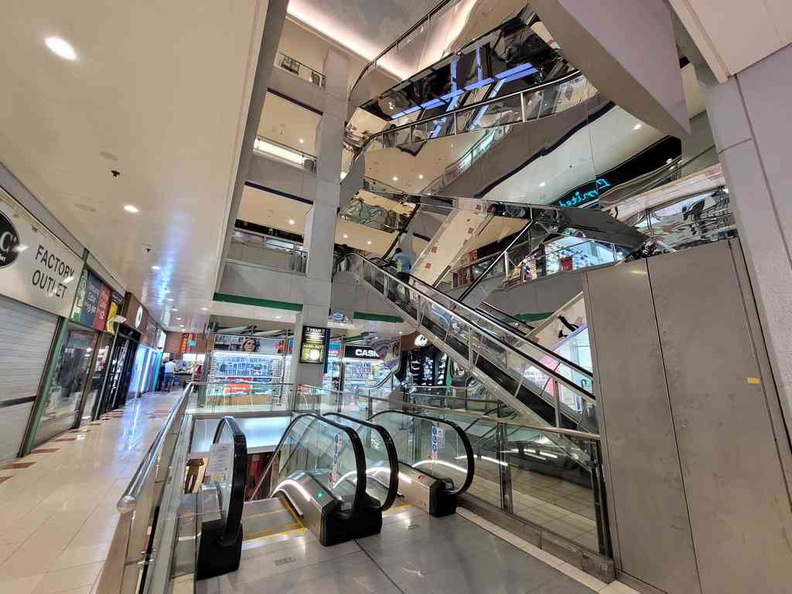 Moreover, the 99 year tenure mall opened on 1979. With the commoditization of malls and cookie cutting of heartland malls being nearly identical clones, I find such malls like Excelsior fast becoming the rarity in Singapore which makes an exploration like this pretty exciting. It like walking into a time capsule of malls in the 70s and 80s. Sadly, such malls are often the target of collective en-bloc sales, where the tenants would often be looking to sell the prime property they are on for a buck or two.
Furthermore, the mall has a total of 7 floors. Also, Escalator going up in a criss-cross fashion starting up from behind the mall's security counter. The floors are acceptable via a set of small narrow escalators from the ground floor. The basement floor connects under the hotel drop off area via an underpass where you can find a selection of music shops and a hippee T-shirt and print shop.
Notably, there is an even mix of Tailor shops scatter about the various floors of the mall with more established ones situated on the ground floor,
A place for used and vintage cameras
Furthermore, you can find a collection of common camera brand bodies and lenses on sale. This includes Canon, Nikon and Sony to name a few. Its also a place to find some vintage cameras and not to mention Hasselblad cameras as well. It is not uncommon for most of these camera shops here to display their wares behind clear glass shopfronts. The stores here also complements some of the camera and audio shops found at the adjacent Adephi plaza just across the road.
A look around seeing equipment going around the $400-900 range, so it's still quite a premium for used equipment. They are popular with vintage collectors and touristy who I see frequent these spots for rare collection buys.
Music guitar paradise
Additionally, on food options, there is an eatery called Sidewalk eatery on the mall exterior, and at the ground floor within, Tasty house. The economical vegetable rice here is very well priced for a meal in the CBD area with a 2 veg one meat combo going as low as $3.70- a heartland price.
Acoustic, electric and tiny ukulele guitars. Music stores in the basement. You can see independent shops and even a swee Lee music store, though they are specialised mostly in guitars. Also, you can find most of the camera shops on the ground floor of the mall. Also, wrapping up the music offerings here is a vinyl shop in the basement too.
Sports gear shops
Sports shops sports jersey and shoes are the next biggest tenants here in Excelsior Shopping Centre. It does have the Queenstown shopping center vibe when it comes to the sports gear on sale. The sports shops are situated more on the upper floors. However, the prices of products here are not particularly cheap, or the type of bargain you expect, especially for in-season items. However, do expect to find bargains of off-season and past year models which can go at good discounts here.
Other quirky store includes a small lone magic store by the name of Ang's house of magic, as well as an army equipment store. The Army equipment store looks tad like an army surplus store we see in the states. Only that items on sale here are all brand new imported items. Example includes tactical clothing gear, torch lights and army badge patches.
Also, the magic shop is what you would call an independent mom and pop shop. Shops which I adore. Items observed in sale includes magic cards, tools of the trade. Wrapping up, other miscellaneous shops here include travel agencies and massage parlors, though they are the minority here.
All in all, that wraps up our explorations of Excelsior Shopping Centre. Thankfully, the mall is also a family friendly one, with no sight of sleazy KTV pubs or massage parlors typically plaguing such malls. One to visit just for the nostalgia when you are in town at the City hall region.