Galum nitrate (GaN) USB chargers are quite a thing now in the phone charger space. They offer benefits of power efficiency and compactness. Today let's take an in-depth look at two of Belkin GaN BoostCharge USB chargers offerings, putting them out on the field in a 4-month long term review and performance tests.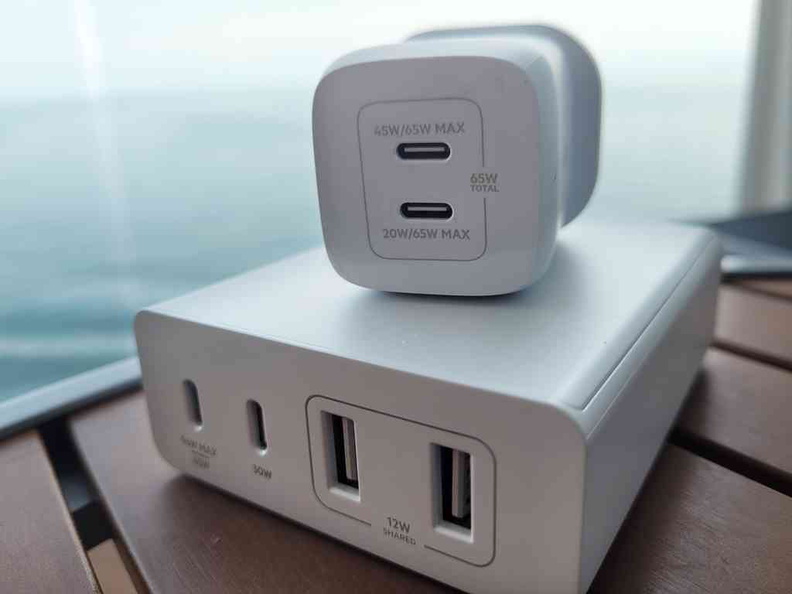 A tale of two chargers
We are looking at Belkin's 65W compact 2-port charger, as well as their 4-Port 108W Pro which I had the opportunity to test as a daily driver. Both devices are part of Belkin's Boostcharge series of USB-C chargers which can be used for both Apple and Android products including tablets, phones and even laptops.
Furthermore, the chargers come in sustainable packaging made mostly out of recyclable cardboard and paper outside and within. This includes the cardboard fillers used to wrap the cables in packaging.
Notably, the chargers are PD (Power Delivery) 3.0 and PPS (Programmable Power Supply) smart chargers. In the lingo, PPS is a rapid-charging technology standard which varies its output voltage based on the device type and power requirements.
Hence, on top of regular default 5-volt USB operating voltage, the PD charger, via USB-C is able to negotiate a variable voltage, hence output more power for a quick charge. This can go up to 17 volts in my tests. Here, your BoostCharge charger will negotiate and "talk" to the device to know its charging capabilities, like increasing the charging voltage for fast-charging for instance. More on that in our tests later. First, let's take a look at each charger in detail.
BoostCharge 2-Port 65W charger Exterior impressions
The Belkin 65W BoostCharge Pro Dual USB-C GaN Wall Charger (WCH013myWH) is extremely small and compact in comparison to regular 65W silicon-based PD chargers. The 65W PPS charger has a simple and clean design with two USB-C output ports on the business end. One port is ring-fenced to output 45W which can charge even USB-C power-hungry laptops, powerbanks and drones. Besides its compact size, the inclusion of an additional USB-C second port is a welcome. This allows you to charge an additional less-power hungry device simultaneously.
Also, the Boostcharge 65W in Singapore is a fixed UK/Singapore 3-pin plug on the end, localised for our region. However, one gripe is the 3-pin plug head is non-removable, nor does the box comes with a set of universal plug heads you can swap out like most travel chargers. I would still need to carry an adapter to my travel region. This limits the travel utility of the charger despite its small footprint.
A tiny compact wonder
Still, despite the 3-pin not being foldable like most travel chargers. It is a small compact square-shaped size takes up considerably less space in my travel bag. In size comparison, the Belkin 65W is half in size to similar Silicon-based 65W single-port charger bricks, with the Belkin having an additional fast USB-C fast-charge port.
Out in the wild, I found the 65W is charger is extremely handy, and for the local road warrior. This would be my chosen travel adapter of choice given its universality, power output and compact size. The 65W charger is priced at S$79 SRP. Though Belkin runs frequent sales on Lazada LazMall and Shopee Mall retailing it at a discounted S$59.
BoostCharge Pro 4-Port 108W brick charger
The next GaN Charger kicks out a much higher 108W output via 4-ports (Belkin product number WCH010myWH). This beast of a GaN charger allows you to charge up to 4 four high-powered devices at a go.
Additionally, the 108W charger takes a more conventional brick form-factor. The main brick itself, like all brick charges in this segment is fed by a separate extension cable. The cable in question here is the British 3-Pin to IEC C7 port, also known as the "figure 8" cable. This cable is typically found on consumer electronics drawing mains power. Examples includes camera chargers, LED lamps, and light duty laptops. Also, the power brick comes with this UK-style 3-Pin style plug head in white out of the box, and you are free to swap it to your region of choice, like a US-plug head here for instance.
Having said that, unlike the 65W charger, having a separate removable power cable does provides you the flexibility to swap the charging cable head depending on your region. Also, it allows for a longer reach from the wall plug. Something which the BoostCharge 65W charger can't do.
A do-it all bememoth
Moreover, on exterior, the 108W charger is the biggest of the lot and probably finds it's place on a desk than out on the road. It has 4 ports in total, comprising of two USB-C ports sharing an output of 96W max, and 2 more traditional USB-type A outputs (12W shared). From the port labelling, the two USB-C ports are split of 65W and 30W on each port.
Hence, this makes the BoostCharge Pro 4-Port a very versatile, albeit plus-sized charger. It is able to charge not only the most power-hungry USB devices via USB-C cables including laptops but USB Type-A devices together. It is nice Belkin still choose to keep Type-A ports which we can use for our legacy devices and USB-A cables.
Belkin's BoostCharge PRO 108W retails at S$120. Similarly, you can snag it at about S$90 on Belkin LazMall and Shopee Mall too during their sales specials.
A great travel companion
Of the two, I particularly enjoyed using Belkin's 65W charger as my daily driver. It offered greater flexibility to charge two power-demanding devices like a laptop and tablet, yet take up half the footprint in my travel accessory bag without sacrificing charging times.
In place of a large power brick I typically carry in my laptop day bag, now all I need to do is to one BoostCharge charger for both my laptop and accessories (handphone and powerbanks) on the road.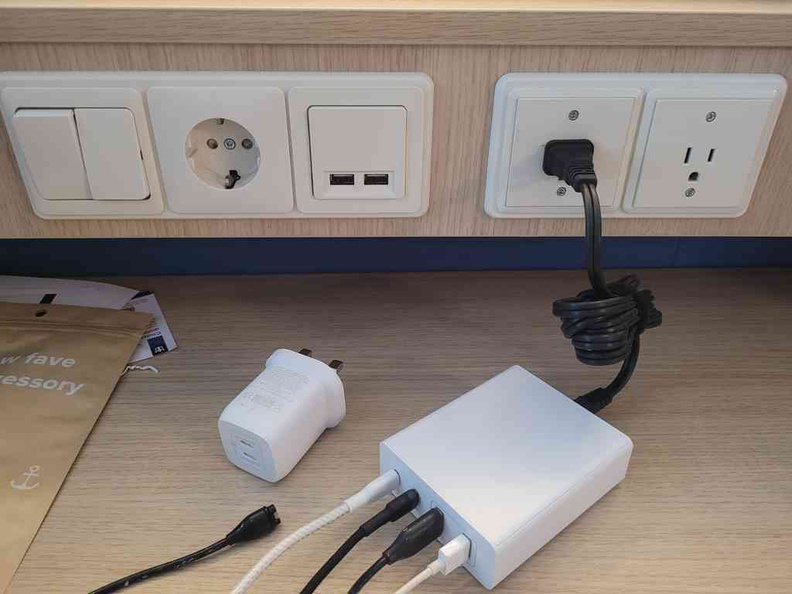 Moreover, the BoostCharge chargers are well-built, solid and does not rattle when carried around. This is attest to the quality Belkin products are known for. Also, the chargers comes with a 2-year warranty. Interestingly, Belkin's Connected Equipment Warranty up to USD$2,500, adding for peace of mind.
Science and Benefits of GaN chargers
On the science of GaN chargers, these chargers gain efficiencies from smaller transistors. This allows you to pack more in a given circuit board space with a higher "band gap". To the layman, this allows the charging circuity to sustain higher voltages and temperatures for given charge than silicon MOSFETS (transistors). This technology recently just started becoming mainstream and brought to you by peripherals makers like Belkin.
Size and power efficiency are the two main selling point of Gallium nitrate (GaN) chargers. In my tests, the GaN-based chargers seen in Belkin's BoostCharge provided better power and efficiencies compared to regular silicon-based chargers.
Charger test methodology
Are GaN chargers worth all the hype and marketing? Now lets put both the Belkin BoostCharge chargers to some charging tests. In my performance comparison test, both the Belkin BoostCharge 65W and 108W chargers were pitted against traditional OEM PD USB-C chargers.
Contenders includes factory-provided 65W Silicon-based Programmable Power Supply (PPS) USB-C chargers from Lenovo and Hewlett Packard. They are able to negotiate and output voltages up to 20V for rapid fast charging. These are pretty capable OEM rapid-fast chargers that would nonetheless already be provided for with your device on purchase. Let's see if the Belkin BoostCharge is worthy of an upgrade to what you already have.
In all tests, the charger output voltage and power draw, temperature and the power usage were measured. This using a fixed set of smart devices (laptops, phones, tablets) for all chargers.
Two modern notebooks, a Thinkpad and a HP Ultrabook were used in the high-wattage draw tests. One of the laptops is equipped with a 54,000 mWh Li-ion battery (Lenovo), and the other, a HP with a 50,000 mWh in-built battery. Both laptops supports USB-C quick charging, and have Windows maximum performance setting and running background benchmark tasks to draw the maximum load.
HWInfo application is used to extract smart battery info on the laptops to determine the charging voltage and wattage. Power draw from the wall are recorded from a "kill-a-watt" type power meter on the plug itself. USB port output is measured using a Charge Doctor digital voltage and ammeter. Each wattage and voltage readings were taken from an average of multiple stable readings.
Rapid Charging performance tests
My maximum load test allows me to measure the charger efficiency at various output wattage, by charging a single device up to the maximum number of devices the charger supports. This is as power electronics typically operate on an efficiency curve varying with output. Hence, you would want to extract the highest possible working efficiency.
Also, efficiency is calculated from the total individual rated power draw reported by the device, divided by the actual maximum watt-meter reading measured at the wall.
OEM laptop charger baseline
The Lenovo OEM charger with PPS was able to push out 16.89V for a charge rate of 45.6 watts to bring a single 54,000 mWh laptop from 51% battery charge to full within 35 minutes. All the time drawing about 65.2 watts measured from the wall, giving an efficiency of 69.9%. At this charge rate, the OEM charger peaked at a temperature of 42.1°C, which is not scalding hot, but still uncomfortable to the touch.
It is also notable that the Belkin GaN BoostCharge 65W charger is half the size of the OEMs with the BoostCharge 108W being the largest of the bunch size-to-watt.
Moreover, the stock OEM HP charger was able to rapid-charge a single laptop at a comparatively lower 16.48V. It outputs 44.4W while drawing a higher than rated 70.7W from the wall while operating up to 44.3°C at 62.8% calculated efficiency.
Belkin BoostCharge 65W charger tests
The Belkin GaN BoostCharge 65W charger earn top marks for both efficiency at load and runs coolest of all the chargers. When charging a single laptop with a 54,000 mWh battery, the charger delivered 45.1W watts at 16.97V charging voltage on port 1. This brings the laptop from 23% remaining battery life to a full charge in about 60 minutes.
When maxed out fast-charging 2 devices, the first laptop (Thinkpad) draws a lower 37.6 watts (16.7V) from port 1, with the second (HP) laptop drawing 10.2W at 11.73v (2nd port). The Belkin charger drew 67.2W from the wall, at a peak operating temperature of 39.5°C. This gives the 65W charger a commendable output to wall-draw efficiency of 71.1%.
Belkin BoostCharge 108W charger tests
The stress test charging on the 110w GaN charger uses 4 devices comprising of two laptops, an iPad and Phone. I was able to achieve fast-charge on the same Ultrabooks at an output wattage of 43.1W (at 17.14V). This is from the first 65W primary USB-C port, charging the Laptop from 58% to full in 30 minutes.
Also, the second USB-C port was able to simultaneously output 13.9W (at 11.82V), charging the second 50,000 mWh laptop from 54% to full at slower 2 hours. The last two 12W rated USB-A ports was able to draw about 4.69W from each Type-A port max to charge both a Samsung smart phone equipped with a 4,500mah battery and an iPad. I was able to fill the Android phone from a 65% remaining capacity within a quick 40 minutes.
A toasty 108W charger
Fully loaded with 4 devices, the 108W charger draws up to 116.5W from the wall. This coupled with 66.3W output gives the 108W GaN charger a rather relatively disappointing 56.9% efficiency- the lowest of the bunch tested. All while operating at a toasty 53 degrees, the hottest of the lot too. Bit too warm to the touch.
Interestingly, when charging 2 laptops via the USB-C ports, I noticed the second 30W-ringfenced port seldom delivers over 15 Watts. This is especially when you charge a power-hungry device on the first 65W port. This is despite 65W reserved for the first port and 30W dedicated to the second.
As loading a charger could result in throttling and an overload scenario, resulting in lower efficiency levels, I re-tested the 108W efficiency with a fewer devices.
When charging a single device, the BoostCharge 108W charger scored 8% better in efficiency. It is able to deliver a higher 45.6W output wattage at 17.0V, and behaves more like it's 65W counterpart. It brought the 54,000 mWh Thinkpad Ultrabook to all full charge from 51% in about 35 minutes. This all while drawing 70.3W from the wall resulting in a better and more acceptable 64.8% peak efficiency score.
Test Results
Tabulating the maximum wattage drawn, efficiency and maximum temperature readings all together on a combined scale chart below, the Belkin GaN BoostCharge 65W is a clear winner of the bunch, with relatively higher and commendable 70%+ efficiency and lowest peak operating temperatures below 40°C.
Efficiency is the name of the game here. Both Silicon-based OEM chargers performed similarly, with the Lenovo edging out in temperatures and efficiency in the 62-69% range typical for silicon-based chargers.
However, the below-70% efficiency is puzzling for the BoostCharge 108W GaN charger, considering it's 65W cousin performed better. This puts the BoostCharge 108W efficiency squarely between the two OEM Silicon-based chargers and far behind Belkin's own 65W GaN charger.
A note about cables
Wrapping up about charging cables. Do note that ultimately your charging results are device and cable-dependent. The success rate of achieving rapid-charging is largely limited by the quality and rated capacity of your USB cables.
In most cases, you need is the right USB-C or Type-A cables and you are good to go. However, it's worth noting that typically, USB-C to USB-C cables allows for more data throughput, compatibility and can support technologies such as Qualcomm QuickCharge 3.0. Hence, to get the best out of your Belkin chargers, you will need to use quality 60-100W cables. Still, this can add to some considerable guesswork on having the right and compatible cables.
If you are in the Belkin ecosystem, purchasing Belkin's fast-charge cables does allow you to remove the guess work out of this, though the cables are though priced at about $35 each, which is expensive for USB cables. But they do come with Belkin's trademarked quality, compatibility and peace of mind upfront.
Conclusion- GaN is great!
Watt for watt, both Belkin GaN charger are more efficient and is able to deliver more charge at much lower temperatures. The 65W is exceptional- able to run 6% lower temperatures, while being more efficient that the next best performing silicon-based (Lenovo) OEM charger in our tests, with a 12% better wall-to-output efficiency to the HP 65W OEM charger.
This affirms Belkin's BoostCharge GaN technology demonstrating the more efficient and environmentally-friendly power electronics in converting less electrical power to heat in the charging process, all in a smaller package. For the record, when idle, both chargers sips an idle wattage of about 0.2-0.3W from the wall with no load.
Theoretically, GaN-based chargers can achieve efficiencies around 93%, while Silicon-based transistor chargers typically achieve power efficiencies of around 87%- a slight difference. Still, do note this is a theoretical value and accounting sum-of-all-parts component losses end-to-end from the wall to your actual device which additional cable mediums, power conversion in your device, etc. Generally, a real figure above 70% is considered efficient. The 108W charger is an outlier, to as what it's small 65W sibling performed outstandingly well in tests.
All in all, that wraps up my view of Belkin GaN BoostCharge chargers. They fared well in efficiency and are able to consistently run cooler and edging out their silicon-based counterparts. Despite the price premium, the best-selling point of GaN chargers are their smaller sizes, making them excellent candidates for travel and the road warrior.
I might be well switching all my chargers to GaN now.
👍

Recommended- Belkin GaN BoostCharge Pro 65W and 108W chargers
Pros
Extremely compact and well-built
Lower power consumption to Silicon chargers
Better power efficiency
Universality- Works with most PD/PPS devices
Cons
Pricier than Silicon-based counterparts
Requires separate rated fast-charge cables for best results
Compatible fast-charge cables can be expensive
Many thanks to Belkin for the opportunity to review their GaN Wall chargers. As with all my reviews, manufacturers have neither editorial inputs to reviews, nor seen this review before it is released to you, my readers. Thanks for reading!