Don Don Donki Suntec is a new installation and one of the brand's Japanese fast retail stores in Singapore. Interestingly to date, we had been tracking the viral growth of the establishment in Singapore. We visited many Donki stores we had chance upon over the years. This was since the Japanese fast retailer announced plans for their rapid expansion from their first Singapore branch in Orchard central almost 4 years ago back in 2017.
Furthermore, this branch is tad bit like a cookie cutter store. It is similar to all the other Don Don Donki's stores we visited in Singapore. Since this year, several branches had opened up in the east, such as one in Tampines 1 in Tampines central and Downtown east.
A supermarket business as usual
The store follows through a logical and linear fashion with a clear entry and exit point. A familiar supermarket entrance greets you at the store front following scanning your safe entry registration. Here you can find baskets of fruits and chillers for meat, seafood and fresh fruits and vegetables in this relatively vast section with adequate walkway space.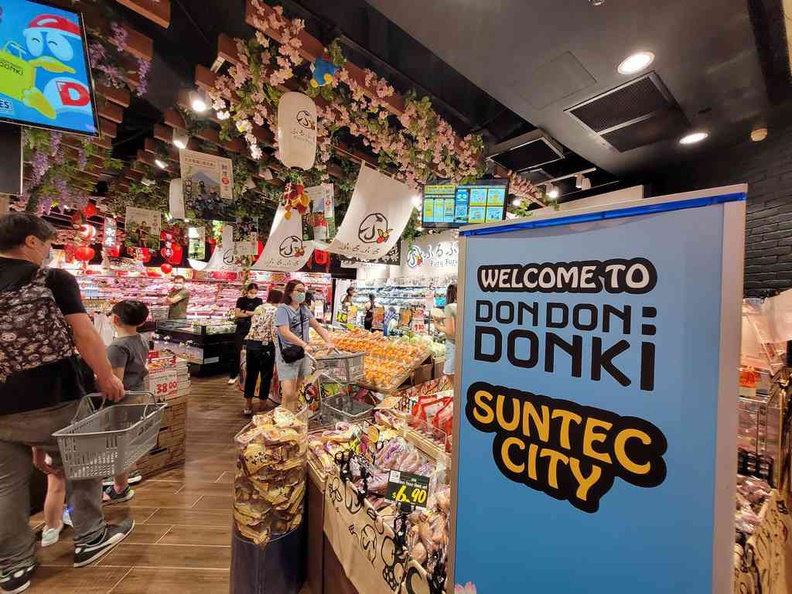 Moreover, as with all Don Don Donki's in Singapore, the store is mostly a food based supermarket. This is in the likes of other competing Japanese mega outlets such as Medi-ya for instance. This is notably unlike Don Quijote stores in homeland Japan (that is what Don Don Donki is called in Japan). There, they stock literally hypermart store levels of goods. This includes clothing, bookstores, televisions, fridges, computers and even home air conditioning units.
Having said that, non-food sections like the toy and fitness section is literally quite an afterthought. It is tucked in a corner near the exit shared with a dessert food and sweets section. You can find rare flavors of sweets and kitkat typically not found in Singapore, such as Sakura and Orange flavours.
Large Bento selection
In addition, catering for the Suntec area office crowd here are a huge selection of Bento sets. Varieties here includes sushi, large instant katsu bento meals, takoyaki, and interestingly ready-to-eat pizzas in-box sets.
Hilariously, to keep with the Japanese quirkiness, you can finds several funny cartoon drawings of the Don Don Donki blue penguin Don pen. You can find him from the supermarket to the tiny cosmetics section near the end. Other quirky sections include a liquor cabinet with 4 digit items. You can also buy huge bottles of Suntory whisky served in giant PET plastic bottles.
Interestingly, even if you do not buy anything, you need to squeeze through the packed exit purchase queue through the cashier counters. This could be improved by separating the exit queues to ease crowd control.
Additionally, wrapping up the Don Don Donki Suntec exit is a small food court with an emphasis for Japanese Hamburg. Lined Near the store exit is a long row of Gashapon machines along the exterior of the establishment.
All in all, there is no stopping the takeover of the Japanese retail since which is the Don Pen. Don Don Donki Suntec is one of the many new outlets opened through the year much to the delight of patrons who crave a slice of Japanese fast retail.
Other Donki branches we explored