Incredible Chicken Burgers (ICG) Chicken & Burger at MyVillage is a small family run quick dining fast food fried chicken and burger joint located in the Serangoon chomp chomp food district. Let's check them out with a dine-in.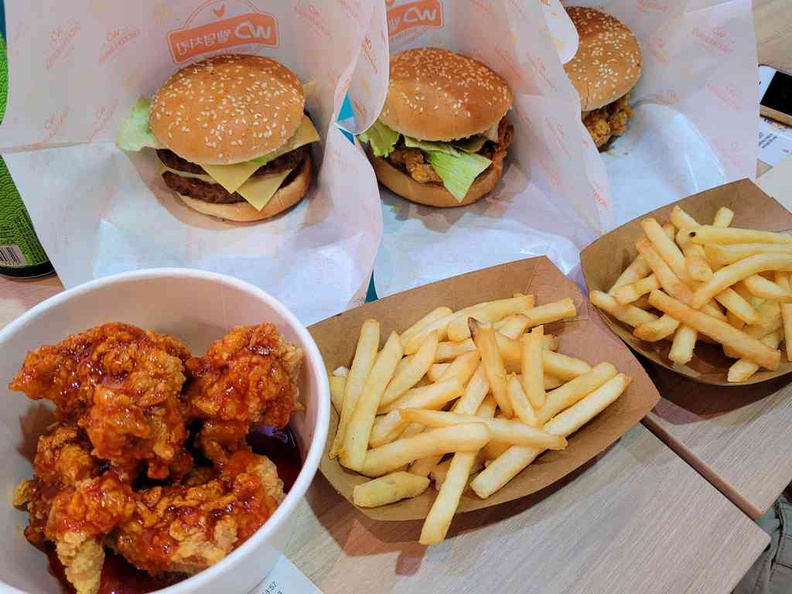 Interestingly called ICG instead of "ICB", (and almost mistaking it being called Incredible Chicken Gangjung). ICG brands itself as a fried chicken-first food establishment. The Gangjung name gives a hint or two about its South Korean relation to the fried chicken craze, which is also the theme of Korea's Jinjja chicken. But no chickens in red tracksuits here.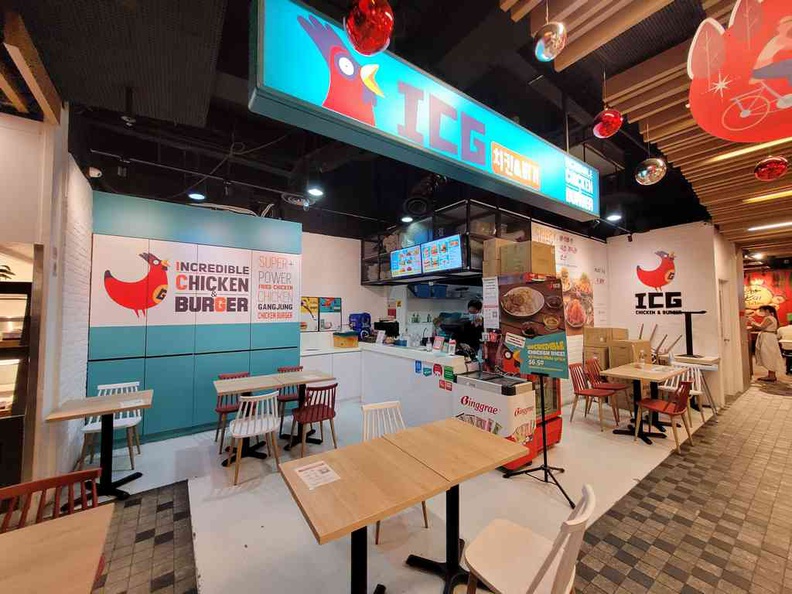 The store sits in front of a basement Fairprice supermarket entrance and has a rather adorable chicken mascot as their store front logo.
A chicken and burger place
Also, a typical meal here would revolve around their burgers and combo sets as staples with their chicken tender pots for sharing. On their menu are a variety of 5 burgers, with 4 chicken varieties starting from an assortment of patty and sauce flavouring such as Creamy ($5.90), Sweet and Spicy $6.90, Garlic Soy ($6.90) and Spicy Gangjung ($6.90).
Being a southern-style fried chicken burgers, if you are a "zinger" or if may "Mc spicy" chicken burger fan, you won't be disappointed. It is also priced at a similar price point to the fast food incumbents. Your burgers are topped with plain lettuce, and traces of fresh pickles sandwiches between two lightly toasted plain sesame burger buns. The main difference between the chicken burgers is the flavour of the chicken patties. So it does offer some revisit value.
Try their beef burgers
Moreover, if fried chicken is tad bit too much for you, their Beef burger is one worthy to try. Their beef burger is incredibly juicy. These beef patties are cooked well-done and yet not dry. They ooze out with juice once you put your first satisfying bite in. The taste is quite muted but made up for the melted cheese between the patties. It is still an enjoyable taste overall. Also, I would recommend to have the burger with a double patty format ($6.90). A single patty option would set you back ($4.50) à la carte.
Additionally, your burgers are mad to order and are mostly priced under the $6.90 range a pop. This puts Incredible Chicken Burgers more affordable than other Gourmet burger places such as Fat boys and Wolf burgers, which serves burgers in the $10 to $15 range, albeit which just slightly better quality ingredients. To complete your meal, adding $3 with your burger grants you additional regular fries and canned drink for $3 extra as an add on combo. You have the option for Cheesy fries, and hash browns as sides options too.
Also, I find ICB main competition would be that against similarly priced Ramly burgers like those offered by Wolf Burgers and Ministry of Burgers.
Chicken tenders galore
Furthermore, another ICG selling point are their Chicken tenders. I like to call them boneless giant chicken popcorn. They are fried and are coated in breaded crispy outer batter with a juicy inner core. It is tad a bit to the new offerings to buffalo chicken wings without the hassle of deboning.
Also you can have your chicken tenders served in a variety of flavours. Just like their burgers, you have a choice of 9 flavours starting with the Original non-flavoured tenders, with more flavouring moving up the price range. They are soaked drenched in the flavouring sauce you desire. A bucket is available in three sizes priced at varying rates.
The smallest tub has 6 pieces at about 150g, with medium and large at 10 and 16 pieces respectively. Also, prices start upwards from $6.50 with the smallest original, $9.50 for medium and $14 for the largest platter. They are great for sharing in groups. Running through the list, you have a choice of Sweet Garlic flavours ($7.50), as well as Jalapeno ($8.50), Cheese ($8.50), Creamy onion ($8.50), Sweet and Spicy ($7.50). I got to try their Sweet and Spicy chicken tenders ($7.50). Notably, by itself, the chicken tenders do command a more premium price over their burgers.
In addition, ICG offers a quirky chicken rice as well as Garlic Soy mayo rice. These are essentially permutations of their Chicken Tender and rice dishes, served with Japanese sticky rice served with a side of egg. Though these are not quite their most popular options.
A supper neighborhood
Additionally, I remembered Incredible Chicken & Burger operating since before the pandemic hit. Being located in the same basement location in the Serangoon MyVillage mall. Notably, the Serangoon Chomp Chomp private estate neighbourhood is a popular late night dinner and supper place. You might remember other notable dining establishments such as iSteaks and Simple burgers within the same building. Also, not to mention the late night prate places such as Srisun and RK eating house nearby too.
All in all, Incredible Chicken & Burger offer value burgers and at a quality hard to fault at the sub $10 price point. It is great for a meal or a light dinner without making you too overly full. Do note only cash and e-wallet (e.g. grab) payments are accepted. No credits cards are accepted here.
Verdict:
Must Go! | Actually pretty Good | Worth Trying | Shortlist Optionally | Should Avoid
Makan Place Locality Map
Incredible Chicken & Burger
#B1-23, 24, 14 Maju Ave,
Singapore 556691
Opening Hours: 11am- 9:30pm Daily