Let's check out NTUC Fairprice Warehouse club Joo Koon with an exploration. Opened in December 2014, physically, the outlet sits in a large sprawling complex which is also home to a large non-public accessible warehouse. Despite being a Fairprice-run outlet, the complex has 3 full floors of store tenants comprising of F&B outlets, conveyor belt sushi express, a Hans outlet and including an NTUC-run food fair outlet as well as a large Decathlon sports store.
On getting there, Fairprice Warehouse club sits right beside the Joo Koon MRT and is connected via a sheltered bridge. If you are driving, parking is really affordable at 80 cents for the first 2 and a half hours.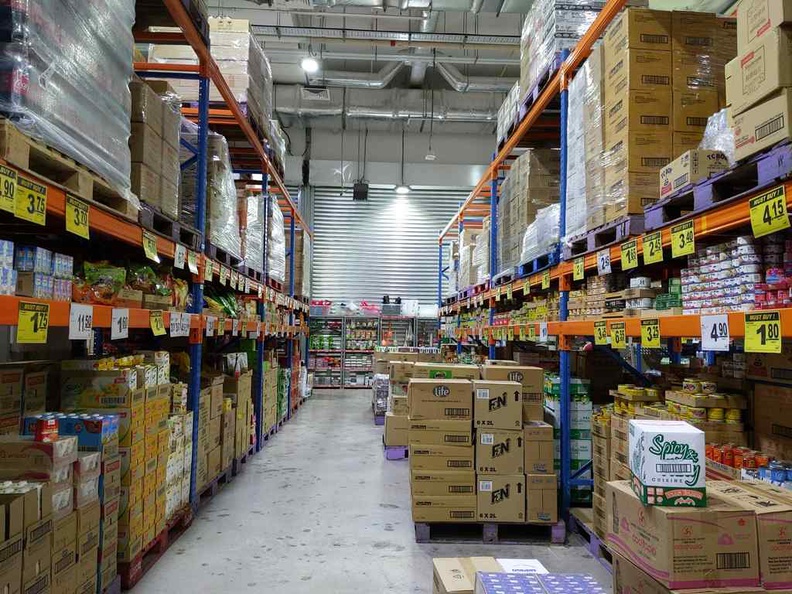 Furthermore, the supermarket itself is located on the top 3rd floor. It is accessible via a combination of elevators and travellators typically seen in warehouse fulfilment centers. Also, the entrance is typical with 10 rows of checkout counters and a self-checkout kiosk area. Notably the wine and liquor section sits here by the entrance too.
Quirky finds- land of the plus sized
Moreover, the eye catching part of this Fairprice outlet are the rows of tall pallet stacked storage shelves which takes centre stage in the supermarket. Other than that, the offerings are typical of that of your regular Fairprice outlet with the usual dried, fresh and frozen foods, as well as houseware and electronics.
Furthermore, Fairprice Warehouse club goes about their Warehouse ideology with plus-sized options. Interesting finds includes rice packs up to 25kg (up to the regular 10kg packs), Kellogg's cereal packs the size of 2 boxes. Other peculiar finds includes Pepperidge goldfish packs the size of cereal boxes and ice cream tubs by the gallons.
Also, running along the back length of the supermarket is a shelf row with $2 Toyogo plastic products. Its almost like a mini Daiso, like the Komonoya Osaka Japan $2 store we visited previously.
Floor area wise, the grounds are not what I see as "warehouse sized". In fact, the floor area is notable smaller than some Fairprice Xtra outlets, like that in Ang Mo Kio and Vivocity. Moreover, I found the items on sale, particularly staples are similarly priced to that offered in regular neighbourhood Fairprice outlets.
Walk-in chiller housing fresh vegetables and flowers. Also, the tiny electronics section is also nothing to scream home about.

PiwigoPress shortcode attribute "id" is invalid: id list is required
Japanese section 33018

PiwigoPress shortcode attribute "id" is invalid: id list is required
Toys 33016

PiwigoPress shortcode attribute "id" is invalid: id list is required
Tiny electronics section 33006
A members club
Moreover, I found there isn't quite much of a unique selling point of Warehouse club. Entry into Warehouse club involves a $50 membership fee for 2 years, with an offer going at $20 for 1 year. But entry is free for public for a limited period during this Covid-19 period until further notice.
Also, Fairprice touts the main cost savings shopping here includes selected offers, where shoppers can get up to 10% off in local multi packs and value packs. Though these packs are compared to FairPrice outlets. Also, there are also advertised "Super Deals" with discounts up to 50% off in clearance sales.
In addition, Warehouse club offers exclusive Imports including Kirkland Signatures, Carrefour and Frosch. There is also a Tesco section, but so are other Fairprice outlets. Moreover, if you are not a member, during my visit, you are not entitled to collect any link points unless you are a Warehouse club member, quite a letdown.
However, the only value offerings here are just the plus-sized offering, at its core I found you can pretty much find anything else in your regular Fairprice, which diminishes Warehouse club unique selling proposition.
All in all, Warehouse club is tad quite an exclusive club, but without much exclusive offers which I find it hard pressed to recommend even traveling all the way into the industrial area in Tuas for it. For most mainstream grocery shoppers, you are simply fine with just your regular neighborhood Fairprice outlets. Warehouse club is open daily from 9am–10pm, with opening hours unaffected by Covid-19.