Kiseki Japanese Buffet Restaurant is a household name when it comes to affordable Japanese buffets in Singapore. They touts to offer a typically a huge spread of food options at a value proposition. Let's check them out with a lunch dine-in.
Kiseki at its core offers an international-Asian fusion selection with a Japanese twist, leaning more to a local-favourite Japanese selections we come to love about in fast-dining. Here you can find rows of Asian cooked dishes which can satisfy you needs for an Asian staple including Sashimi, sushi, rice and stewed hot soups.
A locally inspired Japanese curation
Moreover, a recommendation is their free-flow of saba fish and fish head. Also, there is a grill section, but just offering a mixed section of grilled chicken and is not a big offering either.
Moreover, there is a curated hotpot soup section allowing you to choose your items "Yong Tau Foo" style for cooking. Also, this hotpot selection offers vegetables and meats such as pork belly and chicken chunks provides a more mellow selection if the fried foods are too much.
Speaking of which, in addition, here you can find also a large selection of fried tempura. Tempura selections includes vegetable as well as the all-time favourite prawn, which is always in high-demand.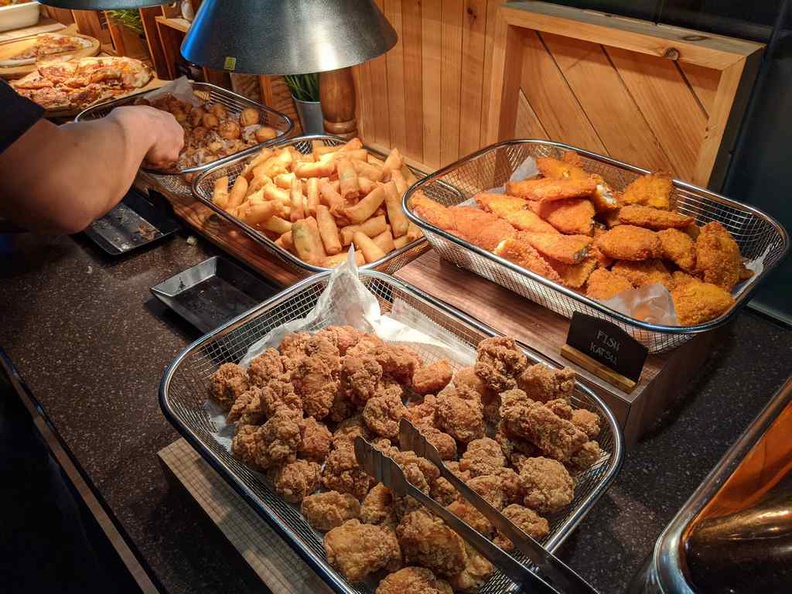 Kiseki Japanese Buffet Fried foods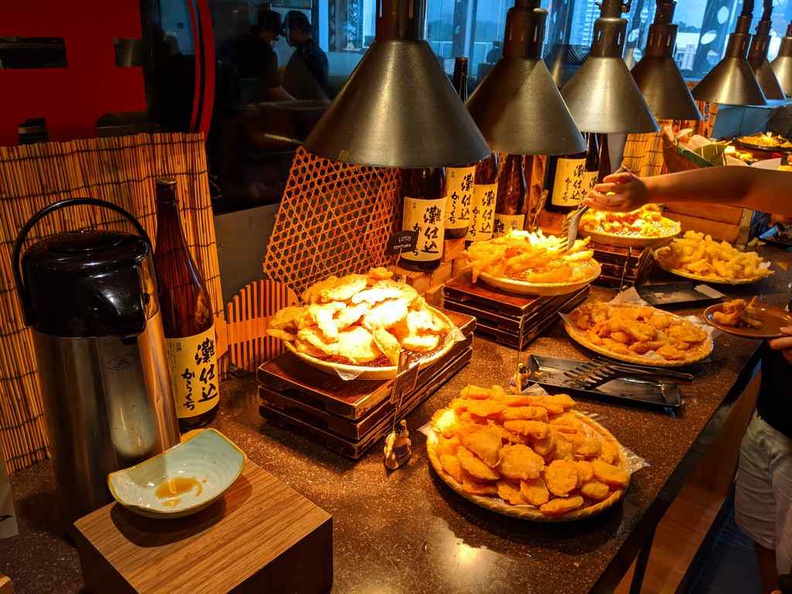 Additionally, the sashimi section is one also worth mentioning. You get free-flow of the favourite Salmon staple, the salmon is fresh, though the grade is pretty sub-par.
Furthermore, going on the international flair is a selection of western and Italian dishes namely thin crust pizzas as well as a mix of fried goods such as spring rolls, fish cutlets, popcorn chicken drum lets and fries. I would recommend their battered fish katsu as one of the better offerings here.
Great Sushi section
A mix of sushi are served on display shelves, here you can find a mix of Sashimi as well as Nigiri. With the latter of course, served with rice.
There are also Maki rolls on offer. However, the seafood section is one of the few underwhelming selections, with clams, fresh prawn and jelly fish available.
Lastly, wrapping up are desserts, mocha and pudding as well as cake and ice-cream. Notably, the ice cream section does gets pretty popular near end dinner-time where everyone is up for desserts.
As a Japanese buffet, the variety in comparison is pretty large compared to the other buffet offerings such as K.cook and Daessiksin Korean BBQ. Furthermore, the foods are replenished promptly which is always a welcome. Also, the restaurant has large dining areas which are great for large groups and company events alike.
Quality is at best average, but at the asking price in the sub $30 range on weekday lunches, provides value which is quite hard to beat. Prices on average are about $8 cheaper for weekdays. On specific prices, weekend and Friday dinner rates are the most pricey, with Adults costing $42.80++ per pax and child rates going for $18.80. Also, lunchtimes rates sets you back $31.80++ and $17.80++ for adult and child prices respectively.
All in all, Kiseki Japanese Buffet Restaurant is a great place to dine where budget is a concern without skimping on varieties and a great place to chill. Coupled with a huge and fresh food selection offering great value. No wonder, Kiseki no wonder long queues are often seen snaking outside the establishment especially during dinner time. Tad like an endorsement of the value of food offered.
Verdict:
Must Go! | Actually pretty Good | Worth Trying | Shortlist Optionally | Should Avoid
Kiseki Japanese Buffet Restaurant Locality Map
Orchard Central
Address: 181 Orchard Rd, 08 – 01 / 02 / 03,
Singapore 238896
Opening Hours: 11:30am- 2:30pm, 6:30- 9:30pm (Split shift)