The Edge Pan pacific buffet had been a staple coffee house and hotel restaurant at the Marina bay-based Pan Pacific hotel for years serving an impressive international selection. Let's go on a gastronomical exploration and walk through and offerings of the international buffet place.
Furthermore, the restaurant is tucked in the third floor of Pan Pacific hotel in the Marina Bay district. The buffet I visited was their Saturday brunch. I would place their brunch offerings between their buffet lunch and dinner in pricing and food selection variety. It is notably offering-wise, the brunch is a small step down to the dinner seafood offering, but at a lower price.
Islands of food
Moreover, the Edge buffet layout is one of the most open I had visited in a hotel. It comprises of what I like to call "food sectors" or islands spread across the relatively large restaurant l grounds. It encourages you to explore the various islands each housing different cuisines. Also, guest tabled seating is also spread about throughout the establishment.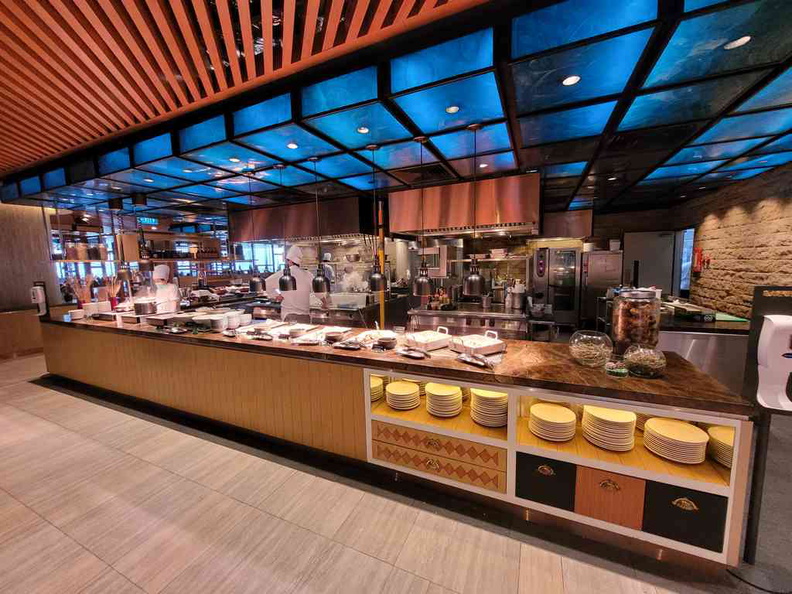 The general ambience is open, airy and easy to navigate. It is recommended to do a walk around to consider your food option before starting out. For appetizers, I recommend one of the two soups options- cream of the day soup at the beef roast section near the pizza counter or Chinese style soups (e.g. Bak Ku Teh) at the Asian corner.
The Chinese platter is quite substantial and takes up a large potion of the Asian selections. Here you can find a row of mixed vegetables and meat dishes lined along a counter, I particularly like the grilled salmon fillets, and roast chicken, which you can help yourself to heaps of it at your choosing.
Asian food selections
Moreover, the Indian food selection comprises of a choice of 4 curries to go with a plate selection of meats such as roasted chicken. I recommend the roasted chicken here topped with some Indian Biryani cracker (poppadum). There is also free flow of roti prata here too.
The Japanese selection is not big, but adequate. On the table is a selection of tuna and salmon slices as well as a curated choice of Californian Maki and sushi nigari. The thing to go for here be the sashimi, the Tuna are not the top grade with melts in your mouth, but adequate for sashimi-standard and are really fresh. Not too shabby for a Japanese section, though the addition of Tako (octopus) like the last time we visited would be great. Tako is not a regular item, so the spread on your visit may vary.
Speaking of seafood, the Edge's Seafood selection comprises of a platter of Mussels, clams. Also, the highlight be their fresh oysters which are cleaned and prepared but the batch on-site.
Local favorites with a storefront touch
Additionally, on the menu is an international selection. Notable ones include a western roast section, and eastern Indian, Italian and Asian cooked-food. Also, local delicacies include char kuay teow and chilli crab, which strangely was only a pot of sauce on my visit. Still, the chilli crabs are paired well with included Mantous bread (freshly fried dough buns).
This local selection island at the far end of the buffet counters is the chicken and roast duck rice section. Also, you can so pair your rice with condiments of black sauce boiled egg and bean curd if may. The meat roast quality is good and comparable to hawker fare, which maintains its authenticity which the hotel is trying to replicate in both food and theming.
Also, you have a noodle corner with a choice of either Prawn noodles or Laska. I would recommend the latter, served with authentic thick bee boon and a large prawn to boot. The other order-to-cook offering is their pasta counter, with a choice of pasta and toppings.
Try their Beef roast
I found the Western and Asian selections one of the better offerings here at The Edge. Also, their beef roast is no exception too. The meats are juicy within medium done, but with a harder spiced outer exterior. On special occasions, this section will serve other themed food, like turkey and ham during thanksgiving and Christmas months.
Additionally, the restaurant's center island offers a curated European and salad selection, tad Mediterranean if I were to say too. On offer is a selection of German sausages and roasted satay. It is tad a more premium offering of "meat on a stick". Also, there is a large cheese and bread platter here, allowing you to whip up a Mediterranean plater of berries, leafy greens, beans, eggplant and olive oil.
Wrapping up, the drinks corner is situated at the far end. It serves a selection of free flow coffee, tea and juices. Premium drinks and items like, beer, wine or other alcohol selections are a chargeable extra.
Dessert section
Also, the dessert section has a selection of fruits. The go-to items here is a choice of pudding cups with a selection chocolate and durian puddings being favourites. The desserts are served in small plastic and glass cups.
Wrapping up the desserts section is an ice cream and fondue corner with a selection of marshmallows and kuay selections. Ice cream is served by service staff from your choosing of 6 ice cream flavours. I would recommend their Raspberry, Chocolate and Yuzu.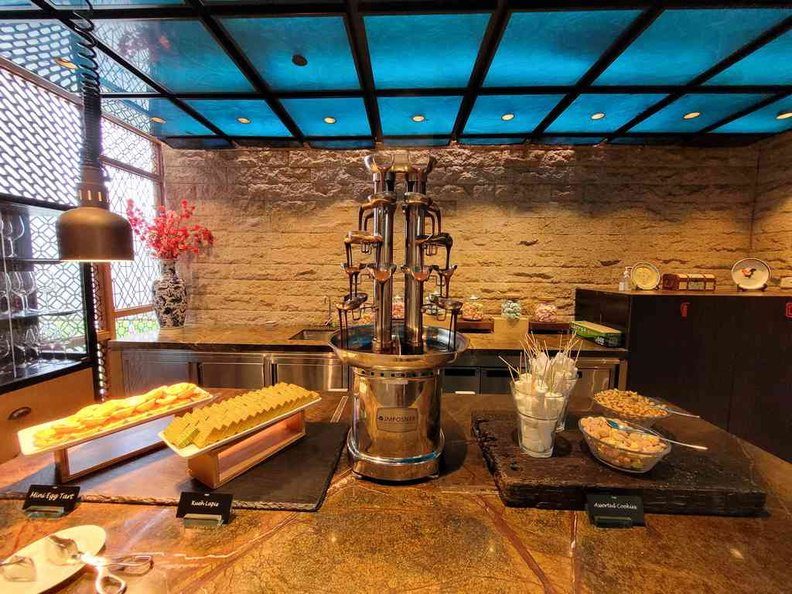 Moreover, service is quick, friendly, and your plates are promptly cleared when you are away from your tables. Pricing-wise, the buffet pricing is price in the sub $70 range for lunch, under $80 for Saturday brunch and about $90 per head for dinners. Notably, it gets the most expensive on dinner weekend dine-in, but that is also when you get the largest selection of food cuisine on offer.
All in all, food wise Edge Restaurant buffet at Pan pacific does not disappoint on the price point and quality. I noticed the selections are tad smaller than what we dined in previously, but still an enjoyable experience all round.
Verdict:
Must Go! | Actually pretty Good | Worth Trying | Shortlist Optionally | Should Avoid
Edge Restaurant Buffet Makan Place Locality Map
7 Raffles Blvd, Level 3 Pan Pacific,
Singapore 039595
Opening Hours: Daily 12–2:30pm, 6–10pm