Visiting Irodori Japanese Restaurant in Singapore offers a glimpse into a world of delectable Japanese cuisine within the cozy confines of the 4 Points Hotel along Havelock Road. Situated within the old Riverview Hotel, now rebranded as the 4 Points Hotel, the restaurant is conveniently positioned on the hotel's third floor.
This elevated location provides window views that overlook the bustling Havelock Road on the street below. The spacious and open layout of the restaurant allows for ample seating, consisting a mix of tables which can be flexibly rearranged within the space. There is a sushi bar and counter is located centrally in the restaurant, though there are no counter seating offered.
Try their sashimi
A standout recommendation at Irodori is their impressive quality of Sashimi for the price. The establishment prides itself on offering some of the finest Sashimi platters selections. Also, you can opt to savor your preferred sashimi type individually or dive into a mixed platter.
The platter choices offered encompass generous portions of pink salmon (Shake Sashimi), Maguro (Tuna), Hamachi (Japanese Amberjack/yellowtail), and sliced tender tako (octopus).
Comparatively, I find the quality of the sashimi surpasses that often found in larger internal hotel buffets. Although the tuna might be a touch chewier than the melt-in-your-mouth delicacies encountered in authentic Japanese markets, it's undeniably pleasing and devoid of any unpleasant fishiness.
Delightful Sashimi platter
Notably, the Sashimi Moriawase, an assorted sushi platter, stands as a delightful choice for sushi enthusiasts. The Sashimi Moriawase is the one to go for here for a starter, served with sides of freshly ground wasabi. Also, I find the sashimi quality good for the price point, even surpassing that offered in larger international hotel buffets. The tuna is chewy, but no-melting in your mouth level from the sushi we had a Tsukiji fish market in Tokyo Japan, but still pleasantly tasty without tasting fishy.
The ambiance at Irodori restaurant is complemented by live music, albeit a relatively modest performance, with a lone guitarist stationed near the restaurant's entrance.
Also, for those seeking rice staples to go with your meal, the restaurant offers a range of options such as soupy udon, hot or cold soba, and flavorful rice dons. Both soupy and dry variations of these staples are available, alongside saucer-sized servings of fried rice, perfect as appetizers.
Moreover, their wrapped sushi is also another rice staple, though average in quality and pretty aligns closely with the quality you might find on a typical conveyor belt at a place like budget-friendly Sushi Express. It is pretty much a run of the mill offering, though I would place Irodori offerings behind the premium quality offered by Sushiro sushi.
Try their meat slices wraps
Another must try item is their Beef Shogayaki beef slices. This dish features succulent beef slices adorned with a ginger sauce, a beloved choice among locals throughout Japan as a popular grilled street food. Here at Irodori, you get two pieces per order, served on a small saucer.
Also, I found the sides of udon, soba, or fried rice best accompanied by their Yakitori grill items. The skewers are served with two skewers per order, they are flame grilled and savory Yakitori meat slices. Additionally, the Ebi Mentai Mayo is worth a try, with three grilled prawns per serving, crowned by a delectable layer of melted cheese.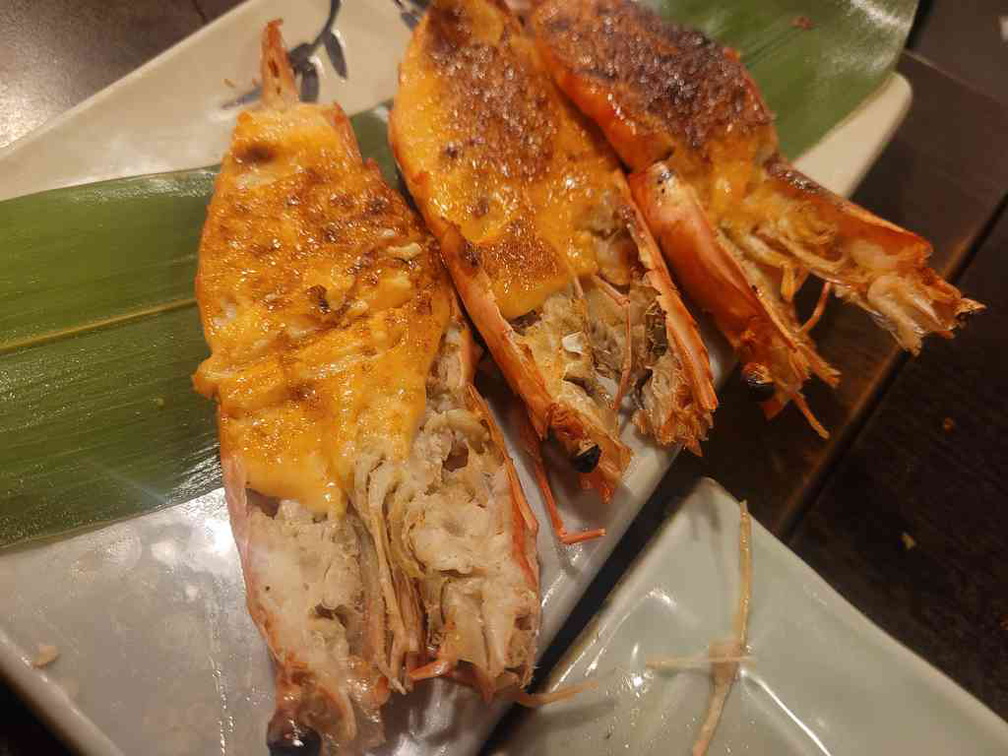 Value for money
One of the most commendable aspects of Irodori is its affordability. Price-wise, I find Irodori well-priced for the offerings, buffet prices is priced at $39.90 for adults and children's rates at $24.80 (for those under 10 years old). Do expect to pay S$47 per person, all-inclusive of a 10% service charge and 8% GST, the restaurant offers outstanding value for money.
This boils down to a buffet price point under $50 per pax for an otherwise rather quality and filling buffet. This puts their price range on-par to hotpot places such as Hai Di Lao.
While exploring the menu, their Temaki Moriawase beckons as an enticing option for those craving fresh assorted hand rolls. Among them, the soft shell crab maki stands out, it's crispy shell has a pleasantly nice crunch to it and goes well with the seaweed and sticky rice wrap.
Despite the restaurant's popularity leading to peak weekend dinners, the swift table turnover ensures short waiting times for those in the queue. The establishment also accepts table reservations.
Less impressive yaki dishes
Moreover, their grilled bacon rolls are tiny little hand-wrapped goodness of taste and are best consumed whole in one bite. Not all offerings are great though, their deep-fried katsu chicken is pretty pathetic too, and tad a joke too, with two small slices with more batter than meat on a saucer. One of their lesser offerings to avoid.
In addition, as with any dining experience, not every dish can hit the mark equally. Irodori's fried tempura, for instance, falls a bit short, featuring a batter that lacks the desired crispiness and flavor. Also, the Tempura platter combines two ebi (prawns) with mixed vegetable piece and their tempura dipping sauce tends to be watered down for many tastes.
Furthermore, wrapping up their menu offerings is a choice of fried condiments. This comprises of wraps, rolls and nibbles, typically comprises of two pieces per order. They are served on a range of saucers and plates.
Also, items to go for here are their shitake mushrooms as well as their wrap bacon rolls. The mushrooms are fresh, chewy and has a bit to it. There is also their Greentea Tofu, made with freshly prepared delicate and delicious silken tofu. As well as Korokke (Croquette) Fried Japanese croquette with vegetables and meat.
Additionally, the restaurant's comprehensive buffet offering includes a free flow of hot or iced green tea, while coffee, tea, and beer are available for an additional cost. The dessert section features ice cream as part of the buffet, as part of a dessert offering in the buffet.
Also, their food also tend comes out in batches, like their Chawanmushi and tempura for instance where you can see multiple tables being served at once after a long hiatus. Other Items like sashimi are prepared ad-hoc, as well as their noodles and rice bowls.
Quirky ordering with disappearing orders
The restaurant uses a QR code-based digital ordering system, you must place their orders promptly, as the system times out quite rapidly. If orders go unattended for over half a minute, re-scanning the QR code and reordering is necessary.
The quirky ordering system adds an interesting twist to the dining experience. However, it's essential to note that quirky issues with the digital ordering system can occasionally lead to missing orders, requiring you to reorder through the QR POS system. I ended up reordering my missing items on the QR POS system again if you food does not arrive past 10- 15 minutes, where your new order be promptly served.
Wrapping up
All in all, Irodori Japanese Restaurant at 4 Points Hotel presents a budget-friendly culinary escapade that promises to satisfy even the most discerning palates. This coupled with a wide-ranging selection of a-la-carte buffet options in a casual atmosphere with a good mix of menu variety to diners longing for a Japanese buffet fix. Definitely a Restaurant worthy of your shortlist if you are craving a genuine gastronomic journey.
Verdict:
Must Go! | Actually pretty Good | Worth Trying | Shortlist Optionally | Should Avoid
Irodori Restaurant Locality Map
Four Points by Sheraton Singapore, Riverview
382 Havelock Road,
Four Points by Sheraton Singapore,
Riverview, Hotel, #03-01,
Singapore 169629
Opening Hours: 11:30 am–2:30 pm, 6–10:30 pm (Split shift)