Oscars at the Conrad Centennial Hotel in Singapore, situated on the ground floor just beside Millenia Walk and across the street from Suntec City Convention Center, offers an international buffet experience for both lunch and dinner. Let's take a dine-in and explore of the hotel buffet.
The buffet presents an array of dishes from Asian and European cuisines, along with a tempting selection of desserts, fruits, and bread. There's also an outdoor section serving Indian, Chinese noodles, and Western grill, which many diners might overlook at first glance.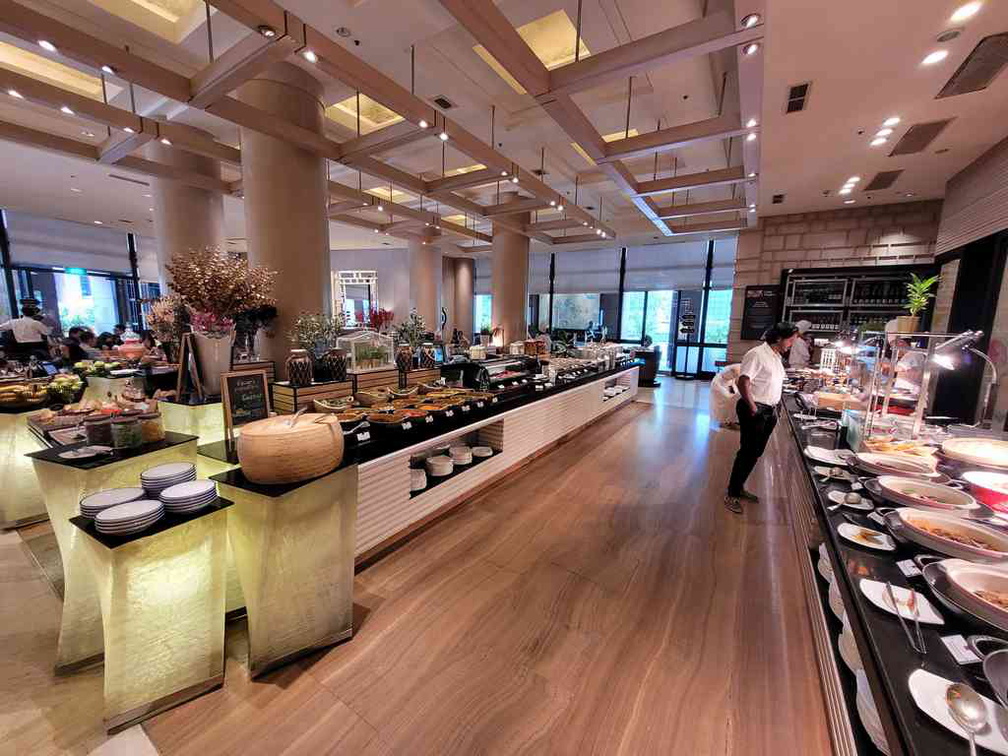 A European and Asian offering
The European and Asian selections at Oscars undoubtedly stand out among the offerings. Also, in the European section, you'll find delectable dishes like lasagna, beef stew, potatoes, stewed vegetables, asparagus, and grilled fish fillets.
Moreover, one dish that particularly impressed me was the grilled dish, kept warm in induction-heated pots, bathed in a creamy sauce that complemented the Asian section's staples perfectly.
Speaking of Asian dishes, the array is quite impressive. You can indulge in stir-fried noodles, rice, an assortment of vegetables, and succulent pork ribs and pork belly in various sauces.
Local popiah and chilli crab
Also, notable Singaporean items on the menu include hand-made Popiah and chilli crab, they are made behind glass counter you might mistaken for a chicken rice or noodle store stand. Still, these local dishes are inconspicuously served alongside with french favourites such as fatty duck liver (foie gras) on toasted bread. Go figure!
While the chilli crab may not be a standout dish, the sauce pairs well with the provided mantou fried bread buns. Surprisingly, there are no local favorites like chicken rice or char kway teow on the menu here.
Additionally, the outdoor noodle section is a unique feature, albeit oddly located outside the restaurant. Here, you can order a free flow of Singapore's signature seafood laksa, prawn noodles, wonton mee, or fish noodles. Also, the noodle serving bowls are on the smaller side, but considering the bite-sized portions offered in the buffet, they are adequate.
Try their roast steaks
Moreover, the roast section deserves a special mention, especially for steak enthusiasts. The roast section offers medium-rare beef steaks, which are surprisingly tender and flavorful. Your steaks are sliced out to portions you require, do not be afraid to ask for larger cuts!
Although they might not match the tenderness of Wagyu selections available at other establishments, it's still a commendable effort. Also, your steak can be paired with portions of berry jam and brown sauce, which are available at the counter self-service.
Seafood and Sashimi
Furthermore, the seafood counter, located beside the Japanese sashimi and sushi section, offers a delectable assortment of oysters, clams, mini crayfish, and freshly cooked prawns. There is no snow crab offered on the lunch menu, but I am glad there are oysters available too. It provides an opportunity to indulge in these seafood staple delicacies.
Additionally, the Japanese sashimi and sushi section sits alongside the seafood counter, where you can have tuna, sashimi, and hand-sliced tako octopus made to order. Also, this section adds a touch of sophistication to the buffet with its fresh, finely prepared Japanese delights.
Restaurant ambiance
The restaurant's seating area, while not as extensive as some other hotel buffets, offers a spacious consolidated seating area, which includes both air-conditioned and roadside outdoor seating.
Also, the tables are thoughtfully spaced to ensure that guests don't feel cramped, contributing to a comfortable dining experience. The service at Oscars is excellent, with attentive staff ensuring that empty plates are promptly cleared.
In addition to the indoor offerings, the outdoor roasters section provides an additional variety of grilled dishes, including roasted beef, chicken marinated in various flavors, and satay selections.
Also, the standout item in the Indian food section is the hand-made oven-fired naan bread, which pairs perfectly with a variety of curries and sauces available at the counter.
Dessert and salads
Oscars offers a Caesar salad that allows diners to create their favorite salad from a selection of greens, nuts, and raisins. Also, a unique item here is the giant cheese bowl, where you can help yourself to cheese toppings for your salad.
Moreover, wrapping up the dining experience are the tempting desserts, including apple crumble, macarons and a sizable offering of trays of tartlets and sweet mini-cakes. Some tarts are nicely themed to mini-fruits.
If you have a sweet tooth, you are well-covered here. Topping up the selections includes sweet cakes and fruits such as Tiramisu and chocolate fondue where you can pop sticks of marshmallow, strawberries and Kueh lapis under the chocolate fondue fountain.
While the apple crumble dessert here at Oscars Conrad was good, I found it lacking the tasteful crunchiness of the one offered by Furama Riverfront at Havelock Road. Furama is the one to go for if you desire better dessert selection.
Sweetening up the desserts, I recommend a selection of ice cream, with a kitchen staff member ready to scoop your chosen flavors. You can choose from 6 different ice cream flavours including non-diary options.
Wrapping up
While the buffet price is on the higher side, close to $100 per head for lunch and about $112 for dinner with GST and service charge excluded, it is certainly priced up there in terms of the asking price for international buffets. Also, it is also worth noting that the restaurant do tie down with banks to offer upfront discounts from 10-20%, adding more value. For instance, on my weekend brunch dine-in, my buffet costed $103 per pax after bank card discounts with service charge and 8% GST Included.
In conclusion, Oscars at the Conrad Hotel offers a delightful international buffet experience, with its standout European and Asian selections, fresh seafood, and tempting desserts. The outdoor section, offering Indian, Chinese, and Western dishes, adds an interesting twist to the buffet.
The spacious seating area, excellent service, and outdoor roasters section contribute to a pleasant dining atmosphere. Whether you're a visitor or a local looking for an indulgent buffet experience, Oscars at the Conrad Hotel is a worthy choice.
---
This review is not sponsored by the establishment nor did they provide any editorial input or reimbursements into the content and outcome of this review. All meals were paid for in full out of my own pocket as a regular and anonymous patron.
Verdict:
Must Go! | Actually pretty Good | Worth Trying | Shortlist Optionally | Should Avoid
Oscars Conrad Centennial Buffet Locality Map
Conrad Centennial Singapore
2 Temasek Blvd, Singapore 038982
Opening Hours: 6am- 10:30pm Opens daily