Singapore's largest Chinese New Year Carnival is back in this year of the Rat. In welcoming the new Lunar new year of the Rat, the annual festival of Lunar New Year festival of lights is held at the Marina Bay floating platform. Notably, the event runs for a limited period from 23 Jan – 1 Feb 2020. Lets check out River Hongbao 2020 with a walk through.
Getting to River Hongbao
To get there, the entry gateway to the venue starts from the bay side walk from the Esplanade. Here you can find the gateway entry arch in its all lit glory with a swooping design. The closest MRT is esplanade station. If you were to drive, Marina square will be your best bet for parking spaces and parking fees.
Entry to the platform is done through each of the three walkway bridges. Here, you can find a variety of lit displays which runs from right to left of the floating platform.
A giant god of fortune stands centered in front of the seating gallery. He sits center stage here, with an arm full of gold taels at the platform seating gallery. You might remember this gallery as one of the grandstands used in the annual Singapore F1 grand prix.
Outdoor lit zodiac displays
The grounds of the entire floating platform is decked with a number of lit lanterns scattered about the compound. There is a wishing tree brought to you by Hai Di Lao. Also, there also a large lit display comprising of the people of Singapore and Lion dancers stands on the far left of the floating platform display.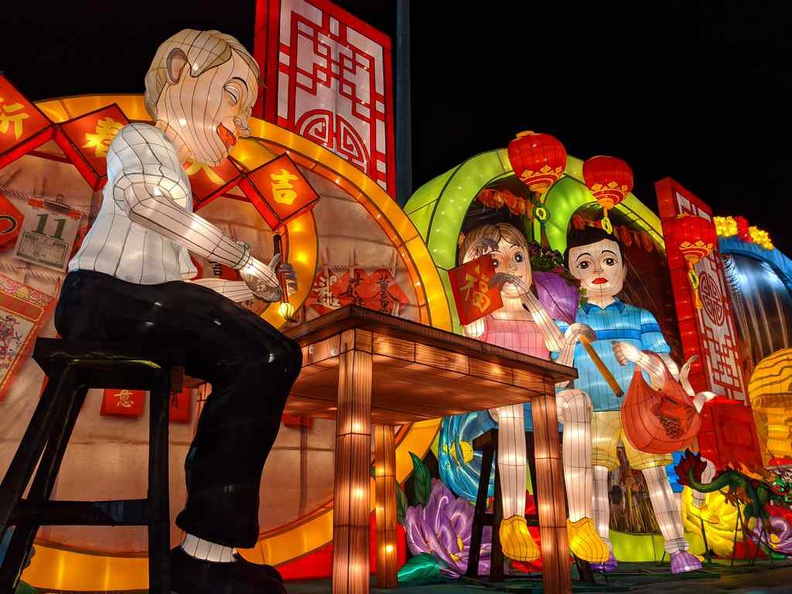 Furthermore, there are large lantern displays dedicated to each zodiac animal. The displays are brought to you by an array of Singapore companies and brands, such as POSB bank, City Developments Limited, Singapore Airlines to name afew. The Rat of course has the largest of the lanterns, with animatronic livery too.
Showcase of Angbaos
Situated in an indoor hall is a display of how red packets came to be a mainstay in every Lunar new year. The display teaches you about the folklore of how it came about and the evolution of the red pack which started as a small envelope, growing in evolution to sit notes unfolded today.
Moreover, on display are a selection of rare and interesting red packets from private collections. Notable ones includes felted and plated angbaos, which brings premium and luxury to a different level over your typical paper type red packets.
Additionally, a performance stage sits centre on the platform grounds. Every night, the main stage sees a variety of performances which runs throughout the night. Paid tickets are required to enter into the seating pan though free seats are also available on a first come basis.
Also, you can have a seat at the floating platform gallery to watch both the performances via large outdoor LCD screens and the fireworks. Notably, the stage performances are free for all the watch and you are free to watch it outside the seating pens if you do not mind standing.
River Hongbao Daily Fireworks
Furthermore, a main draw of River Hongbao every year is also none other than fireworks. The spectacle lit the skies daily from 9pm to 10pm for about 6 minutes. On fireworks timings, we saw the first at stroke of midnight on 24 Jan. Subsequently, 25-28 Jan sees fireworks at 9.00pm.
It starts an hour later at 10.00pm on the nights of 29 & 30 Jan. The last two days of the event on 31 Jan & 1 Feb see the fireworks on at 9.30pm. There is only one firework display per night.
Mini family amusement park
Also notable here is a small children's amusement carnival. They are all situated in the lower sheltered areas of the floating platform seating gallery. Here, you can find a combination of family and kiddy rides, operated by local amusement operators.
Moreover, notable rides includes a double story carousel, a battle robot ground as well as an indoor kiddy Ferris wheel. In addition are a number of midway carnival store games, arcades and UFO catchers. The offerings here are mostly for children, so don't expect to find any thrill rides here.
In addition to the amusement park are a range of carnival style food stalls in a food hut. Here, you can find staples are such Ramly burgers, Kebabs, Tutu kueh and Takoyaki stalls. There are also tabled seating available.
All in all, if you are around town this festive period, do drop by to check out the lighting at check out the River Hongbao. The best time to go is of course during dark from 7-8pm after dinner where you can best appreciate the light up and fireworks. You are good for an hour in total here, running about all the exhibits with photos in tow. The show runs till 11pm with performances ending about 10.30pm.
Happy new year of the Rat!