The Doujin Market Singapore 2023, also known as Doujima, is Singapore's annual largest pop-culture arts market. The event attracts a cosmopolitan crowd, with attendees coming from the region and all walks of life. It features about 400 different doujin circles and independent creators from Singapore and around the region. The event aims to support creators in aligned industries such as design, music, tabletop game, and boardgame creation. Let's check out the event with a walkabout.
A Cosmopolitan Gathering of Creators
Moreover, the Doujin market has been held annually since 2014, with the last physical event on 2020 due to the global COVID-19 pandemic. The event had a long time coming- grown from a small market at Orchard SCAPE and tucked in Suntec City function rooms. This year's Doujin Market Singapore 2023 is held right here on May 6th to May 7th at Suntec City Convention center Halls 403 and 404.
Furthermore, the Doujin Market Singapore 2023 celebrates Doujin, which aims to support creators in aligned industries such as design. It takes its inspiration from the fan communities in Japan that are passionate about creating art and self-publishing their works. Also, this can take the form of books, stickers, trinkets, and other items. The event revolves around the original and derivative fan works that these independent creators produce.
Market floorplan
Additionally, layout-wise, the Doujin market is easy to navigate with long rows running lengthwise of the hall. It comprises of 400 different doujin circles and independent creators from Singapore and the region. Creator booths here are laid out in a 16 by 11 row booth setup.
Also, you can find the layout easily via info boards and aisle markers labelled alphabetically. Notably, some makers shared tables, with some split up their table 3-ways. It is a rather cosmopolitan event indeed, with a mix of both local and international creators showcasing their works.
Moreover, there is a small open space at the hall center which added some degree of refuge and a breath of fresh air from the packed aisles. Also, the rear end of the halls has open spaces where most patrons and cosplayers used as a seating area too. There were also ten additional rows of built-up booths occupied by premium exhibitors like Pentel, and XP Pen located by the hall entrances.
Bring Cash for payment
Furthermore, it's not all about buying merchandise at the Doujin Market, as there are also plenty of activities to keep you occupied. For example, there are some free game booths where you can try your hand at various games like board games, card games, and video games.
Also, there were also live music performances, virtual cosplay talks and workshops that were held at different times throughout the weekend. The market layout has no particular fixed arrangements. You are free to explore the booths and the open spaces at your leisure.
Moreover, most booths are run by small independent makers who like to keep their prices low. You can find quality stickers typically cost in the range of $2 to $3 each, with bulk offers for multiple sticker sets. Otaku acrylic keychains typically goes from $5 to $15, and so were digital prints too in the similar price range.
Also, there were also some trinkets, terrariums, and crochet items on sale too. There are not much of a manga scene here. This is unlike Japanese Doujin conventions, with more focus on literature and self-published comics. Also, some if not most of the sellers also accepted cashless options like Paylah and Paynow, though foreign sellers were stuck with handling only cash. Therefore, it's best to bring cash to avoid any inconvenience.
Cosplayers of Doujin Market 2023
Furthermore, Cosplayers are a significant part of the Doujin Market. You can expect to see many individuals dressed up in the spirit of Japanese pop culture. There was a princess peach from the recent Mario Bros movie, and a couple of notables from Demon Slayer, Spy X Family and obligatory Genshin Impact.
There was a good dose of cosplayers who dressed up in the spirit of the Japanese related event close to their Anime liking. Take this cosplayer with his intepretation of Anya Forger from Spy X Family, I hope Anya does not read my mind on how awesome the costume is!
Some notable influential cosplayers such as Yingtze and Lunaniere have their booths here for photo-taking and signature sessions, with queues running from these booths at times. Interestingly, even their cardboard standees are open for bidding sale too.
Also, cosplayers played a big part in the convention too, a significant role in the overall atmosphere and experience of the event. You may even spot some costumes at Doujin Market that might be a prelude to what you can expect at upcoming events such as the Singapore Toy and Comic Convention later this year.
A Neo Tokyo Project
Notably, the Doujin Market Singapore 2023 is organized by the Neo Tokyo Project. They are a Singapore-based company that specializes in event management and marketing. They had been organizing the event since its inception, and it has been able to attract a significant number of visitors over the years. Despite the challenges posed by the pandemic, the company has been able to adapt to the changing circumstances and put together a notably successful event.
A pleasing development is the event's commitment to keeping the Doujin Market independent from external interests. This means that the event is focused on promoting the interests of the creators and providing a platform for them to showcase their works. Also, the event is not tied to any particular industry or company, which allows for greater creative freedom and diversity.
Ticketing and Exhibition Hall
Furthermore, compared to other similar events in Singapore, such as the Singapore Toy, Game and Comic Convention (STGCC) and the Anime Festival Asia (AFA), the crowds at Doujin Market were notably more bearable during the earlier parts of the day. The cheaper ticket prices also could played a part in a larger crowd. Tickets cost $10 for a one-day pass and a discounted $18 for a two-day pass. However, as the day progresses, especially after midday, the event does get increasingly crowded, with peak crowds typically forming from 3pm onwards, presumably when everyone is done with lunch.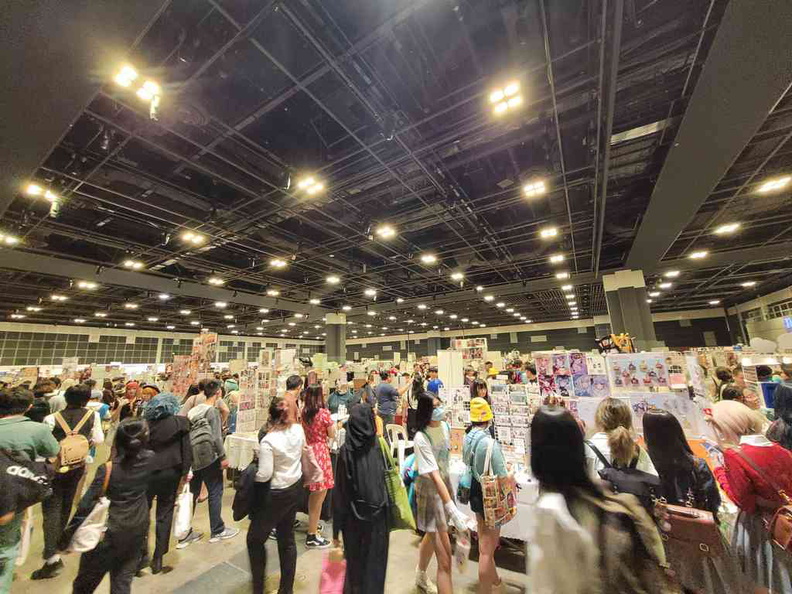 Also, it is worthy to note that all tickets to the event are available only online with no walk-in tickets purchase. Queues here are for the collection of wristbands to enter. There is a small booth for collection of media and exhibitors (blue) bands collection adjacent to the main wristband issuing counter.
Additionally, security at Doujin Market is relatively relaxed compared to other similar pop-culutre events in Singapore like the Singapore Comic Convetion. There are no strict security screening, with just random bag checks for visitors. However, security personnel do verify your bands at the door before allowing entry into the event's vast exhibition halls. Notably, these halls are the similar ones which hosted IT convention shows and the annual Anime Festival Asia (AFA).
Crazy long Queues
Moreover, the Doujin Market is crowded, no doubt about it. Still I found the Doujin Market is healthy for its convention size. Most attendees wait for an average of 2 hours in the queue, with the queues getting shorter past mid-afternoon. Still, the lines are orderly and snake around the open third floor area despite not having any queue guidelines, like in pure Japanese orderliness. There are 1-2 booth staff issuing wrist tags, with a green wrist tag for Saturday and red for Sunday. This opened up to 6 wristband issuing counters later in the day, speeding things up alot.
Also, I found rate-limiting wristband entry with a limited number of issuing booths in the early afternoon helped keep the halls less-packed earlier in the day. Although it does start to get crowded from mid-day onwards, with the bulk of the market attendees arriving in the mid-afternoon after midday. Notably, the queues at the third floor are usually cleared by about 1-2 hours before closing. Most attendees would end up skipping the market and hang out at the third floor cosplay exhibition hall public space for photography instead.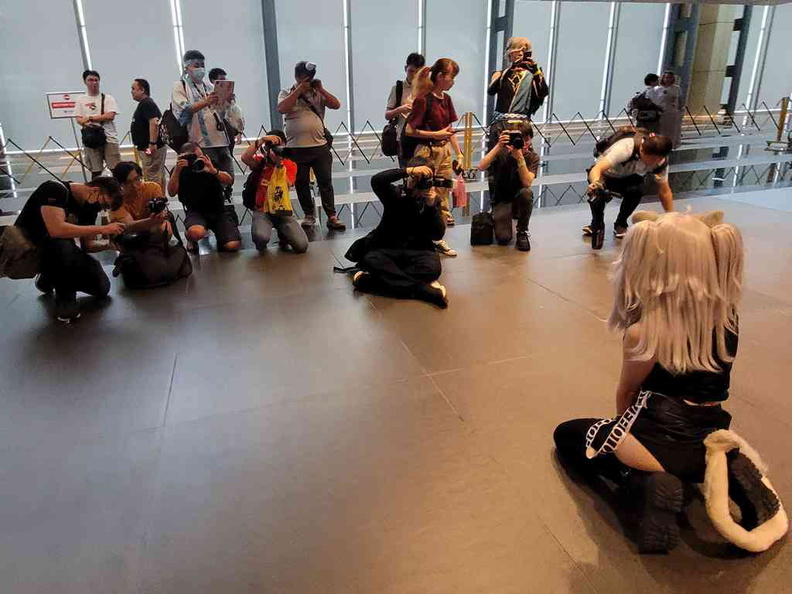 Wrapping up
Overall, Doujin Market Singapore 2023 was a pleasant development, with a diverse crowd and a variety of creative works on display. Looking at how popular this year's event, Doujin Market would most likely return next year with even more exciting offerings. If you are a fan of Japanese pop culture, Doujin Market 2023 is a one worthy to check out. It is a relatively well-organized and simple event attracting a large number of visitors, cosplayers, and independent creators from Singapore and around the region.
All in all, it celebrates at it's core the doujin culture, taking inspiration from the fan communities in Japan that are passionate about creating art and self-publishing their works. It also supports creators in aligned industries such as design, music, tabletop games, and board game creation, making it a unique and cosmopolitan event in Singapore's pop culture scene. Doujin Market Singapore 2023 runs from 6-7th May, operating 12:00- 8:00pm on Saturday and 11am – 7pm on Sunday.