Following the first part of my exploration of the Singapore Toy Gaming Comic Convention (STGCC) 2018 covering toys and merchandise, my next part looks at the human aspects of the convention. Let's check out STGCC 2018 celebrities and cosplay.
Comic and creative personalities
I had the chance to meet in person renowned comic stars and artists in the industry.During the in-show meet and greet, as well as wandering around the show floor checking out the toys. Also, I had good opportunities meeting several industry experts in the arts, toy design and comic industry.
Highly notable ones includes Ryan Meinerding (Head of Visual Development at Marvel Studios), Arthur Adams (American comic legend) and Agnes Garbowska (Grumpy cat, My little pony), who all flown in from the US.
Furthermore, this gave patrons a rare chance to meet up in person with the face behind the comics. It does put a human touch behind the comics we adore. These personalities were available for booking signing and meet up sessions.
Meet ups at the Fan-Tastic Zone
Additionally, activities at the Be my guest and Fan-Tastic Zone are new for this year for meet and greet. Also, you can have your merchandise signed, or if time allows a quick sketch done up for you. If you see them on the show floor, ask for a photo or selfie and they won't resist!
Furthermore, Olivia Mears (AvantGeek) was parading around the showfloor in her beautifully hand-made dresses. You may know here from her international acclaim for her sustainable practice. This includes the usage of food, recyclables and art supplies in her clothing creations.
Moreover, Range Murata was around to hang out. He is a Japanese artist and designer, known for his unique style combining Dieselpunk and Japanese anime elements. His art and illustrations does have a distinctive reminiscent Japanese style with fine thin lines. His works includes Blue Submarine No.6, LASTEXILE, The Silver Wing and Shangri-La.
Meet Simone Legno of Tokidoki
Moreover, Tokidoki may be a brand you are familiar with in Singapore. during my visit, there were long queues up on Simone Legno booth.Simone Legno is an Italian artist best known as the creator and the creative brains of the Tokidoki brand. His Japanese-stylized products are largely popular here in Singapore. Also, his designs are largely influenced by his interest in Japanese culture, street art and graffiti.
The stars do run on a tight schedule and have limited time available at each booth intervals. Nonetheless, art and comic fans always remain intrigued by their works of comic art. Whether it is at their booth or drawn for them as a gift. Also, I found that when meeting these personalities, food seems to be a common topic with them. I learnt that few of them adore our local delicacies, such as chili crabs and durians they had the day before.
Moreover, at their free times, you can often see them either chilling out at their sponsor booths or just checking out roaming the show floor. If you miss the meet and greet sessions, you can catch your celebrities on their scheduled talks and sharing sessions on-stage. When I was there, C.B. Cebulski, David Mack, Adi Granov, Arthur Adams and Gary Choo were on stage with their Talking Comics: the Past, Present and Future panel.
Topics covered includes the thought processes and the ground ideas leading up to the concept and design of comic book to an entire series. Also, discussed were sources of inspiration and favorite parts of their work.
Local personalities
Moreover, Notable local personalities such as Johnny Lau and Sonny Liew were present too.It was a privilege for me to meet few of our home growth local talent right here. For Mr Kiasu, it was a throw-back to good old memories of one of my favorite childhood comics I enjoyed reading as a kid. It was an honor meeting Johnny Lau, the creator of Mr Kiasu.
Furthermore, I had the pleasant experience in meeting the founder of the Singapore Whovians group. He enthusiastically introduced the local Dr Whocommunity in Singapore. It comprises of volunteers(Whovians) through open sharing of the fandom hey adore. Their goal is to spread the word of Dr Who. In the show, this is achieved through screening of episodes of Dr Who's Christmas specials, as part of the convention's cinematic lineup, including selected anime titles to top it up.
I was an avid fan of Dr Who when I was living in the UK, always catching every BBC episode then. It is nice that there is a local community here to revitalize my interests in it.
Cosplay galore
STGCC always never fails to disappoint in the range of Cosplayer and costumers present at the event. You can find various costumers roaming both inside and outside the convention grounds.You can find most of them chilling out and posing for photos within the Marina Bay Sands shopping grounds.
The selection of cosplayers here are pretty diverse. They range from Anime, video game characters, to movie and cartoon personalities. The range includes varieties of home-made costumes. Some are really intricately and detailed.
Others include off-the-shelf costumers, to expensive professionally made costumes, such as animal costumes costing in the range of thousands of dollars. Still, they all go in the spirit of cosplay which really adds to the colours of the convention.
Additionally, FightSaber Singapore has a presence this year too. On offer are hands-on Lightsaber building workshop for children and adults. Also, our local Jedis were also around to showcase their Jedi prowess, putting up light saber battles for entertainment in the name of raising funds for charity.
Moreover, going on the Starwars theme, the Mandalorian Mercenaries Costume Club also made their debut at STGCC this year with in their Bounty Hunter parade.
Additionally, supporting the run up this year are cosplaying communities such as TokuCos Singapore. They were cosplaying as iconic figures such as Power Rangers, Super Sentai and Kamen Riders. Moreover, there were noticeable many Spidermans around in STGCC. This could be the hype leading up to the upcoming venom movie next month.
Meet the Venom come October
With the arrival of Spider-Man arch nemesis Venom on the big screens comes this upcoming October 4th. You can get up and close with Venom in an interactive booth. Here, fans who wish to merge with Venom and gain cool "supernatural abilities" can do so at the Venom booth. Patrons including yourself can have a go in dipping your hands in the abundant vats of black goo. Don't worry there are wipes available at hand.
Additionally, this iconic black slime symbioses the very like of Venom and is the feature point of Venom characteristics in the upcoming Venom movie early next month. Also, at the booth, Spiderman fans can take photographs at the specially constructed 3D photo-corners. This is set to a city scape of Spiderman's New York and ahead of their on-screen appearances due later in the year. Moreover, here, at specific intervals of the day, you can pose with cosplayers from the Spiderverse club.
Stage Shows and Performances
This STGCC has two show stages within the convention grounds. The main stage sits in an open area visible to most parts of the convention center. It is a universal stage for performances, talk, panels and showcase and is more open than ever before. Additionally, the Anime-themed Akiba Zone stage is situated at the Colosseum sector. Also, this is where table top gaming tables are situated and sits on the far left end of the convention show hall.

Notably, with the main stage in a rather central and open hall location this year, there is a noticeable much larger crowd during performances. It simply attracts anyone passing-by or just curious about the buzz and sudden booming music. Henceforth, the stage area can get rather busy.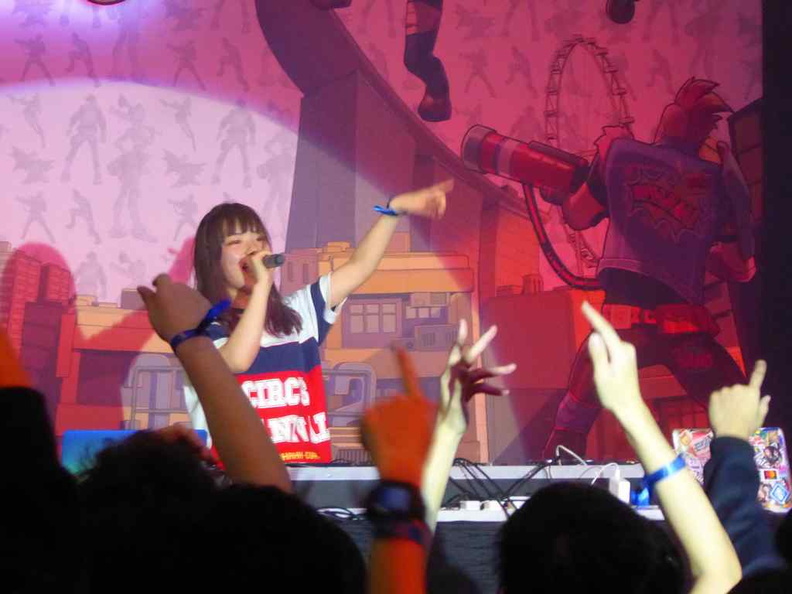 YUC'e and D-YAMA were rocking the stage with his tunes. Here, in each of their performances, you see patrons with light sticks in-hand waving in the air to the tunes rocked.
GXXP gaming zone
The GGXP gaming experience sector returns this year with a large expansive hall. It dominates most part of the left most of the convention hall in STGCC. Furthermore, the GGXP gaming sectors has pretty much the usual offerings you expect from a gaming sector. Moreover, this area was split into two main areas. Namely the Singapore Cybersport and online gaming association (SCOGA) LAN E-sports gaming sector and the Colosseum tabletop gaming sector.
SCOGA hosts this said LAN gaming sector. It is tucked into the far corner of the convention hall accessible via a "toothed' main entrance (with no one enters from). On a little history, SCOGA was founded in 2008 by a group of enthusiastic gamers and leaders who wanted to make a difference for E-sports in Singapore. Henceforth, SCOGA aims to elevate E-sports by educating young people, nurturing online communities and creating job opportunities.
Colosseum Table top gaming
Additionally, Table top gaming is the biggest tenant in the Colosseum and is strong this year as well. Supporting the table top arena are rows of gaming stores lined along the arena edges. Additionally, these stores provide game figurine sets, paint and art supplies.
You can literally buy the table top figures and paint them on the spot for your games. A couple of game shops were also running painting sessions, teaching the intricate craft of, like Warhammer 40k figures for instance, working with Citadel paints and figures.
Test out home made games
Moreover, the Singapore (games) Pavilion returns too this year. It is supported by the Singapore IMDA, also known as the Infocomm Media Development Authority. We first saw the booth decked in yellow at last year's STGCC.

Things of interest here are independent software and indie game companies showcasing their works. This ranges from gaming apps to software on showcase. You can check out these local works at the booths there.
Interestingly, the National Library board has a booth this year with a notable collection of comic titles. You can read on bean bags and seating areas in their booth. Moreover, the National Library Board booth also hold scheduled mingle sessions with librarians, who will showcase their expansive knowledge and trade secrets of all things pop culture at the hosted book talks.
Every year, the Artist Alley is home to a number of resident stores hawking pretty cool novelty items. Notable finds includes Mama Lego bricks, Calibre wings and even my personal favorite, Chapter One designs T-shirts originating from Bangkok.
Sketch and doodle with Sketchcards and the doodle wall
Additionally, you can trade or source rare sketchcards at the Sketchcards Meet & Trade and Scavenger Events organised by the Singapore Comics Community, showcasing its extensive collection of vintage comics. Additionally, the sketch doodle wall returns this year at the Fan-tastic zone again. Anyone with a pen can simply draw on it. Only this year, Sharpie pens were actually provided for your doing.
Moreover, to cater to a larger audience beyond "kidults", there is also a more of a family-orientated inclination this year, with free entry for children aged 12 and below on Sunday, 9th September. It was designated as show's Kids' Day to capture a younger audience.
All in all, STGCC, this year, though it is smaller than last year's 10th anniversary mega setup. The convention still retains the best of the last year's offerings in a much more streamlined package, retaining the best elements of previous conventions. Though the gaming and toy offerings are tad lacking this year, this was made up by a healthy line-up of creative and comic personalities.
All in all, STGCC is always an event I enjoy since I had been covering the event since 2011. Definitely looking forward to next year's convention.