The Singapore Comic Convention 2022 (SGCC) is upon us again this year, after a three year break. It is one of the annual highlight events of Singapore pop-culture. As with each year, lets take an explore and check out the sights and sounds at the heart of Singapore downtown Marina Bay.
Moreover, the Singapore Comic Convention was previously known as the Singapore Toy and Comic Convention or STGCC for short. But fret not as the convention is still pretty much a toy convention at heart despite dropping the "Toy" part. Also, the event for this year is held here at the Marina Bay Sands (MBS) Expo & Convention Centre, along with Christmas festivals. This is pretty odd as past conventions were held typically on the August months.
SGCC 2022, a return after 3 years
Furthermore, this year's event is the 13th edition of the pop-culture event. We had covered the event since the humble beginnings as a small booth convention, to the behemoth today. Today, we see over 350 booths spread across 200 thousand square feet over 2 hall floors here at MBS.
There are more community-based and table-top gaming events located on the SGCC 2022 lower basement floor. Besides table top gaming with Warhammer 40k, there are also figurine painting workshops on-site where you can have a hand at painting the intricate figures. Also, the lower pop culture themed snacks and drinks at the food zone themed to comic con spirit.
Moreover, Transformers has a pop-up truck where you can have a go at paper crafts making your very own little Transformer paper trinket. Also, this lower floor is where you can catch E-sports gaming where live-matches are being played.
Moving on, the top floor is dedicated to toys exhibitors and exhibitions, as well as the dealer's artist alley and VIP areas. Let's see what toys are installed this year.
Toys and toys!
Furthermore, the top ground floor would be your point of interests if Toys, collectables, merchandises and art galleries are to your liking.
Notably, we see the return of incumbents, Taiwan-based Beast kingdom, Toy 52, Genshin impact, Taskishi nation, and Simone Legno's Tokidoki. Notably,  Tokidoki's Simon, the co-founder and Artist behind the Japanese inspired products is here too.
Also, taking center stage on the top floor halls is the Lego sales booth. It is operated by Singapore's main Lego distributor The Brick Shop. Nothing too special here, except for mainstay current sets, with discounts on off-season sets and children activities to earn points for prizes.
Also, Madame Tussauds has an appearance this year too, with their unveiling of a new Loki statue at the convention itself. The display will eventually be a mainstay at their museum in Sentosa.
Moreover, notably Mighty Jaxx has a huge booth in-show. It is dedicated to their current season of toys, known for their instantly recognisable half cut through anatomy pieces.
Starwars fans rejoice
The force is strong here at SGCC too, there re is also a large starwars fans turnout. Also, the Starwars 501st Legion's and Mandalorian group has a huge presence up here too, with their collection of props and booth on display. They were also raising money for charities via a photo booth and challenge counter.
Topping up the Star wars offerings are Lightsabers at the SaberMach store. They are a convention favourite here with lightsaber demonstration battles on the stage.
However, we don't see Royal Selangor or Singapore-founded XMstudios here this year. Their booths used to be show highlight with their sprawling set of models littered about their booth like prized museum artefacts. Also notably absent are the quirky MMA fighting ring and matches we last saw at SGTCC 2019.
Dealers and artists alley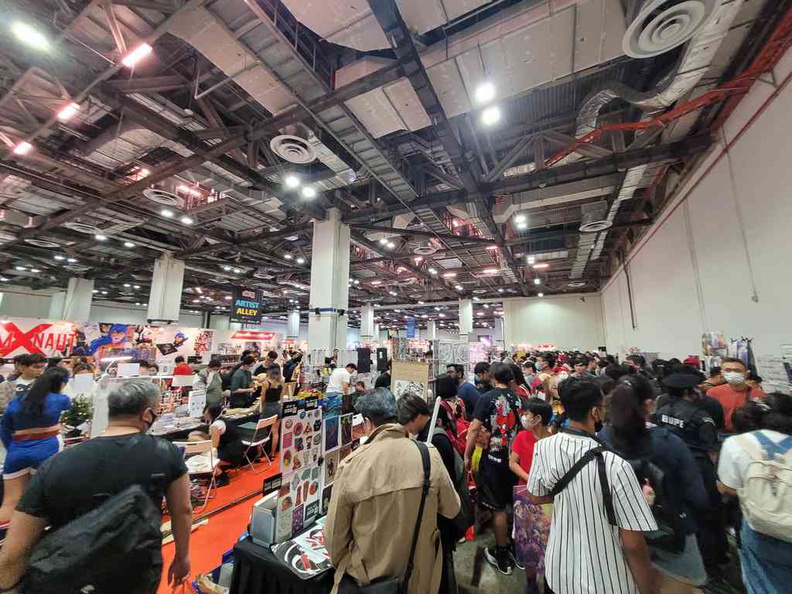 Besides big-name toy boutique brands, a particular area I like about SGCC over the years is support for smaller artists and makers. You can find them here in the buzzing artist alley.
Here, we find staples artists hawking their prints, trinkets and even usual caricature booths. You can get your drawing done on-site, as well as a number of independent sellers hawking their brands of homeware.
Also, the artist alleys is easy to navigate with wide aisle. Still the walkways here are still one of the more packed areas of the convention. Wider walkways for next year's convention be good.
Other notable booths here includes Thailand-based Chapter one, known for their cutesy graphic tees, as well as local satirical artists such as Toast comics, to name afew.
Cosplayers galore
Of course, no comic convention is complete without the dress-up participants themselves, which I would associate as the soul of the event. There is not particular theme for this year, especially with the lack of recent triple 'A' movie releases in both the Marvel and DC comic franchises.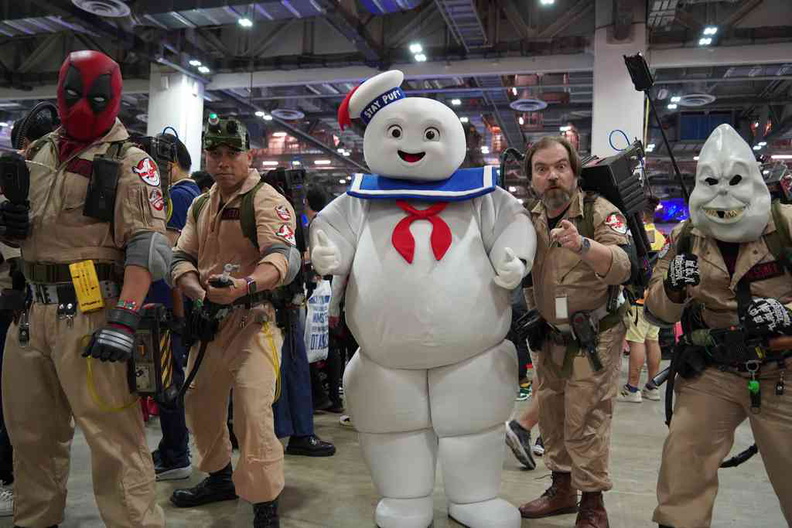 SGCC 2022 Cosplayers Gallery
Also, unlike Anime Festival Asia (AFA) or EoY events with a more Japanese Anime focus, SGCC pretty much has no boundaries to what you can dress up as. The influence of Asian-based mobile gaming, Japanese pop-culture and American influences do see a diverse range of cosplayers, professional and hobbyists duking it out in intricate costumes from the Marvel, DC franchises, Genshin impact and Final Fantasy to name afew.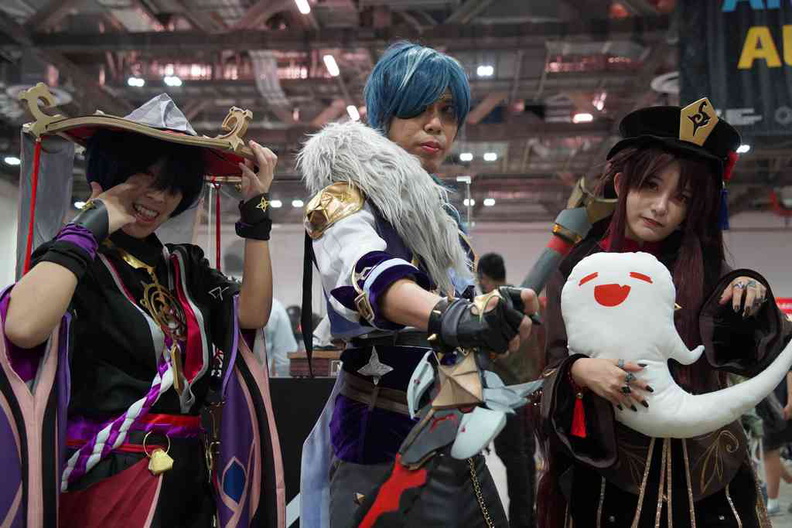 There is the usual crew of Spidermen, and few wolverines roaming around. Military and SWAT gang, ranging from contemporary SWAT gear to World-war era-accurate military gear.
Official event mascots also includes appearances by Bluey, the beloved blue puppy created by a collaboration by the Australian Broadcasting Corporation (ABC) and the British BBC Studios.
A tale of two halls
Furthermore, notably this year, the event spans two vertical halls in MBS above each other. Each hall has their own separate entrances both floors and their own security screening. Notably, security screen forms the bulk of the wait of the queues for the event. Once you are in, the crowds are pretty well-managed.
Also, there is quite an Elevator convention this year, with a cargo elevator in-operation serving guests between these two convention floors. This is useful if you wish to stay in the convention grounds and not having to exit and queue through security again to enter. Notably, one of the cosplayers too were lamenting on inconsistent security screening standards between floors, with one floor allowing their weapon props into the halls while the other confiscating them.
SGCC 2022 Guest personalities
As with each SGCC comes the opportunity to your favourite comic artists and toy personalities. In addition, complimentary to the Notable guest personalities includes 40 special guests, with notable persons in the flesh being James Mulligan and InHyuk Lee.
Additional headliners include Eisner Award-winning writer James Tynion IV, best known for his stint on DC Comics' Batman series, and writer-artist Lee Bermejo, also known as co-creator of the Lex Luthor: Man Of Steel series and the Joker graphic novel.
Wrapping up on displays is a an art gallery on the first floor showcasing the art of Tony Wong, a Hong Kong Comic Book (manhua) Artist. You might know him as artist behind Batman: Hong Kong, as well as adaptations of Louis Cha's novels, such as The Return of the Condor Heroes. His art are on sale at the convention too.
Also, fans of martial arts comics will want to check out the exhibition of nearly 60 original works by the godfather of Hong Kong comics, Huang Yu Lang. Yu Lang will be present for meet-and-greet and autograph sessions daily from 3 to 4pm. There are also plenty of family-friendly activities that will entertain the younger set.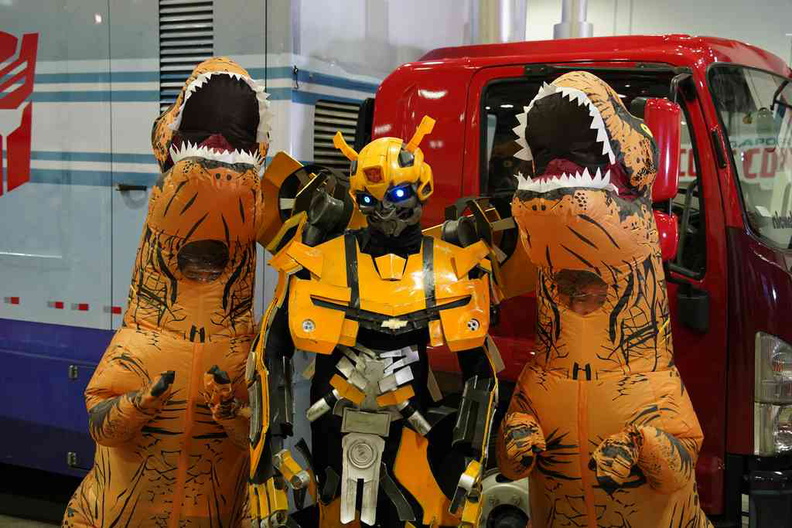 All in all, that concludes up our explorations of SGCC 2022 this year. It was sure a jammed packed event. Already looking forward to next year's event!