A Lego Shop on Sentosa island would probably be the last place on the island you would probably think of buying Lego from. But fret not, Lego has got you covered with a branch opened at Resorts World Sentosa. It turns out to be quite a nice find and one of the better Lego shops in Singapore. Let's see what is there.
The Lego store is large. It spanning a single floor over 3 store units 72 to 74 at 8 Sentosa Gateway. Also, it sits on the 1st floor of the Forum shops. The store spot used to be occupied by a Chillis restaurant. Still, it is rather odd place to house a Lego store, considering that there is also already a Lego store at Vivocity mall just across in the mainland. Still the store is not as spectacular as the multi-floored Lego shops you can find in Europe, or Denmark for that matter.
Additionally, tucked in the main shopping arcade at Resort worlds Sentosa where the Universal studios globe resides. It is the shopping district located just outside the Universal Singapore globe and entrance/exit. Also, it is synonymous to the shopping streets at other similar Universal studios around the world, like Universal Orlando and Universal Japan with their "walk of shops".
A fun place to be
Furthermore, on entry, the store retains much of Lego's playful design and colours. It is decked in typical yellow Lego livery, from the walls, floors and ceiling. Also, a Lego self-help wall sits behind the payment counter. Notably, the store is not operated by Lego themselves, but rather a like all Lego shops in Singapore, is a Lego Certified Store operated by Bricks World Singapore.
In addition, being run by a third party, having said, that official Lego international Member VIP discount cards are not accepted here. Still, kudos to Bricks World keeping to the same look and feel of typical Lego stores internationally.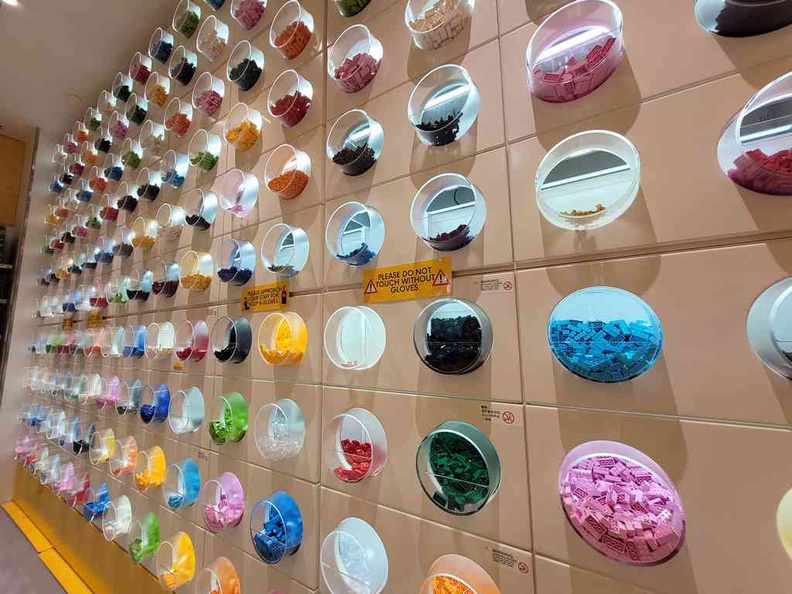 Interestingly, the store is much spectacular than a few stores we visited recently, such as the one opened last year at Suntec City mall. Interesting musings here include a Lego mosaic photo booth. It allows you to transform a photo into a custom Lego mosaic piece. You can purchase it as a set, assemble and frame as a piece of wall art. This is similar to the offerings by their ART series of Lego picture sets.
Sentosa Lego mural
Moreover, being a Lego store in Sentosa, you would expect an obligatory Lego piece of Sentosa. Not surprisingly, a large Sentosa mural sits at the entrance of the shop.
You could make out several notable landmarks here, such as the Sentosa gateway arch bridge, the Cable car, Siloso beach, the now defunct Merlion as well as the viewing point at the southernmost point of continental Asia.
Also, interestingly, below the above ground mural is an undersea scene, comprising of sea creatures, big, small and mystical. It does bring a relation to the nearby Resort world's SEA Aquarium. The attraction is located in the basement undergrounds of the adjacent Resort worlds Sentosa.
A flagship level store
This store, however, can be seen as one up as a flagship store on terms of offerings, product variety and size. Particularly targeted towards the tourist crowd. Also, you can find a large range of sets for all ages. Examples include staple Lego City series and sections dedicated to the Ninja-go, Harry potter and Disney franchises to name afew.
Furthermore, the far end of the store is where the advanced sets such as Technic, Creator and Art series area. There is also a rear corner showcasing various old Lego logos since the company founding over 90 years ago.
Notably, the store does lack a selection of large collector sets. Examples include those from the Ultimate Collector Series, particularly those on the Star Wars franchise. There is also a mini figure wall and a showcase of their newest ART series world map. The world map is said to be Lego's largest set with a total 11,695 pieces.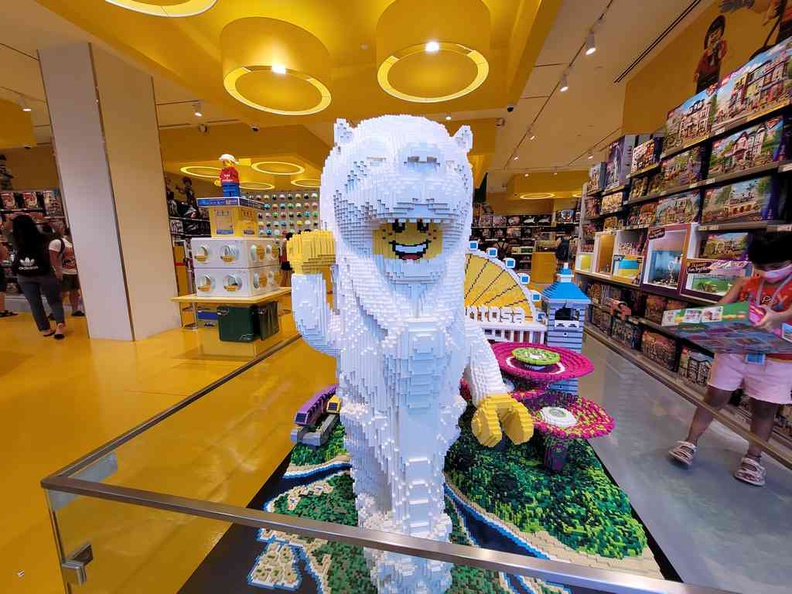 All in all, a Lego Shop on Sentosa island is initially one hard to understand, especially for a spot with limited footfall. But it turns out to be quite a gem, bringing out their uniquely Singapore displays and murals through a store toy close to many at heart.