Kumamoto Ramen is a budget heartland Ramen store serving rather basic striped-down meals without the fat. They tout to be a new Japanese Ramen brand providing value-for-money authentic Japanese ramen in the Singapore Neighbourhood. Let's check out their Bukit Merah branch today with a dine-in.
The branch in question here is located at Block 11 along Jalan Bukit Merah. Notably, the store had been operating for about 3 months since my visit. It replaced a Prata shop which once situated there before the pandemic. The store is typical of that of a HDB void deck eatery. You can find seating at the front with space for about 10 tables of 4 and the kitchen and ordering counter at the rear of the store. The offerings tad reminds me that if Takagi ramen which we visited at both their Ang Mo Kio and Jurong, and Woodland branches.
Interestingly, Kumamoto Ramen operates 2 more branches in Central region of Singapore. One at Ang Mo Kio Ave 8 (Blk 711) as well as Serangoon North Avenue 1 (Blk 153). Their menu offerings are simple yet effective.
Furthermore, the Ramen shop has more of a coffee shop feel to as a ramen restaurant. Dining ambience is generally quiet, with the coffeshop like restaurant rather empty past peak periods. Notably, the store does get a considerable number of food delivery orders. Also, the walls of the shop are plastered with wallpaper depicting Pokemon and comics. Presumably to attract the children Pokemon gaming craze, there is even a tray full of Pokémon mini figures for you to take for free with your ramen.
Ramen on the cheap
A selection of about 11 different varieties of Ramen choices. Recommendations include their signature Kumamoto Ramen ($6.80). Their signature ramen is served with Tonkotsu broth and topped with 2 chashu slices, an Ajitama egg, and garnished by spring onions and bean sprouts.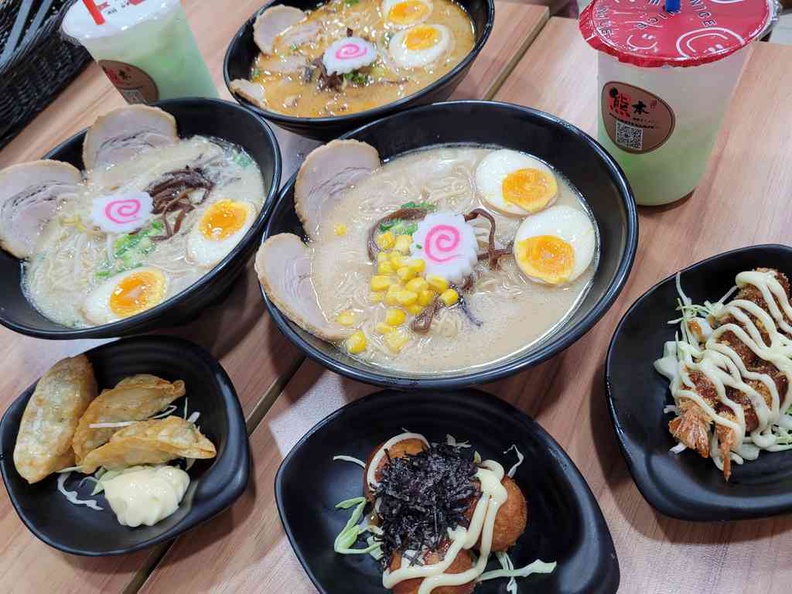 Additionally, other Tonkotsu alternative includes their Black Tonkotsu ($7.80) as well as their Spicy Tonkotsu ($6.80). Their spicy variant is tad like the regular miso with chilli oil added. Not overly fantastic, but just permutations of their regular Miso Ramen. Also, their ramen broth is is flavourful and light, and not overly thick.
Also, it can appeal to those who prefer a less salty miso base soup stock. However, the broth could be too bland to some who are used to thicker brothy ramen. This is especially those you can customise at Ramen Hitoyoshi. Also, when you are undecided, still you can't go wrong with standard Miso Tonkotsu Ramen $6.80 as a safe choice.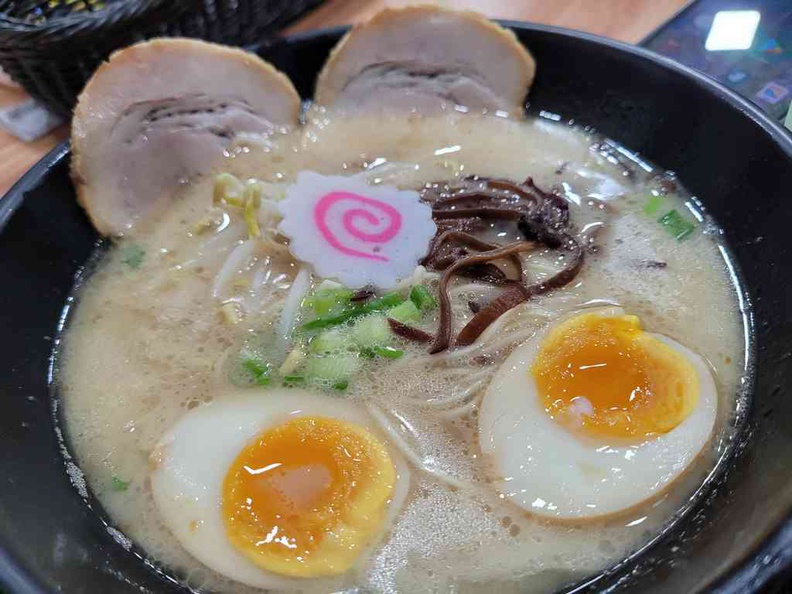 In addition, their ramen noodles are springy with portions are on the small-to-medium side, but what you get is what you pay for. Also, unlike Takagi and Keisuke Ramen which offers nearly unlimited Ramen and sides.  Also, more premium and larger offering includes their Beef Shoyu ($8.80), as well as their Chashu Jumbo ($8.80), you get a Tonkotsu Broth Ramen served with 6 sliced of Chashu meats. Tad like a Miso Ramen meat-fest.
Interesting Ramen (mala) flavour
Moreover, their interesting Mala Ramen is one worth a try, taking inspriation from Sizhuan mala. Priced at an affordable $6.80 itself, it is essentially a Tonkotsu Broth mixed with flavourful Mala source, served with spicy minced pork (in place of chasu slices), an Ajitama egg, traces of black fungus, beansprout and spring onion. But you trade out your Chasu for servings of minced meat.
I would recommend to have your Mala with less spicy option. It is more bearable and brings out the Mala taste. All ramen dishes includes an Ajitama egg, but you do not get a large sheet seaweed or generous servings of chasu.
Furthermore, each dish comes with an Ajitama egg, a rarity in budget Ramen stores, even Takagi Ramen does not include an egg in their most basic ramen. Also, an additional Ajitama egg here costs and affordable $1 each. The included Ajitama egg is a welcome something not offered by default by similarly priced ramen stores. However, I felt that the number chasu pork slices could be more generous- each bowl offers a curated 2 slices.
Set meals complete your meal
Additionally, if you desire more value, I would recommend their Ramen set meals which pairs with a side and drink. Set meals starts at $9.90 with a small side dish. I would recommend their $11.90 set which bundles in a honeydew milk drink and with the 1 small side. On choices, you have a choice 2 prawn tempura, 3 takoyaki balls or 3 fried gyoza.
But for value, I find if you don't mind paying $2-3 more per bowl of ramen, I would say the offerings at competiting Takagi Ramen would give more value to quality. Still, Kumamoto's offerings at $6.80 per basic ramen bowl are one of the best in price. This contrast to sub-$20 per bowl prices you see in typical ramen joint such as Ramen Hitoyoshi at Harbourfront or Otoko Ramen at Alexendra Mall.
Drinks are available separately with choices of milk tea, brown sugar year, or fruit tea from $2.80 to $4.20 a cup. Also, Kumamoto also offers a choice of 5 rice bowls (dons). I didn't get to try on my visit, they look like regular japanese rice bowls with options ranging from pork, beef and chicken. prices ranging from $5.50 to $6.50 a pop.
All in all, Kumamoto Ramen On quality, Kumamoto Ramen is quite a hit or miss depending on what you order. I would position Kumamoto behind Takagi in how flavourful their broth is, and having the obvious lack of refillable and free-upsized ramen noodles. But on absolute offerings, particularly the absolute cheapest ramen on the street money can buy, you can't go wrong with Kumamoto Ramen.
Verdict:
Must Go! | Actually pretty Good | Worth Trying | Shortlist Optionally | Should Avoid
Kumamoto Ramen Locality Map
11 Jalan Bukit Merah,
#03-4458, Singapore 150011
Opening Hours: 10am- 10pm
(Extended hours to midnight on Fridays, Saturdays and Sundays)