Don Don Donki is on a roll in their Singapore country expansion. Since their first branch debut 2 years ago at Orchard Gateway basement, Don Don Donki Square 2 is their 4th outlet here in Singapore. The chain competes against the likes of other Japanese supermarket retailers such as Meidi-ya and Isetan.
It's a food-only supermarket
One thing worth noting though is that this particular Don Don Donki branch is purely a food supermarket. Hence, this means that this supermarket does not sell any lifestyle products, electronics or toys. This is unlike their 100am Branch (Their 2nd outlet), as well as their City Square mall one (their 3rd outlet) at the shopping center's basement.
Lurking in the basement
If it weren't for the various store signages at the entrance of the mall, you also won't know that there is a Don Don Donki here. It is inconspicuously tucked in the first basement floor of the mall. It is connected to the Novena Velocity sports and lifestyle mall. You can reach its entrance via a hidden escalator from the mall atrium situated by a Jollibee fast food restaurant. Moreover, interestingly, you can access the supermarket via an underground linkway from the Novena MRT station. Also, the supermarket floorplan is simple and everything spans one basement floor.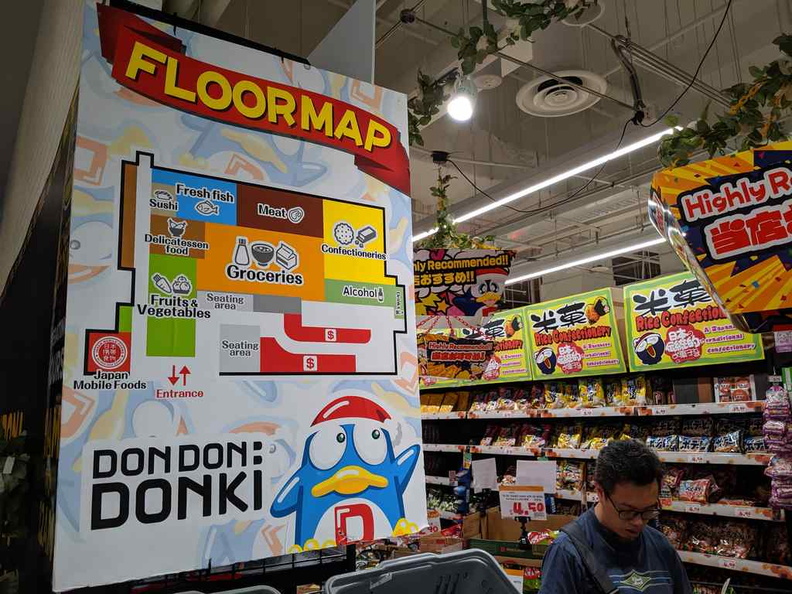 Fresh fruits, seafood and meats
Furthermore, I am pleased to report that the usual bells and whistles of a typical Don Don Donki can be found here too. You have full selection of Japanese fruits, vegetables as well as premium waygu beef and Shabu Shabu sets.
Rows of greens and vegetables greets you at the entrance of the supermarket. Fruit prices are quite competitive, with a bunch of Fuji apples costing in the $5 range. You can also find staples such as ready made meals, mocha and odd Japanese fruits here too.
It leads onto the frozen foods comprising of dairy, seafood and meats. There are also freezers full of Alaskan crab for your enjoyment too.
Dry foods
Additionally, in addition to the fresh foods selections are dry foods such as spices and Japanese sweets, as well as, sauces and instant noodles before hitting the checkout counter. There is a mix of serviced checkout as well as self-checkout counters available.
Additionally, there is also an extensive selection of alcohol drinks, such as Choya drinks as well as premium Sake by the bottle (or crates).
Past the supermarket checkout counters, exiting out of the store is a wall of Japanese Gashapon machines. You can't get any more Japanese than that. Though the items sold are on the pricey side and on average about twice the price you pay in equivalent for similar Gashapon offerings in Japan.
Interestingly, there isn't a Japanese food court located in this Don Don Donki. However, there are rows of high table dining counters you can use to consume your supermarket meals. There are cutlery and microwave ovens too if you need them.
Oh yes, there is also a Sweet potato store here too, serving the same old tried and tested goodness. You can find it near the exit of the Supermarket towards the Novena underground MRT linkway.
Do we need more Outlets?
Notably, there isn't anything particularly new in this branch to stand out worthy of a visit. Granted this branch is highly accessible being situated right beside an MRT station. Also, like the 100am outlet, it opens to 12 midnight daily and is not a 24hr outlet like the Orchard branch. I am not sure if we do really need so many Don Don Donki outlets in Singapore they risk over expansion.
I can see the first Don Don Donki being a flagship 24hr outlet. Probably used to gain traction and popularity in the already crowded Japanese supermarket retail. 100am a sensible choice to cater to Singapore's "Japan town" in Tanjong Pagar.
However, I find it hard pressed to see the City Square and Square 2 malls probably targeting the affluent neighbourhood in the regions. This is especially when both malls have competing supermarkets right in the same building. I feel that 4 outlets is probably the upper limit of Don Don Donki's aggressive expansion strategy in Singapore.
All in all, the establishment in the Novena district is a nice welcome to the immediate residents serving the Novena neighborhood, with a small landed estate as well as a prominent medical tourism area. Definitely a good to check out on the way when you are in-town.
Don Don Donki at Square 2 Map Locality