Gordon Ramsay Bread Street Kitchen at Marina Bay Sands is a high-end dining restaurant brought to you by the celebrity chef. This celebrity outlet is located at Marina Bay Sands Shops. Also, it is the only such outlet here in Singapore. Let's check it out with a dine-in visit.
Ambience with great service
Moreover, Bread street kitchen offers a chill ambience with great attentive service. Service is friendly, fast and attentive. Notably, the fine dining restaurant spans over two floors. There is a bar on the ground floor and a smaller kitchen restaurant on the lower basement floor. However, they are not connected and give the illusion that they are two separate restaurants.
Inside, the restaurant offers a variety of regular sit down restaurant tables as well as high table seating. A recommended seating on the lower floor as it is less crowded and quieter. There are no menu differences on either floor, just a difference in ambience. The upper floor, however, has a bar and live music at night.
Worthy Appetizers worth a try includes Salmon Ceviche and if you are adventurous, their Foiegras Parfait. The livers does offer quite an offal taste punch!
Unless if you detest high tables or need a more wheelchair-friendly seating, I would recommend the lower floor seating. This smaller dining area sits beside a bakery area with long counters and a stone pizza oven in view. It is the least crowded option. Setting is modern yet industrial, with open metal shelves and high tables.
Also, the establishment is notably packed with the top floor being mostly full, even with reservations on a weekday evening. Moreover, dining patrons are mostly casual local diners, shoppers and expats. Notably, also being a Bread kitchen, you are served a basket with an assortment of Bread to start your meal with.
Fantastic Beef steaks
Furthermore, Bread street kitchen offers an extensive dinner menu well-priced for the offerings. The restaurant offers typical selection of fine western dishes priced around the $30 to $50 SGD price range per diner.
A recommendation will be their aged beef steaks, best prepared medium-rare. Furthermore, Bread street kitchen's 28 day aged steak is a joy. It starts at $65 and best prepared medium-rare. Moreover, their aged steaks are flavourful and well-prepared accurate to the right cooked done-ness you specified.
Additionally, your steak is sliced into 5-6 pieces and served on a wooden platter with a small vegetable garnish as "micro sides". The meat is very juicy, cooked with a lightly seared outer while retaining it bloody red interior. It is a joy to savour and it melts in your mouth.
Notably, in comparison to regular grain-fed beef, grass-fed beef has a cleaner, richer flavour. Moreover, it is touted to bring out the beef true flavour, with it being a leaner meat offering.
Moreover, grass-fed beef is typically lower in calories and has more good stuff. This includes more good fats (including CLA) as well as higher levels of essential vitamins and minerals (such as vitamin E, B vitamins, calcium, magnesium, and potassium).
However, do note that their steak comes served just "as a steak". Hence, sides such as vegetable greens and chips cost $10 each for additional serving side. Nonetheless, you know what you are up for dining in an upmarket area. A typical aged steak will cost you about $80 per person excluding GST and service charges. Notably, the steaks offered here are comparable but not as expensive as CUT at Wolfgang.
Other menu offerings
Moreover, other menu offerings include Pasta and pizza. You can see pizzas being prepared and baked in the oven located on the basement floor. This is where the establishment kitchen resides too.
Also, topping up the meaty offerings today is a selection of meat-free vegan food options provided by Impossible foods. Selections include Beef Wellington. It is essentially a "meat wrap". Additionally, your beef is wrapped and encrusted with a baked bready outer. It is not oily, but does taste more vegetable-beany than meaty-crumbly.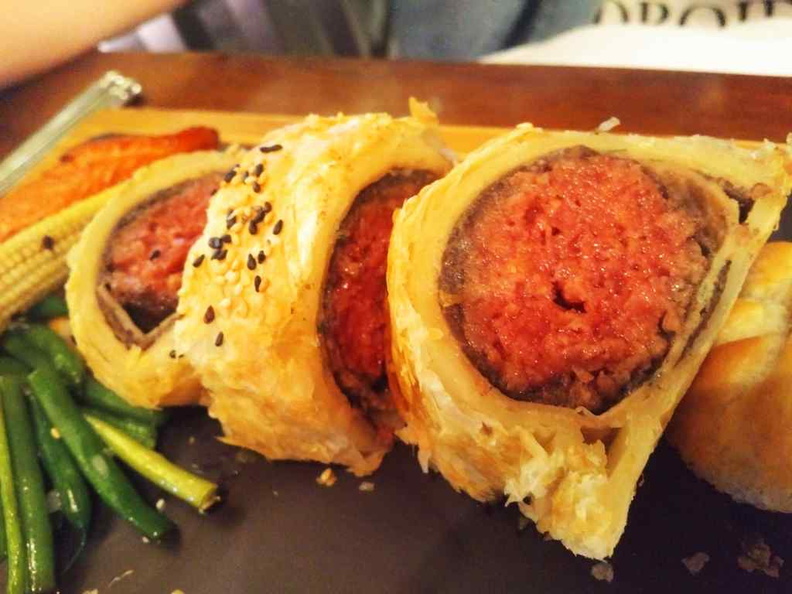 Sadly, it does not have the meat substitute oomph I was expecting. Moreover, if you wish to have something more affordable, their pasta offerings are well-priced around the $20-30 range. The portions are sizable too for the price, it has affordable to meals costing over $100 per serving, the menu able to cater to a large price range.
There is something about the good service for restaurants in this price range. The attention to detail is somewhat addictive. All in all, Gordon Ramsay's Bread street kitchen is a fine restaurant worthy a visit, the price range is not what I would all affordable. But if you it is definitely not as over hyped as it thought to be and the restaurant does offer good quality food to boot too.
In conclusion, if you have the cash to burn, Bread kitchen is a nice establishment for a dinner out. Also, their steaks are very good and get my recommendations. Remember to make your reservations early, as the restaurant is known to be full, even on weekdays.
Verdict:
Must Go! | Worth Trying | Shortlist Optionally | Should Avoid
Gordon Ramsay Bread Street Kitchen
2 Bayfront Avenue,
The Shoppes at Marina Bay Sands, #01-81
Singapore 018956
Opening Hours: 11:30am–10pm Daily
Opens earlier on 7.30am on Weekends