Lets check out Original Botak Jones with a first time ever, a takeaway dine-out. Botak Jones is quite a classic household name in the Singapore western-grill scene. At its core is an American-style western grill joint founded by Mr Bernard 'Bernie' Utchenik, 68 serving authentic American-sized portions right here on our shores.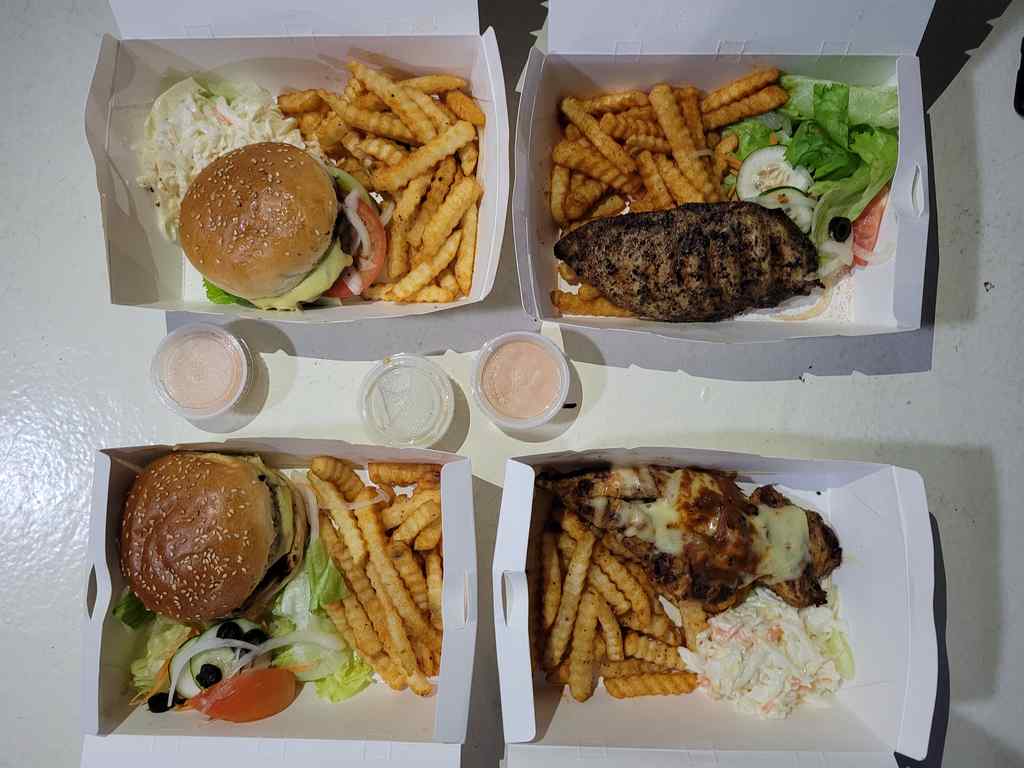 The return of Mr Bern
Original Botak Jones is a return of the old-time western favourite or the same brand. You might go down memory lane where we first dined at Botak Jones at their Ang Mo Kio Ave 5 outlet over a decade ago. Back then, the western food scene was simpler with fewer completion.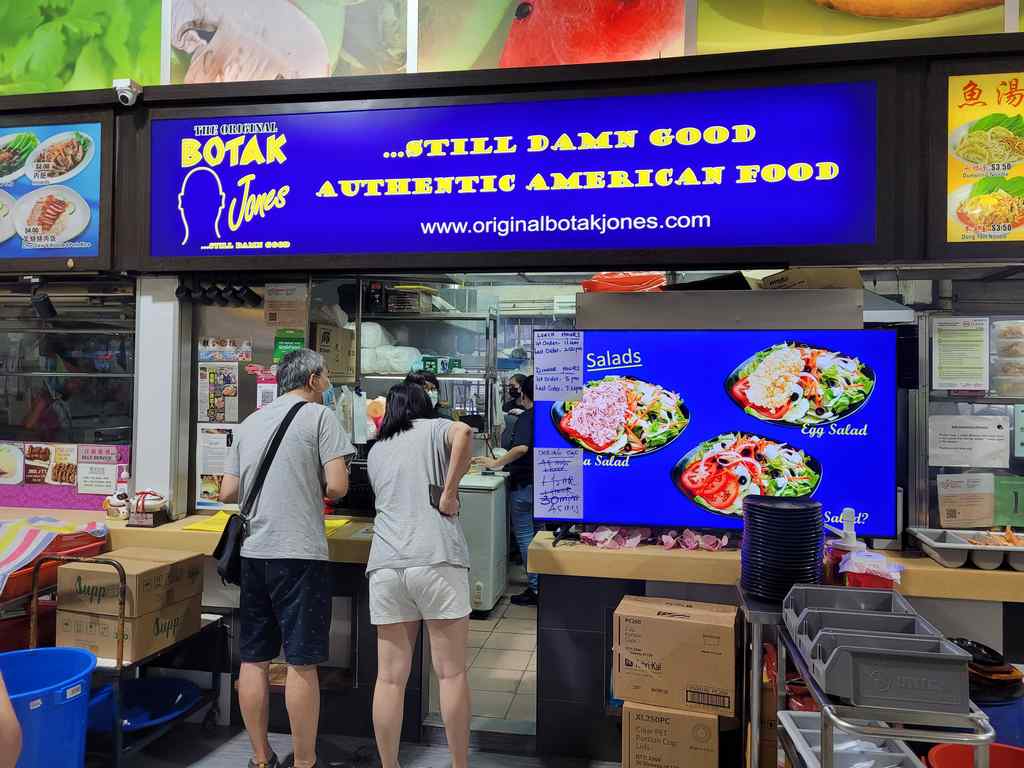 History has it that the chain expanded rapidly in the mid-2000s. But after Mr Bern sold his shares to the franchise in 2013, it was well-known in the foodie scene that brand was soon plagued with issues food quality and small portions which saw the rapid decline of the brand, and the closure of the brand's final outlet around 2017.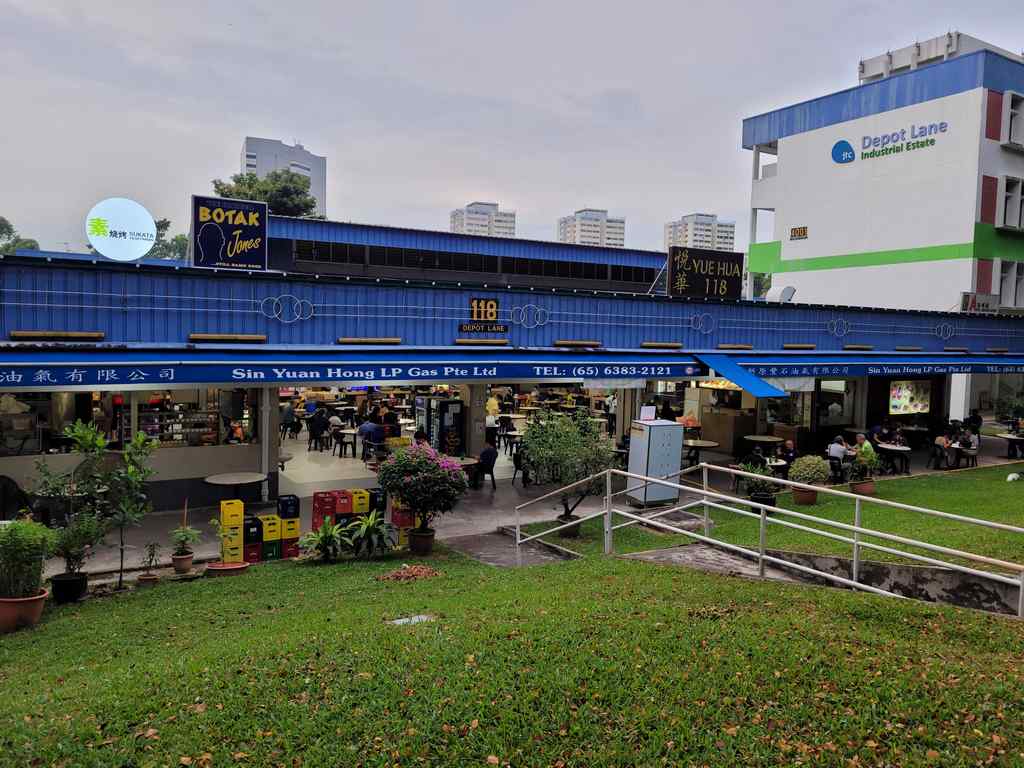 Moreover, Original Botak Jones is tad like Botak Jones "rebooted". Here, you see the return of old time American classics, like Burgers and their signature Cajun chicken and Cajun fries. Interestingly, they are back at the food center which one of the chain franchises used to operate from to, abuet, from a different store unit.
Botak Burgers
Furthermore, their burgers are well-priced in the sub $10 range. It is a good price point for what we loved about the brand- cheap food at a food price in a no-compromise setting. No wonder their first branch saw a return at the Yue Hua 118 eating house along Depot Road. Also, a recommendation would be their Cajun chicken burger ($7.50) is a take of their popular Cajun chicken. Topping up $3 pairs your burger with sides of spicy fries and coleslaw.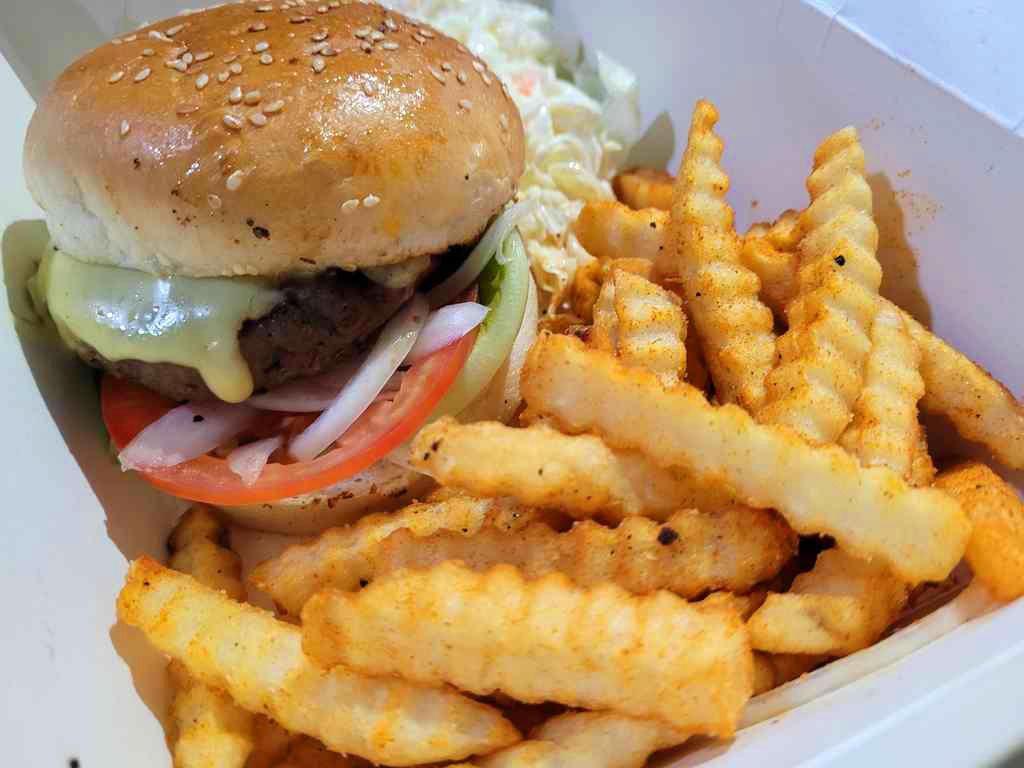 Their spicy fries of previously known as "Cajun fries" cooked in pure vegetable oil and cholesterol free and dusted in salt and spice mix. They are a recommended signature side you can option for with all their set meals. Alternatively, you can have the spicy fries as a side for $3.50. Cheese topped variants sets you back $5.
Moreover, $10.50 get you their Botak burger, with their Double-patty botak setting you back a handsome $16.50. If you are really hungry, their crazy burger packed with 450g of beef starts at $24.50. Also, their beef burgers are cooked medium-well 100% beef. They are juicy without being too crumbly or saturated in sauce. They are packed with cheese, iceberg lettuce, tomato and onion. Additional selections includes their Fish burger ($8.50) comprising of a deep fried white basa fillet wrapped with Japanese bread crumbs.
Cajun Chicken, A Botak Jones staple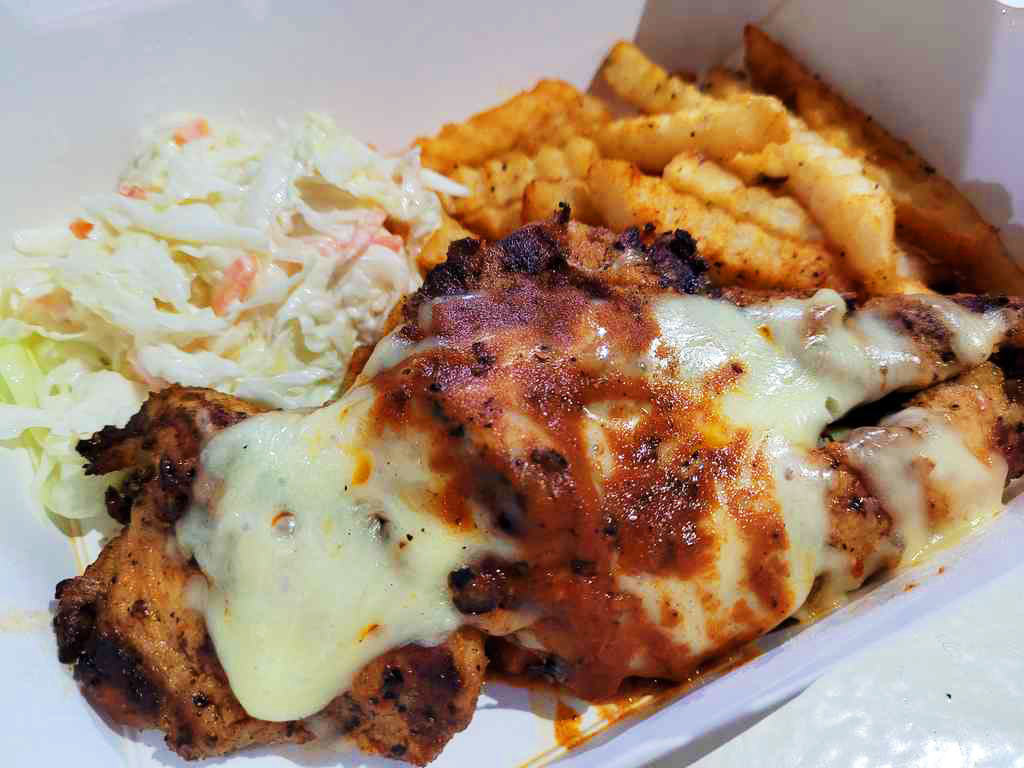 Additionally, more traditional recommendations on the grille plate would be their Cajun chicken. Botak Jones touts their signature staple to be char-grilled with care over a medium heat to keep the marinated chicken breast meat juicy. It is blanketed with melted mozzarella cheese and Cajun sauce. Not bad if you like chicken.
Also, this cheesy Cajun Chicken and BBQ chicken sets you back a very reasonable $7.50 (Regular) and $13 for a large. Though you be fine with the regular portions. The chicken dish is the cheapest mains on-offer. Similarly, their similarly-priced black pepper and barbeque chicken variants are similarly priced, both marinated with multiple types of black pepper and BBQ sauces respectively, and not quite out of the ordinary.
Other Grille mains
Next up the price range is their Fish & Chips, $8 (Regular), $15 (Large). More premium offerings at $18.50 includes their chicken platter and salmon fillet at one size. Here, you get slabs of basa fish are coated in panko crumbs and deep-fried till crispy in vegetable oil. In addition their fish & chips comes with Cajun fries and coleslaw by default. However, you could also swap your sides for other regular sides like butter rice, white rice, baked beans or a salad.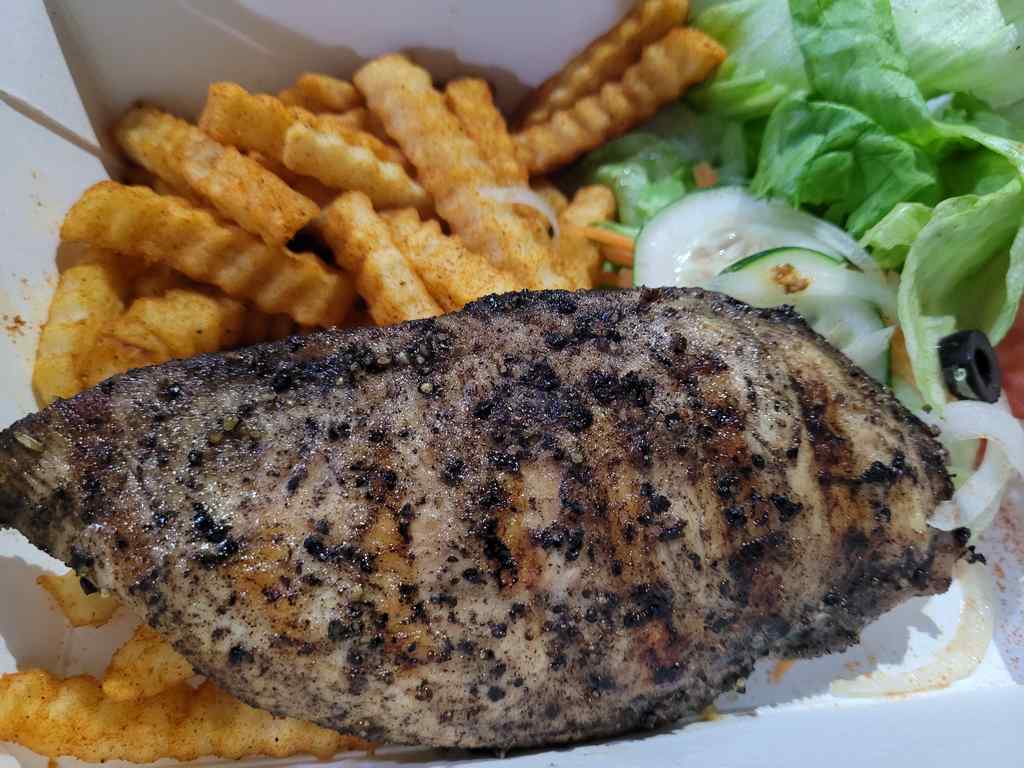 Moreover, their Vietnamese catfish has a texture similar to cod, with a soft, buttery core. The fish fillets could be thicker however, and are too thin for good satisfying bite.
Wrapping up are sides such as soups and finger foods of chilli con carne costs $3 and $4.50 respectively. Their American wings, char-grilled with BBQ sauce are great for sides costing $2.50 a pop at any quantity you desire. I didn't had the chance to try their New Zealand Ribeye Steak, but $23.00 for a coffee shop steak is quite hard to stomach given it being similarly priced to iSteak's premium aged-steak restaurant offerings.
Still relevant today in a crowded market
Botak Jones re-entry to the market today in 2021 is in a very different western environment than what it was over a decade ago where such premium budget-western are rare. Today, we have strong competition from big chains in likes of Char grille, Chef's place western, Collins and Astons who compete for the ever shrinking market share of what is Singapore's Western food market. Not to mention independent stores we recently checked out, such as Betterfield and Redeye smokehouse. The benefit is that consumers like us now have plenty to choose from without having to be dependent or loyal to a particular food chain. It probably takes more than just Cajun chicken to see the chain years and beyond.
All in all, for the menu offerings and sub $15 the price range, puts Botak Jones still very relevant in today's western grille market. Cajun chicken
Verdict:
Must Go! | Actually pretty Good | Worth Trying | Shortlist Optionally | Should Avoid
Original Botak Jones Locality Map
Yue Hua food center
118 Depot Ln, Singapore 109754
Opening Hours: 11am – 3pm, 5pm- 7pm
Closed on Tuesdays.