Hainan Story is a boutique style restaurant and café themed with an oldie look. They tout to offer a curated food offering of the best of classic Hainanese. I had managed to dine-in at two of their outlet branches in Hotel Boss as well as Hillion mall. Let's see what's good on offer at these 2 branches.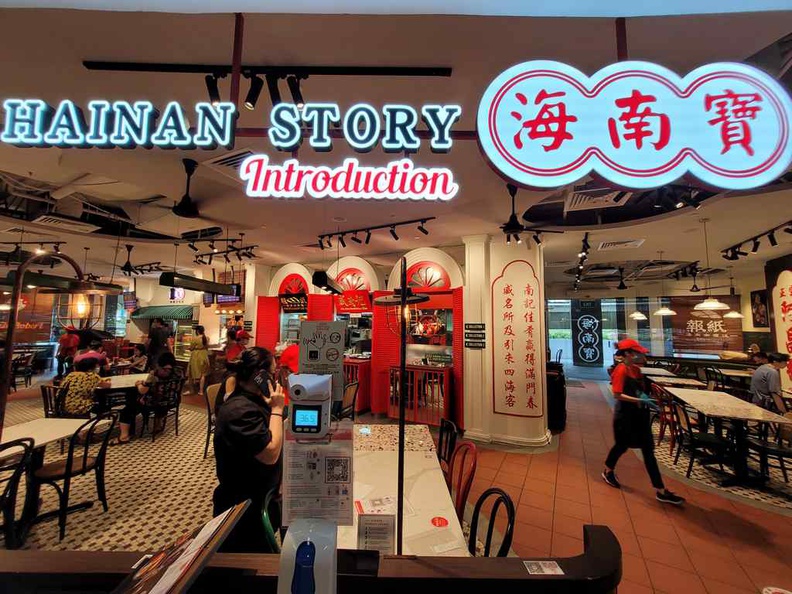 A Hainanese food fest curation
In a nutshell, Hainan Story is tad like a fusion restaurant curating several favourite long time Hainanese delicacies all under one roof. It's synonymous to Malaysia Chiak, but with a focus on Hainanese food instead.
Also, moving onto bit of history, the Hainanese are the native people (including Han Chinese) who originate from Hainan, the southernmost and smallest Chinese province. So what is Hananise cuisine?
Uncle Robert Hainanese western
Starting off be their western selections, touted as "Uncle Robert western food". You can find a full selection of Beef, chicken, port, and fish choices here. Do try their old English oxtail stew $18.80. It is a classic Hainanese western item similar to the one we previously had at Shashlik Russian Western Restaurant, albeit more it affordable here, though not as tasty, but still good.
From our food past explorations, we had learnt that Hainanese western cuisine has its roots deep in Singapore food culture. You might remember the Mariner's corner restaurant, eateries like Colbar and Jacks place we visited on our previous food journeys. They have one thing in common- having their roots starting out with Hainanese western grille. Here, the story is that many Hainanese chefs who are previously employed as chefs to cook for the British during the colonial times half a century ago, went to start their own F&B business after the British left. Also, we can see them the hotel business to individually run family-restaurants today.
Simple and affordable western food
Moreover, the Hainanese are known to be very adaptable people. This is in particular the immigrants who migrated to Singapore from Hainan China. The same can be said for their western food choices. Hainan story Hainanese pork cutlet ($15.80) and British fish and chips ($21.50) are quite a no-brainer to try on your visit, though they are priced higher than what I expect it to be a casual dining spot. There are spaghetti portions too, which I won't cover too much on.
Also, if you can't decide between chicken or fish, why not have the best of both worlds with both? You could consider the Best of both worlds ($16.90). It is a grilled chicken chop, Barramundi fish fritter with Asian colesaw and French fries.
Tea with Egg Tarts
Furthermore, their English egg tarts is one worthy to try. It is one best paired with their traditional coffee and tea, served noteworthily in traditional "kopitiam-style" ceramic cups. There are two egg tart variants, a plain and one infused with Gula Meleka.
Also, each Hainanese Englishman egg tart $2 each, with combos for 2 at $3.60 and $6.40 for 4 pieces. Additional Gula Melaka egg tart $2.20 each, $4 for two and $7.20 for 4 pieces.
I would recommend only the regular egg tart as both actually taste very similar. Notably, Hainan story is a nice place for an afternoon tea break, where it is more devoid of lunch and dinner time crowds. The tarts are available at both their Hotel Boss and Hilion Mall branches.
Try their Claypot chicken char siew rice
A recommendation be their Claypot chicken char siew rice ($8.50). It is quite a joy, packed with flavour in the rice and meats without the "burnt taste" typically found Asian claypot dishes.
Also, the chicken is cooked in Char siew style which is an interesting take. The chicken is juicy without losing it flavour, though I reckon regular chicken chunks could suffice for this Hainanese staple. The dish is also reminiscent and a nice take of the boneless claypot chicken rice to that from Fuxiang kitchen and YMCA at Stevens road. One claypot portion are suitable for 1pax.
Rice Meal staples
Moreover, other dishes includes their Ah Kor Hainanese Lamb stew with rice ($11.80) and their Newspaper Hainanese curry rice. The newspaper curry rice is a modern take of the traditional Hainan curry rice, which typically comprises of a carbohydrate-loaded rice dish liked by labourers settlers on the docks in early Singapore.
Also, it is served cheaply on newspapers which you can pack and go. It typically comes a side of, vegetables (and meat if you are feeling rich back then) and doused with lots of curry. This provided the energy meal for laborious work. Today, this Hainanese staple is served in the like of scissors cut curry rice, as well as Hong Seng curry rice at Redhill market.
In addition, additional rice dies includes Ah Chiang traditional porridge. It is served with condiments of century egg, fish and pork variants. $8.50 gets you're a rather sizable pork porridge while $9.80 get you're their sliced fish and pork variant. Also, $9.80 but hawker standards is pretty expensive for a bowl of porridge. To make up for this, the portions are pretty sizeable (enough to feed two small eaters) and is served with a sides and You Tiao (fried dough fritters) to complete your meal.
Try their chicken rice
Additionally, you can't get any more Hainanese than Chicken rice, a hawker staple. The traditional chicken rice here (Wee Nan Kee chicken rice) is served with both roasted and white chicken variants, with the latter having a crystal-like skin texture. This "crystal skin" or sorts is made during the preparation process where it is blanched in cold water to give the smooth crystal jelly like skin we see on their chicken.
Moreover, a single chicken with basic dish costs $5.20. A wholesome recommendation be their Vegetable and dumpling set ($10.90) which can fill you up well as a meal in the sub $10 range. It is a holistic set of vegetables and large dumplings served in clear soup. Also, extras such as dumpling soup, chicken gizzards and braised eggs are available as add-ons. If you have a large group to feed, a whole chicken costs $34.40, available in quarter and half portions too.
Wrapping up are miscellaneous dishes such as satay. Interestingly, one might be confused to learn that satay was actually brought into Singapore by the Hainanese, and not the Malay dish we grew to know about as a Malay staple served at the satay club. Legend is that the early Hainanese immigrants taught local Malay. This is one for the history books
Two branches to dine-in
Moreover, the establishment current has two branches in Singapore which always see strong patron ship. Their main branch at the exterior of Hotel Boss along Jalan Sultan and their second branch on the ground floor of Hillion mall in Bukit Panjang. Both are decked in typical kopitiam classing theming.
Interestingly, each branch sells something unique and not all items are available at one branch. For instance their Hilion Mall branch has the Claypot chicken rice, while the Hotel boss has their Ah Kor Hainanese Lamb stew with Crispy noodle ($12.80). Also, interestingly, their Hotel boss establishment is open 24 hours a day and long queues can be seen snaking outside store even before 6pm during dinner times.
All in all, Hainan story is a refreshing food franchise curating together all what we love in one joint, with menu selections catering to a large variety of Singapore favorites all under one roof. They are worthy of a dine-in for the quality of the dishes, less the huge crowds which would otherwise make for a better dining experience.
Verdict:
Must Go! | Actually pretty Good | Worth Trying | Shortlist Optionally | Should Avoid
Hainan Story Locality Map
Hillion Mall Branch
17 Petir Rd, #01-15/16 Hillion Mall,
Singapore 678278
Opening Hours: 7:30am–9:30pm

Hotel Boss Branch
24/7 500 Jln Sultan, #01-09 Hotel Boss,
Singapore 199020
Opening Hours: Open 24 hours