Molten Diners is a small chill casual western grill and dessert shop located along Upper Thompson road selling very affordable western food. Let's check them out today with a dine-in.
Molten diner is a Halal-Certified western grill and burger joint located along the food stretch of Upper Thompson Road. Beside the Ming Fa fishball noodle store. Moreover, Molten café started out at a late night supper spot, with their kitchen used to close for the day at 2am (last order at about 1:30am). However, now, given the COVID-19 situation, the establishment now closes at 11pm. Nonetheless, on my visits pre and post circuit breaker, things are back to some normalcy. Also, the close proximity of the establishment by the roads, taxis and free parking in the nearby private estate makes the places a rather popular spot on weekends.
At its core, Molten Diners spots a great western selection as well as desserts. One of Molten great points and attractiveness is the large variety of food offered as well as being an all-in-one dining outlet. Menu selections starts with run-of-the-mill western grille such as grilled chicken and steaks. Additionally, there are also menu selections such as Gourmet Burgers, and having your grill paired with their Molten butter rice or pasta.
Delightful Butter Rice mains
The main selling dish here at Molten Diners would be their Molten butter rice dish. Prices starts at $12 with selections of fish, chicken in grilled or fried variants. Also, premium selections includes Sirloin beef ($18) and salmon fillet ($19). Additionally, your dish is served with butter rice tossed with raisins and topped with a sunny side up egg. It is well done and a recommended dish for dinner here.
Do try their Burgers
In addition is also an array of affordably-priced burgers. This includes chicken burger and fish burgers $9 per platter. Double burgers cost $13. Premium options includes Wagyu beef burger priced a considerably higher price of $18. Also, these are served on a wooden platters with a small salad serving and your fries as a side basket. Quality is reasonable for the price, and notably priced up to half the price offered by the competition such as such as Fat boys and Wolf Burgers we visited previously.
But are the quality up to scratch? well they are OK, but not fantastic. Still, if you are able to accept some quality comprises for price, their burgers are not bad, with a starting price of $9 and is quite a steal. Here, you get toasted buns packing fried goodness laced with slices of tomato and cucumber. It is a rather basic contraption, but still, paired with a basic price to boot. All is good.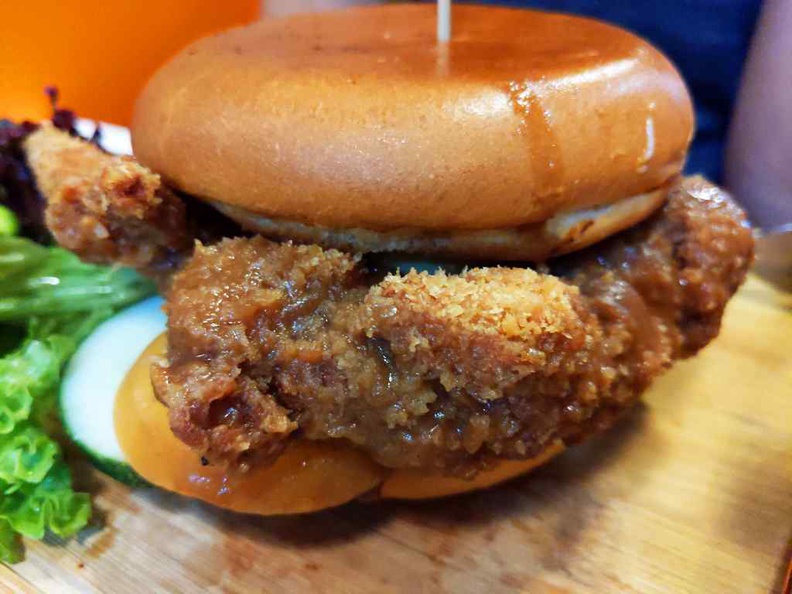 Also, to go with your dish is a selection of Molten sauces. These are served in small spoon-like saucers. I would recommend their Yakinku Mushroom sauce. It is zesty and sweet without being too overwhelming. Others special selections includes White pepper sauces on top of the regular offerings of Black pepper, BBQ and Mushroom.
Moreover, an alternative to butter rice in addition are a selection of Pasta mains. Notable ones includes Aglio Olio, Carbonara, Neapolitan and Arriabita with Chicken ($12), chicken cutlet ($12), fish fillet ($12), beef ($18) and lamb chops ($18). Premium options includes Wagyu Hamburg patty $18 and salmon fillet ($19). Wrapping up dishes includes a small selection of sides and appetisers, such as Truffle fries with cheese ($12).
But not their beef steaks
Moreover, their chicken is what you should dine here at Molten for. It is pretty difficult to spoil a chicken dish. The staple of western fanfare is done right here at Molten cafe. However, the same can't be said for their beef steaks and is tad not their best strengths. If quality value steaks are what are you after, then Molten would disappoint.
This is as opposed to other casual steak places in the similar price range such as iSteaks and Tenderbest. For instance, the medium-rare steak I ordered with my rice set was tough and at times, strangely crunchy in some areas. Tad like hawker-center sirloin steaks.
This is a let-down as their menu have a selection of attractive Steak platters, which would otherwise be great for sharing. Also, from the toughness and rough texture, you could tell the steaks were cooked from frozen and didn't quite went through its paces in the kitchen proper. The same can be said for their shriveled fried half chicken, but it is made up with fresh greens and a great pairing sauce to help with the taste.
A place for desserts
Besides steaks, burgers and rice platters, Molten diners is also a Desserts place. Wrapping up Molten's course menus are an interesting range of dessert options and are similarly well-priced. Recommendation includes their Buttermilk waffles and ice cream $8.50, as well as their Butterscotch Sundae $7. Also, more sizable offerings includes Molten Ice Cream burger with caramel sauce ($12.50), though the burger is usually unavailable.
These are topped with regular premium ice cream, with a selection of neapolitan flavors, comprising of chocolate, strawberry and vanilla. They can be quite a filling affair, especially those served with waffles.
All in all, if you are up for a low-priced western grille or burger great for a quick lunch or a dinner, Molten is actually not a bad place for dining and desserts. Also located along the buzzing Thompson road food stretch. They offer reasonable, but otherwise, not perfect meals good for the budget conscious.
Verdict:
Must Go! | Actually pretty Good | Worth Trying | Shortlist Optionally | Should Avoid
Molten Diners Locality Map
Molten Diners
246 Upper Thomson Rd,
Singapore 574370
Opening Hours: 12:00 – 11pm daily