Universal Studios Osaka Japan is a major theme park in the Osaka prefecture of Japan. Operated by the American film studio, it is the only one such major park here in Osaka, Japan and the second Universal theme park in Asia. The other Asian Universal park being Universal Studios Singapore. Let's give the park a visit today!
Notably, the one other such park of such a calibre in Japan is Disneyland Tokyo. Just like Disney park, Universal Osaka is similarly well-connected to the Osaka city subway system along the JR Yumesaki Line. The line is also referred to as JR Sakurajima Line. It takes about 30-40 minutes by train west from the city center. Also, the station to go for is called "Universal City", conveniently named after the attraction.
You exit the station right into the Universal broad walk Street decked with lines of shops, food and beverage outlets.
Moreover, Universal Studios Japan entrance is just five minute walk from Universal City Station. Also, here you can find various Universal merchandise stores and franchises such as Fridays, and Hard Rock Cafe and shops.
Hollywood dream Roller Coaster
Furthermore, Universal Osaka is laid out into seven distinct sections. You enter past the entrance and Universal globe into the Hollywood stretch. This area is themed after the glitz streets of the California district. The ride to go for here is the Hollywood dream.
Moreover, the Hollywood Dream is a Steel sit-down roller coaster made by B&M. Also, interestingly, you can choose to ride it forward or backwards, though the backwards option is not always available. However, it does not distract from the true ride experience.
Additionally, the ride is a very smooth non-inverting roller coaster, with several high speed elements and hops which runs on near the entrance to the park. Also, it goes to say you do not need inversions to make a ride great.
Additionally, when strapped in, your harness presents you with a butting selection of 5 music tracks you can choose to be played on your ride. Moreover, the roller coaster cars are decked with spotted LED illumination. It is highly visible at night.
Kiddy Wonderland
Moving from Hollywood Dream, a minor section is a kid-orientated section called Wonderland. This sector has Japanese references to Hello Kitty, Snoopy (Snoopy Studios), and Sesame street Fun World. It is tad a mash out of several cartoon franchises in one area.
Also, the sector us complete with kiddy shows, a tea cup ride and mini car rides (Elmo's Little Drive) to please the little ones. Additionally, the Hello Kitty Fashion Avenue street is decked in Pink, which give this area a Sanrio vibe, a favorite in Japan.
Catch Monster Jam and the New York sector
Also, the Beetle Juice's Monster Rock and Roll show is one of the few remaining live performances in the park, and in the world. It is also one of Universal's oldest attractions too, having started off at Universal Hollywood.
Additionally, you might know it as its other name, Beetlejuice's Graveyard Revue at Universal Florida too. Moreover, at it's core, the show is a stage performance featuring Universal monsters.
Also, these monsters are highly related ones we come to know since Universal classical icons. Examples in Frankenstein, the Wolf Man and Dracula to name a few rocking to tunes. The show runs for about 40 minutes, with a 10 minute seating an leaving time.
Additionally, moving on, there were other quirky rides such as titans ride. It is a tame river ride with human acting elements. The difference between this ride and the original is of course it is in Japanese. Notably the ride is still fairly popular. With queues on average at least 30mins.
By the Hollywood sector is New York sector, where you can find Spiderman the Ride. The ride is an indoor tracked-based gondola based motion simulator and pyrotechnics ride similar to the Transformers ride in Universal Singapore. Additionally, it combines a mix of film and animatronics to tell a story of Spiderman's adventures through the streets of New York.
San Francisco Sector
Furthermore, the San Fran sector of the park is themed like the Amity area in the American park. Also, this minor section is themed after a fisherman village with San Francisco pier. Also, a notable ride here is the Jaws boat ride and also the last of its kind here, with the Universal Orlando ride being closed recently.
Moreover, you can also find the Water World Live performance. Additionally, the park does at least 3 Japanese shows daily complete with pyrotechnics, high aerial stunts and plenty of slapstick comedy.
Also, notably the show is an exact carbon copy of the Waterworld show performed worldwide. It has the same mix of high speed jet ski chases, smoke, fire, sound and water effects.
Only that the show is conducted in Japanese. Nonetheless, the show is a crowd favorite, with shows often being fully packed with a full-house crowd.
Minion Town
Furthermore, the Minion park is one of the quirkier parts of the park. It is a small toony themed town sector to that on the despicable me franchise. Here, you find a number of minion specific gift shops selling curated choices of despicable me products (you can also find them at the park's main store).
Also, there are two rides here in this little joypolis. You have freeze ray teacup carousel suitable for kids and the minion mayhem 4D motion simulation ride.
Additionally, this sector has a quirky toony feel similar to what we see in Toon-town in Disneyland. The sector is really well decorated with a number of carnival style games stores too manned by friendly staff.
Moreover, the Minions 4D ride, Including the pre-show elements will involve a 30min commitment at least for the ride, excluding wait times, which can stretch as long as 2 hours. I found the 4D main ride tad bit over-hyped for what it can offer.
Additionally, Minions ride was not overwhelming and I found not quite a good for a ride with 90min queues. I found it is largely based off the ride in Orlando and has a similar layout to Jimmy Neutron's Nicktoon Blast ride similar to the old Nick studios. It is strange the Japanese adore the ride though, probably for it's cute (kawaii) elements.
Jurassic Park sector
Furthermore, the Jurassic Park region is one of the few spectacularly themed areas of the park, with a world class roller coaster to boot. Notable rides here includes the Jurassic Park the flume ride and the Flying Dinosaur roller coaster.
The flying dinosaur is a custom B&M flying roller coaster with several looping and inversion elements. It is themed as a robotic flyer allowing guests to "fly with the dinosaurs".
Moreover, the sector is nicely themed after the movie, with large entry gates, electrified fences and lush tropical fauna throughout.
Similarly, you can also, being in Japan, you can also find Jurassic Park and dinosaur-themed Tomica car toys. These are small collectable "Hotwheels"-type toys which can be found almost everywhere in the world. Such as the classic Jurassic Park Ford explorer expedition car. Also, do try the turkey legs here, they are sizable dino-tastic and great for a lunch break.
On food choices, recommendations includes giant Turkey legs which you can purcahse within the Jurassic sector of the park. Moreover, other interesting to-go food includes American hotdogs along the New York Amity pier area.
The Wizarding world of Harry Potter
The Wizarding World of Harry Potter is another key sector of the park. It is accessible via a long walk into an enchanted forest, which gives an impression of a remote location entering Hogsmeade.
Moreover, here, you get a re-creation of Hogsmeade and two rides including the Flight of the Hippogriff, a Vekoma junior roller coaster. The various stores here are functional with a mix of food and gift merchandise stores.
Moreover, interestingly, Universal Studios Osaka Japan is one of the three places in the world you can buy and taste butter beer. The other two being Universal studios Orlando and the Harry Potter studios in UK.
Also, the highlight ride here is Harry Potter and the Forbidden Journey. It is a tracked-based RoboCoaster G2 gondola motion ride built by Universal Creative. It is their flagship ride. The dark ride is tucked inside the Hogwarts castle façade.
Here, riders sit in a row of 4 mounted on a robotic arm as seen as that on robotic industrial automation equipment. Also, the ride arms mimics the feeling of flying as it transverse riders through various 4D movie elements as well as physical animatronics in the 4 minute ride.
Night attractions
Additionally, Notably, at night, the Hogwarts castle façade turns into a starry light show. It is one of the night highlights here in the park.
Here, the light show is synced to music with several notable characters in the Potter universe projected onto the castle walls itself. It has a dreamy and starry atmosphere. Moreover, it is during this time at the light show where the queues to the ride is the shortest. It is best to ride at this time of the day to beat the day queues (which can extend upwards of 90mins) per ride.
Moreover, an interesting interactive element here in Hogsmeade is the variety of area visitors can interact with their environment with wands. Using motion capture cast spells, guests interact with their environment, like blowing fire from a chimney for instance. Wrapping up the night speculator is the Universal night float parade.
Moreover, at night, Universal Studios Osaka Japan runs a daily night light and float show which runs along the main street sector of the park just before closing.
It comprises of several notable Universal franchise on floats, such as Transformers, Minions, Jurassic park and more! During the show, the streets are jammed packed with park goers lining the Hollywood streets to catch a glimpse of this parade of acts, acrobatics and lights.
Universal Express
Furthermore, a thing to note is that Universal fast pass is a paid express ticketing service where you can get quick access to triple-A rated rides with long queues. It is a more of a "pay your way" rather than a free balloting one like Disneyland's fast pass system.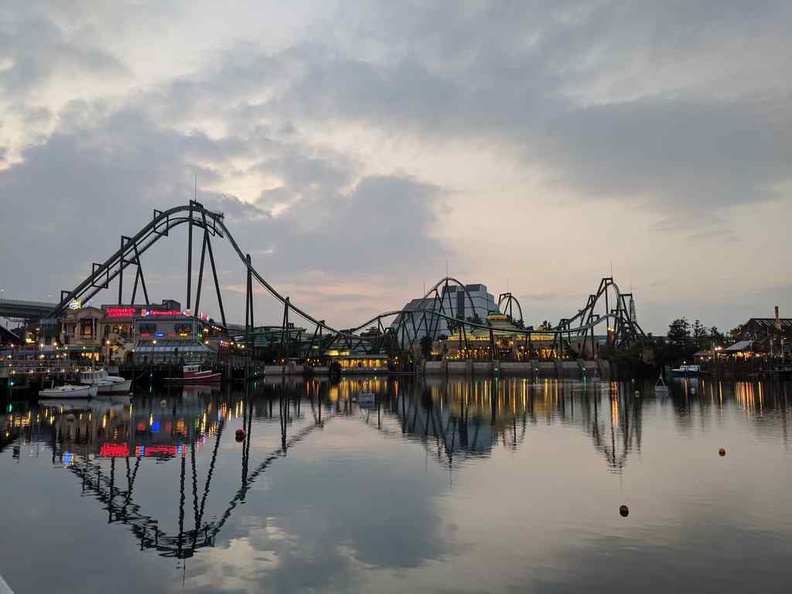 Lastly, if you forgot to buy universal merchandise on your rush out of the park when closing. Fret not there are several merchandise shops here along the shopping street, with some opening till late.
All in all, Universal Studios Osaka Japan it offers a good balance of theme park offerings for both young and old, able to ride the movies we love. We can also see that Universal is targeted at an older youth crowd as compared to the more family-oriented Disneyland, with more thrill rides to boot. Nonetheless one of the best theme park offerings for your tour of Osaka Japan.