Osaka is a capital city of Osaka Prefecture in the Kansai region of Honshu in Japan, it is also the largest sector of the Keihanshin Metropolitan Area. In size, it is also the second largest metropolitan area in Japan after Tokyo. It is home to over 20 million inhabitants, among the largest in the world. Famous landmarks in Osaka City includes Osaka Castle, Osaka Aquarium and shopping districts. Let's check them out!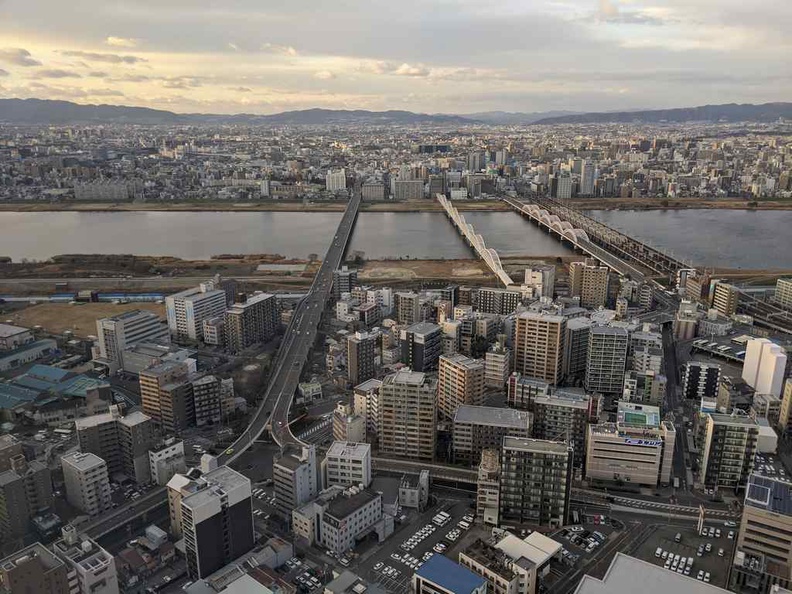 Notably, Osaka City is a hub of economic activity and is a major Japan financial center. Also, it is home to the Osaka Securities Exchange as well as the multinational electronics corporations Panasonic and Sharp.
Check out Osaka Castle
Moreover, a key Osaka landmark is the city's Castle. Osaka castle was built 1583 and occupied from 1583 to 1845. Additionally, the castle played a major role in the unification of Japan during the sixteenth century of the Azuchi-Momoyama period.
Today, the entire castle grounds is a public park. The castle grounds are shielded by large fortified walls with moats. Also, you can enter the castle grounds one of the many large gates. The gates are permanent held open into the now public park.
Here, you enter a vast courtyard within the first level gates. Also, subsequent park gates brings you further into the castle grounds through a "compound in a compound".
Inside the castle grounds
Furthermore, the entire castle grounds covers about 61,000 square meters (15 acres). Also, most of the courtyard areas used to be a village town. It comprises of contain thirteen structures. Today, these were designated as important cultural assets by the Japanese government. Also, notably, the final top inner-most castle courtyard has a European looking building. which serves as a visitor center with shops and restaurants.
Additionally, the interior of the castle is transformed into a museum. It houses several artefacts and informatics area talking about the castle's designer, Toyotomi Hideyoshi. Also, for 600 yen, you can enter inside the Osaka castle museum to view these artefacts from the era. The climax of the visit is a viewing deck at the castle top. It is balcony viewing area offering 360 degree overviews of the surrounding district.
Namba and Dōtonbori shopping districts
Moreover, a highly recommended night spot in Osaka City is the Dōtonbori. It is filled with illuminated signboards at night. Additionally taking center stage here in Dōtonbori are lines of shops and restaurant eateries which opens till late.
Also, the street runs along the Dōtonbori canal spanning the entire shopping street. Also, you can opt for a touristy canal boat ride if you wish to see the shopping district from the river.
Moreover, Dotonbori is where you can find a range of affordably eateries too. There are a number of delectable Okonomiyaki restaurants as well as hole in the wall ramen shops where you can grab a 2 course meal easily for under 800 yen. A bargain for what otherwise is a rather affluent and touristy area of town. Also, in the Dōtonbori district is the American Village too. It is also a popular district for dining & theatre.
Ride the Donki Ebisu Ferris wheel or do the Gilco man Pose!
Moreover, notable Dōtonbori icons here includes the Gilco man by the Ebisu Bridge. It is a lit LED animated advertisement billboard landmark synonomous with Dōtonbori. Also, doing the Gilco man pose here has its cult following. It is similar to tourists taking picturing themselves pushing the Tower of Pisa. But you get the point.
Also, an interesting establishment to check out here is Don Quijote Dotonbori. Moreover, it is the only Don Quijote with a custom oval shaped ferris wheel (called the Ebisu Tower ferris wheel) built onto the external building façade itself.
In addition, the wheel costs 600 yen person to ride. You can read more of my visit to the Don Quijote Dotonbori and Ferris wheel in its own article here.
Osaka Nippombashi Denden Town
In addition to Dotonbori is the Namba region, other known as Osaka's Nipponbashi Denden Town. Notably, it is a pop-culture shopping street. It is a vibrant area in the Namba region featuring stores selling toys, anime & manga, video games, included used video games.
Simply put, Den den town is tad like a mini Akihabara. Also, on a walk around, denden town does have a similar ambience of the Tokyo counterpart, only much smaller.
Moreover, there is a large Animate manga store, as well as the usual suspects like yellow submarine. You can find lines of toy, manga, gaming and electronics hardware shops here too.
Additionally, a super potato gaming shop can be found here too. The stores offer a large selection of used gaming consoles and cartridges. Also, the store items here are also notably cheaper and have more variety than their Tokyo counterparts. This could be partly due to slower moving stocks in this less crowded neighborhood.
Topping up Denden street offerings, the street also has its fair share of quirky adult shops, which opens till late. Notably, the only Mandrake complex here, a staple in such pop-culture streets we saw in Tokyo is located in Udmeda district of Osaka instead.
Shinsekai Tsutenkaku food district
A more minor area of Osaka night districts is Shinsekai. Through my walkaround, I found the street more of a food than a shopping street. Shinsekai is a relatively buzzing food district of Naniwa-ku, though much quieter and more "Osaka-style" than Dōtonbori.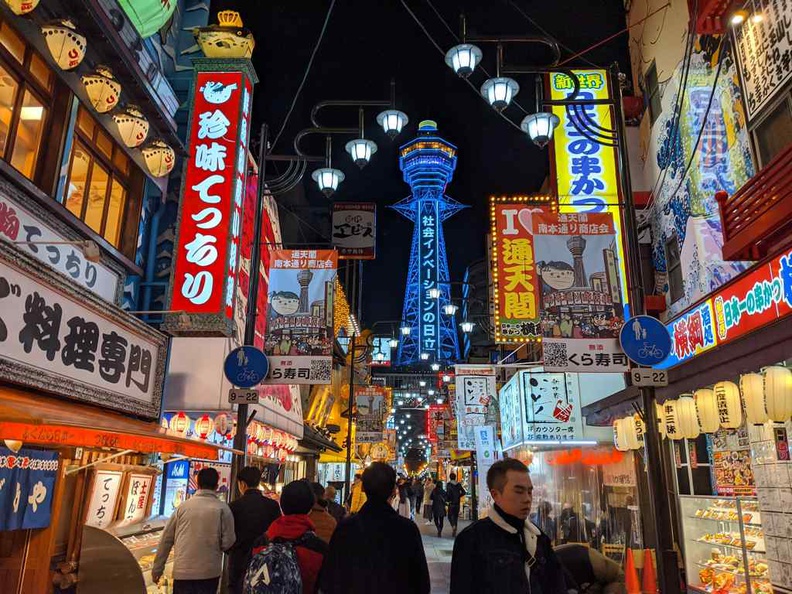 For the record, Osaka City is tad bit more run down than cities of Tokyo and Kyoto. Hence, the term "Osaka style" which is used to describe unkempt areas in its raw form.
Also, a well-known landmark here is the Tsūtenkaku tower. It is known in Japan as "Tower Reaching Heaven". It is owned by Tsūtenkaku Kanko Co., Ltd. The tower stands 103 meters tall, with an observation deck is at 91 meters mark.
Moreover, at night, this old downtown food district is buzzing, full of small discount stores, restaurants and takeaway eateries. Also, the streets are lined with several notable decorations which are nicely lit up at night.
Additionally, if you need to chill or relax in an Osen, there is a large Spa World (Shinsekai branch). You can enter unlimited all day access to the baths, pools, and gym for just 1,000 yen. It is a good way to relax after a whole day of sightseeing and shopping!
Shrines in Osaka City
Furthermore, Osaka is of course, not a city without culture and religion. Notable shrines to visit includes the Shitennō-ji Buddhist temple and Sumiyoshi taisha (Sumiyoshi Grand Shrine). Also, Shitennō-ji is sometimes regarded as the first Buddhist and oldest officially administered temple in Japan opened in 593AD.
Moreover, a peculiar one would be the Namba Yasaka Lion head Shrine. Also, it is a performance area and temple located a walk away from the Nipponbashi Denden Town. It does offer some great photo opportunities.
Osaka Aquarium Kaiyukan
Another must-see attraction is Osaka Aquarium Kaiyukan. It is a great spot for families and kids. Opened in 1990, the world's largest aquarium is located in the ward of Minato on the western side of Osaka city. Also, it sits beside the Tempozan Giant Ferris Wheel near Osaka Bay.
Furthermore, the highlight of the aquarium is a vast central tank housing a variety of deep ocean marine life. Also, it is home to a variety of ocean fishes, includes sharks and even whale sharks. Additionally, you circle around this expansive tank which sits over three stories tall as part of your tour of the building. Also, there are notably also dolphins and seals in the aquarium. But they are housed separately from this massive shark tank.
The world's largest aquarium
Here, in a linear route fashion, you start off from the top of the building. Also, it follows running along the side exploring various exhibits in the aquarium, like a tropical rainforest area housing otters and Amazonian fishes. Moreover, you can pop in-out various minor exhibits along the route. Also, examples includes one dedicated to jellyfishes, spider crabs, little cute (kawaii) marine animals and even a petting zoo.
Additionally, aquarium entry tickets cost 2,550 yen for adults. It takes about at least 3 hours to explore all the exhibits in the 26 thousand square meter attraction. Also, notably, if you were to stop by every attraction, it could take almost an entire day. It is after all, the world's largest aquarium.
Universal Studios Osaka
Moreover, a must-visit attraction in Osaka for all thrill seekers will be Universal Studios Japan. Additionally, the attraction is highly accessible via the city's subway system. Also, the park is great for a day trip of thrills, movie action and roller coasters, with even a Harry potter land. You can read out more of my adventures in Universal Studios Osaka here.
Views from the Udmeda sky building
Lastly, have an overview of the beautiful city of Osaka from the Udmeda sky building observatory viewing deck. Also, the building is located in Kita-ku ward of Osaka, Umeda (meaning "plum field").
Notably, it is also a buzzing major ward commercial, business, shopping and entertainment district. Also, the district is well-served by the Umeda Station rail terminus. Notably, when here, you can also find several big name departmental stores. Moreover, examples includes Bic camera, Yodobashi and even a Mandrake 2nd hand store here too.
Additionally, the building is a rather peculiar one. It comprises of two separate towers connected via a cantilever deck spanning the towers. Also, this deck is where the observation deck is located. It does look pretty futuristic from afar or even from the ground floor.
The observation viewing deck
Furthermore, you take an elevator up to the ticket office on 39th floor. Here, you head up two more floors via a pretty cool suspended escalator, bringing you to the main viewing deck.
Also, this observation deck has an enclosed area with a café, gift shop and toilet facilities. There is also a mini museum featuring infographic displays of how the building observation deck was hoisted up during construction.
Additionally, there is an open roof access which sits on top of the commercial building. It offers unobstructed views of Umeda ward in Osaka. It goes about in a continuous circular loop offering unobstructed views. Also, it can get rather windy up here too, so avoid bringing umbrellas or hats up here.
Moreover, entry to both the observation deck and upper sky walk costs 1000 yen. Also, you are free to roam about without any time limits.
Lastly, a recommendation is to visit just before sunset. Therefore, so you can catch both day, sunset and watch the city transform into a sea of night lights. In addition, there are no time limits up here. Moreover, you can hang out at the café seats overlooking the city.
All in all, Osaka City is a buzzing metropolis with a life and culture of it's own. It is notably comparable to Tokyo. It has an extensive subway network, cultural sights, castles and shrines, as well as buzzing shopping districts such as Dōtonbori, Udmeda, DenDen town, and Tsūtenkaku to name afew. Definitely a city to visit in Japan.