Broadway burgers is an American diner, which prepares made-to-order authentic Burgers, dogs and shakes situated in the heart of Central Singapore at The Capitol. Broadway American Diner sits just beside city hall and its MRT station. Let's see what's on offer in the snazzy and chill establishment.
The restaurant has a chill interior. It is decked out like an American diner, but not as sazzy like the Peppermill one we visited previously in Vegas. It is complete with retro-style plush red booth seating across two floors via an overhead loft, and with an open bar area with the view of the entire kitchen in-tow.
Service is prompt and friendly. Also, your food comes out pretty quickly after ordering, and you can see the kitchen staff working on your meals just behind the counter in the open concept kitchen.
What's on the menu?
Moreover, Broadway offers a selection of 6 different burgers, with half of them comprising of beef burgers. They are brought to you by their resident Chef Edmond Tan. I would recommend their Black Angus Beef & Egg Burger ($16).
Also, I found the Angus beef patty it comes with really juicy and sandwiched with melted cheddar cheese and a wholesome egg wrap. Your beef burger is topped with mayonnaise, chilli and black Pepper Mushroom Sauce for additional taste.
Authentic American burgers
Additionally, their burgers has a flame-grilled smokey taste typical of American burgers. The patties are juicy and well-marinated too. There is a tinge of freshness in the beef patties. Also, in typical American-fashion, they are best eaten with hand and can be a rather messy affair being loaded with sauces.
Furthermore, Broadway American Diner burgers are also well-priced. You have an option to upsize your standard cheeseburger to a double Black Angus cheese burger ($22). Also, at $6 more it comes topped too with American Cheese, Red Onions, Cucumber Pickles and seasoned with Thousand Island Dressing.
Their burgers has a flame-grilled smokey taste typical of American burgers. The patties are juicy and well-marinated too. There is a tinge of freshness in the beef patties.
Additionally, next best to the Angus burger be their BBQ Beef Burger ($16). It packs quite a fair bit under the hood loaded with Fried Onion Rings and Smoky Bacon topped on a Beef Patty laced with melted cheddar cheese, apple butter and flavoured with barbecue sauce. Also, I found their menu offerings good value despite being centrally located in town. Broadway price point is in stark contrast to the other more expensive restaurants here in the Capitol plaza.
Non-beef burgers and Hotdog
Moreover, for non-beef options, right up are chicken and vegetable selections. This includes the Buttermilk Chicken & Cheese ($16). It is a potpourri of Fried Chicken, topped with American Cheese, Cabbage Slaw, dressed with Honey Mustard Dressing.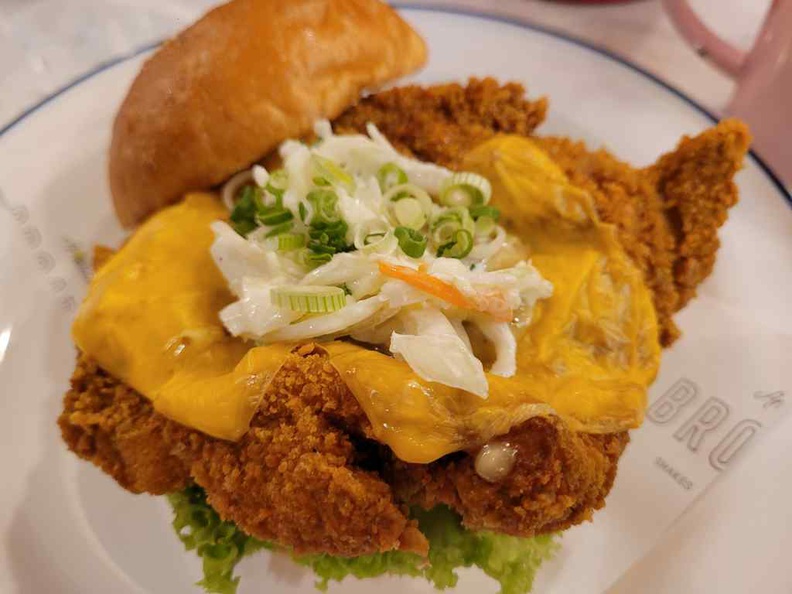 Moreover, bacon lovers should enjoy the Pork Jowl Burger $16. It comprises of grilled Pulled Pork, and similarly topped with Coleslaw, Green Apples, Arugula, Dijon Mustard, Smokey Spicy Ketchup. Wrapping up the burger selections is the Garden Burger $16 Vegetable Patty, Grilled Portobello Mushroom, Smashed Avocado, Pico De Gallo, Pesto, Crème Fraiche
Moreover, all of Broadway burgers are served in a home-baked sesame wheat bun. They claim to use only organic flour and natural ingredients. Also, these fluffy and crisp buns are freshly made by their bakery team daily.
Interestingly prior to their Christmas menu, Broadway was running a meter-long hotdog special. For where $30 grants you a meter-long American staple matched with an equally long bun and topped with chili and ground beef.
And try their hotdogs
Also on the menu are well-priced hotdogs, though they get my secondary recommendations. Broadway hotdogs sets you back from $8 a pop and comes with a variety of toppings. For instance, their Frankfurter Roll ($8) is a pork sausage dog. It comes with Sauerkraut, Mustard, Fried Capers, Gruyere Cheese, Russian Dressing, sandwiched between a lightly toasted Hot Dog Bun.
Moreover, the second dog on the menu is their Chilli Beef Hot Dog ($10). I found their Beef Sausage a nice touch, it has a Smoked taste and topped Chilli Con Carne, Pico De Gallo and Mozzarella Cheese. Similarly, your Hot Dog Bun is served with fries sides. You can option to upgrade them to curly fires and in-addition their buffalo wings ($12). They are great for sharing.
Try their signature milkshakes
An American diner won't be complete without a home selection of Milkshakes. Moreover, Broadway milkshakes are just right- well-decorated but not over-lavishly like the ones we seen at Blacktap burgers at Marina Bay Sands. Also, their shakes notably not as sinfully thick to consumer like the crazy ones at Heart attack grill. Also, the shakes are more conservatively priced too at $14 a pop and available in the regular staple flavors of chocolate, vanilla, strawberry, oero and even local flavors of milo or chendol to your liking. However, I would recommend sticking to neapolitan flavors.
All in all, Broadway gets a recommendation for their authentic American burgers with a good price, prompt friendly service and American diner ambience (complete with classic booth seats) to boot too, despite situated in an expensive neighbourhood. This coupled with a value offering in a rather accessible part of town does makes Broadway American Diner one of the few hidden gems here in City hall.
Verdict:
Must Go! | Actually pretty Good | Worth Trying | Shortlist Optionally | Should Avoid
Broadway American Diner Locality Map
Capitol Singapore
13 Stamford Rd,
#01-84B Arcade @ The Capitol Kempinski,
Singapore 178905
Daily Opening Hours: 11:30am–9pm