It is the time of the year where Intel would announce the refresh of their tiny mini box PCs known as the NUCs. I am a big fan of their tiny power little PCs. This generation round, Intel is offering the NUC 11 Performance with a choice of two Tiger Canyon and three Phantom Canyon systems featuring Tiger Lake processors. Lets take alook what's on offer. They are expected to arrive in early 2021. Performance wise, the 11th Gen NUC are equipped with similar same five i3 to i7 flavours. This range from the Core i3-1115G4 to the Core top-selection i7-1185G7.
A larger selection of Moreover, all 5 NUC variants comes with Socket on Chip 28 W processors which boost above 4 GHz. The Core i3 includes a lesser GPU though, with the new Xe Graphics reserved for the Core i5 and Core i7 "Pro" line of Tiger lake with Intel Core i5-1145G7 and Core i7-1185G7.
Interestingly, do not expect much improvements in multi-core performance for this generation of 4 core Intel Core CPUS. Early benchmarks point to less lacklustre improvements in performance over the previous generation power efficient hexa-core SoC for notebooks based on the Comet Lake (CML-U).

Disappointing performance upgrades
For instance, the Panther canyon core i7 offerings- the 1165G7 on the regular NUC 11 line clocks in at a 10492 passmark CPU score. A disappointing result as the previous-generation 6 core Intel Core i7-10710U offers a similar sub 10064-12000 CPU score. Things are however better on the Core i5 with the newer 4 core Intel Core i5-1135G7 clocking in at 9771. In comparison to the Intel Core i7-10510U @ 1.80GHz at 7346, a 24% improvement.
While offering 4 cores over the entire range seems like a step back with 6 cores being offered in the. The single cores are each more powerful. This would be beneficial if you are running single or lightly thread workloads requiring 4 cores or less. However, you would be out of luck if you need high core environments, like using running virtual machines. Here I would recommend the previous-gen NUC 10 offering up to 6 cores and 12 threads.
While the new Xe Graphics appears to be a saving grace, early benchmarks points to performance only on par the AMD Radeon HD 8970M or Nvidia GeForce GTX 680M released 8 years ago. It is tad not too different from an upgraded Iris Pro in absolute performance. So don't expect to be running Cyberpunk 2077 well on these integrated graphics.
However, the if Intel's Skull Canyon NUC's appeals to you, you are in luck. The Intel NUC 11 Enthusiast (Phantom Canyon) for the first time offers discrete graphics. This is done via a GeForce RTX 2060 last-gen discrete graphics paired with an Intel Core i7-1165G7.
A familiar upgrade layout
Moreover, the Intel 11th gen Tiger Canyon NUC comes in the 4 inch by 4 inch square form factor which the device is known for. They are similarly available in "Tall H" and "Tall Q" chassis at 51 mm and 56 mm tall respectively. This allows you to mount an internal 2.5" drive on top of M.2 storage options. Memory is via two SO-DIMM DDR4 slots (up to 64GB).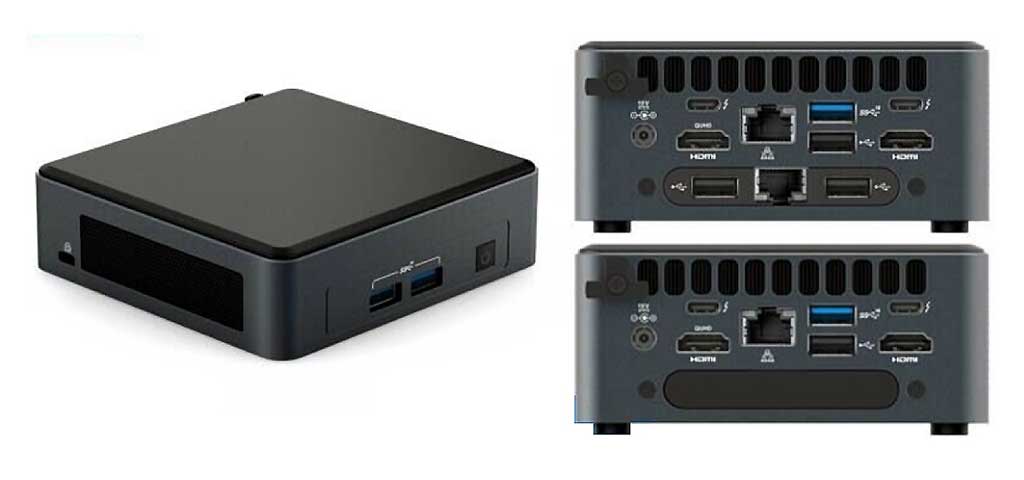 The other main selling point of the NUC 11 is the official rating to run the system 24/7. Not that the earlier NUC versions can't do that. In-fact previous-gen NUCs had been proven to run well 24/7 for years home lab environments. I can guess it is just a marketing certification this time round.
Lastly, one of the main exciting points of the NUC is the inclusion of an expandable add on module. Here, you can add a secondary port, such as a second Ethernet port, or video out. This option is available only on the tall chassis versions.
All in all, as much as I adore the NUC, I find intel 11th gen NUC not much a revolutionary upgrade. They stuck to what is tried and tested. This is also considering their similarly dissapointing compute units were not well-received either. Performance-wise, the lack of 6 core CPUs is disappointing though, as 6 to 8 cores for the i7 is a natural evolution step. This makes the 11th gen NUC less of a compelling offering of an upgrade.