Ikea Julbord Christmas Buffet is a family Christmas buffet dinner event held at both IKEA Tampines and Ikea branches before Christmas day. It is an annual ticketed event which ran on the 20th December as a single day buffet dinner. On the menu are a range of IKEA staple food favourites. Let's check it out!
A special only for IKEA family members
In addition, you can purchase your tickets in-store a month before the event itself. A ticket with seating table number is allocated to you on the spot. Subjected on a first come first served basis. In addition, you will also be given a couple of IKEA store vouchers you can use on your next visit.
However, do note that in order to enjoy this Christmas Buffet, you need an IKEA family member to purchase the tickets. Though these days, it is not difficult to obtain a IKEA family membership if you shop there regularly. Notably, tickets are sold with an early bird period offerings, where you can purchase regular buffet tickets at S$29.90 per pax from Nov 27to 16 Dec leading up the the event on the 20th.
Thereafter, tickets cost $39.90 each. Each IKEA family member can only bring one additional guest to dine at the event. Tickets for Children under age of 12 costs $9.90.
The buffet event runs in two timing blocks from 5:30- 7:30pm or 8- 10pm. Also, the entire restaurant is closed to all walk-in patrons for that one evening event. All the food serving counters are transformed into a free for all buffet spectacular.
A Swedish buffet fest
Interestingly, staff will applause and welcome you in a line as you walk into the restaurant, adding to the festive cheer. Staff were also dressed in festive attire as well as having the restaurant decked and decorated to the occasion.
Also, tabled seating is allocated and are on regular IKEA restaurant tables rearranged for groups. Also, the entire IKEA restaurant was closed dot the public from 3pm onwards. Non-ticketed regular patrons can however, still obtain food from establishment's bistro.
Additionally, if you love the selection of IKEA's regular restaurant staples, you are in for a delight. The Ikea Julbord Christmas Buffet gets you free flow of everything you see. This range from food behind the counters to the chilled salad bar.
Additionally, the counters are all self-served. Here, you can help yourself to any servings of the food on offer. You can find your usual IKEA restaurant favourites such as meatballs, fillets. Free flow of IKEA's delightful meatballs is like a dream come through for many.
Expect IKEA favorites
In addition, you get quite abit of a Swedish seafood flair, such as fresh prawns, cooked and smoked salmon, as well as heaps of Christmas Ham.
Furthermore, separate from the main serving line is a dedicated Fried food section serving the all-time favourite chicken wings, as well as spring rolls and potatoes wedges, chicken nuggets and onion rings.
Moreover, thankfully, the spread is replenished regularly throughout the night. This includes the servings of the regular spicy hot chicken wings which is a favourite.
Furthermore, there are plenty of desserts and sweets to liven out the kiddos. Here, we have heaps on Swedish crackers, as well as gummies and jelly beans. Greeting you are the sweets counter as heaps of self-help bread to go with your soups, as well as Christmas ginger biscuits.
Live Christmas Carols
Through the session, members of staff would sing Christmas carols to brighten up the dinner. This was brought to you by an external carol group. However, the PA system in the restaurant wasn't really quite up to scratch with not many people being able to hear the sings on the far ends of the restaurant.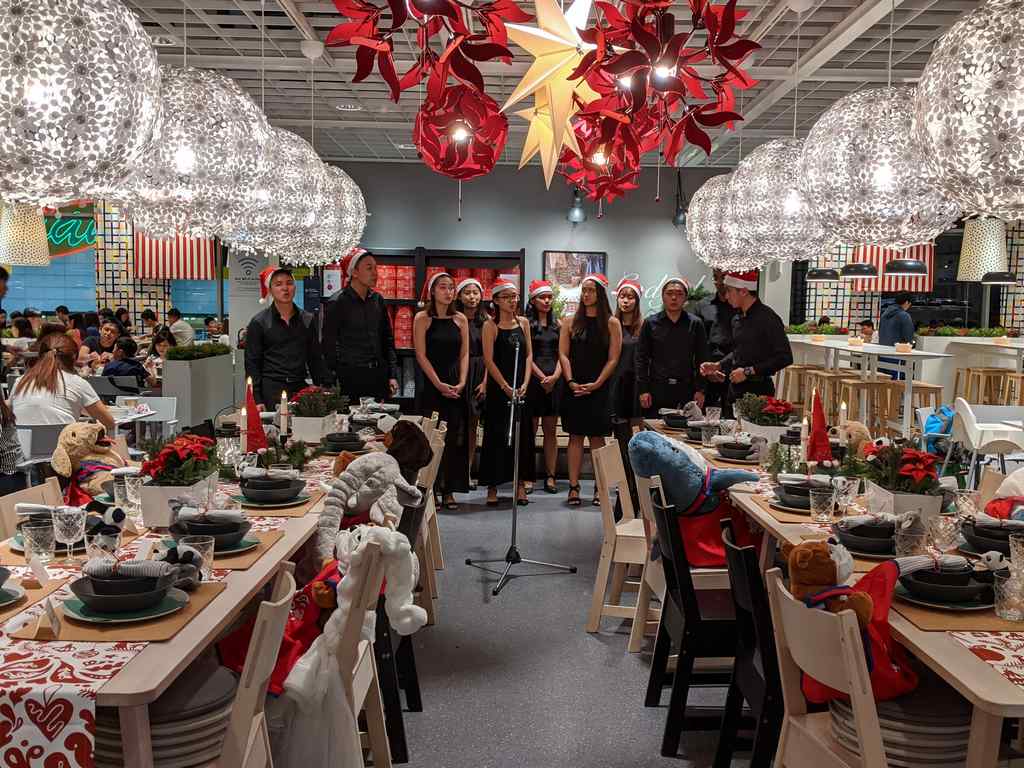 In addition, topping up the Christmas flair are four different types of Log cakes. There is also a refreshing dessert jelly drink and chopped fruit bowl to wash it all down when you are done. Interesting to go with the European Christmas flair, the spread was not as large as I expected it to be.
I was expecting additionally, some form of apple crumble or maybe Eggnog on the buffet. Though, you can purchase additional drinks from a moving counter such as mulled Red wine for $5.90 a cup.
Not the full selection, but adequate
Also, in terms of spread, there is quite a noticeable absence of Turkey. Also, notably, there are no local options offered as part of IKEA's typical restaurant menu offerings, such as Carrot cake, Lor mee or Mee rebus. Still, the offerings are quite a bargain at $29.90 a pop.
Also, to put it in perspective, the price is the equivalent of two typical main courses offered in IKEA restaurant, which is incredible value and comparable to most entry-level hotel buffet restaurants.
Thought the event runs till 10pm, bells will start ringing at 9:30pm informing you to grab the last of the food before the counters close. By then, most patrons would had already finished their meals and left by 9pm.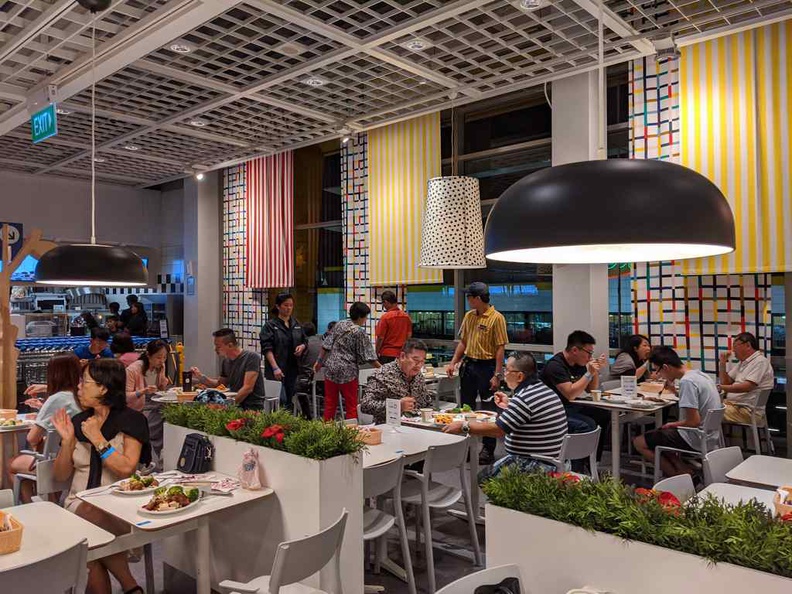 All in all, the once in a year event is one to look forward to, especially if you crave IKEA's regular food selection. Otherwise, there are also The buffet is like a mash of IKEA regular favourite menu items, coupled together with some additional Christmas-y extras. There is no other way to chow down on them with incredible value than the Julbord Christmas Buffet Dinner.
Merry Christmas and a Happy New 2020!
Verdict:
Must Go! | Actually pretty Good | Worth Trying | Shortlist Optionally | Should Avoid
Ikea Julbord Christmas Buffet Dinner
Ikea Locality Map