Redeye Smokehouse is a barbecue restaurant serving great tasting smoked seasoned aged steaks. The restaurant is located on a five-foot walkway shop house along Cavan Road. There is roadside parking in the otherwise rustic tight neighbourhood flanked by several commercial day workshop in the vicinity.
By night the place is tad like a food haven, with several eateries and coffee shops opened and buzzing by night. Moreover, you can't tell at first impressions that Redeye is a restaurant, being disguised in a trading company shop house façade.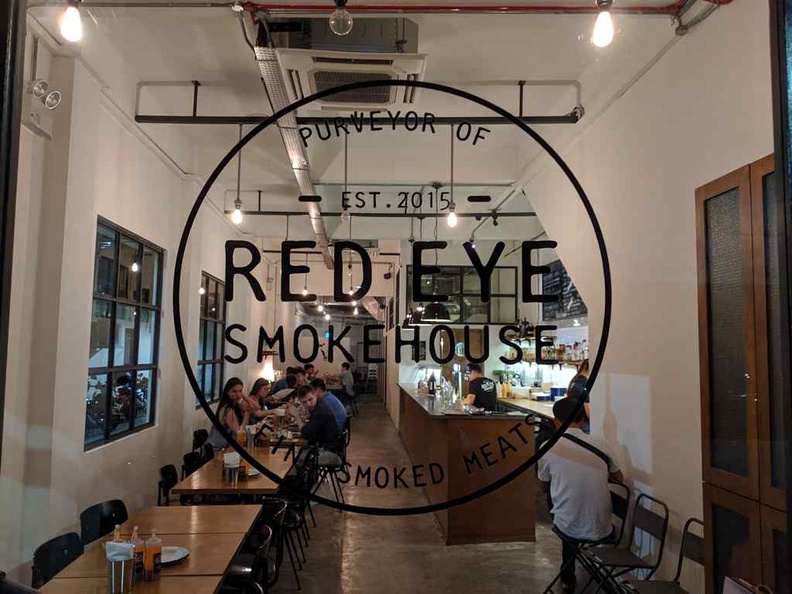 What's smoking?
The establishment is decked white and modern, with a bar, several long tabled seating for groups. Also, the thing to go for here at Redeye is their smoked steaks. Or what they call their daily smokes. Here, selections includes their trademarked Angus beef brisket plate ($11 per 100g). Also, it is also known as Beef belly or the Karubi plate.
The beef you get here is marbled fatty, given that it comes from the lower belly of the cow. It has a grainy texture like Brisket, hence the name. While the dish presentation is not totally the best as it is (your dish is actually a messy mash). So don't be expecting a Michelin stars for presentation here! But the quality of the meats as great as advertised.
Pork Selections
Moreover, Red eye also offers three smoked pork selections. They are their Duroc Pork ribs, pork belly and their Carolina pulled pork. Duroc ($7/100g) is a name of champions, or plus size rather. These ribs are larger than regular pork ribs. They are smoked for 4 hours and best paired with Redeye's BBQ sauces. They are surprisingly succulent and meaty. It has a decent meat-to-fat ratio.
In addition, their pork belly ($9/100g) on the other hand has a sweet tender texture. Being smoked for 6 hours and seasoned with their garlic paprika sauces. Topping up the porky offerings, the Boston Butt is the name of the Carolina pulled pork ($10/100g). The meat is smoked for a record 8 hours, where it is subsequently shredded and best enjoyed with spicy chipotle sauces.
Lastly, topping up the list of smoked meats is their Smoked chicken. Costing at the most affordable $3 per 100 grams. You get a whole chicken, served chopped up in quarters. It is smoked for 3 hours following a marination in brine and seasoned with Paprika spices. A typical chicken dinner should cost in the range of about $25 to $30 for a whole bird. Pretty Portuguese indeed, but not the highlight offerings here.
Higher end beef cuts
Redeye more premium offerings includes recommendations of the USDA Angus Beef Brisket. This is what Redeye claims is their top shelf cut. Prices range from $11 per 100g for their Beef short ribs to $15/100g for their Beef Brisket. The latter is touted to be the king of Texas BBQ.
Additionally, Redeye speaks of the meat being curated from the Brandt Farm in California. Here, cattle are naturally raised and grain fed for an entire year before ending up on the plate. Remarkably, the meat here is smoked up to 12 hours. It gives the beef a really tender and juicy flavourful texture. It is one of the best offerings Red eye offers, and happens to be their most expensive offering too. Moreover, a typical 200-300g serving should cost you upwards at about $45 per meal. At $50 a meal, the prices are comparable to say, the steaks of Ramsey's bread street kitchen where we visited previously.
meat here is smoked up to 12 hours. It gives the beef a really tender and juicy flavourful texture. It is one of the best offerings Red eye offers
Next up on the premium list is their Beef short ribs, which should cost you in the range of $30 to $55 a pop for a 500 gram serving with bone. This marbled short ribs are juicy, tender and well marbled. The cattle here however, are grain fed for shorter, half a year instead.
Undecided? Try their platters
Additionally, if you are in a group, I would recommend Redeye's BBQ plates for sharing. They are tad like a mega sampler of the best of Redeye's offerings. A plate for one costs a decent $26, while a 2-3er costs $65.
The single's plate has their trademarked Angus beef brisket, Pulled pork, a sausage and a half side from their menu. The 2-3er offers additional Duroc Pork Belly and Ribs, as well as their smoked chicken, buffalo wings, sausage and 2 sides.
Furthermore, topping up their menu offerings are several sides comprising of salads, mashed potatoes, fries and nachos. Prices range from 5 to 12 dollars a pop. Interestingly, they offer buffalo wings for $8 a basket. Though I wasn't able to explicitly try them on my visit.
Great for groups, and the curious
The mega platter which the menu claims feed five to six patrons offers everything the $65 platter offers but with an additional starter, double the sides on top of larger portions all round. Also, it sets you back a good $150, which translate to a reasonable $30 per pax. Also, do pair their offerings with Redeye's selection of Hot and tangy sauces.
Their sauces revolve about flavors of BBQ sauces, I found the Sweet Tang to be the best and unique of the bunch, it does bring out the meat flavors better than traditional BBQ sauces.
However, their sides are not exactly what you should be here at Red eye. They are not as outstanding as mains and tad like an afterthought. Options include watermelon tossed in mayo, mashed potatoes, served with a small serving of pickled cucumbers and a bread bun.
Notably, Redeye also opens during the lunch period, offering a variety of salads, burgers and flat beards for dine-in and to go. Prices ranges from $15 to $18 a meal, which I find is rather steep for a lunch. For me, I would stick to their dinner and steak offerings.
All in all, I would recommend heading down for Redeye's for their great smoked steaks. Also do arrive early as the place closes relatively early by 9pm. Food is often on the low side late as well and your selections could be limited. Though they are not the cheapest, the steaks offer quality for the price with a good chill dining ambience to boot.
Verdict:
Must Go! | Actually pretty Good | Worth Trying | Shortlist Optionally | Should Avoid
Redeye Smokehouse Locality Map
1 Cavan Road,
Singapore 209842
Opens daily: 12:00pm – 9:00pm
Closed every Monday.