If you are looking for a Korean BBQ buffet on a budget, Friends Tasty Korean is one such no-frills eatery serving self-help BBQ food under $20 a pop. Is it any good for such a price? Let's check them out with an ad-hoc dine in today.
The buffet establishment is located along Jalan Lengkok, Sembawang towards Platina Road. It is visible by Sembawang main road with a bright yellow front store signage. Apparently, the store had been operating for almost a decade, still keeping prices affordable till today. Also, there is free night parking in the private estate within.
A traditional no-frills Korean BBQ
You do your Korean BBQ using a table top gas stove fuelled by gas canisters. Furthermore, you start your BBQ by laying a BBQ inlay paper over your grill. Also, condiments such as garlic, onions and chilli sauce are provided via separate saucers. I would recommend sautéing the garlic the garlic with onions before putting your beef on.
Notably, the restaurant does get pretty crowded over the weekends. A selection of dine-in indoor or outdoor seating are available, though the indoor seating can get rather hot and stuffy during peak dine in, such as Friday or Saturdays. There are no special table exhaust pipes you can use to keep the smoke down like those found at I'm Kim Korean BBQ. But I guess that helps in keeping costs down.
What's on the buffet?
Moreover, on the menu selection includes a choice of beef, chicken, pork option, as well as large prawns for seafood. Also the chicken is available in two variants, with the Soya marinated option being the better one (the other being Spicy flavour). Special mention to their Original Pork belly and collar, available in both thick, thin or spicy bulgogi marinated.
Still, the meat selections are not great, but adequate for the offers and price. So do not be expecting K-cook levels of sides, cooked and fried foods like chicken wings, glass noodles or potato wedges, etc. However, you do get unlimited servings of rice and dessert stick ice cream to go with your meal. Also, scissors and tongs are provided to lay and snip your food to bit sized pieces respectively.
Juicy BBQ selection
Moreover, I found the BBQ meats rather pleasant quality and well-tasting for the offerings. Also, I found the meat juicy and well-marinated enough to retain a level of juiciness without going dry on the grill. At times, your grill can be flood with rich sauces which could overflow and create a mess. I am glad to report none of these experiences here.
Still this is diner-dependent and how you cook your food. Favourites too includes the pork bacon and pork collar. These has a texture of bacon when fully cooked and is rather crispy if cooked well in its fat.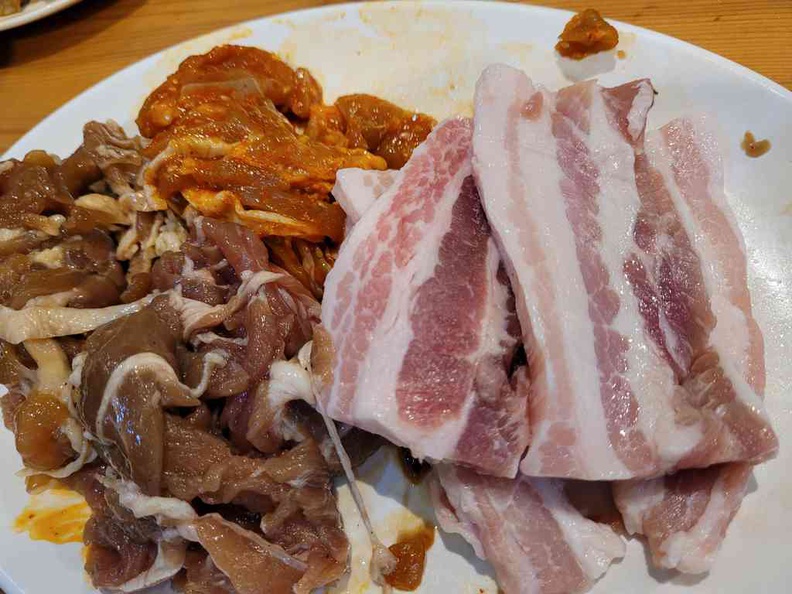 Still, you can't go wrong with just regular chicken and pork. Lastly, I would recommend the beef to top up your offerings. It is available in limited amounts but comes lightly shredded in a dark soya marinate too. It is one of the few more premium offerings here. It goes best wrapped in the provided lettuce as a meat wrap.
"Free flow" of Tea is offered at $5 a jug, though what you get a pot of hot water with 2 tea bags for groups up to 4pax, with only hot water refills, so I leave it to you to judge on its value. Beer starts at $12 a bottle of Hite beer and up to $50 for a tower. Otherwise, plain water is just good.
Friendly, but slow service
In addition, service is generally responsive, though the staff might be slow to return on your request especially on peak dinner periods. Do consider this as this limits the number of actual plates of meat you can order within your 90-minute window, so do factor that to avoid last minute rush orders.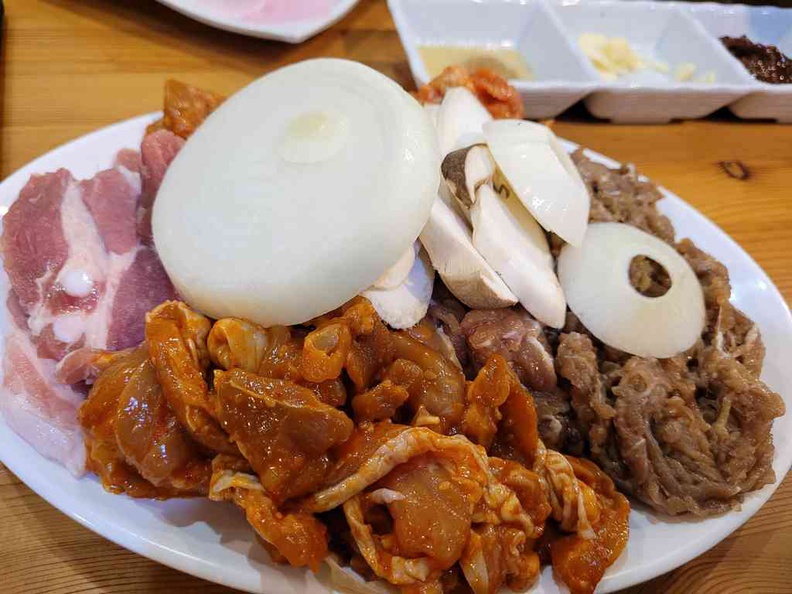 Also, you can specify to staff the specific type of meat you want beforehand, there are no order sheets used here. However, the portions you are rather inconsistent, and somewhat staff-dependent. Sometimes you get heaps of meat of what you want, sometimes you just get a half platter plate of meat (and need to order more rounds).
Do keep within your 90 min dining time
A thing to note is the enforcement of the dining in duration here at Tasty friends as part of the Covid-19 restriction measures. Hence, you are advised to keep your dine-in under 90 minutes, even for large groups. Also, due to Covid-19 restrictions, you can't self-help yourself to the buffet platter offerings. Instead, you verbally inform the staff what you wish to have on your plate and they will heap the meat to serve you via table service.
Also, do expect to pay in addition a 10% service charge from the advertised $19.90/pax buffet price for dinner. For instance, my dine-in for 4 pax set me back at about just under $90 in total. A lunch dining costs a cheaper $15.90 per head.
All in all, a tasty Korean a buffet in the sub-$20 price range is quite hard to beat and unheard of today in Singapore. It tad reminds you of the buffet prices offered in the like in the early 2000s, where these buffet culture truly took off. Offering a fairly quality offering for the price minus the fat. That is what Friends Tasty Korean has to offer. Also, I am glad that most of the gripes are minor and dining is still largely an enjoyable experience. What is there more to ask for?
Verdict:
Must Go! | Actually pretty Good | Worth Trying | Shortlist Optionally | Should Avoid
Friends Tasty Korean Locality Map
Unit 431 Sembawang Road,
Singapore 758396
Opens daily: 11:30am- 3:30pm, 5pm- 11pm (Split shift)