It is time of the year where Singapore will host the Biennial Singapore Airshow. It touts itself as Asia's largest aerospace and defense event. For 2018, we will see a broad range of aerospace exhibits again both in-air and on-ground at the Singapore Airshow 2018 at Changi Exhibition Center and Static display. This article is written from my visits on both Trade show days and the public weekend.
Exhibitors inside the Changi Exhibition Center
The Air show itself is packed with a range of activities, highly popular aerial aerobatic displays. Moreover, the event claims to bring together the global aerospace community and key commercial, government and military delegations all under-one-roof. Also, the event runs from 6-11th February 2018, with the first 4 days being VIP and trade visitor days. Thereafter, the event is opened to the public during the Saturday and Sunday weekend from 10-11th February.
The Changi Exhibition Center is a vast complex comprising of two main halls connected via the center hall. Here, both halls of the Exhibition center are packed to the brim of various commercial, defense and media exhibitors.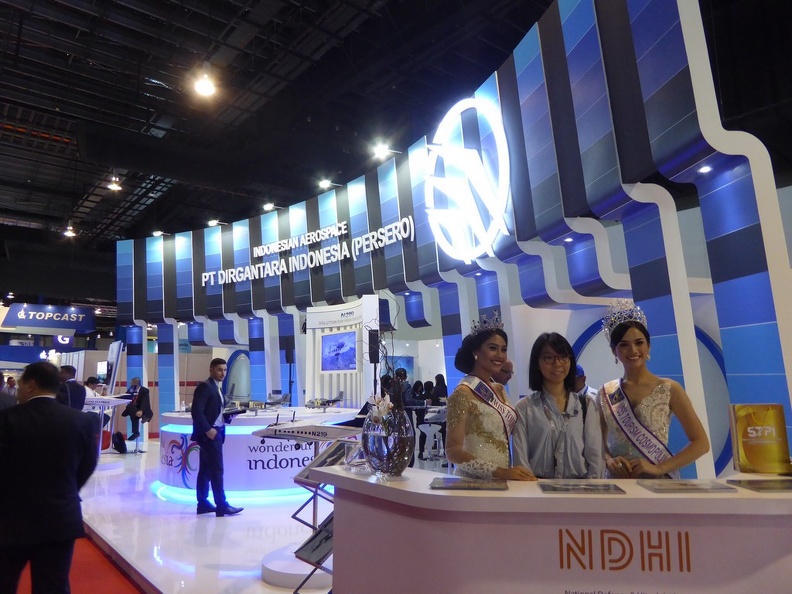 Moreover, the walkways of the halls are ample, carpet-lined with enough space for crowds to navigate with ease. Notably, there is a good mix of large spacious booths from multi-nationals as well as smaller booths of SMEs. This space will definitely come useful on the busier Public days.
Country Sectors
As with every air show, the exhibition floor is segmented into various country sectors. We have the US pavilion, UK, German, Australia, Israeli and Russian pavilions just to name a few. Also, each pavilion sector of courses showcases each of the country's offerings ranging from tiny bearings, accessories to large full planes complete with engines. Furthermore, each pavilion has a welcome booth counter with helpful staff who can direct you to your pavilion booth of interest.
Interestingly too, the Airshow runs a daily publication of the happenings at the show every day called the Singapore Airshow News. You can pick up a copy at any one of the magazine stands scattered all around the halls, or at the hall entrances.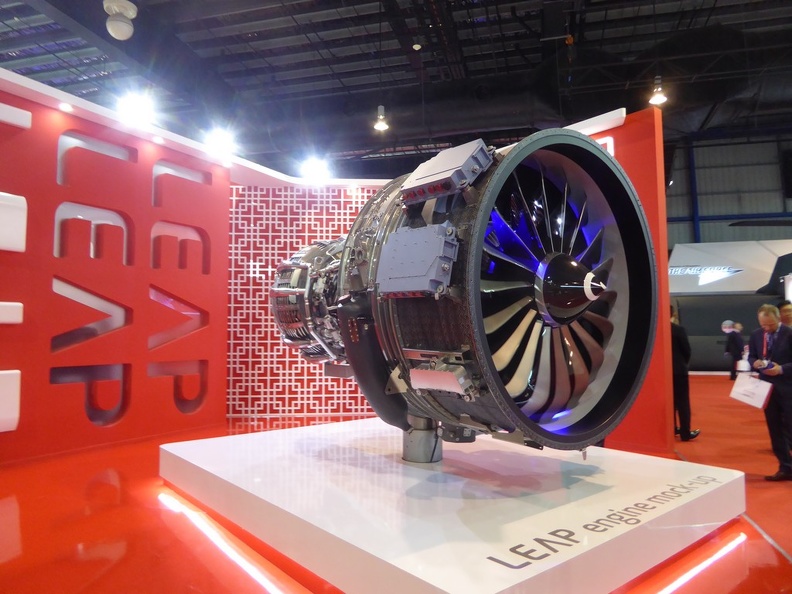 In addition to prominent airframe makers such as Boeing and Airbus, there are a couple of prominent engine makers present. Staples includes Rolls Royce, Pratt and Whitney, as well as CFM International LEAP engines. Also, Rolls Royce has a large Trent 1000 turbo fan engine on display, while CFM has a similar mock-up on display too.
Throughout the Airshow trade days, you can catch various concurrent activities. These includes live product demo showcase, contract signings as well as media events, such as video/photo taking all about. Also, tours to booths can be obtained on request or via invitation. There are also a number of flight simulators in booths for trade visitors to have a go at new flight and control systems.
Singapore showcase ST Engineering and Singapore pavilion
Singapore Technologies (ST) Engineering is out at full force again this year with a massive booth greeting you right at the exhibition hall entrance. Also, being Singapore's major aerospace and defense exhibition, ST Engineering spared no expense at showcasing their very diverse product line through a variety of themed sectors and demo areas throughout their massive booth.
Here, the some broad booth sectors include the Defence, Robotics and Smart City sectors. These all revolve around their core Engineering Business. Notable items on display are several smart products such as autonomous buses, robotics (UAVs, UGVs), sensor networks, as well as their tried-and –tested range of military defense equipment such as vehicles, ammunition and armaments (weapons).
Moreover, there is even a cool threat response Virtual-reality simulator using off-the-shelf omnidirectional treadmill which can be used to train police officers in duty conflict response situations. Visitors can have a go on the device complete with a mock up firing gun attachment.
Notable vehicles on showcase includes the new Singapore Next gen IFV. You may recognize it being first unveiled at the last Army open house. Similarly, we have the successor to the current in-service 8-wheeled Terrex armored personnel carrier. It is called the Terrex 2. The Terrex 3, however, is not on display.
Singapore pavilion
The Singapore pavilion is located in the west-side of the south hall (beside the Canadian pavilion). Here, it is home to a number of Aviation-related SMEs. Services offered includes maintenance, logistics to flying training. Also, CAAS is also there with a large model showcasing their new and upcoming Jewel extension. It is a vast glass structure situated in front of Terminal 1 at Changi airport scheduled to open 2019.
Outdoor Static Displays
Moreover, the second half of the exhibition and air show will be the static display zone. This comprises of a large open aircraft ground divided by sectors each housing various military and commercial aircraft of interest.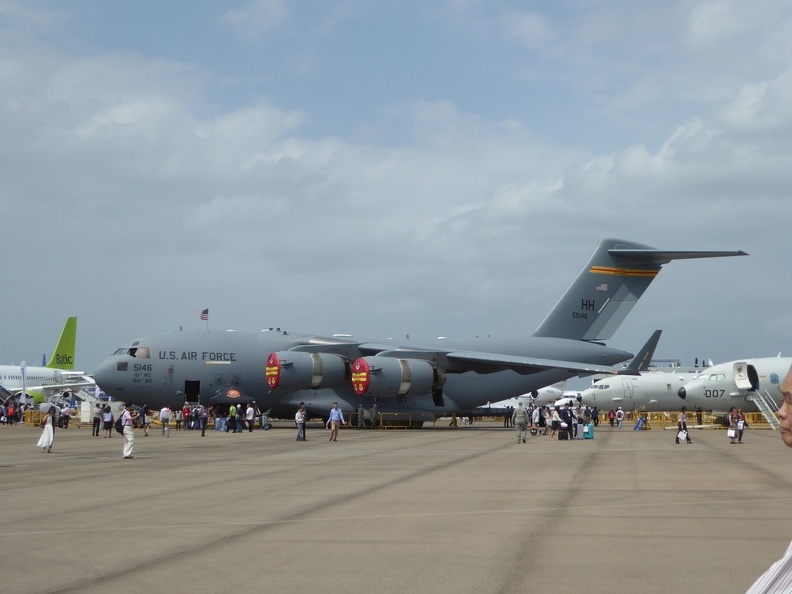 Furthermore, exhibits here range from small private jets to the massive Airbus A400M Atlas and the new A350-1000 XWB. Besides fixed-wing aircraft, there are also several commercial and military helicopters on the tarmac too.
Besides the large RSAF display, which I will touch on separately, the US Air force had a couple of large aircraft on display. In addition to the Airbus A400M, we have the Boeing C-17A Globemaster III and a Sentry AWACS with it's rather distinctive rotating top scanner dome. Moreover, visitors are allowed to board selected aircraft, with friendly service men and service women able to address any questions you have on the planes.
Fun at the Airshow
The weather throughout most of the airshow was sunny and excellent without any rain. Passing clouds occasionally provide shade over the static display areas providing much relief to visitors. Interestingly, some has rather interesting custom paint work. Humorously, there is even a small jet by Embraer with a custom painted Tiger face on.
Moreover, there are plenty of carnival festives with members of the public dressing up for the occasion. Artists and painters can be seen doing paintings on the outdoor areas painting a scene of planes. Furthermore, there are also couple of cosplayers roaming the exhibition grounds too. Notably, I remembered seeing a Spider man, Darth Vader and a couple of Stormtroopers just to name a few.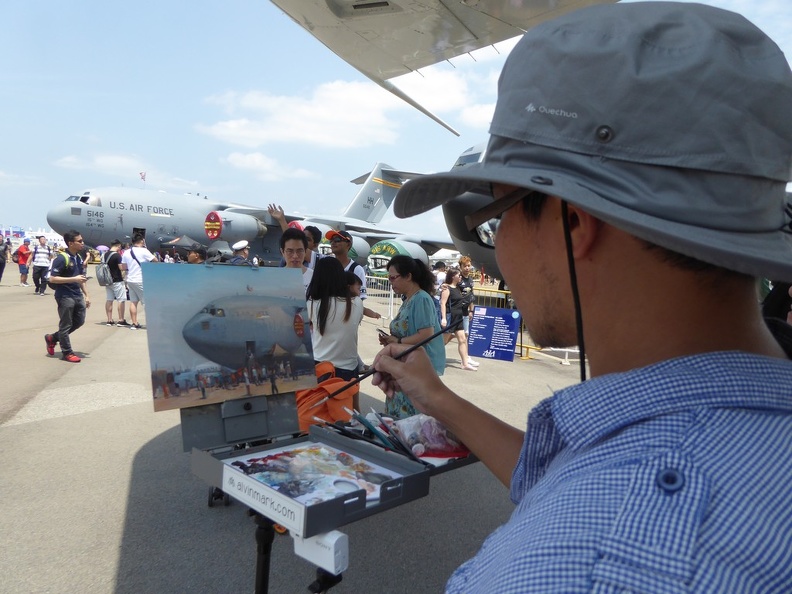 F35 and F22 Static displays
The United States Air force has a number of hardware on display too. Most of them flew in from the Pacific Airbases, either from Japan, Hawaii and Guam. Notable displays this year will include for the first time a real F35 lightning aircraft on display.
Notably, it is of the Short takeoff and landing variant (STOL). It allows a shorter runway take-off and vertical landing. Unquestionably, this static display of real planes is so much better in contrary to the previous years, where we only have a mock-up F35 in front of the Lockheed Martin chalet.
The US jet fighters are located at the far end of the outdoor area furthest from the Exhibition center buildings. Moreover, this is the second appearance we see the F22 Raptor on display at the Singapore Airshow. As always, security is tight around these planes, with soldiers and armed guards on standby.
In addition, there is also a Global Hawk UAV on display, as well as a F-18 F Super Hornet from US Navy. The US crew on stand-by stationed at the exhibits are very friendly and are keen to take any questions you have.
RSAF 50th Anniversary Celebrations and RSAF 50 Plane
Just as Singapore had their SG50 Jubilee year celebrations in 2015. The RSAF has similarly turned 50 this year, with an extensive Jubilee birthday lineup and display. Moreover, President Halimah was present to unveil the commemorative RSAF 50th Blue F15SG jet. Additionally, the plane features a paintwork flaunting a number "50" stylized as an infinity sign with the Singapore skyline planted on the Jet blue paintwork.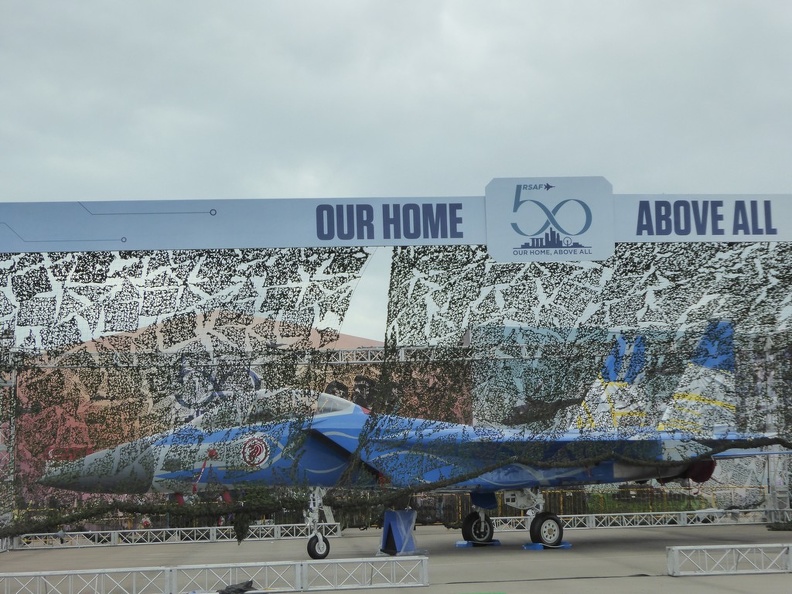 Moreover, this outdoor static display, together with an indoor air-conditioned pavilion celebrates the Republic of Singapore Air Force (RSAF) 50th Anniversary through an internal exhibition.
RSAF 50 Exhibition
Inside two large white tents of the RSAF Pavilion showcase spanning 3,000 square meters. This large display is part of the commemorative effort of this special milestone the RSAF wishes to share with visitors at the Singapore Airshow 2018. Notably, the RSAF display area sits right in front of the Exhibition center exit. You can access the displays after a short zebra road crossing from the main exhibition hall.
The flow of the exhibits are similar to that of the Army open house last year. It touches on the history of the Singapore Air force over the years through the generations. In addition to the history narration, the showcase also detail its current platforms and capabilities and highlight the work of airmen and women. Here, visitors can have a go at interactive touch tables and interactive screen panels.
Furthermore, there are plenty of simulators on-display too which members of the public can have a go at. For example, these includes F15/F16 flight simulators to the RBS-70 short-range air defense weapon system simulator, where visitors can engage simulated targets in the sky on-screen using virtual reality.
RSAF 50 Outdoor Static Displays
Moreover, moving out onto the outdoor display, you can find a myriad of RSAF arsenal comprising of both land vehicles and aircraft. Notably, we have the G550 early warning craft, Super Puma and the Apache. You can climb into a couple of them for photos. Of course, not forgetting the show boys of the RSAF- the F15 SG and F16 C/D.
Additionally, the RSAF is offering public visitors, via a ballot, a chance to fly on the Super Puma helicopter via their Super Puma Experiential Flight draw. If you are selected, this allows you to ride on a Super Puma to catch a bird's eye view of Singapore from a different perspective.
Airshow Chalets and VIP Exhibitions
Off by the main Changi exhibition center are the VIP chalets. These Chalets are accessible by invitation only and are not open to public, unless you are planning on buying a plane. It is home to hospitality of several big name companies such as American Lockheed Martin, French Airbus, Embraer and Dassault Aviation, just to name a few.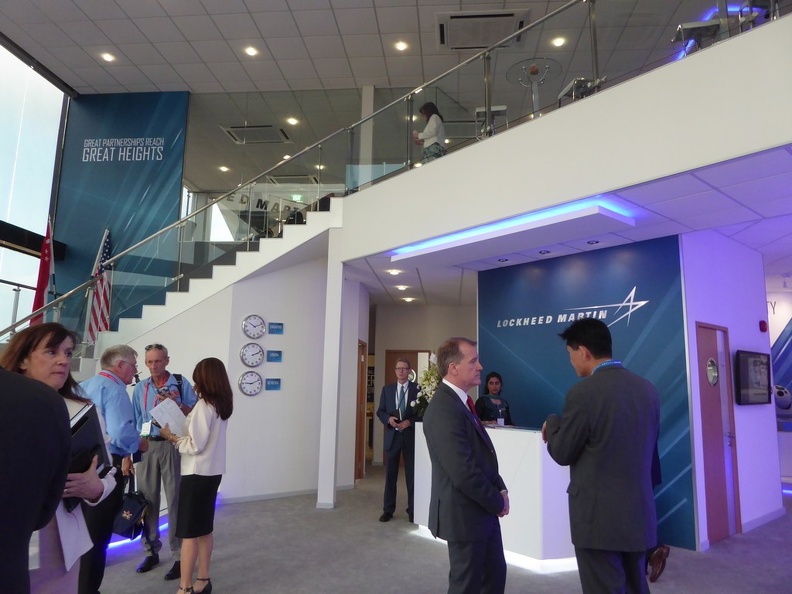 Hence, it is not uncommon to see many big luxury cars parked here in the chalet zone, with several electric buggies whizzing delegates, VIPs and customers around the various chalet buildings. Notably, most of these chalets have roof top gardens and viewing areas which you can check the aerial display free from the public crowds, often accompanied with a full buffet meal spread, Champagne and air-conditioning. It is the way to live the life!
That's all Folks
All in all, That concludes my exploration of the Singapore Airshow exhibitions and static displays for this year. The Air show is one many people look forward to every year and is definitely worth visiting. Even for the young or old, whether if you are an aerospace freak or a budding pilot at heart, there is plenty to event has to offer. I look forward to the next airshow come 2020.
Next up, I shall cover the event's Airshow Aerial display event.
Lastly, you can view more photos of the 2018 Singapore Airshow here.