No airshow is complete without their trademarked Aerial air display. The dynamic air display is brought to you by a rather cosmopolitan crew from Indonesia, Malaysia, US, Korea and of course, Singapore's very own Republic of Singapore Air Force (RSAF). The aerial display aims to showcase the prowess, pilot skill and technology of the regional air-force, as well as wow spectators with new aviation hardware.
Show Times
In addition, the aerial display commentary is brought to you by Singapore Emcee Joe Augustin and live commentators from each of the respective various flying display teams. On show frequencies, there is one aerial air display on VIP/trade days and two shows daily for the public weekend. Public show times on Saturday (10th Feb) are 11:30am – 12:15pm and 2:30pm – 3:15pm.
In a nutshell, we can expect the Royal Thai Air Force (RTAF) to showcase their JAS-39 C/D Gripen on both public days. The United States Air Force (USAF) will be doing a one-day only B-52 Fly-By on the Saturday afternoon aerial display. The B-52 Stratofortress is a long-range, nuclear-capable heavy bomber that can perform a variety of strike missions.
Correspondingly, the Sunday show (11th Feb) runs from 11:30am – 12:10pm, with the second show of the day from 2:30pm – 3:15pm. Sadly, the South Korean Black Eagles pulled out after missing their first performance. It is due to an accident involving one of their T-50 planes at Changi Airport Runway 1 during take off.
Republic of Singapore Air Force (RSAF) display
To mark the Singapore Air force 50th Anniversary, the Republic of Singapore Air Force (RSAF) has put up an amazing flying display featuring an F-15 SG and two F-16 C. The show starts with the two F16 flying in formation with the leading F15, where they split into various maneuvers rolls and slow speed glides.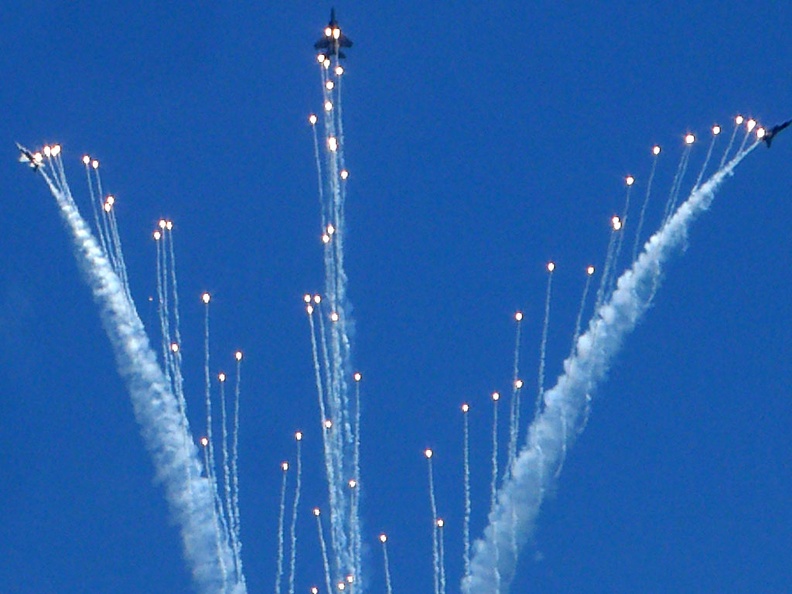 The display aims to demonstrate the RSAF flying capabilities for strike, as well as pilot skill. Moreover, it is claimed that each RSAF pilot in the performance has over 2000 hours of flying time. The aerial display ended with a flying salute of chaffs from the 3 planes, painting the sky in pyrotechnics.
Also, on the RSAF aerial showcase on the Airshow public days is the blue F-15SG plane. It is painted in a special RSAF50 colour scheme. This plane in the sky-blue paint livery will replace the unpainted lead F15 plane following the Singapore President's unveiling of the new RSAF 50 jet.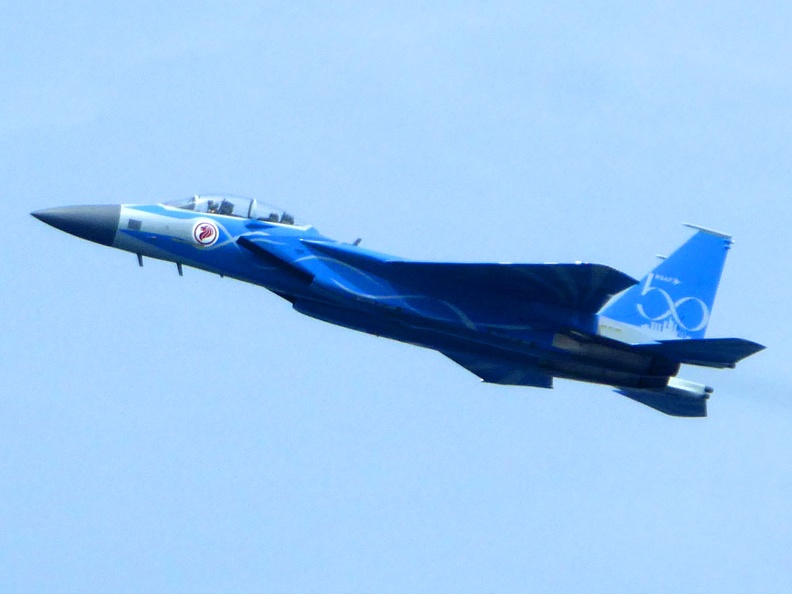 Furthermore, a number of aerial stunts includes several fly-passes, as well as controlled throttles, vertical afterburner climbs as well as a back to back fly-pass on 2 F16s. The aerial display lasts about 15 minutes in total, one of the longer performances in the airshow. The RSAF performs at every single Airshow slot, so you definitely won't miss their moves!
Royal Malaysian Air Force SU-30 MKM
The Royal Malaysian Air Force (RMAF) is out with a solo display of their SU-30MKM air superiority fighter. The SU-30 is a highly sophisticated state-of-the-art two-seater multi role fighter aircraft (MRCA). Moreover, the flying machine claims to have the capability in carrying out combat missions at significant distances from their home base in any weather conditions, day or night.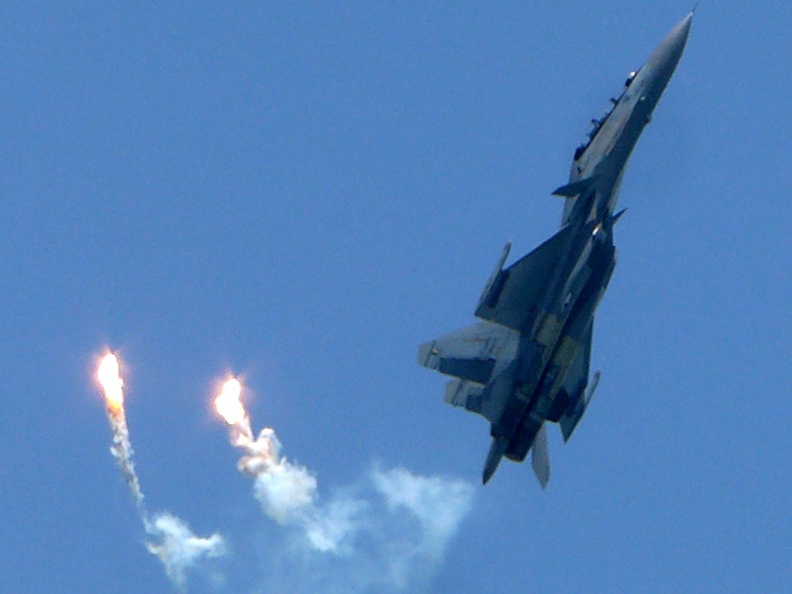 The aerial display saw the plane performing several slow speed glide elements, as well as Vertical climb demonstration showcasing its superior trust to weight ratio. The plane seemingly able to defy all laws of aerodynamics one can ever perceive. The Su-30MKM has a fuselage of almost 22 meters in length, with a wing span of about 15 meters and stands a height at about 6.4 meters.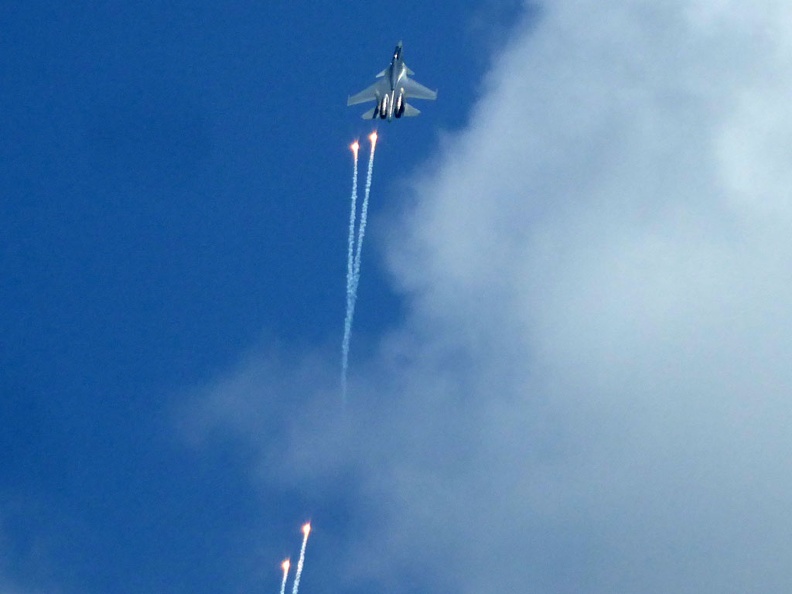 The SU-30 Twin AL 31fp engines gives it all it's power. It provides a thrust of 25KN with full after burner, giving it a trust to weight ratio of 0.96 and enabling the aircraft to reach a top speed of Mach 2.
Royal Thai Air Force (RTAF) JAS-39 C/D Gripen
In addition to the SU-30 is another single plane aerobatic performance. This time it is in the likes of the Royal Thai Air Force and Swedish plane maker SAAB. The single seater JAS-39, also known as the Gripen is primarily used by the Swedish Air Force.
Note-worthily, it is equipped with either a Volvo RM12 or General Electric F414 turbofan engine. Hence allowing the Gripen to super cruise at Mach 1.1 with full air-to-air combat payload. It has a top speed of about Mach 2.0. This was prompted demonstrated by a series of high-speed flypasts.
In the aerial display, the pilot showcased the plane's air maneuverability. The show is led by live commentary from a Royal Thai air force rep too. The Thai display is complete with high-speed fly passes, tight turns, slow passes and a vertical climb with full afterburners.
United States Air Force (USAF) F16 Solo and B52 flypast
What's more, the United States Air Force (USAF) has their contributions to the air show showcasing their commitment in the region. Fascinating spectators includes a stunning solo F16 aerobatic performance. The US pilot wow spectator with a number of high speed turns, vertical loops, barrel rolls as well as a low speed controlled glide right in front of the spectator stand.
Also, a B-52 bomber made a rare appearance, doing a fly-past at the end of the Saturday public aerial display. Undeniably, it is a formidable sight to behold and is one of the Nuclear- capable planes in the US air force arsenal.
Indonesian Air Force Jupiter Aerobatic Team
One of the few best aerial displays has to be that from the Indonesian Air Force (TNI-AU). Notably, the display comprises of 6 x KT-1B propeller planes (TNI-AU Jupiter) coming together. One some background, Jupiter is a flying instructor call sign of the Flight Training Wing of Adisutjipto airfield in Yogyakarta. It is a small Indonesian city in with a strong cultural tradition for flying.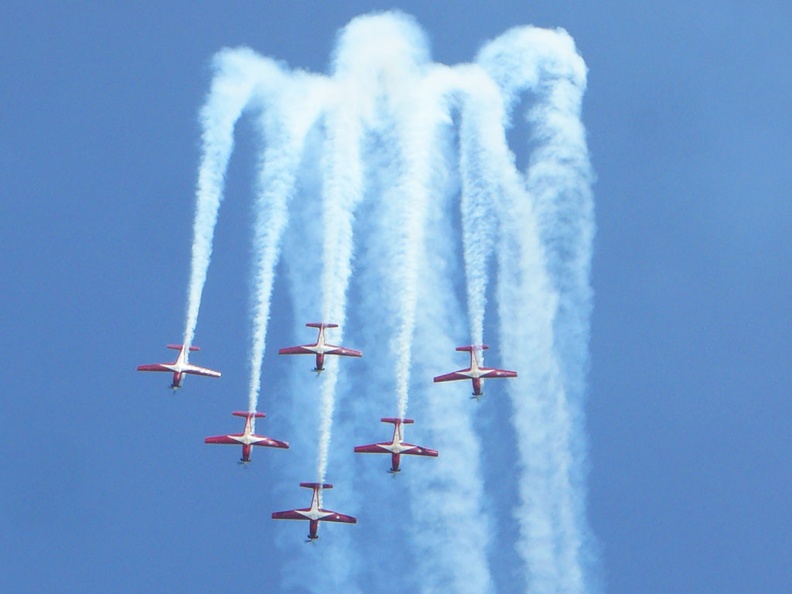 Hence, for the Indonesian pilots, bearing the Jupiter name is a source of pride and a recognition of the discipline and dedication necessary to be an Air Force aviator. Together with their dream and vision to become a world-class aerobatic team, you can see it in their moves.
There is just something special about old school propeller planes in Air shows. Their slower air speed and quieter engines make them alot more pleasant to watch. Also, their planes are well controlled, smooth and elegant in their own way. This is especially where the stunts can appear and develop more slowly in front of the audience.
Additionally, the aerial moves are well choreographed and coordinated. At times, appear deathifying with vertical loops, barrel rolls, split formations and at times appear to be crashing into each other as they zoom effortlessly through the skies.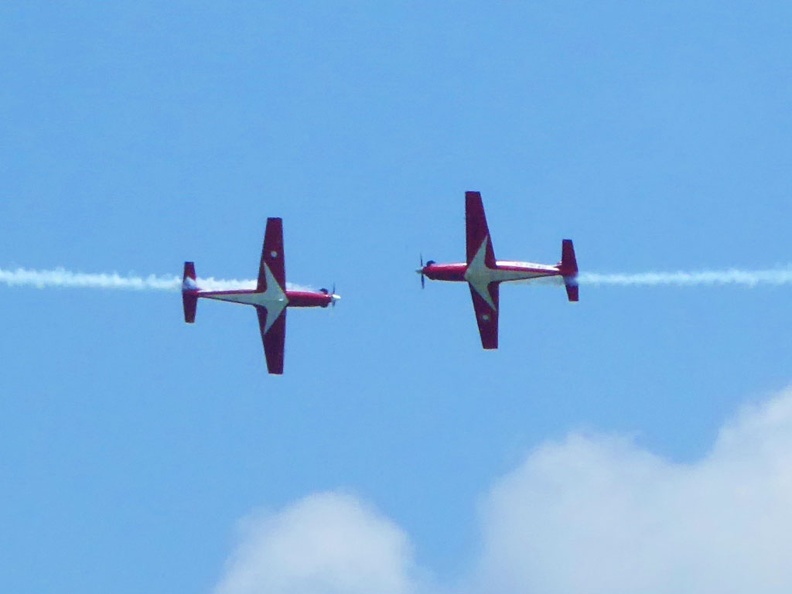 The Jupiter performance is also one of the longer performance in the Aerial display. This was a welcome to many including myself. Despite this, the aerobatic moves are always fresh, with new moves always coming up. Moveover, the moves are seldom reused or recycled. One cool move will have to be a mid-air climb and stall as well as a back-to-back fly past over the spectator stands.
The Indonesian performance ended with them thanking the crowd with a large heart drawn out in the sky. With their local commentator thanking the crowd and it being an honor to demonstrate their capabilities in the Singapore Airshow this year.
That's all folks
All in all, the aerial flight displays are a must-watch. Be sure not to miss it during your visit to the Singapore Airshow this year.
Lastly, you can view more photos of the 2018 Singapore Airshow and Aerial Display here.