Ho Chi Minh City is a vibrant city full of happenings all day. Moving onto additional explorations, lets take alook at some popular shopping and leisure options the city has to offer. I shall cover the Ben Thanh Market, as well as traditional Vietnamese Water puppet shows for entertainment.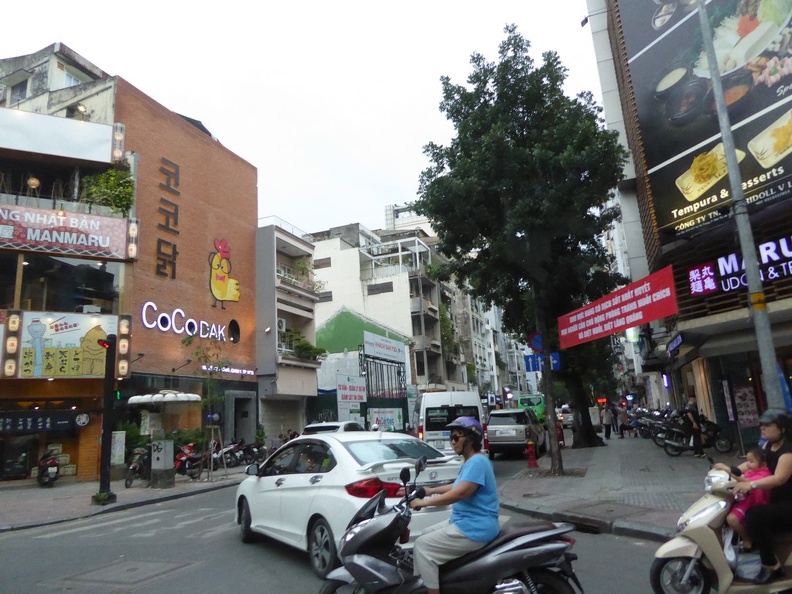 Ho Chi Minh City Food streets
If you are looking for a place to chill, do some shopping or catch some performance entertainment, you are pretty well covered too. The city is home to a large expatriate population, lured by the business in the city financial district. Entire districts catering to these expats started sprouting around town, such as a Japan town serving a variety of Authentic East Asian cuisine.
You can find a variety of authentic Japanese food stores and even a family mart in the area. Takashimaya also has a mall opened in District 1 area, which serves a substantial number of Japanese expats here. Besides that, you have plenty of options when it comes to food too. You can be spoilt for choice of traditional Vietnamese food, such as those offered by Nha Hang Ngon, a popular restaurant chain in the city.
Ho Chi Minh City Ben Thanh Market
Located in Ho Chi Minh City's District 1, Ben Thanh Market is a wholesale market and the biggest single one-stop location for Vietnamese local handicrafts, branded goods, art and other touristy-related souvenirs.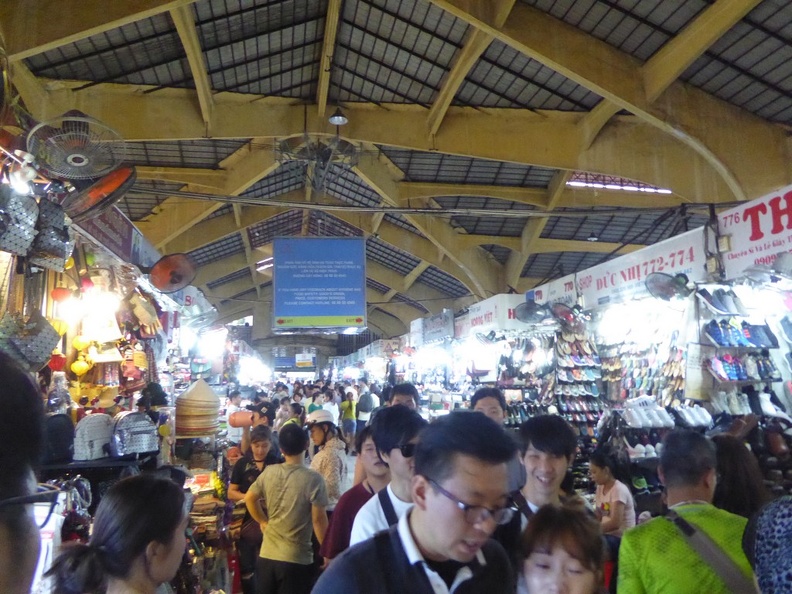 It is one of the best authentic shopping opportunities in the city at a bargain. Finding it on the map is not a difficult affair, located along the Cong Truong Quach Thi Trang roundabout.
The market itself has entrances at the four faces of the square building, each entrance leading to central aisles joining at the center of the building. In between these main aisles are smaller sub-divided walkways housing mainly clothing stores with hundreds of them lined along them tucked in the crowded market.
Panorama of Ben Thanh Market center interior
Ben Thanh Market is great place to find a whole assortment of tropical consumables, such as durians, dried and pickled foods, to traditional herbal medicine to an extensive collections fake sportswear. You will find eating stalls inside the market (manly along the central aisles) where you can get a taste of hawker-style Vietnamese cuisine, complete with dine-in foldable tables on plastic stools, not really the best place to dine amidst a large crowd.
The market is big, not air-conditioned, but relatively well ventilated on the main walkways. However, it can get rather hot and stuffy, especially on the smaller sub-walkways and certainly best avoided during the hottest part of the day or during summer months.
The market is laid out in a grid format with aisles running parallel to the market outer walls. It will be wise to use the market gates name as reference points when navigating the market, navigating the stores in a circular fashion. This is given the similarity of the stores and goods sold here, and it will be difficult to navigate the market reference clothing stores landmarks which all look identical to each other.
Art of Market Bargaining
Like all market stores in Vietnam, never accept the first price offer and you can easily bargain off 50% of the price. A general good price to accept is 30% of the initial offer price. Walk-off tactics are very effective and at times you get the shop keepers running after you accepting your last lowest offer. You can easily get a dry-fit fake sport shirt for under 100,000 dong, usually starting from a 450,000 initial offer.
After navigating a few stores, you will notice that they mainly hawk various sportswear, bags and equipment, particular in the likes of brands such as North Face, Adidas, Under armor, SuperDry. It is not uncommon for a large number of apparel stores to come under a same boss, where stores leverage on each other for stocks. As such you can use best price references form other stores to push your bargain further.
never accept the first price offer and you can easily bargain off 50% of the price. A general good price to accept is 30% of the initial offer price.
When night falls, the night life takes over at Ben Thanh Market, with a number of restaurants opening and street-side hawkers popping out all around the perimeter of the market. This creates a vibrant street scene filling the air with the scents of wok-fried noodles, barbecued fish and meats.
Be sure to have a good stomach before trying any form of street food!
Vietnamese Water puppet show
Ho Chi Minh is also one of the good places in Vietnam to catch authentic Vietnamese Water puppet shows. I managed to catch one an evening in the Vietnamese city at the Golden Dragon Water Puppet Theater. The theater is small and compact, seating at most about 200-300 patrons at capacity.
Vietnamese water puppet shows are unique in the region, first starting off with river-side stages, where they were traditionally performance since the 11th century when it originated in the villages of the Red River Delta area of northern Vietnam.
Despite most water puppet theaters being large stadium-style outdoor seating. This one I watched has a modern take on old traditions. The theater is indoor and air-conditioned which added more to audience comfort.
The air in the theater is tad more humid than your typical performance theater. This is mainly because of the present of a large indoor pool which makes up the performance page. Sitting on the stage is a large pool of brown murky water with an oriental-themed house as its background.
Water Puppet Puppeteering
Water puppets are controlled from behind the performance curtain, where the puppeteers control not only the movement of the puppet, but the mouth and moveable arms via separate controls too. There were naval sea scenes featuring boats and jumping fishes as well as land scenes with galloping horses.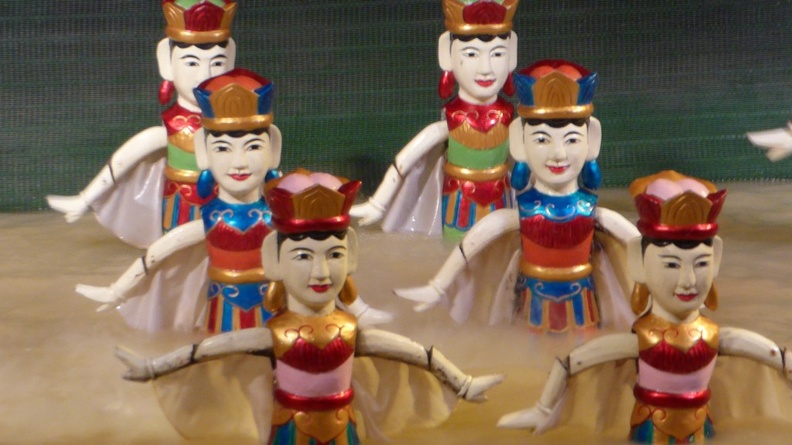 The murky water serves an intent to mask the puppeteers within and were used to accurately depict river scenes and useful for hiding puppets underwater before popping them up on stage at an area of interest.
Commendably, music is played using live instruments from the sides of the stage, where the musicians also do live voice the respective puppets themselves. The puppeteers have to work with the voice overs and music to sync the movements of the puppets on the water.
Moreover, the musicians are really professional in their work, having to put up a straight face, playing instruments, and voicing with timely precision under thick makeup and heavy stage lights, and of course the occasional stray splash of water from the puppets themselves.
Vietnamese water puppet shows are as synonymous for entertainment tin Vietnam to the Moulin Rouge in Paris. It is largely popular, especially with tourists in the region. A typical show will last about an hour, over four to five act scenes.
Definitely a thing to catch in Ho Chi Minh City of Vietnam.
View more photos of water puppet show here.