Continuing on my adventures in Ho Chi Minh City Vietnam, my exploration now focuses more on the history of the city. This is namely on war museums (War Remnants Museum), historical buildings of interests such as cathedrals as well as shopping locations.
Significantly, Ho Chi Minh City is also the tourist destination of choice for roughly 70% of the 4.3 million tourists' receipts, catering to these visitors. Also, the city has various museums including the Ho Chi Minh City Museum and are a short leisurely distance from each other.
The number of Museums in Ho Chi Minh City aims to showcase much of the country's grim war-torn past. The most prominent museums in the city are all situated within the city center. Besides museums, a few notable sights you can spot on the way are the city post-office, Notre Dame church and Ben Thanh market, which I shall cover during my visit too.
Ho Chi Minh City War Remnants Museum
The War Remnants Museum is a historical war museum located at 28 Vo Van Tan, in the heart of Ho Chi Minh City District 3. It contains exhibits relating to the Vietnam War and the first Indochina War involving the French colonialists.
Undoubtedly, you won't miss the museum as the number of military equipment on display outside the museum compound. Also, the site is quite an eye catcher and a contrast to the plain surrounding office buildings.
Moreover, the museum comprises of 3 main sections. Firstly, two of them being outdoor sections comprising of an outdoor static display of US military hardware left behind after the war, and a POW exhibition. The last and largest section is the Museum building itself housing photo exhibitions.
Panorama of the War Remnants Museum outdoor area
The outdoor display feature war machines. This ranges from assault M43 tanks, assault boats, helicopters (a CH-47 Chinook and the iconic UH-1), fighter bomber aircraft, bombs and engineering support equipment. These displays are all restored, repainted and placed as permanent outdoor fixtures making the bulk of the outdoor courtyard display.
Prisoners of War Remnants Museum exhibit
Furthermore, there is a small hut modeled after a prison cell housing a recollection of the inhumane practices which Prisoners of War (POWs) were treated. The stories told through pictorial info includes cases of overcrowding, torture, confinement and starvation.
Also on-site are also displays of the infamous "tiger cage". Explicitly, these are confined barbed wire cages are where prisoners were kept in and left outside to the elements as a form of torture. Additionally, there is even a grim French guillotine on display too, painting the life behind these walls.
War Remnants Museum Interior photo galleries
Vietnam has plenty of war stories to tell given its war-torn history. As much as they being the less-glamorous days of the country's history, there is alot to learn from the past. Moving on to the primary museum attraction, the main museum building houses mostly photography galleries and a small collection of military arms and equipment of the war indoors.
The museum ground floor is an open air lobby atrium area housing a couple of temporary galleries. Moreover, there is also a museum gift shop selling an assortment of war-related literature, videos as well as Vietnamese touristy souvenirs.
The permanent air-conditioned galleries on the upper 3 floors are laid out surrounding a central open atrium of the museum with a pyramid sky roof. In a nutshell, these photo galleries covers the human, solider and journalist aspects of the war. Furthermore, this includes mainly recounts of the Vietnamese war from the Vietnamese perspective. At times may seem tad bit too one-sided to Western tastes.
War Stories through photos
Crudely, there are a number of displays of small arms, some sealed behind glass cabinets while some are laid out as static displays. This includes weapons from both the Vietnamese North as well as American weapons captured during the war. The stories and photos speak for themselves, and there is none hiding the atrocities of war.
Moreover, these atrocities are not limited to the communist north using women soldiers for deceptions. In addition, there were also stories of mass killing of American POWs and employing guerilla tactics (such as tunnels) on the Americans.
Interestingly, some spectacular photos includes a Japanese Canon film camera which took a bullet for its owner. The antique camera body was photographed shattered by a bullet. Also, there is a breathtaking photo of a US aircraft with its wing shot off while still in mid-air, after being accidentally hit by friendly US artillery fire.
On a side note, if you wish to follow-up on more of the war history and have a first-hand experience of Vietnamese jungle warfare, Ho Chi Minh is also an excellent base to check out the Cu Chi tunnels. The tunnels are located about a 2 hour drive away from the city as covered in my separate blog post here.
Horrors of Agent Orange
Furthermore, there is a gallery too documenting the civilian repercussions of the use of Agent orange by the Americans. These galleries are distinguished by it brightly painted orange walls.
Sadly, these galleries ultimately teach that there are no winners in the conflict of war. Under those circumstances, civilians ultimately take the bulk of the military suffering and atrocities of war fueled by political conflicts. This is of course at the expense of innocent lives lost.
In all, you are good for about 2-3 hours at the War Remnants Museum. Hence, it is recommended to plan the trip here along with visits to other points of interests in Ho Chi Minh City.
View more photos of the Ho Chi Minh War remnants museum here
Saigon Notre Dame Cathedral
The Saigon Notre-Dame Basilica, it is the city's cathedral. Historically, it was established as a Roman Catholic Church to cater for community and religious services for French colonialists. Once upon a time, at this original site of the Church stood a Vietnamese pagoda, which had been abandoned and neglected following the French conquest of Cochinchina and Saigon.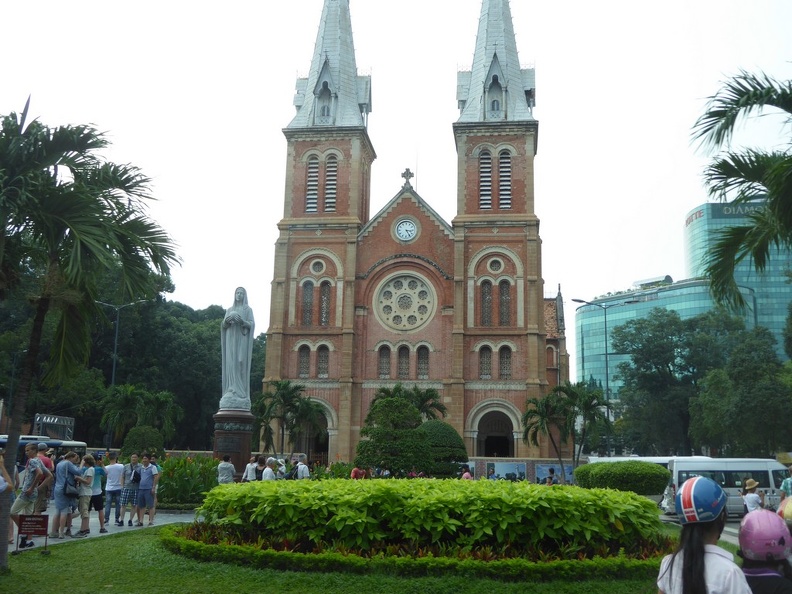 Also, stories speak that the then Catholic Bishop Lefevre decided to make this pagoda a church. Construction began on the church from 1863 to 1880 and it presently sits today's along Ngo Duc Ke Street. Forthwith, the place of worship was consecrated on the year of completion on 1880 too.
Incidentally, you may know the cathedral by its other official name, The Cathedral Basilica of Our Lady of The Immaculate Conception. Also, the front of the Cathedral are two large tall towers, which bears resemble to its Paris counterpart which it is named after.
However, unlike the Paris version, this one is much smaller and is made out of red brick. The front of the church is fronted by two bell towers, reaching a height of 58 meters with the church main halls following thereafter.
180 degree pano of Saigon Notre Dame Cathedral, Saigon Post office
Ho Chi Minh City Saigon General Post office
Located side just beside the Saigon Notre Dame Cathedral in the downtown Ho Chi Minh City is the Saigon General Post office. Also known as the Bưu điện thành phố in Vietnamese, it was designed by Alfred Foulhoux with hints of Gothic, Renaissance and French influences.
Historically, the Saigon Central Post Office was constructed when Vietnam was part of French Indochina in the late 19th century. Construction ran for 5 years, from 1886-1891 with the post office building opening in 1895.
Furthermore, Saigon Central Post Office is a working one, despite being a popular tourist attraction for its history. Commendably, all the service rows of the post office are manned by postal staff and are still operational.
360 degree Panorama of the Post office interior
Not surprising, you can also send mail or even post a parcel from here right back home. After entering through the post office main triple doors, a large cavernous hall greets you. Here, the hall is structurally supported using arches, supporting the roof free from center structural pillars.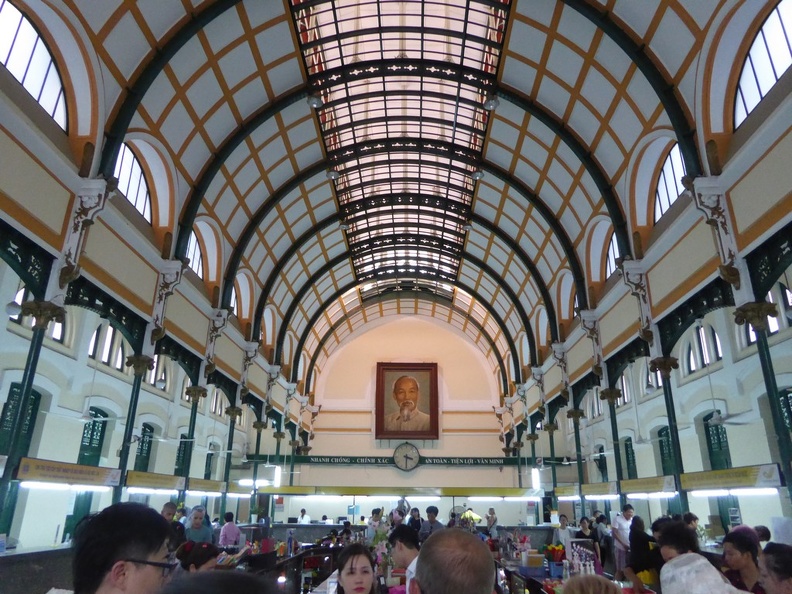 Post office wall murals
Highlights of the post office are two painted regional map murals on each side of the walls from the building entrance. Notably, these murals were created just after the post office was built.
Interestingly, the left wall features a map titled Lignes telegraphiques du Sud Vietnam et Cambodge 1892 which translates to "Telegraphic lines of Southern Vietnam and Cambodia 1892". Furthermore, this illustration is depicted through a map painted circular mural of Southern Vietnam and Cambodia.
Also, the second map on the right side shows a depiction of greater Saigon titled "Saigon et ses environs 1892" meaning "Saigon and its surroundings 1892". A large portrait of Ho Chi Minh sits on the far end wall of the Post Office.
Additionally, rows of wooden rosewood-like telephone booths lines both sides of the post office entrance. Moreover, these booths comprises of separate private rooms for each of the phones.
Notably, the old large coin operated payphones in the booths are now replaced with more compact modern ones, which freed up a lot of space inside the telephone booths.
Furthermore, given the post office being a tourist attraction itself, a post office gift shop reside on the left of the post office, hawking your traditional fair of Vietnamese tourist souvenirs.
Ho Chi Minh City 22 Gia Long Street
Lastly, from outside the post office front court yard is another historical building. You can see from a distance about 3 blocks away. Inconspicuously, it is a building with a rooftop ledge which you may recognize from early photographs of the US-Vietnam war. Cue, the building at 22 Gia Long Street.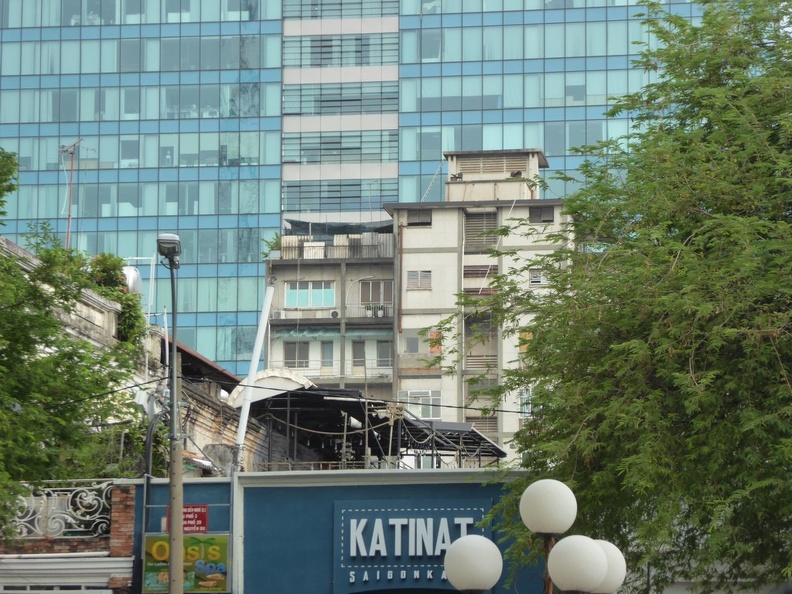 Undeniably, this building is immortalized in photographs and is the exact rooftop where an Air America UH-1 helicopter conducted the evacuation of RVN Deputy Prime Minister Tran Van Don, his family, and the RVN Secret Police Chief Tran Kim Tuyen by on 29 April 1975.
What's more, I will cover shopping and entertainment elements. Read on more about Ho Chi Minh City markets and water puppet shows here.
View more photos of Ho Chi Minh city here.