Microsoft today announced the availability of Surface Hub 2S and Steelcase Roam in Singapore. It is an all-in-one digital whiteboard, meeting platform, and teamwork collaborative computing device for the modern workplace.
Introduced at the Steelcase offices, the evening event kicked off with an introduction panel followed by individual demos from Microsoft experts, we were around to demo on the Surface Hub 2S machines themselves. Lets take a first look and impressions of the spanking new device.
And yes, there was free flow of cocktails on the house too. In a nutshell, the new Surface Hub 2S device, or rather appliance, is brought to you buy the brains of two companies in collaboration.
First off with Microsoft, the software company now hardware device maker with their renowned Surface line of products, as well as global office maker Steelcase.
The Surface Hub 2S in the flesh
Microsoft had been expanding their Surface product family line from personal computing for individuals to collaborative devices, purpose-built for teams. Like it's predecessor, the Surface Hub is a giant 50-inch Surface PC device on a roller stand.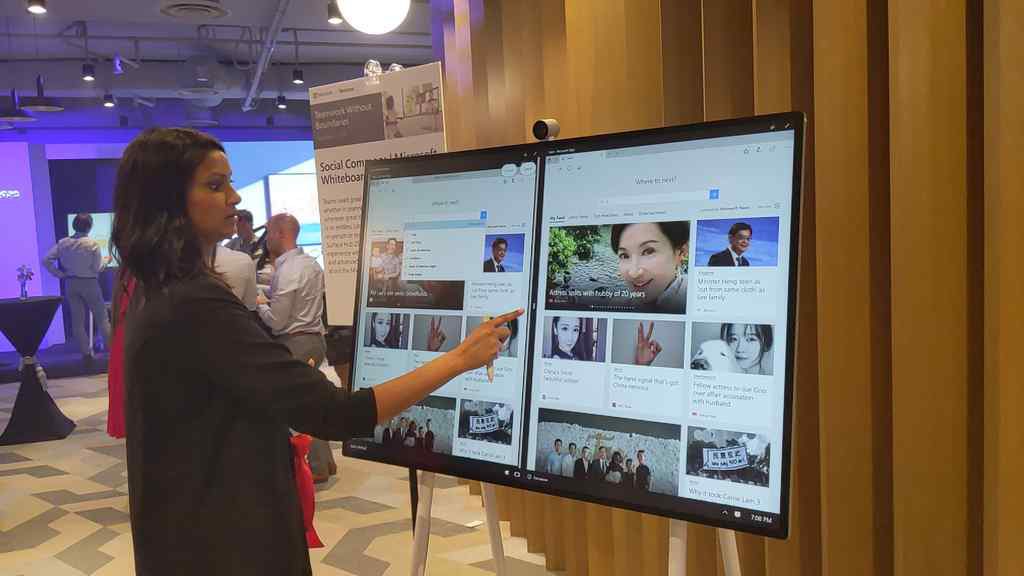 The roller stand is made by Steelcase, named the Steelcase Roam. On looks, visually, the Hub is elegant and modern, made to seamlessly blend into any workspace environment.
The Roam is a sturdy mobile roller-stand and can be easily moved with one hand. Also, it has a small mid-mounted storage shelf. Microsoft shared that battery-powered a cable-free version of the Hub will have it battery stored within the shelf.
Also, the appliance small footprint allows it to fit in all kinds of spaces, serving as an enabler for planned or spontaneous meetings. Moreover, the Hub screen is removable and wall-mountable. It can go into meeting rooms if you desire a more permanent fixture for private offices or smaller spaces.
Still, a PC at heart
Furthermore, under the hood, the Surface Hub is essentially an all-in-one Windows PC with video conferencing. It runs Windows 10, and spotting an Intel 8th Gen Core i5 processor. Coupled with 8GB DDR4 RAM and 128GB solid state drive (SSD) storage via M.2. Though it is touted by Microsoft to be physically 40% lighter, and offers 50 percent faster graphics performance than the original Surface Hub, don't expect to be playing games on Fortnite on this.
Moreover, the 3:2 IPS 60Hz PixelSense screen sits in at a resolution of 3840 x 2560. This is tad more than 4k territory. Also, this is delivered through a thin edge bezel, touted as one of smallest bezels and highest resolution screens compared to any device in its class. In comparison, its display is 60% thinner than its predecessor. Also, the display also has 10 point multi-touch for touch inputs as well as pen input. The pen can be affixed to the side of the screen bezel via magnets.
Miscellaneous features for video conferencing includes a removable 4K camera. It sits centered at the top of the screen connected via USB-C. It has also front-facing three-way stereo speakers speakers and far-field microphone arrays to pick up voices from large groups.
A collaboration enabler
Moreover, the new Surface Hub 2S at its heart is an all-in-one collaboration device that lets teams break free from the conference room and turn any space into a teamwork space. It selling point is as an enabler for productivity and innovation ideas generation tool.
How can it do that? The Surface Hub 2S and Steelcase Roam base stand when paired together, is an all-in-one collaboration device that lets teams break free from the conference room and turn any space into a teamwork space. It is targeted at workplace teams to offer mobility and flexibility to collaborate through the internet.
Furthermore, it is touted to encourage teams to move, conduct active collaboration, stand, gesture and become more physically, mentally and emotionally engaged in their collaborative work. Also, the device is also applicable for companies looking to bridge the gap and address different collaborative workstyles. When done with your meeting, the hub can share your saved meeting content via OneDrive.
Moreover, there are many ways to interface with the screen- standing in groups around it and active postures. The viewing screen viewing angles are good so people standing on the side edges of the screen can see the screen.
A connected workplace
As an integrated product, the Surface Hub 2S is primary a connected business product. Collaboration can include conventional office-style meeting scenarios for brainstorms, or virtual meetings through the cloud using the Microsoft Teams collaboration suite. Physically, the appliance fits easily into any space, from a traditional conference room to a compact huddle space. It makes you feel almost like they are in the same room together.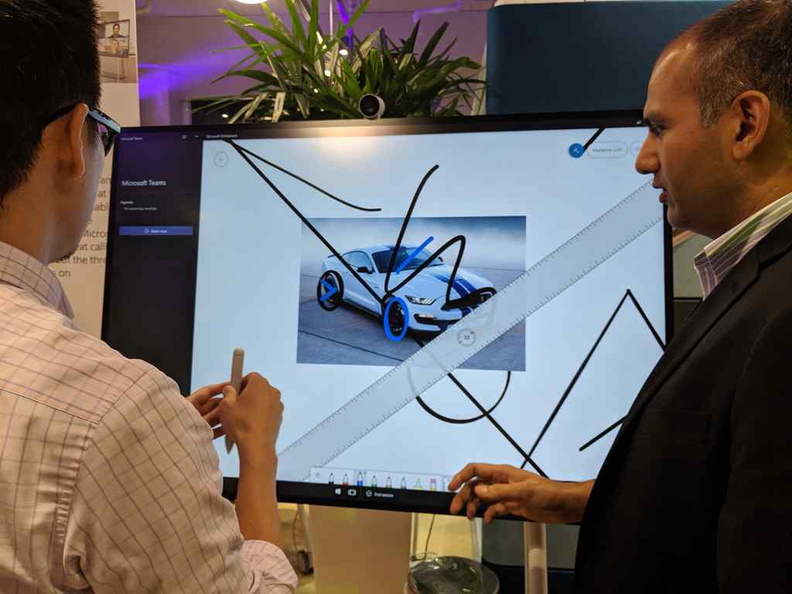 Also, the integrated Microsoft Teams and Skype for Business software allows instant meetings via video conference and workspace sharing. Also, screen-sharing and wireless casting can be done wirelessly locally in-office or remotely across the globe.
Within the Steelcase offices, the device too was demonstrated to work with phones and other personal computers can connect as clients to the Team meeting. This feature is compatible with Microsoft Surface products.
Microsoft Whiteboard
Moreover, the Surface Hub 2S is a cloud-enabled one. It harnesses Microsoft collaborative suite powered by Windows 10. Here, you get Microsoft Teams, Office 365, Microsoft Whiteboard and the intelligent cloud.
Furthermore, the main driver for the Hub is the Microsoft Whiteboard software. Developed primary for the Hub, it allows collaboration on a shared digital canvas from almost any device. Also, it auto saves all your data to the Microsoft cloud. This allows you to pick up where they left off, keeping teams in their discussion flow and follow-ups.
Microsoft claims the application of artificial intelligence to support ink to shape and text, supported by an infinite cloud-based, virtual canvas. Users can also resume their brainstorm seamlessly with this feature. It primes people for creative work whether they are physically together or working remotely. The catch is that it only works connected to the internet, so on-premise users are quite abit out of luck.
A Versatile Canvas
I got about playing with the Surface Hub drawing tools. You can copy, snip and paste any media from your desktop or web browser into your drawing canvas. Also, you can individually annotate using the variety of brushes and canvases available.
You can also draw shapes, tables and lasso select them to move things about. Inputs are done via it's 10-point multi-touch finger input or the included Surface pen. Thankfully you do not have to pay extra for the Surface Pen here.
One price with accessories minus the stand
Furthermore, the Surface Hub 2S screen itself costs S$13,398. This excludes GST. It comes included with accessories such as a Surface Hub 2 Camera and a Surface Hub 2 Pen. However, strangely, the Steelcase Roam mobile stand comes separately at an additional S$1,999 (also excluding GST). I found rather steep priced for a roller stand. Authorized commercial resellers in Singapore includes Esco, Radiance Communications and NCS.
Notably, it is not the first time we see critical accessories offered by Microsoft with separate pricing. Surface Pro keyboards, an essential accessory similarly costs a premium too on top of the main unit. Also, it is worth noting that you can always choose purchase a third-party roller LCD TV stand. It probably costs in the range of a couple hundred of dollars- much less than Steelcase asking price of $1,999.
All in all, the new Microsoft Surface Hub 2S is a welcome upgrade to the relatively still untouched market of collaborative screens. I had seen similar screens by Samsung and LG, but not quite having the level of integration Microsoft has.
It is nice that Microsoft too is adapting their devices, manufacturing and cloud know-how into the Windows 10 ecosystem. The Hub at its heart is an all-in-one PC with a fully networked suite of Microsoft Teams, Office 365, Microsoft Whiteboard, and the intelligent cloud, all to unlock team productivity.