Let's take a first impressions look at the Garmin fitness smartwatch, the Garmin Vivoactive 3 Music. The gadget was recently released just middle of this year. It is essentially a GPS Smartwatch with Music Storage and Playback. Garmin Vivoactive 3 Music first impressions.
What sets this watch apart from the standard Vivoactive 3 is the ability to stream Bluetooth stereo music right you're your watch with space for 500 songs right on your watch. It enables you to pair and listen to your own music collection right onto your Bluetooth headphones for phone-free listening
A look about the watch
At 39.0 grams, the watch is incredibly light for its size. Physically, the Garmin measures out at 43.1 x 43.1 x 13.6 mm. It fits wrists with a circumference of 127-204 mm. This puts it as a small to medium sized watch which fits female as well as male wrists well. The dark design with circular rim dial markings is pretty unisex in nature. This is a move from the rectangular screens of the now End-of-life Vivoactive first-gen.
Also, you can customize your watch face with thousands of free watch faces and apps from Garmin's Connect IQ store. You can customize it to take both digital and analog faces.
On the front, the watch display is a sunlight-visible, transflective memory-in-pixel (MIP) with about 4 different colours. It sits with a diameter of 1.2″ (30.4mm) diameter with a resolution of resolution 240 x 240 pixels. This is similar to that of the Vivoactive 3 (non-music). It sits behind chemically strengthened glass, and encased in a polymer material. This is what makes the watch surprisingly light.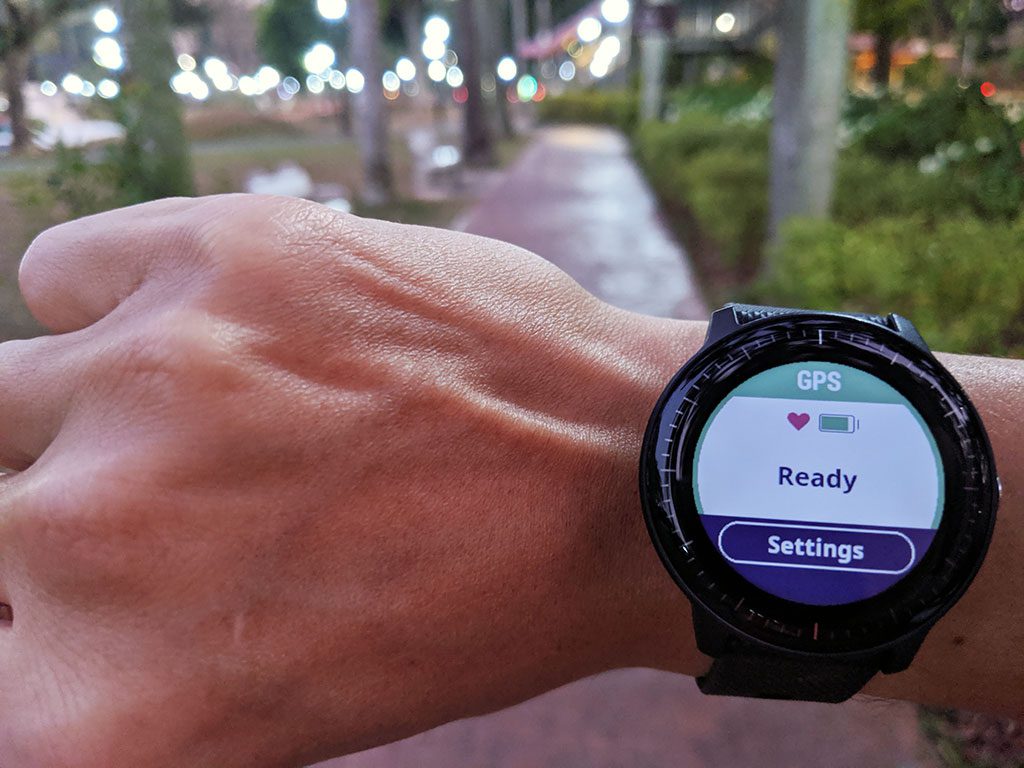 Moreover, the watch comes default with a silicone strap material. It is an industry standard 20 mm width strap. Also, it has a quick release nub on the underside which you can use to quickly swap out different band designs or colours.
A touchscreen is not exactly runner or when swimming friendly as touchscreens aren't useful when wet. But I still find comforts with a touchscreen watch when I am using it as a regular watch. It is particularly useful in swiping through menus, notifications, and tapping music controls. It is worthy to note that touch input is notably absent in Garmin's more runner-focused Fenix range.
Same great Garmin Apps ecosystem
Moreover, App-wise, you get the usual bells and whistles you get off a Garmin activity tracker. They offer one of the best selections on the market courtesy of the Garmin's Connect and IQ stores offering a selection of free (mostly) and paid apps. The watch is compatible with both iPhone and Android Smartphones.
Out of the box the Vivoactive 3 Music has a couple of pre-installed sports apps, including 15 preloaded ones such as yoga, running, pool swimming, strength, training and golf. You can use preloaded workouts, or create and download custom ones. Other functionalities like your activity calendar, and fitness age yes can only be accessed via the Garmin connect app on your phone.
Activity Tracking Features includes an all-day step counter with heart rate monitoring, sleep quality monitoring and all-day Stress Tracking. Moreover, ae also see the return of the gimmicky "Move bar" which displays on device after a period of inactivity. Depending on your watch face chosen, you can choose to also display your tracked calories burned, floors climbed, distance traveled and Intensity minutes for the day.
Sensors and battery
Comes with a while suite of sensor features such as GPS (including GLONASS), Garmin Elevate wrist heart rate (HR) monitor, Barometric altimeter, Compass, Gyroscope, Accelerometer, Thermometer to name afew. All these information however, is not made available directly to you but through running an app on the watch which supports it. For example, GPS and HR for running, and altimeter and compass on say a watchface with trekking functionality.
Garmin claims that it can last up to 7 days in smartwatch mode with regular activities and up to 5 hours in GPS with music mode, and 13 hours With GPS mode without music. So you are good for at least a full marathon run.
That's all for now. I would be follow-up writing out a full review of this watch after I give the watch a proper rundown in my daily use. Stay tuned for it!