Update: Matebook 13 and X Pro may not be coming to Singapore
Following the US blacklist of Huawei with US technology companies, the release of the Matebook 13 and X Pro in Singapore on May 30th had been postponed indefinitely and may not be coming into our shores. It is also notable that both Laptop runs on Intel mobile processors, ARM-based microprocessors which are also affected in the US blacklist.

If you are looking for the model, you could consider purchasing one from importers such as those in China direct. However, notably, Huawei has been reinstated in the following major tech associations including SD Association, Wi-Fi and Bluetooth alliance, as well as involvement with Android Beta Q here for Huawei range of mobile phones (For the Mate 20 Pro only).
Introducing the new Matebook series
We first saw the Huawei Matebook series released in 2016. Come 3 years later, the company announced a series of two new refreshed ultrabooks in their Matebook line. On the line-up includes an everyday MateBook 13 and its more powerful MateBook X Pro sibling. Both laptops were first introduced to the world at CES 2019 and MWC 2019. Notably, it quickly gained global traction from reviewers. Let's take alook at them before their launch in Singapore today.
Impressive display options
Furthermore, the Matebook 13 is a 13-inch ultra-portable device. It combines premium aesthetics of a sleek silver body with powerful innards. This offers performance catering to the mainstream consumer. In addition, the 14-inch Matebook X is a larger, more premium offering. It is more suitable for business road-warriors, travellers and content creators.
Furthermore, both the MateBook 13 and X Pro spots an unconventional a 3:2 aspect ratio for its display. This is unlike the common widescreen 16:9 aspect ratio laptops on the market. Notably, this 3:2 screen is similarly seen on the Microsoft surface range of tablets. It gives you more height for productivity apps such as Word processing. It allows you to display more content or writing on the screen.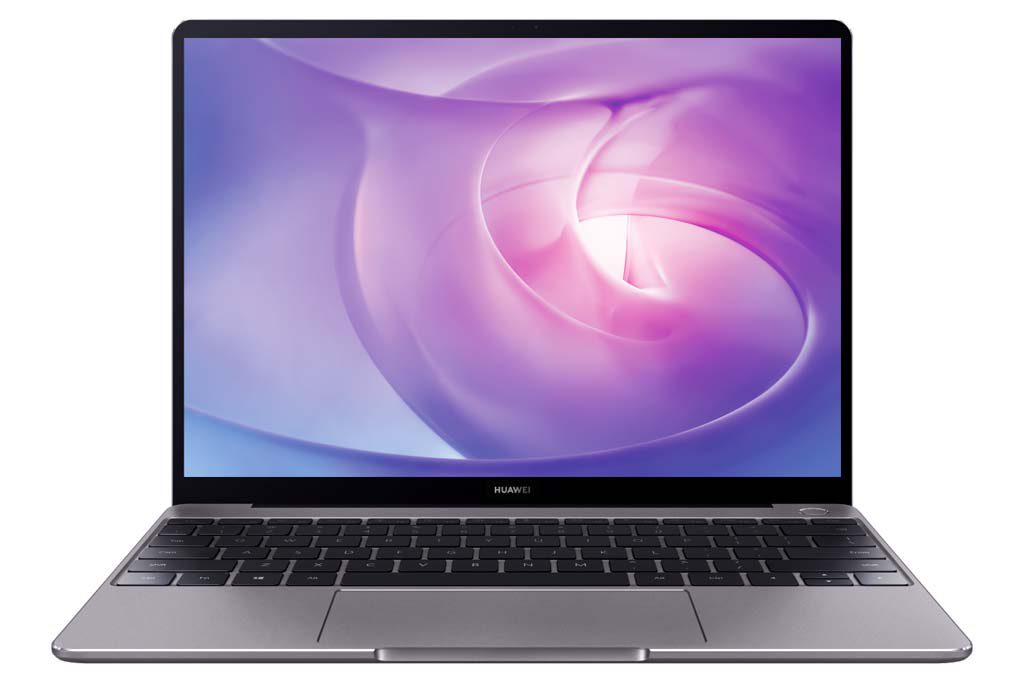 The Matebook 13 3:2 screen has a 2K 2160×1440 resolution with 200ppi pixel density. It also touts a contrast ratio of 1000:1 and supports 100 percent of the RGB colour gamut. This makes it great for content creators in giving the most accurate colour reproductions. Additionally, the MateBook 13 packs a dedicated GPU. Under the hood sits an NVIDIA GeForce MX 150 coupled with 2GB of GDDR5 video RAM. It is not exactly class leading, but adequate for the size of the Ultrabook.
Moreover, the Matebook X is fueled by a more powerful GeForce MX250 paired with similar 2GB GDDR5 of RAM. This powers its 3K resolution (3000×2000) Ultra FullView LTPS panel display.
Notably, both laptops covers up to and 100 percent of the sRGB color gamut. Additionally, the X Po supports up to 10-point multi-touch. It does give users a new and more intuitive way to interface with the laptop.
Bezel-less you say?
Moreover, talking about bezel-less screens (like those on the Dell XPS), the Matebook features an industry-leading 88% screen-to-body ratio on the 13 and 91% coverage on the sleeker Matebook X Pro. This is what Huawei calls their FullView design offering "Ultimate Viewing and Audio Experience" with a near borderless display
Furthermore, sweetening up the deal are multimedia offerings such as integrated Dolby Atmos speaker system. It is introduced through co-designed quad speaker layout by Huawei and the Dolby company.
Connectivity wise, expect quite a dongle fest with the lack of full-sized USB type-A ports. Like the Apple macbooks, only USC-C one port are available on each side for charging and connectivity.

A worthy Ultrabook
I can see the Matebook competing in the light of other popular Ultrabooks like the Dell XPS 13 and of course the Macbook. The new Matebook series does Powerful Processor Offers Solid Performance. In terms of performance, both the MateBook 13 and X Pro are powered by 8th Generation (Whiskey Lake) Intel processor in i5 and i7 variants. And yet, still able to offer a battery life of up to 12 hours.
Huawei claims these processor offerings are up to 40% faster than its predecessor. Paired with high-speed native PCIe SSD, it allows for blazing-fast read and write rates for loading and creation of content. Perfect for creative individuals.
Interestingly, the MateBook 13 adopts the HUAWEI Shark Fin Design 2.0 for its cooling system. Inspired by its namesake, the solution uses and integrated high-speed fan solution to create airflow through the laptop innards. This ensures maximum thermal performance in extracting heat from demanding computation work with little noise.
This is achieved through Huawei's Shark Fin Fans 2.0. These fans produces higher air output with larger fins. Also, this new intelligent cooling system is smart enough to dynamically be able to switch between active and passive cooling modes. This allows for more efficient and silent cooling performance.
This is achieved through an intelligent filtering Software. It provides the system with real-time system temperature monitoring, hence giving the notebook a smoother fan curve which ultimately leads to quieter operations.
Powerful multi-purpose Performance
Making the Matebook effective and multi-purpose content creation powerhouses, such as for graphic, video editing, to gaming and multimedia content consumption.
Topping up the connectivity options is the inclusion of Thunderbolt 3 port connectivity on the Pro X. It supports two-way data transmission at a speed of up to 40Gbps. Hence, you have the option to boost your laptop capabilities like adding an external GPU for additional graphics performance for instance.
The inclusion of IEEE 802.11a/b/g/n/ac, 2.4 / 5 GHz 2 x 2 MIMO wi-fi adapters brings forward one of the fastest Wi-Fi offerings on a notebook. Allowing for speed and connectivity stability.
Both laptops will be released in Singapore month end on May 30th. The MateBook 13 starts with a i5-8265U processor 256GB Space Grey at $1,348, while the MateBook X Pro (Space Grey) with a i7-8565U processor and 512GB of storage space starts at $1,498.