The Asrock X570D4I-2T is a nice Gem of an ITX for what it offers out of the competition. For ages, PC builders who desire a small compact micro-ITX form factor will have to sacrifice having half the number of RAM dimm slots. This is usually 4 slots down to 2 if they were to transition from an ATX or Micro-ATX form factor to an ITX board.
The reason being that smaller ITX form factor simply does not have enough space for 4 DIMM slots. Also, given need to cramp in the board North and South bridges, let be the CPU socket on the motherboard.
Moreover, with the largest consumer non-server spec memory modules maxing out at 32GB for DIMM stick for DDR4, you are pretty much stuck with 64GB with two memory slots. But yes, there are several ITX board out there with 4 so-DIMM slots, but those are typically paired with an LGA2011 or LGA3547 series CPU which technically leave AMD fans out in the cold.
Ryzen fanboys rejoice
Until now, say hi to the Asrock X570D4I-2T motherboard. On paper it is like a match made in heaven for small form PC enthusiasts. A compact AM4 PGA1331 M-ITX board (17.02 cm x17.02 cm)) with the performance orientated x570 chipset, which is surprisingly passively cooled as well.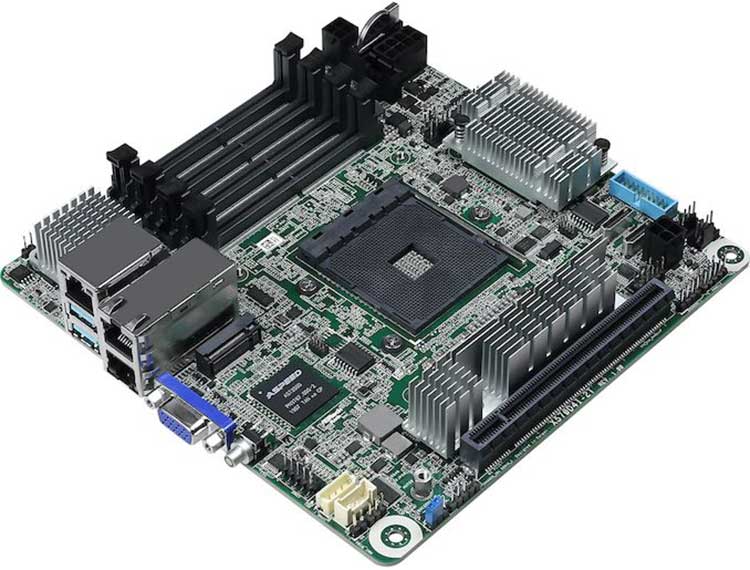 Moreover, the board is really packed. To the extent that, it does not even has space for SATA ports. You can extend 8 additional SATA3 via an OCulink cable plugged into each of the motherboard's two OCulink ports. OCulink is essentially a branded name for the SFF-8611 drive connector interface. Thankfully the boards still retains a full sized PCI-E slot. You get 32MB AMI UEFI Legal BIOS, and also a full length 16x PCI-E expansion slot, essential for a dedicated graphics card.
128GB RAM on an ITX
Furthermore, what makes the Asrock X570D4I-2T really attractive is that it uses 260-pin Laptop So-DIMM slots in place of 288 pins regular-sized desktop DIMMs. The small slots are mainly to squeeze in as much components into essentially what is an already very packed and crowded motherboard. It support both DDR4 ECC & non-ECC so-DIMMs, though ECC support is largely CPU dependent.
While ASrock states 64GB as the maximum amount of RAM, that is usually a guideline. Theoretically, with so-DIMMS maxing out at 32GB, you can literally max out 4x64GB for a total of 128GB. This is within the rated addressable memory for Am4 Ryzen CPUs.
Also do note to expect to pay a premium for those extra two so-DIMM slots. There are no official pricing of the motherboard yet. But based on previous ASRack releases a references, expect the board to hover in the $600 to $800 range. That is being priced on average about twice the costs of a typical X570 motherboard.
Having said that, a typical X570 ITX motherboard typically costs you in the range of $400 SGD per board. For example, the ASUS ROG Strix X570-I Gaming AM4 AMD X570 SATA 6Gb/s Mini ITX AMD Motherboard costs about $350 while a B450 cost about $200.
No onboard sound
Lets take alook at some of the shortcomings of the board. While this board makes for a very capable workstation graphics card. However, there is quite a lack of external IO on the board. Though dual 10G ports is a plus, there are only two USB ports and 1 x D-Sub (VGA out powered by a ASPEED AST2500 16MB DDR4 VRAM) at the rear. You can however, add 2 more USB ports via the expandable via USB 3.1 (Gen1) Header.
Also, there is no on-board sound card, which is expected as this is after all a server board. Also, adding a soundcard would be out of the option as there is only only PCI-E slot, which should be dedicated to a GPU. The good news is that you can easily add a decent USB dongle soundcard for under $40, like the Creative Soundblaster Play 3 for instance.
Lastly, do aim to have as much airflow over the board when installed in a chassis, as the x570 chipset is known to run pretty hot. Otherwise you could risk premature board failure.
Expect to pay a premium
Moreover, ASrock ITX boards are known to retail at a premium. First because they are built mainly for 24/7 several operation. Hence, usually are better well designed with better, more lasting components used and typically longer warranties offered.
Secondly, these boards usually cater for a niche market which are usually manufactured in lower quantities, hence the higher retail price. Also, most ITX boards currently we see on the market are Socket on chip variants (SoC). These typical uses low powered Intel Pentium J series (e.g. J1900) on board which are not really meant for heavy duty crunching, but rather function as a network or firewall security device.
All in all, I see we have a winner in our hands. Though the Asrock X570D4I-2T is not a perfect package, it is interestingly, one of the few X570 motherboards out there. And is the best Ryzen ITX board you can buy. What makes the Asrock X570D4I-2T really exciting is that it accept the current performance market leader per dollar. It marries the power of AMD's AM4 line of CPUs, namely support even for Ryzen 7 CPUs with a great x570 modern chipset in a small form factor.
Asrock X570D4I-2T M-ITX Specifications:
Supports AMD Ryzen 3rd Generation Series Processors (Max 105W)
AMD x570 Chipset, AM4 socket.
4 x DDR4 SO DIMM slots with ECC and non-ECC SO DIMM, max. 64 GB (On paper)
Up 8 x SATA3 port via OCulink (4xSATA3 6.0Gb/s/PCIe 4.0×4 for each)
16x PCIe Gen4 full 16x slot
1x PCIe Gen4 M.2 slot (Gen3 with Picasso CPU)
Integrated IPMI 2.0 with KVM and Dedicated LAN (RTL8211E)
2x 10GLAN Intel X550-AT2 (10000/1000 /100 /10 Mbps on 2 x RJ45 10GLAN)