Visiting Timezone's new flagship arcade at the Orchard Xchange in Singapore is an impressive experience. Spanning 22 thousand square feet, it occupies the entire first basement floor, making it the largest games arcade in the country. Conveniently located above Orchard MRT station, Timezone Orchard Xchange offers easy access for arcade patrons. The arcade boasts an array of exciting attractions and games for all ages.
Bumper cars and VR zone
One of the highlights is the donut-shaped Bumper cars, which were previously seen at their Vivocity flagship store. These cars, priced at $5 per ride, offer a thrilling experience as they can move quickly and spin on the spot like skid-steer vehicles. However, the small bumper car arena limits the range of travel and mobility during the ride, which could be seen as a drawback for some visitors.
Moreover, the arcade also features a VR and simulation zone. Here you can engage in a virtual shootout with zombies in a thrilling virtual reality game. This adds an immersive and adrenaline-pumping experience for those looking for a different type of gaming adventure.
Two alleys of Arcade Bowling
Furthermore, bowling enthusiasts will be pleased to find two bowling alleys within the arcade. One alley offers tiny bowling balls on a proportionately scaled-down course, while the other alley features full-sized balls on a shorter, half-length course. This variety caters to different preferences and skill levels, ensuring a fun time for all bowling enthusiasts.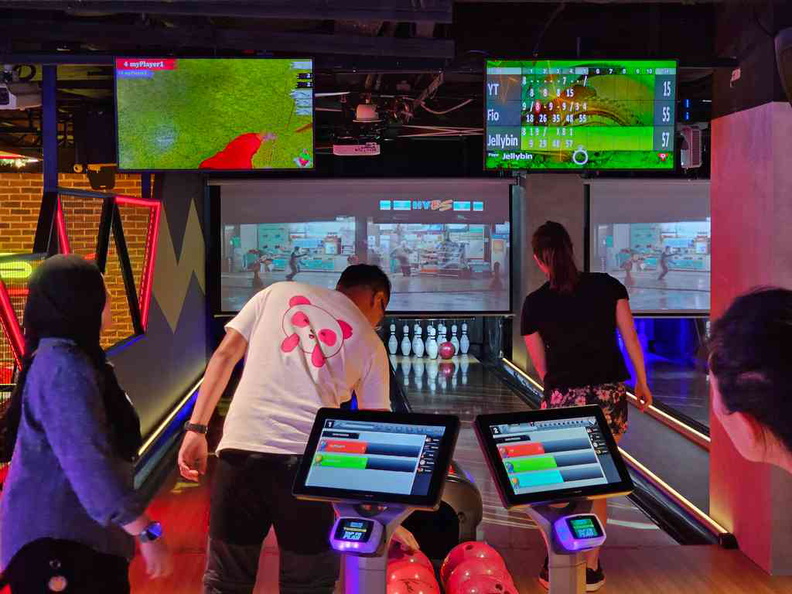 Redeeming virtual tickets is a major aspect of the arcade experience, and you can do so at the ticketing and arcade staff counters. The cheapest redemption options include sweets and candy, such as Chupa Chup candy, priced at 40 tickets each.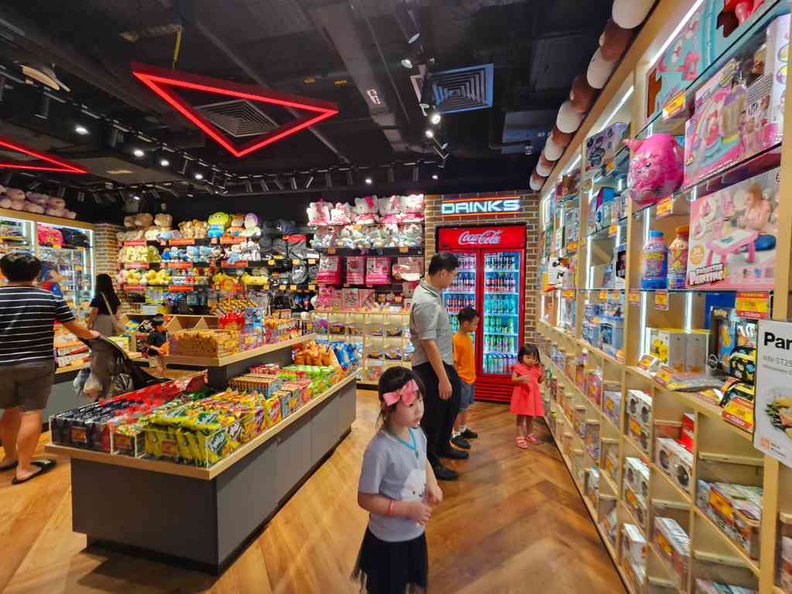 Also, these items can be easily won within one or two games. Additionally, the Timezone branch at the Orchard Xchange provides an extensive selection of top-range redeemable items. Examples include game consoles like Nintendo Switch or a PlayStation 5, which adds to the excitement and satisfaction for avid gamers.
However, it's important to note that the arcade can be quite pricey. Most machines start at $2 per game, which can add up quickly, especially for those who play multiple games. Families, in particular, can easily spend up to a hundred dollars during a visit, especially when tempted by top-up bundle deals that encourage loading more value onto their play cards. Comparatively, the cost of two games here is equivalent to the price of a budget lunch.
Classic Arcade Machines
For fans of classic arcade machines, there is a selection of nostalgic games to enjoy. From pinball machines to western-style shootout booths, the arcade offers a range of options. Notable machines include Whack a mole, hungry hippos, and the crocodile smack down, a nostalgic favorite. One interesting piece is the Hillbilly's western-style shootout, which is commonly found in Western and American arcades.
Additionally, the arcade has dedicated sectors for specific genres of games. The dance sector features Revolution, while the racing sector offers popular titles like Hotwheels and Mario Kart. It's worth noting that several arcade machines have crossover themes from popular mobile game franchises, including Rayman, Sonic the Hedgehog, Puzzle Bobble, and Space invaders.
While the Orchard Xchange branch is the newest addition to Timezone's arcade portfolio, other branches are located in Jurong Point, Parkway Parade, Westgate, and VivoCity. Moreover, the arcade is spacious enough to accommodate a party venue for birthday celebrations, resembling the familiar party rooms found in fast-food chains like McDonald's. This offers an appealing option for those looking to celebrate special occasions in a gaming-themed environment.
All in all, that wraps up of our explorations of Timezone's newest and largest flagship store here in Orchard road. Not necessarily, the largest arcade in compared to the peak of Singapore's fun industry in the 90s, but a good welcome today of much needed fun here in Singapore for younger generations for joy.