Now Boarding: Experiencing Singapore through Travel, 1800s – at the exhibition at the National Museum of Singapore offers visitors a journey through four thematic sections focused on transport, accommodation, food and beverage, and sights and shopping.
Located in the exhibition Gallery in the basement of the museum, this exhibition showcases a curated selection of materials and artifacts that evoke memories of travel to and from Singapore. Also, you might remember the grounds as the home to the World press photos exhibitions from last year. Additionally, throughout the year, there will be themed pop-up experiences associated with Now Boarding at the museum.
Analogue flip board from Changi Airport
As visitors enter the exhibition, they are greeted by the iconic analogue flip board, previously located at Changi Airport. The mechanical flippers of the flip board display flight details, timing, and boarding information, accompanied by the distinctive flip-tapping noise.
While this display is only a small portion of the original board, which is twice its size. Notably, the board has been customized to show museum messages and mock flight timings at regular intervals. This nostalgic element sets the tone for the immersive experience to follow.
Furthermore, the gallery sits in it's own big hall in the museum basement. It has a open concept with a lead in intro gallery leading you into a vast gallery space within. Also, the exhibition's four sections are named after chapters a reader would often see when flipping through a travel guidebook. They are: Getting Around, Places to Stay, Eating Out, and Sights and Shopping. The displays aim to initiate discussions and memories and experiences in Singapore.
Now Boarding: Getting around via air, rail and buses
Moving further into the exhibition, you will encounter a preserved Singapore Airlines' first-class cabin seat from the decommissioned Airbus A380. The A380 Suites Cabin seat is renowned for its luxury and opulence.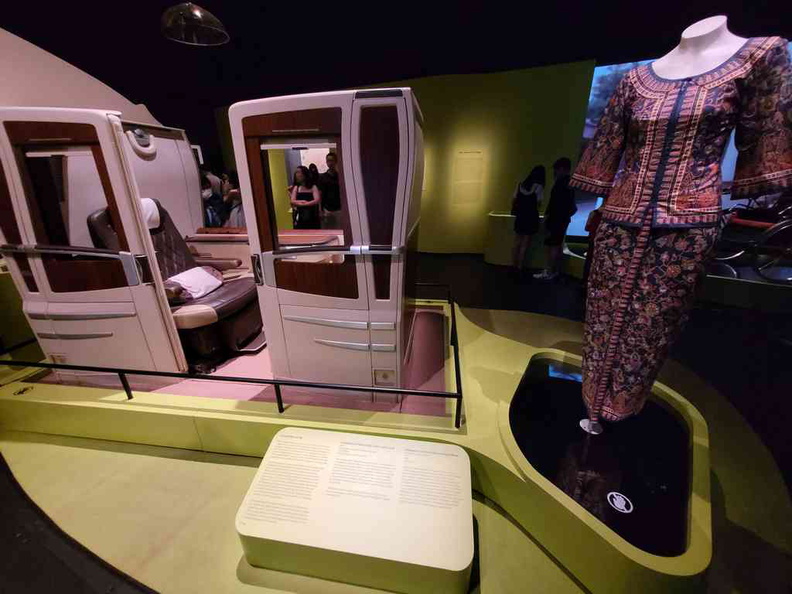 Also, interestingly, the Singapore Girl, the iconic symbol of Singapore Airlines, has her own perfume called "Balsara." Created by Dadi Balsara and Christina Lee, this perfume has been associated with the airline since the 1970s. Among the displays is a bottle of this iconic fragrance from that era.
Moreover, inside the exhibition hall, the guides are dressed in sarong-inspired uniforms. This is reminiscent of the sarong kebaya worn by Singapore's national air carrier crew. This thematic dress code adds to the overall boarding experience for visitors.
Hotel hospitality through the years
Continuing the exploration, visitors can observe a scene depicting the old Singapore of the 1930s, within Raffles City as a "traffic angel" policeman directing traffic. The traffic policemen of that time wore gloves and wings to enhance their visibility. Also, this was before the introduction of traffic lights in the 1940s, when human direction of traffic was the norm.
Furthermore, the exhibition leads onto early Singapore hospitality, and hotels. Here, you can find letters by Somerset Maugham related to Raffles Hotel, early posters of the hotel, and a collection of postcards from various hotels.
Also, notably, Raffles Hotel was the first hotel in Singapore to be equipped with electric lights and fans. Goodwood Park was the first hotel with a swimming pool, while the Westin Stamford was once the tallest hotel in the world upon its completion in 1986.
Eating out dining experiences
Moreover, the exhibition also features a section dedicated to dining experiences in Singapore. Here, you can find a curation and showcase of dining menus from different local Steak house restaurants such as Jacks Place, Shashlik Russian Western Restaurant and The Ship.
Additionally, you can view era-postcards depicting old scenes of the eateries and hawker spots then. There is also a vibrant F&N (Fraser and Neave) advertising mural with glass bottles and cups arranged in a circle.
Also, F&N, known for brewing the iconic Tiger Beer since 1931, also had a tiger mascot resembling Tony the Tiger from cereal commercials. The section also delves into the history of Bugis Street, famous for its lively night scenes and drag queen performances.
Shopping and leisure
Further exploration leads your to scenes from Dragon World Har Par Villa and Sentosa, with the latter named through a naming competition and meaning "Isle of tranquility" in Malay. This is in contrast with Sentosa's original name meaning "Island of death". Notably, the Post cards of Har Par Villa depicts the rides of the now-defunct theme park popular in the 90s.
The sights and shopping section highlights a box of Tiger Oil (Tiger Balm) and introduces visitors to the "worlds" of Singapore, including New World, Happy World and Great World. Though notably, Gay World in Geylang is absent from the displays.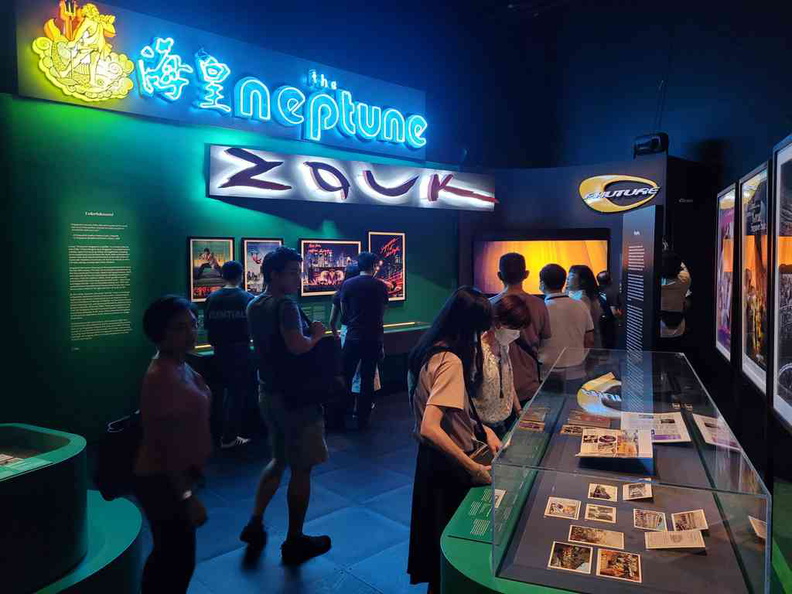 Also, did you know Raffles Place, High Street, and North Bridge Road were popular pre-war night spots before Orchard Road took over. These areas were known for their department stores and bustling fashion and textile shops along Change Alley.
Outside the exhibition hall, in the museum basement, you can discover the museum's very own disco room. It is complete with an anthropomorphic fox-like lady DJ spinning tunes, creating a lively atmosphere.
Wrapping up the Now Boarding exhibition
All in all, Now Boarding: Experiencing Singapore through Travel, 1800s – 2000s offers a unique opportunity to explore Singapore's history of travel and its cultural significance. This exhibition invites visitors to reflect on Singapore's identity in an increasingly globalized world. Visitors should allocate approximately an hour to fully appreciate this exhibition, which runs from May 27, 2023, to Nov 19, 2023, with opening hours from 10 am to 7 pm daily, and the last admission at 6:30 pm.