Timezone, Australia's most widespread and popular gaming arcade outlet has opened their newest and largest flagship store right in the heart of Vivocity Mall Singapore. They were previously tucked on the upper third floors of the mall (where Diaso was also located). Now they had moved down to Level 2 at Vivocity unit #02-43 just between Candy Empire and Fish & Co restaurant. Let's check out the Timezone Flagship Arcade at Vivocity Singapore.
Large Arcades- A rare sight in Singapore nowadays
Timezone is an international chain of family amusement arcade centers based in Australia. The first Timezone arcade opened in 1978 in Perth. Their newest and largest branch in Vivocity boasts over 12,000 square feet arcade goodness. Despite its large size, the Timezone arcade is nothing to brag about in the likes of old expansive arcades of the yesteryears.
Remembering arcades of the Yesteryears
Furthermore, it is refreshing to see the return of such large arcades previously thought to be extinct in Singapore. You might remember Magic Land amusement center at Marina square which previously operated by Uncle Ringo in the early to late 90s.
Moreover, there is also the Parkway Parade amusement center with a large arcade on the top floor of the shopping center. It too has a couple rides such a Merry-go-round and a Viking ride ship. Moreover at Cineleisure Orchard in the early 2000s is the E-zone arcade with VR rides and ghost trains.
However, the amusement industry is under threat in the face of the new changing preferences now. People don't spend time in the shopping arcades anymore or playing games at home. Families and arcade geeks don't see much the value of entertainment today. Especially in a country these days where play is often "unproductive" or secondary.
Inside the Arcade
Timezone itself has 10 outlets all around Singapore. Locations include Plaza Singapura, City Square Mall, Westgate to Northpoint city. Moreover, this range from small kiosks like mini arcades to large expansive ones you expect from Timezone. Having said that, despite being over 12000 sq ft in size, it not being as massive as the Timezones in Australia. Timezone claims it features non-stop entertainment.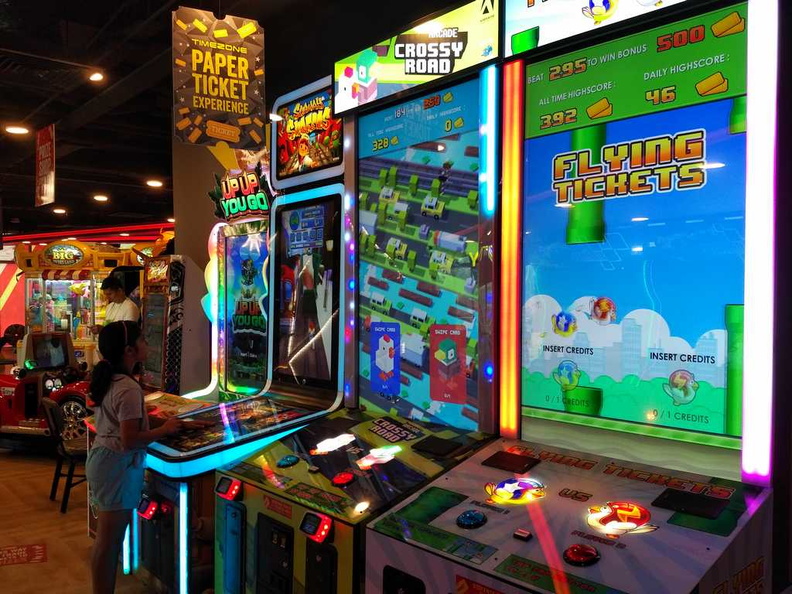 The arcade has your usual bells and whistles of a classic Timezone. Staples includes crane/candy machines, racing machines, shoot 'em up and air hockey stations, and basketball games. Timezone are known for offering rides in addition to their arcades. Payment to all the arcade machines and rides are done using Timezone contactless smart card credit system.
A row of larger than life game machines sits at the store entrance. This adds to the wow factor. Besides the latest carnival games, you can some bizarre arcade games modeled off their mobile platform counterparts, such as Crossy road, Subway surfers and Flappy bird- arcade edition.
Ticket and prize galore
At the front of the arcade is a walk-in prize shop, allowing you to view all your possible winnings from the ticket machines. Moreover, your winnings from ticket-eligible game machines dispenses traditional tickets. Also, it is nice that Timezone stuck to offer the enjoyment of classical paper tickets. These tickets can be fed back into an automatic ticket counting machine. Here, it will print you out a total tele-count receipt for redemption at the prize shop counter. Timezone beckons you to play, shop and redeem attractive prizes at their this new prize shop too.
Bumper cars
When it comes to rides, the arcade here is no exception either. Here, premium rides and attractions costs $5 to $8 a ride. The selection includes Bumper cars and a mini Bowling alley. Also, the Spinner bummer bumper cars are circular type- boat like karts. You can control via both a left and right lever at the side of your seat.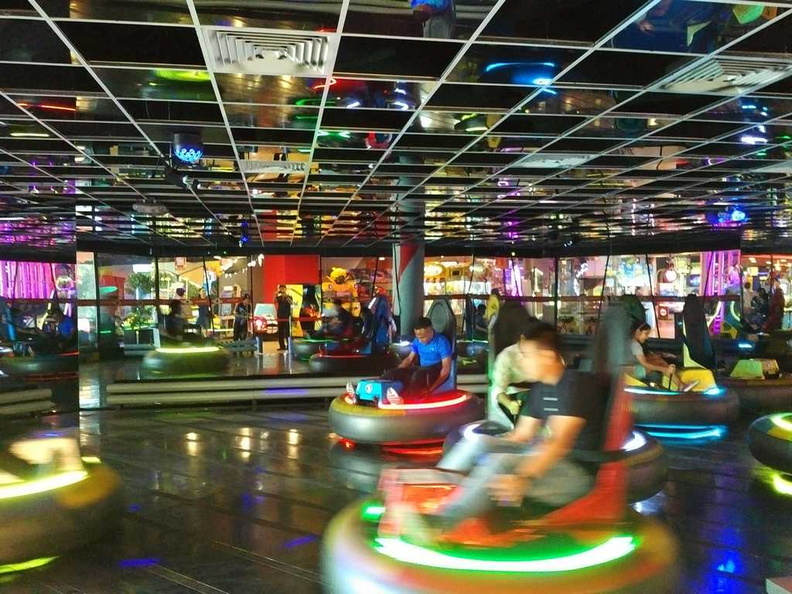 Mini Bowling alley
In addition to the bumper cars are two lanes of a mini bowling alley. This miniature bowling alley is activated via paying a game with your Timezone card. Moreover, the rules of the game are similar to a regular bowling match, but smaller than life. Notably, the size of the bowling balls here are humorously small, almost sized like shot-put balls. Even the lanes are at most 5 meters in length. This makes the mini bowling alley very kid and family-friendly.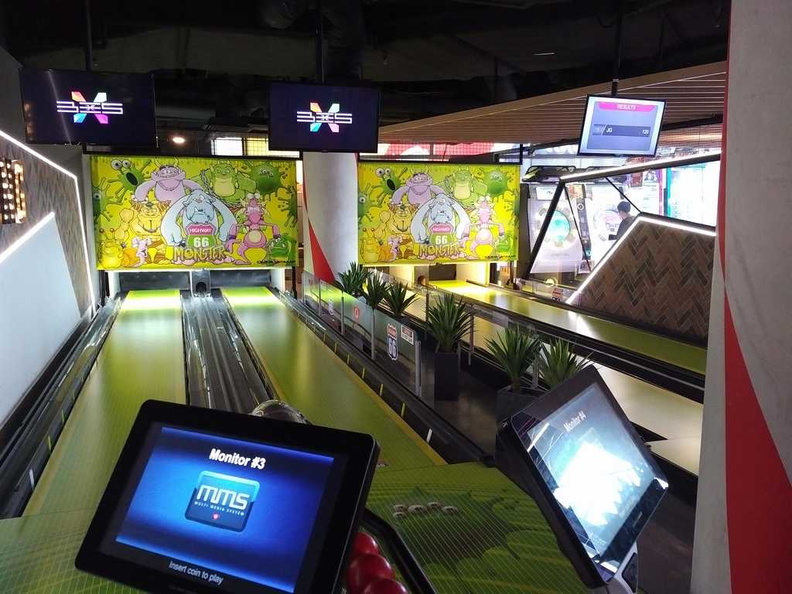 In addition to the Mini bowling alley are a couple of premium rides such as a Mini motion simulator. However, there is however, no laser tag games and obstacle areas unlike the previous Vivocity Timezone location on the 3rd floor.
Furthermore, the arcade also offers event spaces via bookable party rooms. With prior notice, you can get to book a party at the arcade's Monster-themed Party Room. This you can use for events like family gathering to birthdays. The party room has a full glass window offering views overlooking out of Vivocity into the Sentosa island area.
Also, the arcade is noticeably more packed on the weekends. Though it tend to get quieter on weekdays. However, this also means not having the need to queue up for arcade machines when you want to play.
All in all, the new Timezone revamp is pretty much a much need upgrade to inject more fun into the Vivocity area. Definitely a good way to spend in addition to your hours of window shopping when you are in the area.