Let's visit Sungei Buloh wetland reserve today with a nature trail walk. The nature reserve is located in a rather remote location tucked in the north western corner of mainland Singapore.
Moreover, there are two car parks serving the area. It pays to know which one you at headed. The first is the Sungei Buloh carpark and Wetlands Center's visitor center near Kranji nature park and dam. Also, it is the spot which Grab car rides and Google earth searches brings you to.
Additionally, the second spot is about a kilometer north along Neo Tiew road at the Neo Tiew Crescent Car Park. Also, the latter is closer to the bird sanctuary, while the one nearer to the Kranji dam offers more scenic sea views or the Johor strait.
Visitor center and Mangrove broadwalk
Furthermore, the research and education centre at the Neo Tiew Crescent Car Park serves as a visitor center, visitor amenities as well as a function area for groups.
Greeting you at the entrance is an information counter and a small visitor center gallery. Here, you can view exhibits of what the wildlife you could see on your visit. Also, there is a park history section too on how the nature reserve was gazzetted as a green spot for last remaining mangrove wildlife in Singapore and a spot for migratory birds.
Moreover, if you are sharp, you can spot bats nesting during the day under the roofs of the visitor center. Also, there is also a toilet and resting area allowing you to recharge before heading out.
A short walk from the visitor center brings you to a long crossing bridge into the bird sanctuary area. The road here forks between the bridge and a Wetland marshland area.
Seawater Mangrove broadwalk
Furthermore, Sungei Buloh is a one of Singapore's largest nature parks, particularly one focused on Singapore marshlands and mangrove wetlands.
Additionally, the marshland loop as the name suggests goes around in a continuous loop. It brings you through several mud land habitats home to mud crabs and mud skippers.
It goes in a large circular loop with several huts and point of interests at every corner. The is also a sea viewing area facing the Johor Malaysia city area across the border.
Also wetlands and mangroves had been increasing getting in the limelight as a good natural carbon sink. It is a sustainable weapon against runaway carbon levels in tacking global warming inherit in climate change.
Bird watching at the mudflats
Furthermore, the north western end of the nature reserve is a vast mudflat home to a bird watching area, with a large circular perimeter path enclosing a large marshland, reservoir and swamp area.
Additionally, wildlife spotted during my visit includes monitor lizards, tree snakes, water hens and several herons. There were also some otter tracks which tells of a family which calls this area their home.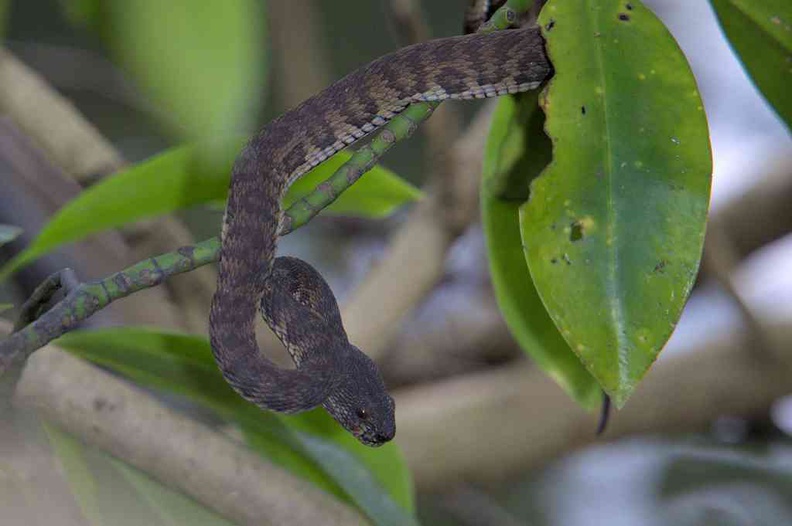 Moreover, the area also is home to visiting alligators which tend to cross the trails between the sea and freshwater bodies. Also, when you spot agitators, just let them cross, keeping your distance from them. You won't want to startle them with loud noises. They are not hostile animals unless provoked.
A wildlife and bird photography paradise
Additionally, Sungei Buloh is a popular spot for migrating birds to land and spend their time during migratory months. You can catch them active here usually in the September and October migratory months.
Hence it is similarly a popular spot with nature photographers who like to frequent the trails here with long telephoto lenses hoping to snag photos of these large visiting birds.
You can find a number of bird watching spots, huts and observation towers (Aerie tower) which litters along the trail here. Occasionally there are some seaside broadwalks over mangrove area with northern views of Malaysia.
Seaside view walk
Moreover, wrapping up your walk is a small mangrove swamp by the south end of the Neo Tiew Crescent Car Park. Here, you can find a couple of nesting birds up in the trees here. Also, there is a mangrove try out area allowing you to "wade" through a controlled mangrove swamp.
Also, the view out north is one across the international border into Johor, Malaysia. The Malaysian state is rather built up now.
Wrapping up, a highlight here would be the Dragonfly pod and Kingfisher pod. Both of these unsheltered structures are similar but located in different spots. Also, these structures pop out of the sea side broadwalks offering stunning unobstructed views of the north Johor strait.
Also, these raised walkways here links to the Kranji nature park further south where the Kranji coastal dam reside.
All in all, you are good for about 3 hours top to fully explore the northern circle of Sungei Buloh wetland reserve, and probably a full day trip out if you wish to further explore the Kranji coastal park area. A nearby eatery worth checking out after a day of nature would be Garden Asia. Great for a day out with nature.