Singapore Art Museum Keppel (SAM) is Singapore's premiere art galleries which now operate at Tanjong Pagar Distripark at 39 Keppel Road. Tucked in the industrial estate operated by local MapleTree industrial, it is a small simple contemporary arts museum. Let's pay them a visit and gallery exploration.
In addition, the Singapore Arts Museum used to operate out of their 71 Bras Basah Road building. The building was a former catholic school built in 1850. But since the start of the pandemic, the museum had been temporarily closed for an extensive major refurbishment and renovation.
Furthermore, these galleries occupy the ground floor of the industrial warehouse complex, with SAM offices situated on the third floor. Notably, the warehouse is now a mixed used establishment and is also home to other art spaces and galleries. It can be a spot to host art displays. Entry is free for Singaporeans. A majestic rebar column greets you at the entrance. It comprises of fluorescent tubes and a mirror base and potted plants called the Fountain Of Interiors (2022).
Lonely Vectors exhibition gallery
Moreover, the museum comprises of 2 main galleries. The galleries are small and easy to navigate. The first gallery is home to the first gallery 1 Lonely vectors. The temporary exhibition runs from 3rd of June to 4th September. Also, this first gallery is the largest of the lot. It comprises of several segmented into various independent micro galleries which you can explore at your own time in any particular order.
Here, you can find a series of books as well as a free-standing iron gate sculpture in the dark galleries. You start off form a visual presentation of animated video of on suspended projector screens in a vast room. It depicts a dystopian tech world or sorts called Uki Virus Surging (2022) by Shu Lea Cheang.
The galleries lead onto more static galleries filled prints and hanging embroidery pieces. A iron life-sculpture by P7:1SMA sits here called Loading/Unloading. Also, there is tapestry piece called Penitent Plant by Cian Dayrit. You can find an embroidery piece of the world map by Tiffany Chung and covering trade routes reconstructing an exodus history with boat trajectories, ports of first asylum and resettlement countries.
Moving on, going in the diplomatic front is a board room style gallery by Ho Rui An Called the The Economy Enters the People (2021–2022). Here you can also find a large meeting table lined with executive chairs and screens for each seat.
Also, a large center LED screen features a rotating video of notable political scenes from Singapore political history.
Make a chime and an offering
The last gallery at the far end covers a curation of interactive musical instruments, wall-mounted photos and belonging pieces. Known as the Dioramas for Tanjong Rimau (2022).
The live exhibits depict the sea straits of Singapore and the spiritual reverberation of the water gateways and fusion of cultures. They are brought to you by a group of artists: Zarina Muhammad, Joel Tan & Zachary Chan.
Additionally, you can have a go at making a chime on musical instruments here using hand-cranks. Turn the crank and make an offering they say. Also, a looping video here showcases several scenes of nature and the life by the seas. Notably, the gallery here on are scented with incense which adds to the atmosphere. Three fixtures were hung from the ceiling agitated by automatic baby rocker devices.
Wrapping up gallery one is an interesting section of gallery one is a virtual reality experience by Ho Tzu Nyen's, H for Humidity (2022). The experience can take 4 participants per time slot. Additionally, the virtual reality flight brings you through a simple 3D open world of land, water, air and space. There isn't much walking around to begin with. This is brought to you through a mix of headset audio and rubble of subwoofers which adds to the experience.
Paper sculptures
Furthermore, the second gallery here is on focused on paper craft. Going by the name of Superfluous Things: Paper. It is one focused on the ingenuity of paper crafts. It is pretty much an all things paper in a small open gallery. Also, all the exhibits sit in the one single gallery 2. The temporary exhibition runs from 28 May to 14 Aug 22.
Taking center stage is a vast paper cut-out going by the name, Jumaadi, "Joli Jolan". This large paper display drapes various cut-outs take up centre stage at the far wall of the gallery.
There is also an eccentric peculiar floating city by Phunk & Keiichi Tanaami suspended from the gallery ceiling called the 'Eccentric City'. Li Hongbo, Land of Fairy Tales is tad a super-sized version of those paper flowers which is popular in China, the birthplace of paper for that matter.
Lastly, a favourite display of mine is Cheryl Teo's "Just a Little at a Time". It is part of her 100 a day project. You can find an assortment of adorable little 3D paper crafts shapes. These are fashioned around notable Singapore heartland landmark items, such as void deck tables, playgrounds and sewing machines.
Museum bookshop and activity area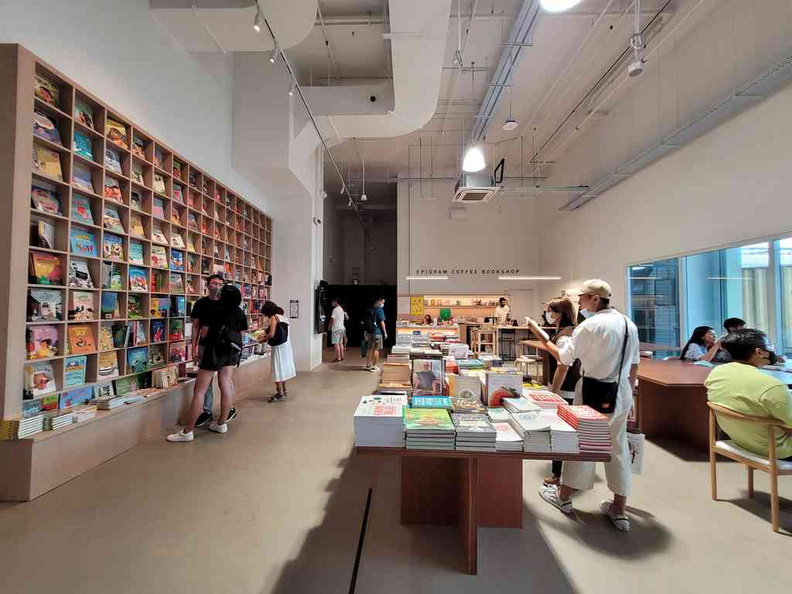 Wrapping up the museum is a bookshop and café at the end of the lobby walkway. The engine room is an activity area and minor gallery teaching about the properties of paper.
Here, you can find framed photos teach of paper weights, type and finishes. A guide here provides helpful advice on your paper craft items, as well as provide stamps for your Singapore museum stamp passport if you have one.
All in all, you are good for Singapore Art Museum Keppel and it's 2 major galleries for about an hour top. The museum is not a large one, despite occupying vast areas of the warehouse ground floor. Entry costs $10 for adults and is free for Singaporeans. Also, there is no telling whether this industrial installment will be here to stay when the Singapore Arts Museum at Bras Basah Road reopens. For now, this one here is one to check out. They are open daily 10 to 7pm.